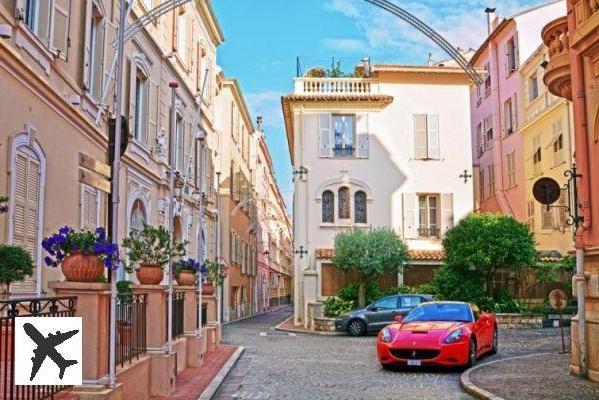 Where to park in Monaco? A small independent state established as a paradise on the French Riviera, Monaco is a world apart. Royal palaces, princes and princesses, billionaires and traditions weave its unique history. At For Travel Lovers we are going to discover you how to find cheap parking in Monaco .
Cheap parking in Monaco: where to park in Monaco?
It is a charming destination for those looking to traverse the French Riviera by road, as it boasts beaches, museums, luxury shopping, medieval streets and exotic gardens. It is one of the best preserved destinations in Europe.
Today, most people wonder where to find cheap parking in Monaco and get the right tips. To do so, follow the guide.
Parking in Monaco: street parking for a fee.
For aesthetic reasons and convenience of life, the principality has delimited few areas with markings on the ground. Paid on-road parking is only about 1,000 spaces. It is available from Monday to Saturday, from 8 am to 12 noon and from 2 pm to 7 pm. On Saturdays parking is available until noon and on Sundays and public holidays it is free.

The rate is €2.40 per hour and the maximum parking time is two hours in most areas.
On Boulevard des Moulins and Rue Grimaldi, the price is 1.50 euros per half hour. In addition, in the corresponding places, the maximum time is set for 30 minutes.

Other exceptions: Avenue Princess Grace and Avenue de la Grande Bretagne. Parking is allowed for four hours for €9.60. Therefore, the hourly rate is €2.40. In addition, surface parking is free for electric cars.
To pay for your parking, the latest trend in Monaco is the PayByPhone app. With this you can pay for parking entirely from your phone. No more paper, no more need to run to the parking meters and, above all, great flexibility.
You can extend or shorten the duration of your parking, within the maximum allowed limit, remotely and without additional costs. In addition, the "classic" parking meter payment methods are also available: cash or credit card.
Cheap parking in Monaco: park on the street for free
Free spots in Monaco city center are almost non-existent. However, there are still options available. Perhaps you have to walk for a long time or sit on a bus to get around the city.
To fully enjoy the city and the Monegasque attractions around the corner it can be said that paid parking remains the best option.
Parking in Monaco in a secure pay parking lot

The Principality has gone to great lengths to provide enough space for visitors from all over the world. There are no less than 40 parking lots and 15,500 spaces available. This is twice as many as in France's major cities for an area of only two square kilometers. Beyond the high cost of living and the small size, it is very attractive for visitors to park there.
When you arrive in the city, follow the "P" signs to the nearest parking lot.
In Monaco's parking lots, the first hour of parking is free. A Monegasque specificity that pushes everyone to stop to do some shopping and leave without creating double queues in the streets.
All paid parking lots, except the one at the Casino, have a reduced rate at night. From 7pm to 8am, parking in Monaco costs just €0.40 per hour. If you arrive after 7pm, the first hour is always free.
All pay parking lots, except for the Casino, offer a reduced rate at night. From 7pm to 8am, parking in Monaco costs only €0.40 per hour, but if you arrive after 7pm the first hour is always free.
Even for a short stay, the Multiparc card is interesting to find a cheap parking in Monaco. Free, valid in all parking lots, it allows discounts from 20 to 40% depending on the parking time. To benefit from it, you can go to one of the two commercial agencies (Centre Commercial Carrefour or Parking du Casino) and load your card (minimum amount of ten euros).
Then simply scan it at the entrance and exit of the parking lot. The parking fee is charged directly to the Multiparc card. It should be noted that it is non-refundable, so then cancel the account.
Preferential rates and parking
Depending on the district, the daily rate for parking in Monaco varies between €20 and €30. The most expensive districts are the most touristic ones.
Fontvieille district
C.C.F.
Schools
RDC Schools
Heliport
Papalinas
Port
Stadium
San Antonio
Santa Claus
Exotic Garden District
Bosio
CHPG 1
Olive Tree
Engelin
Station
Exotic Garden
District of La Condamine
Condamine
The Glue
Les Agaves
Place d'Armes
Quai Antoine Premier
Place Gastaud
La Rousse district
Larvotto district
Grimaldi Forum
Larvotto
The Carmelites
Testimony
The district of Le Rocher
Abbey
La Digue
Fishermen
Visit
Monte-Carlo district
Casino
Coast
Louis II
Mills
Ostend
Roqueville
St. Charles
St. Lawrence
Reserve a parking space in Monaco
Now you know how to find a cheap parking space in Monaco!