Magic, colors, special effects and unique sensations. Going to Las Vegas and not seeing one of the six Cirque du Soleil shows is like not going to the city. Find out which one has more to do with you.
If you are a fan of Cirque du Soleil, you must want to know all about the Canadian group's six shows in Las Vegas. Magical performances, such as the "O", or nostalgic performances such as The Beatles Love and Michael Jackson One, enchant spectators from all over the world. At Cirque du Soleil mega-productions Las Vegas is some of the most amazing you can see one day.
The will is to watch them all, but if you are a mere mortal who needs to choose just one to go – welcome to the team, lol! To help you, we made a list with the information about the six shows. So you can choose your favorite.
Come on?
Have you already purchased your travel insurance?
Save on the best plans with the coupon FORTRAVELOVERS.
Click here and check it out!
The 6 Cirque Du Soleil Las Vegas Shows:
Cirque Du Soleil on the Water, meet the "O"
The show "OR" makes a narrative with art, surrealism and theatrical romance. All into the water. Inspired by the concept of infinity and the elegance of the element, acrobats, synchronized swimmers and divers take the public to the delirium with so much beauty. It is one of the most watched and talked about shows in Las Vegas.
The presentations take place at Bellagio Hotel Cassino, de wednesday to sunday, with two times: 19:00 and 21:30. Tickets start at U $ 99 and can be purchased through the official Cirque du Soleil website by clicking here.
Cirque Du Soleil Las Vegas "Ka"
O "READ" it's a show chey of strength, on a moving stage. The unprecedented production challenges the gravity with surreal juggling and acrobatics. Everything is set in a dynamic landscape, while an entire empire appears on stage in a super immersive performance. You can feel a little bit of the atmosphere in the teaser below.
The good news is that KÀ has slightly better prices than the "O". Tickets start at U $ 65 and can be purchased by clicking here. The show is shown from Saturday to Wednesday, with performances at 19:00 or 21:30 in the MGM Grand.
Cirque du Soleil Mystery
O "Mystery" It is one of oldest running in Vegas and addresses the mysteries of life. It is an excellent option for those who go with the family to las vegas. With high-energy stunts and awe-inspiring imagery, the show thrills audiences with a mix of whimsy, drama and surrealism.
The show has tickets from U $ 69 which can be purchased on the Cirque du Soleil website, by clicking here. The presentations take place Saturday to Wednesday, at 19:00 or 21:30 in the Treasure Island.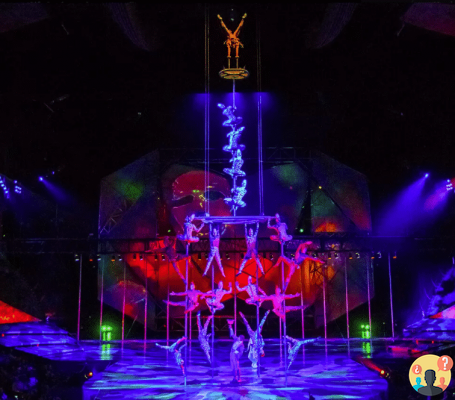 Cirque Du Soleil Adults Only: Watch "Zumanity"
Ever seen an adults-only Cirque du Soleil? Only in Vegas. O "Zumanity" mixture burlesque and cabaret. If you like shows full of sensuality, the combination of Cirque du Soleil with her made Zumanity a super interesting show. Kids, don't watch the video below, lol!
Tickets for Zumanity start at U $ 69 and can be purchased by clicking here. Presentations take place from Friday to Tuesday, at 7:00 or 21:30 in the New York New York Hotel e Cassino.
See more about Zumanity in this video:
Cirque du Soleil Beatles: "The Beatles Love"
Beatlemaniacos: This legendary show is for you. O "The Beatles Love" is completely inspired by the songs of the quartet. All the surrealism of different phases of the band and the rhythm dancing is portrayed in the scenes of the show. A mix of stunts, with magical scenarios and the soundtrack, of course, super exciting. It will make you "Shake it on baby", without a doubt.
The show takes place at The Mirage de Thursday to Monday, at 19:21 or 30:XNUMX. Tickets can be purchased through the official website by clicking here, from U$ 79.
Cirque Du Soleil Michael Jackson Show: "Michael Jackson One"
Michael Jackson's footsteps already defy gravity. At the "Michael Jackson One", they were taken to another level. They dancing tribute goes through the biggest hits of this pop music legend. It's chilling – or making anyone dance. Just watch the video below to understand a little bit.
The show takes place at Mandalay Bay Resort & Cassino.
Tips for watching Cirque du Soleil shows in Las Vegas
arrive half an hour before to start the show. It is still allowed to take pictures at this time. Don't even think about taking out your camera during the presentation, it's forbidden even for the safety of the artists. A flash, for example, can get in the way a lot.
Inside they also sell popcorn and soda, for those who want to watch the show in good cinema style. And, if you go by car, it is worth noting that just present the show ticket at parking at the Hotel which is free. Uhul!
Did you like Cirque du Soleil Las Vegas tips? Want to see more about other shows in Las Vegas, like the Blue Man Group or illusionist Criss Angel? We tell you everything in the post: Las Vegas Shows, the city's must-see shows.
If you still have doubts about where to stay in Las Vegas, the best regions and trendiest hotels, see more in our post Where to stay in Las Vegas: hotels we love and recommend
AS ALL THESE SHOW TIPS NOW CHOOSE YOUR HOTEL WHERE YOU ARE IN LAS VEGAS HERE ON BOOKING
Is it worth buying travel insurance for Las Vegas?
Taking out travel insurance for Las Vegas is an excellent way to ensure a smooth trip and avoid worries. Having the assistance of insurance gives you the peace you need to enjoy your destination and know that you have support if you need it. Also enjoy our Insurance Promo discount coupon. - SEE PRICES
Receive a SIM card at your home in España and use unlimited Internet in the US
We discovered one of the best solutions for you not to spend hours of travel in telephone stores in the country, speaking an unknown language to get a SIM card. This is one of the tips we love to give our readers: America Chip.
Write it down: The company sends an international Chip to your home in Spain. When you're on the plane, just change your Brazilian SIM card for this international one. You will arrive in the United States with unlimited internet, using your cell phone at will, as you use in España.
Leave your comment about your favorite Cirque du Soleil Las Vegas show
Read more
Las Vegas Landmarks: The 5 attractions you need to know
What to do in Las Vegas: The 9 best tips to enjoy the city
Where to stay in Las Vegas: hotels we love and recommend
Las Vegas Casinos: Top 10 to put on the list
Is it mandatory to take out travel insurance for the United States?
Grand Canyon: The Complete Guide to America's Most Famous Park
Car Hire in Las Vegas – Guide With The Best Deals