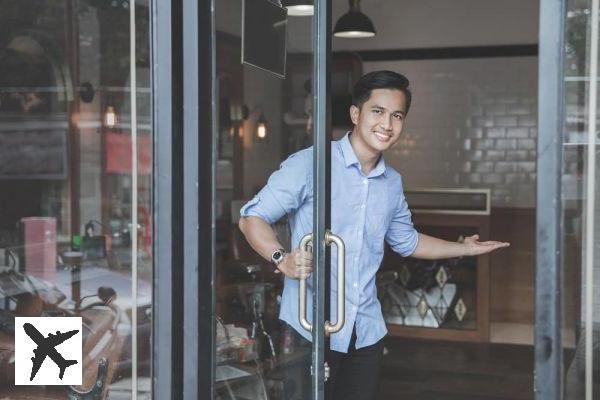 One must always welcome one's guests. And when they are from a foreign country, what better way to welcome them than by saying "welcome" in their own language!
Afrikaans: Welkom
Albanians: "Mirë se vini"
German: "Willkommen" or "Herzlich willkommen".
Alsatian: " Welkomma "
English: " Welcome "
Arabic: "Marhaban" or "Ahlan".
Armenian: " Bari galoust "
Azeri: " Xos gelmissiniz "
Lower Saxon: " Welkum "
Basque: "Ongi etorri"
Bengali: "Swagata"
Berber: "Ansuf yiswen" or "Yisek".
Belarusian: "ščyra zaprašajem" (ščyra)
Burmese: "Kyo tzo pa eit"
Bobo: "Ani kié"
Bosnian: "Dobro došli"
Breton: " Degemer mad " or " Dagemer mat "
Bulgarian: " Dobre doshŭl "
Catalan: "Benvinguts"
Cherokee: " Ulihebisdi "
Mandarin Chinese: "Huān yíng" or "Huān yíng guāng lín".
Comorian: "Karibu"
Korean: "Eoso eoseyo"
Corsica : " Bonavinuta "
Antillean Creole: "Bel bonjou" (Beautiful bonjou)
Guadeloupean Creole: "Bienvini"
Guyanese Creole: "Ben vini"
Haitian Creole: "Benevolent"
Creole Martinique: "Bienvini"
Mauritian Creole: "Bienvéni"
Croatian: "Dobrodošli" or "Dobro došli".
Danish: "Velkommen"
Spanish: " Bienvenido " (m) or " Bienvenida " (f) or " Bienvenidos " (pl)
Esperanto: " Bonvenon "
Estonian: "Tere tulemast."
Ewé : " Gabitê "
Faroese: "Vælkomin"
Finnish: "Tervetuloa."
Fleming: "Welkom"
Francique Lorrain : " Wìllkòmme "
Friulian: " Binvignut "
Gaelic of Scotland: "Fàilte"
Gaelic from Ireland: "Fáilte"
Galician: "Benvido"
Welsh: "Croeso"
Gascon: " Planvenguda "
Goun: "Mikouabô"
Greek: "Kalos irthate."
Guaraní: "Eguahé porá" (Eguahé porá)
Hebrew: "Barukh habaim."
Hindi: "Swaagat" or "Aap ka swaagat hein".
Hungarian: " üdvözlöm "
Indonesian: " Selamat datang "
Icelanders: "Velkomin"
Italian: "Benvenuto" (m) or "Benvenuta" (f) or "Benvenuti" (pl)
Japanese: "Yôkoso" or "Irasshaimase"
Jersiais (Norman): "Séyiz l'beinv'nu" (singular) or "Séyiz les beinv'nus" (plural)
Kabyle: "Amrehva ysswène" or "L'aaslama".
Khmer: "Som svakoum".
Kotava: " Drumbaca "
Kotokoli: "Nodé"
Kurdish: " Bi xer hati "
Languedocian: " Benvenguda "
Lao: "Gnindi ton hap"
Latin: "Gratus mihi venis."
Latvian: "Laipni lūdzam"
Lingala: "Boyeyi bolamu."
Lithuanian: " Sveiki atvykę "
Luxembourger: "Wëllkom".
Macedonian: " Dobredojde "
Malaysian: "Selamat datang."
Malayalam: " Swagatham "
Malagasy: " Tonga soa "
Maltese: "Merhba"
Maori: "Haere mai"
Mina: "Miawezon."
Mongolian: "Tavtai morilogtun"
Mooré : " Ne y waoongo "
Dutch: "Welkom"
Nepalese: "Namaste"
Norwegian: " Velkommen "
Occitan: "Benvenguts"
Urdu: "Khush amdeed"
Panjabi: "Naked Ji aayien" or "Saasriyakaal"...
Papiamento: "Good bini"
Persian: "Khosh âmadid" (formal) or "Khoshumadi" (common)
Polish: "Witaj" (singular) or "Witajcie" (plural) or "Witamy".
Portuguese: "Bem-vindo".
Provencal: " Benvenguda "
Romanian: "Bine ai venit" (singular) or "Bine aţi venit" (plural or polite)
Russian: "Dobro pojalovat."
Samoan: "Afio mai mai or "Susu mai ma maliu mai"
Sardinia: "Benènnidu" or "Beni benìu".
Serbian: "Dobrodošli"
Shona: "Wauya" (singular) or "Mauya" (plural)
Sindhi: "Bhali karay aaya"
Slovakian: "Vitame vás" or "Vitajte" (Vitame vás or "Vitajte")
Slovenian: "Dobrodošel" (m) or "Dobrodošla" (f) or "Dobrodošli" (pl)
Sobota: " Zupinje z te videtite "
Swedish: "Välkommen" (Välkommen)
Swiss-German: "Härzliche wöikomme" ("Härzliche wöikomme")
Swahili: "Karibu" (singular) or "Karibuni" (plural)
Tagalog: "Tuloy ka" (singular) or "Tuloy po kayo" (plural)
Tahitian: "Maeva" or "Manava."
Tamil: "Nalvaravu."
Tatar: " Rahim itegez "
Czech Republic: "Vítejte"
Telugu: " Swagatham "
Thai: "Yindii ton rap"
Turkish: "Hosgeldiniz"
Udmurt: "Gazhasa oetiśkom"
Ukrainian: " Laskavo prosymo "
Vietnamese: "Xin chào" or "Chào" or "Hoan nghênh"
Walloon: "Bénvnou" or "Bénvnowe" or "Wilicome".
Wolof: "Diarama"
Yiddish: "Wilkum."
Yoruba: "ekouabô" or "ekabô".
Zulu: "Isibingelelo" or "sawubona" or "uwamkelekile".