If you think that Bali is only a destination for young people and honeymooners, you are wrong. The Isle of the Gods has a lot to offer for families traveling with children. Discover the best hotels in Bali here.
Bali it's a destination for everyone. The attractions and infrastructure of the island please the most refined tastes to the most 'easy going'. It is no wonder that the island of the gods is Asia's champion in the survey of the 25 best places to visit as soon as possible, according to US World & News Report.
The island has several regions for different types of profiles, as you can see in this post Where to Stay in Bali, however, for those looking for a mix of tranquility, sophistication and beautiful beaches, the region of Nusa Dua it's a great option.
20 minutes from Kuta (the busiest city in Bali), Nusa Dua it's like an oasis amidst the chaos of the island. The region is a closed condominium of luxury hotels and resorts, with semi-exclusive beaches and several options for those who like tranquility or family activities.
If you are looking for good hotels in Bali, we recommend the Sofitel Bali Nusa Dua Beach Resort.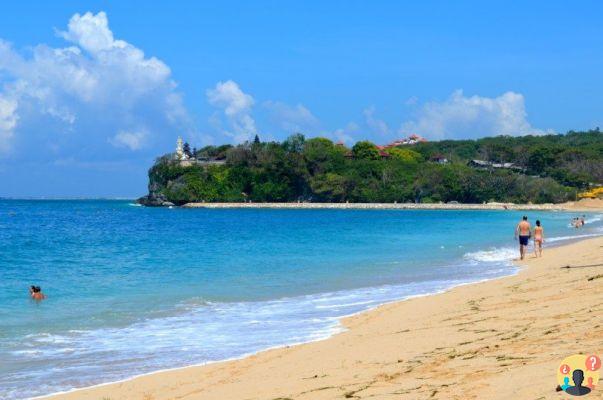 Sofitel Bali Nusa Dua Beach Resort
With 400 rooms spread over a large area in front of the beach, Sofitel Bali Nusa stands out for the large number of activities for guests and the relaxed atmosphere of the place.
In addition, what most attracts attention is its swimming pool, which extends through "channels" and reaches the door of the rooms. That is, it is possible to leave your suite swimming to the main pool. #ParadiseouNo?
Just for the reasons listed, it is already possible to understand why he is one of the hotels in Bali perfect for families. However, the highlights go even further and please the most diverse profiles: it is possible to enjoy a day on the sun loungers on the beach, having a massage in front of the sea, enjoying the day in the large or children's pool or enjoying the happy hour at the Nikki Beach Club, considered one of the best in Bali by several international publications.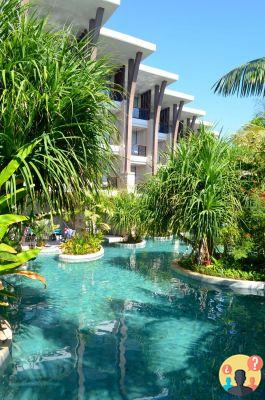 Rooms and Suites
There are four types of rooms and suites, as well as three different types of villas. With all this variety, the hotel caters for all tastes. we stay in Luxury Room Pool Access and we had an amazing experience.
The decor is modern and the environment is spacious, overlooking the pool and direct access to it. The bed is one of the highlights, you're not sure if you want to spend more time in bed or enjoying everything the hotel has to offer. The room has the option of being connected, which is a great option for families who are looking for good hotels in Bali.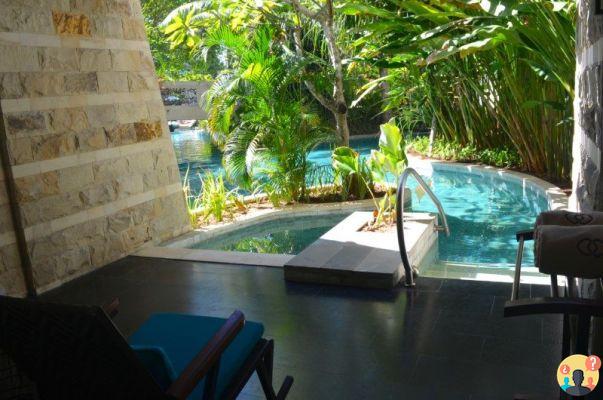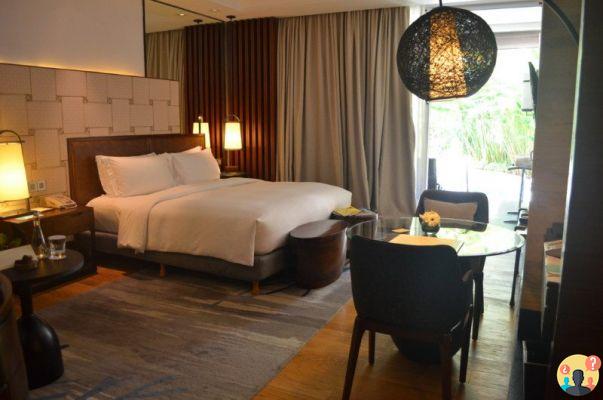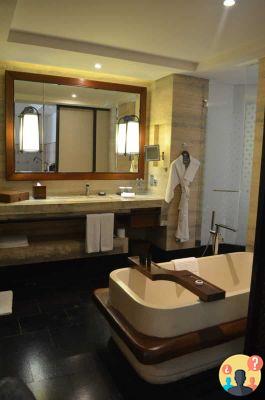 Restaurants
There are six restaurants within the complex. Breakfast is served in the Cow scene, which is inspired by the concept of a market. There are so many options and varieties that it makes you want to extend breakfast to other meals of the day. To give you an idea, there is even Japanese food in the morning.
For dinner or lunch, a good option is the Beach Bar & Grill. Every night they serve a typical Balinese barbecue. Get ready for an open bar of seafood, fish, rice and various typical spices for a fixed price (about 290.000 rupees – less than $30).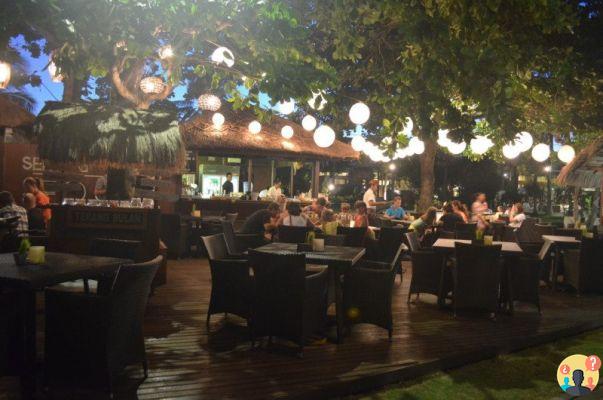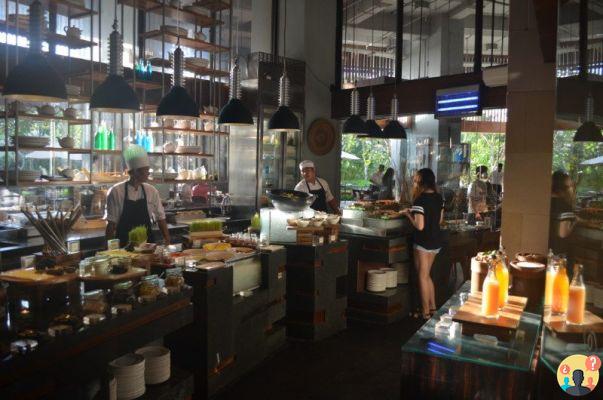 Nikki Beach Club
If you are thinking of drinks, happy hour and good ambient music, this is the Nikki Beach ahead Club. With a pool surrounded by sofas, sun loungers in a super relaxed atmosphere, Nikki Beach serves double drinks every afternoon.
In addition, it faces the beach and you can stay in super comfortable armchairs on the sand, facing the sea too. The snacks are great, it's worth spending an afternoon there.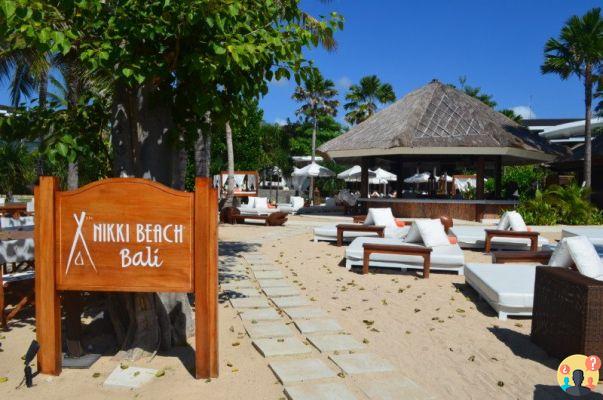 Activities, SPA & Wellness
From yoga classes to beachfront massages. It is no wonder that the Sofitel it is considered one of the best hotels in Bali. Wellness activities include the SPA, gym and beach.
The swimming pools are the highlight of the hotel, which are spread out practically throughout the grounds. There is also an exclusive pool for children and the one for adults has bars and the like that allow you to spend all day there.
I recommend the massage in the gazebos in front of the beach, it is a unique experience. Go to Bali and not trying the massage is like not having traveled there, it's totally a must on the island.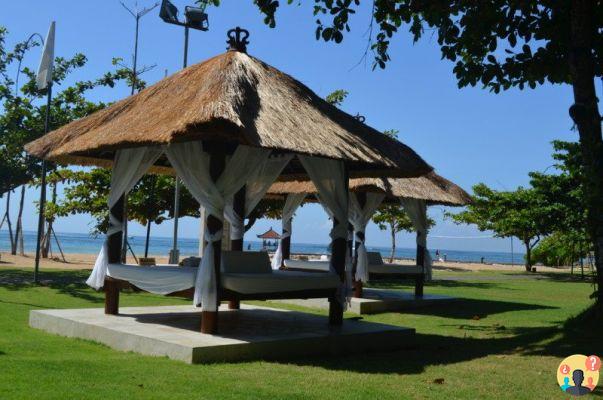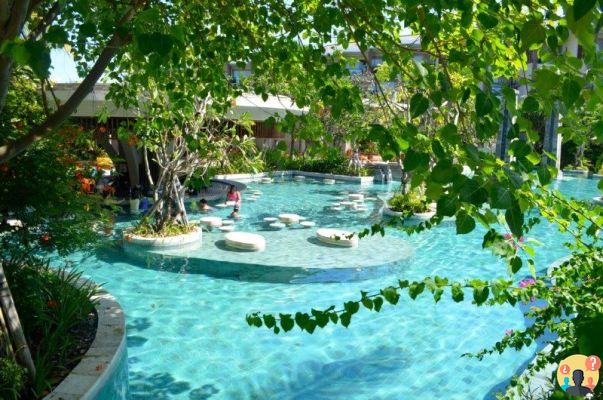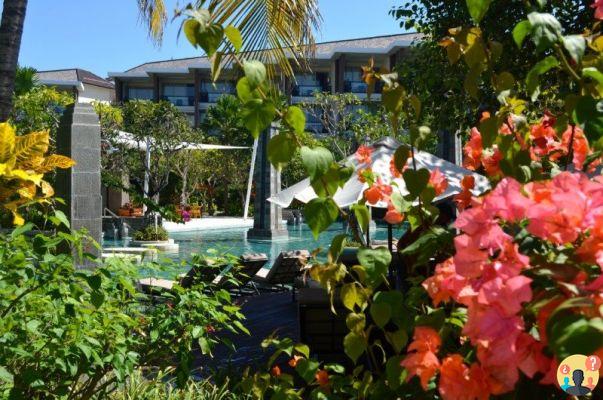 Club Millésime and Services
The French network has the Club Vintage which is a personalized service for those staying in more sophisticated rooms. In addition to free access to the club, happy hour, snacks and the like are also served throughout the afternoon.
Check-in is done there and all the needs you need are also taken care of inside the club lounge.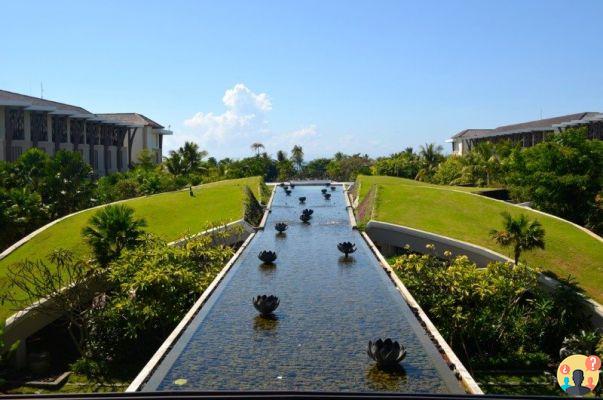 Location
O Sofitel Nusa Dua It is in an excellent location for those who want to enjoy the beach, stay in a quiet place with the whole family. The hotel is about 30 minutes from the beaches on the Uluwatu and 20 minutes from the airport.
Is that you? also think that the Sofitel one of the best hotels in Bali?
SEARCH HOTEL PRICES AND AVAILABILITIES HERE
Why is it worth taking out Travel Insurance to go to Bali?
You don't want to risk any mishap that could spoil your entire trip planning! You can check out the stories of our columnists who tell why it is worth taking out travel insurance. In any case, the ideal in a Travel Insurance is REDUCING RISKS that can happen on a trip. The "extras" you can choose according to the insurance company's offer: which can cover even lost luggage, theft and theft and even the trip of a family in case of an emergency.
To find good travel insurance deals, we recommend the website Promo insurance. It compares the prices and coverage of the main insurance companies in the world, such as SulAmerica, Assist Card, GTA, Affinity, among others. There, you can check the policies that most have to do with your trip and hire the one you think is best.
As we really like this tool, we got a 5% discount on Seguros Promo for our readers! Just use the coupon FORTRAVELOVERS on the website, by clicking here.
Receive a SIM card at your home in España and use unlimited Internet throughout Indonesia
Are you also tired of only being able to use your cell phone at points that you find Wi-Fi free during the trip? And having to pay per day to be able to use a GPS in the rental car on the trip?
We couldn't take it anymore, especially because we wanted to post real-time photos of our trip on social media. In addition, Google is a great ally to find what we need while on vacation, such as information and places, and you can't just use it where you have Wi-Fi.
So we discovered one of the best solutions to end this problem, that you will no longer have to spend hours of travel in phone stores in the country, speaking an unknown language to get a SIM card. This is one of the tips we love to give our readers: America Chip.
Write it down: The company sends an international Chip to your home in Spain. When you're on the plane, just change your Brazilian SIM card for this international one. You will arrive in Indonesia with unlimited internet, using your cell phone at will, as you use in España.
Arriving in Bali, you can use it all day, anywhere. You'll save on GPS rentals, Skype credits, and you'll still be able to use social networks, Google, or search for anything on the internet all day. In addition, you can still call your home to send travel news as many times as you want via WhatsApp or Facetime.
Read More
Everything You Need to Know Before Traveling to Bali
Where to Stay in Bali – Main Regions
Best Hotels in Bali – Sofitel Bali Nua Dusa Beach Resort
Best Hotels in Bali – The Sintesa Jimbaran Bali
Best Hotels in Bali – Royal Kamuela Ubud
Moonlight in Bali – The Ungasan Clifftop Resort
Guia Completo de Nusa Lembongan, Nusa Ceningan e Nusa Penida
Things to Do in Ubud, Indonesia – Everything You Need to Know
Where to Stay in Ubud – 8 Tips to Make the Most of It
Most Common Scams for Tourists in Indonesia – How to Prevent
International Travel Insurance – Is it worth it?
How and Where to Buy Travel Insurance – Step by Step
Plan your trip:
Get started now by booking your hotel in Bali on Booking.com
Save time and money searching for the best Travel Insurance with the Seguros Promo comparator! Extra 5% off with coupon: FORTRAVELOVERS
Compare the best prices to rent a car from over 100 rental companies with Rentcars! (Pay in up to 12X! Pay in reais, without IOF)
Leave España with Unlimited 4G Internet!