Over 130 years of hospitality in a great city location. If you are looking for where to stay in Interlaken, you can stop your search as we will give you all the necessary details!
I started my experience in the city at the Hotel Krebs, one of the most popular in the region. It was easy to find it as it is very close to the train station. Interlaken West and if you are looking where to stay in Interlaken, you already know that it is super well located.
The external architecture of the hotel is very beautiful. Inside, the hotel is old, but well preserved. There are 44 rooms and suites, which underwent a renovation process in 2008.
History
The hotel has over 130 years of history. It was opened under the name of Pension Cancer when it was built in 1875 on Bahnhofstrasse (Station Street) by Krebs family. At that time, the street was still surrounded by fields and it was only with time that different types of shops emerged around the hotel.
Interestingly, in this period a room cost 2,50 Swiss Francs (without water in the room) (R$ 8,88 at the rate of 10/06/2016), breakfast cost 1,50 CHF (R$ 5,33 at quote from 10/06/2016) while dinner cost between 2,50 and 3,00 Swiss Francs.
In 1890, it underwent the first expansion process. The second came only in 1927, when rooms with access to water were created. However, the hotel still had only one place to shower.
in the period of Segunda Guerra Mundial, served as a military base and only later in 1947 did it receive guests again. From there, electricity, an elevator, a bar and also a restaurant were introduced.
The hotel has passed through four generations of Krebs family before changing owners in 2005. It underwent a renovation and in 2008 it opened its doors again, now as a four-star Boutique Hotel. if you are looking where to stay in Interlaken, you already know what story you find in cancer.
Location
It took a maximum of three minutes to walk from the station. Interlaken West until you reach the hotel, that is, it is very well located. That's one of the reasons it's such a popular hotel.
Leaving the station, just walk left along Bahnhofstrasse and you will reach the hotel also on the left side of the street.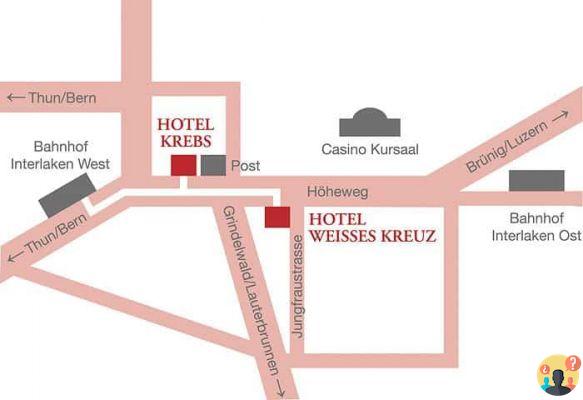 The Hotel is practically in the center of the small Interlaken and on foot you can walk practically all over the city. Shops, restaurants, chocolates and cheeses! Everything close.
Parking
The Hotel has partially covered parking and also has an open area. The cost is 15CHF (R$ 53,28 at the 10/06/2016 quote) per day.
Check In
The process was very quick and in less than five minutes I was on my way to my room. It can be done at any time of the day depending on the availability of the rooms, but at 15:XNUMX it is recommended. In case you arrive at the hotel early and your room is not yet available, there is a safe and room to leave your belongings while you wait.
Check-out is between 07:11 and XNUMX:XNUMX. Late Check-Out is also possible depending on availability.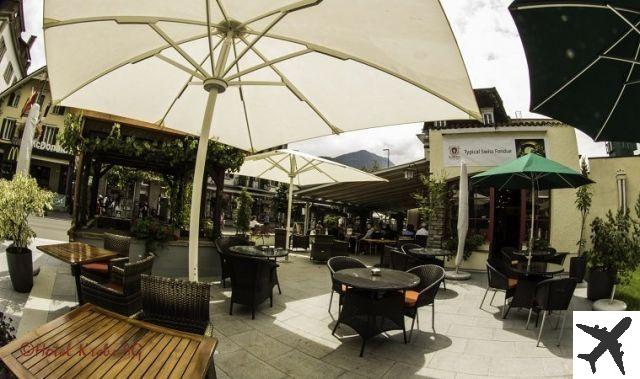 rooms
My room was a little cramped, but it had a big and comfortable bed. The decor was still a little old, but it didn't owe anything. The bathroom was very nice and spacious, well lit and very clean.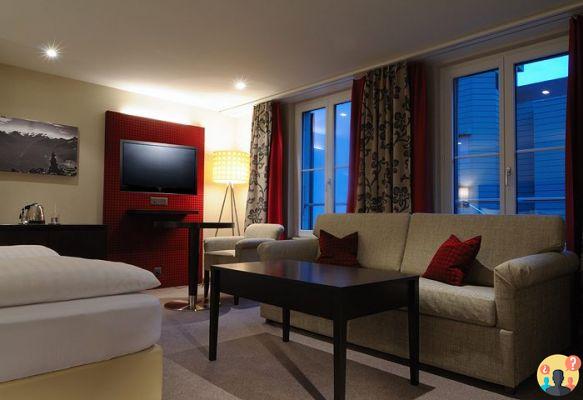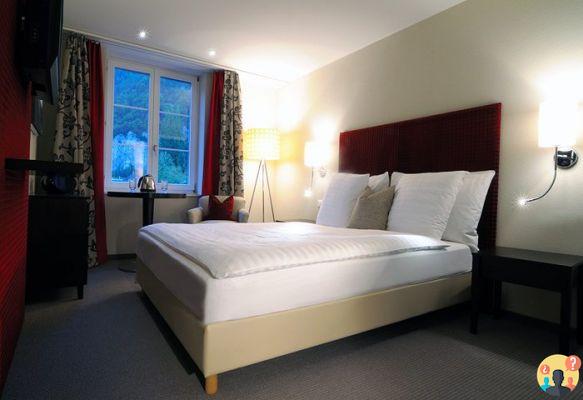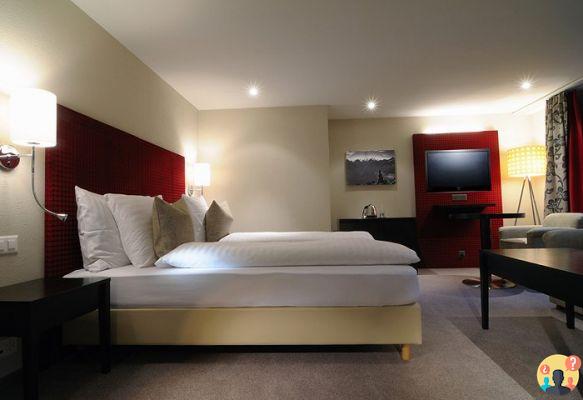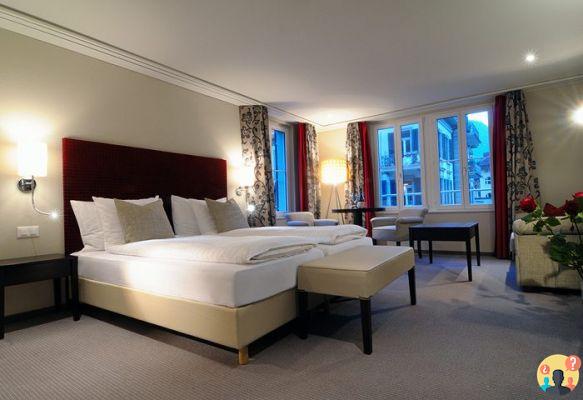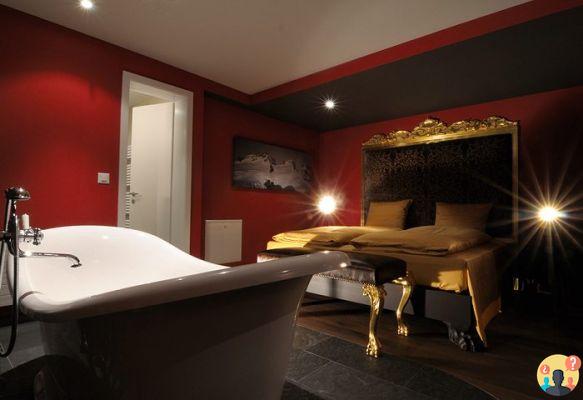 Laundry
The price varies according to the type and quantity of garments to be washed, costing from 6,50 CHF (R$ 23,09 in the quotation on 10/06/2016) for a pair of underwear up to 20CHF (R$ 71,04 in the quotation of 10/06/2016) for a suit.
Breakfast
Full and delicious. Various types of breads, cold cuts and with credits for the smoked salmon. Assorted cheeses, yogurts and cereals, an area with hot foods like eggs, bacon, tomatoes, sausages and also some dishes that served oriental food. Juices, teas and coffees, these ordered separately.
Rancho Mayrita
Open every day of the week from 11:30 am to 21:30 pm.
For lunch, they offer a simple option (2 course Menu), with starter and main course for 19,50CHF (R$ 69,26 at the price of 10/06/2016) and a more complete option (4 Course Menu) which consists of a starter. , a salad or appetizer, the main meal and dessert, is priced at CHF 42,00 (R$ 149,18 at the price of 10/06/2016).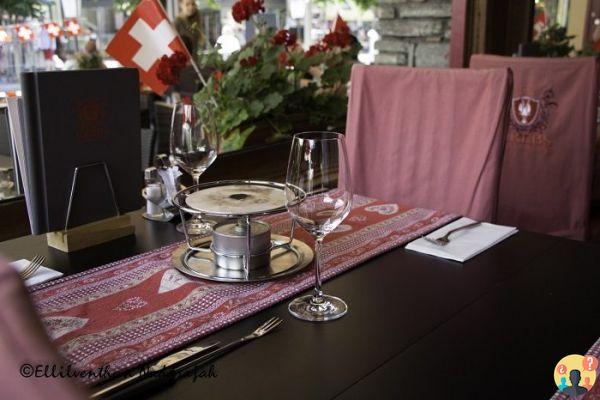 If neither of the two interests you, the restaurant also offers the option of a La Carte which is available for lunch and dinner.
Internet and TV
Internet is included in the rate and works well in different parts of the hotel. Rooms are also equipped with TV and international channels.
I liked the hotel, for being four stars I think it owed in some parts, such as the elevator is super small and the hallway floor makes noise when walking. It is possible to notice that they are old structures, but the hotel intends to keep some of its history and tradition even though it belongs to another family these days.
Another factor that makes the Hotel Krebs popular is the terrace that on Sundays receives many young people who go there to have drinks and chat at dusk.
Switzerland Travel Insurance
Having travel insurance for Switzerland is a requirement to enter the country, which is part of the Schengen Treaty and requires medical and hospital coverage of at least €30 for travelers. In addition to being mandatory, insurance is a great way to ensure a smoother trip. Also enjoy our Insurance Promo discount coupon. - SEE PRICES
Diego Imai traveled at the invitation of Tourism Switzerland.