When I was putting together my travel itinerary for more than a month through Thailand I was sure I wanted to know different and special places, avoiding the obvious at times. Bangkok, Chiang Mai, Phuket, Phi Phi, Koh Samui were the first names that came to my mind and appeared in Google searches.
I wanted more. More tranquility, more nature, more relaxation, more sun, shade and fresh water. I wanted less. Less tourists, less hustle, less dirt, less traffic… I discovered an island called Koh Lanta, a district in the Krabi province in southern Thailand, with one of the largest natural conservation areas in the country.
It is a relatively large island compared to Koh Tao, Samui and co, but far from developed and chaotic like Phuket. There are several accommodation options in Lanta, from hostels to different hotels and bungalows, but nothing comparable to the Pimalai Resort & Spa – certainly one of the best hotels I have ever stayed in. You will understand why.
>> Build your itinerary on what to do with our Thailand Tips – 15 Indispensable Experiences
Buy your travel insurance at a discount!
Get 10% off with coupon FORTRAVELOVERS + payment by check.

OR HOTEL
The name Pimalai is a derivation of the ancient Sanskrit language which can be translated as "a little piece of Paradise". Perfect translation and naming. That's exactly what I found. A paradise surrounded by natural beauty, forests on all sides and a wonderful sea – 900 meters of private beach. The hotel has a huge structure, with several facilities, in addition to several restaurants, sports courts, spa, bars, swimming pools, yoga studio, gym, library, among other attractions. It is maximalism in stars (there are five, in addition to the Small luxury hotels seal/certification) in a boutique hotel approach that makes you feel like the most special person in the world. This is hospitality and luxury.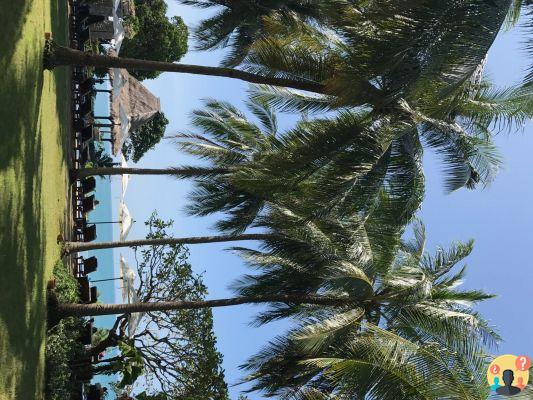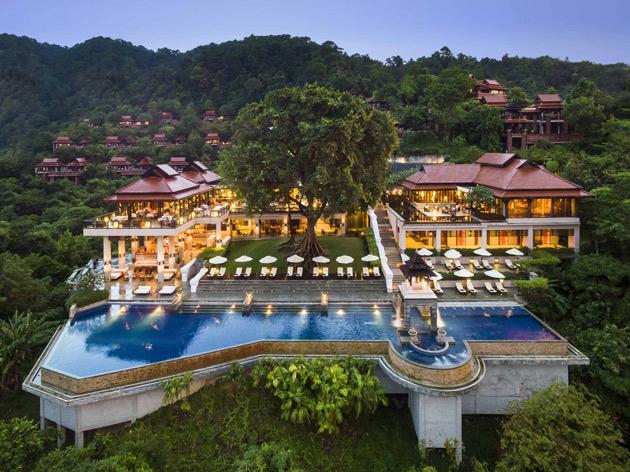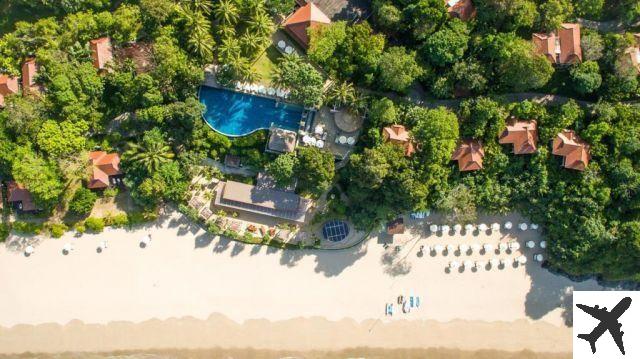 I will separate the post into parts, so it will be easier to tell my experience point by point. There were four unforgettable nights – with a capital I!
CHECK IN
My first contact with the hotel was at the pier Koh Lanta Yai, where most boats from other islands arrive. As soon as I landed, a hotel representative was waiting for me with those typical signs and a smile on his face. This port is approximately a 30-minute drive from the hotel, so we got into an extremely clean vehicle, with still and sparkling water, plus some jellybeans.
Getting out of the car, even before arriving at the reception, I was greeted by two other very friendly employees who gave me a smiling "welcome" and an extremely delicate and fragrant flower necklace, while indicating the way to the lobby. Comfortable sofa, non-alcoholic welcome drink, hot wet towel to clean your hands and check in was done like this, quickly while I relaxed and observed the beautiful lobby full of rustic furniture.
I received the room key, a map of the hotel (that's right! lol) and a driver, this time with a golf cart, was waiting for me to take me to the accommodation that was downstairs (near the beach). The hotel is divided into two large areas: the beachside estate and the hillside estate (on a mountain in the middle of the woods).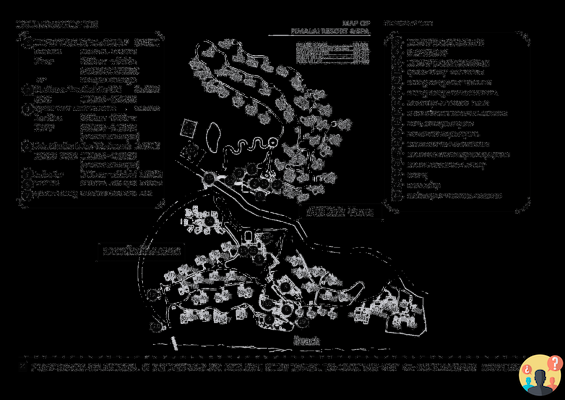 THE FOURTH
I arrived in suite 402, a wonderful deluxe bayfront room. The hotel employee came in with me, introduced me to the accommodation and explained how everything worked: TV, curtain, bathtub, etc. I thought it was great. Have you ever stopped to think how many times we spend hours trying to turn off the lights or turn on the television, lol?! What seems obvious often isn't, so this kind of action makes a difference. I believe every hotel should do this.
I let out a happy WOW when I saw the balcony, another when I saw the colorful flower arrangement, another when I saw the bathtub….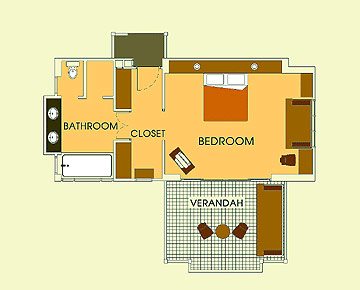 Admiring the view and enjoying the sunset on the bedroom balcony.

Bayfront Deluxe Room bathroom

Pimalai Resort & Spa – Photo: publicity

Pimalai Resort & Spa – Photo: publicity



The room is approximately 70 square meters, king bed, sofa, TV, CD and DVD set, sofa, air conditioning and fan, coffee and tea services, closet with iron and ironing board, free standing bathtub and separate shower, exclusive amenities. Not to mention the balcony with spectacular views, meditation style sofa and chair.
I arrived hungry on a cloudy day. After tasting the fruits and cookies that accompanied a welcome card handwritten by the hotel manager, I read a little about the activities and attractions of the Pimalai and I took a shower while I waited for the cheeseburger with fries and Coke I ordered. #roomservice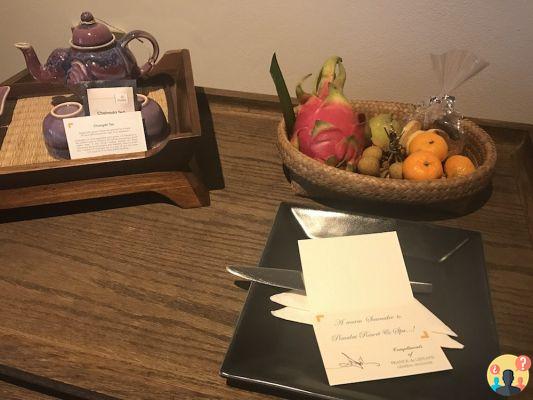 There are 10 types of accommodation and in total there are 121 divided between the beachside estate and the hillside estate. Some of them are practically on the sand, or in the middle of the forest and can accommodate up to 9 people.
Carts are always available for us to move from one side to the other. You call one of the receptions and then someone picks you up.
Media, Staff and customer relationship:
One of Pimalai's strengths is the staff. There are more than 350 people responsible for creating this unique experience that is staying there. Half of the employees are natives of Koh Lanta. The hotel has a super cool workforce training program. They teach English, in addition to specific actions in the employee's area of ​​activity. In this way, they generate income, transform lives and provide us with an authentic experience with the local culture. A big big thank you to the general manager Franck de Lestapis and his assistant Apple who took care of everything and welcomed me with great affection.
I thought it was really cool that the hotel sends letters to the room. Sometimes talking about the programming options for the next few days, sometimes showing the weather forecast, etc. They also deliver "The Tide Post" for breakfast – a hotel newspaper with tips, information, offers for activities, as well as poetry and "quotes" of the day. I kept a copy that came with the following phrase from Buddha: "Generosity brings joy, honesty brings peace".
Another nice point of communication are these letters that arrive daily. The one that surprised me the most was the upgrade! That's right. I woke up on the third morning saying that I would check out of 402 and check in at Vila 716, at the top of the hotel. There I went happily to the mountain.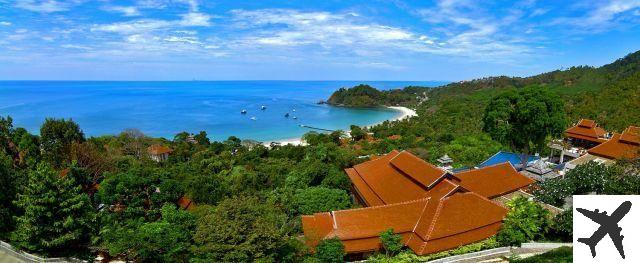 THE VILLAGE
Sky people! I was exploring my new accommodation called Hillside Ocean View Private Pool Villa One Bedroom. That is, a one bedroom villa with private pool, living room, kitchen, balcony, sofa and etc. There are 204 square meters, installed 80 meters from the sea in the middle of the forest. It's impressive to think about design and architecture in general. When the architects expanded the hotel, they had to think about sustainable design, combining nature preservation with building structures inspired by classic Thai buildings.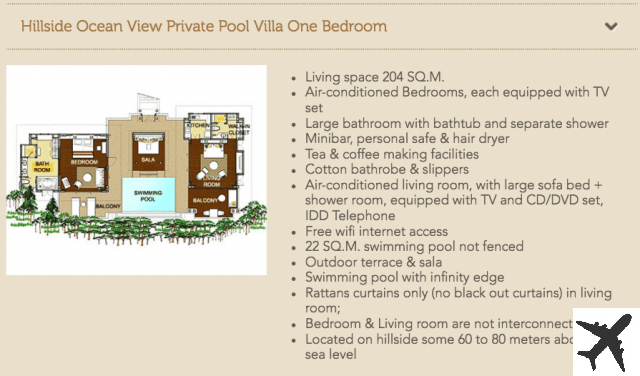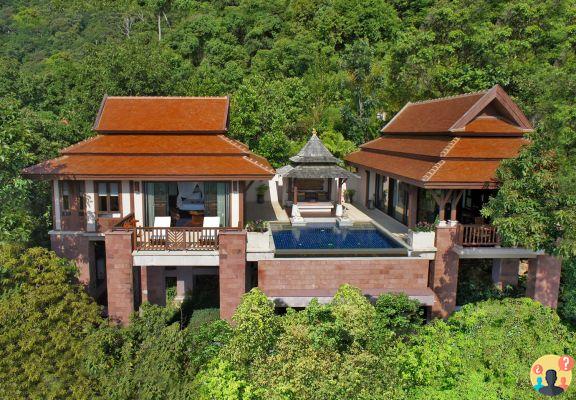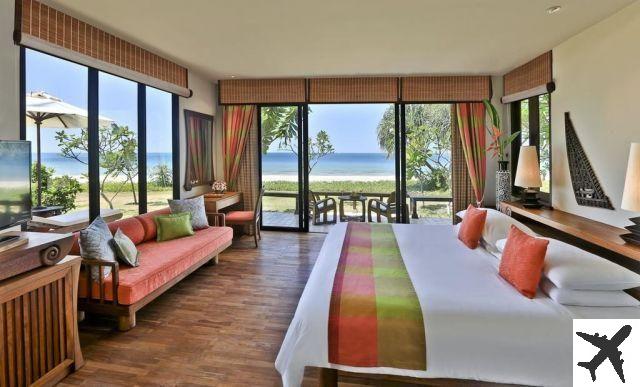 The result is these incredible villages in the middle of the forest. What I found most wonderful besides the contact with nature and the whole village itself, was the privacy. Nobody saw me and I saw nobody. Discretion, tranquility and intimacy. Ah, you're not always alone... every now and then a little monkey, bird or other animals appear. They recommend keeping an eye out and always locking the door because the animals are smart…After all, we are in their habitat and…when the cats come out, the mice (in this case, the monkeys) celebrate.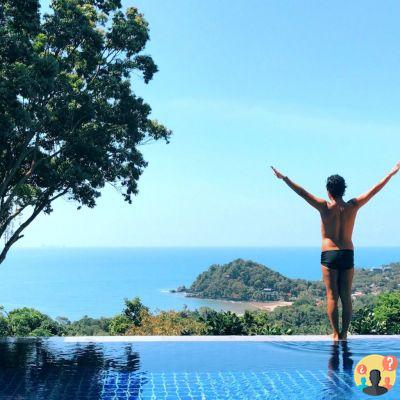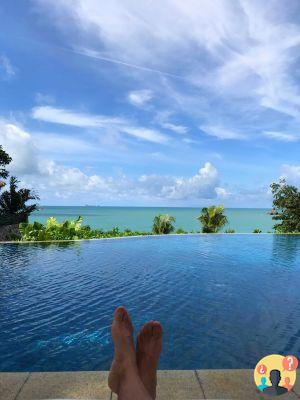 This video shows some highlights from there:
POOLS AND FACILITIES
Pimalaia Resort is big and there are facilities everywhere. Starting with the large infinity-edge pools. There are two, one at the bottom of the hotel and another at the top with waterfalls, shallow and deep, in addition to comfortable loungers and sun beds for you to spend the whole day poolside.
The gym is good and it's on the top right next to the pool. Cardio and weight training machines are available, as well as an area for stretching, meditation and those do-it-yourself circuits. I love hotel gyms, because they are usually empty, fragrant and complete. I trained alone two days before breakfast. Very good!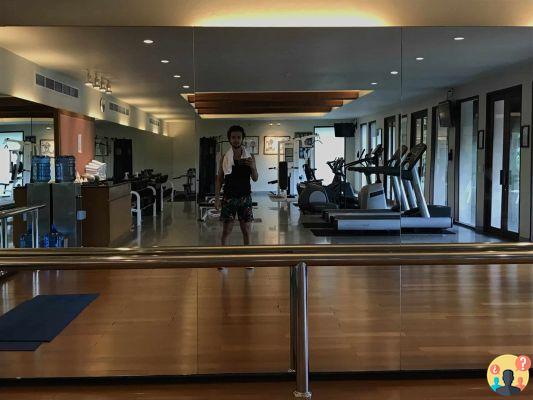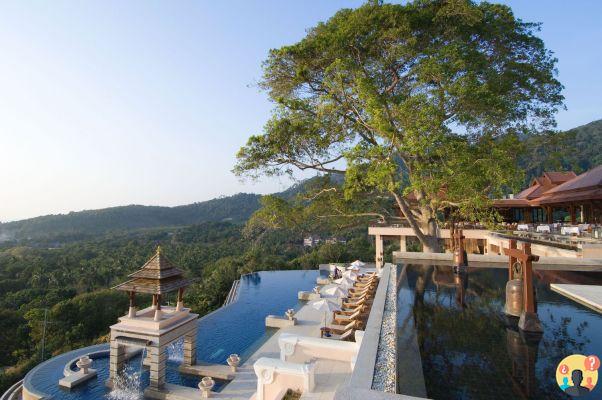 Pimalaia Resort also has two tennis courts, a yoga studio, a Dive Center with diving classes, a space for Thai cooking classes, a library with computers, in addition to the beach structure that has various equipment for activities and sports such as canoeing. , stand up paddle and etc… and also the SPA…
still have doubt where to stay in Koh Lanta ? rs
the SPA
Like an oasis within an oasis, Pimalai SPA is an enclosed space in the middle of the property dedicated to aesthetic and body treatments. It is a haven for relaxation, meditation and well-being open every day from 10 am to 9 pm. The Spa has won several awards and is on the list of the best spas in Asia and the world and is also recommended by Conde Nast Traveller. There are several packages and options for massages and other services such as manicures, pedicures, etc.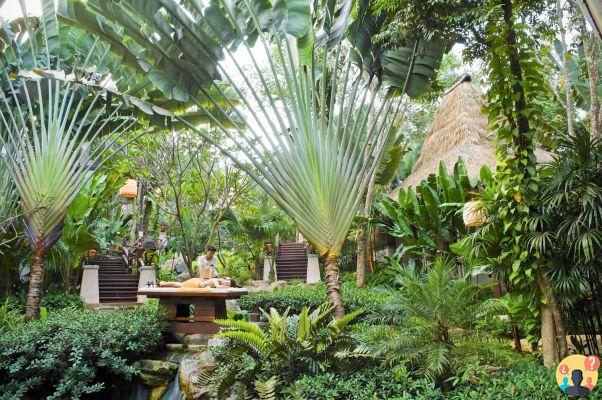 I had a 1 hour full body massage. It is necessary to book in advance and plan to spend a good time there. In total I stayed about 3 hours. They recommend that you arrive half an hour before your treatment time. In that time you have tea, relax and make some choices, if applicable. In my case, I chose an oil massage and while tasting a tea I chose the special oil with the theme of clarity.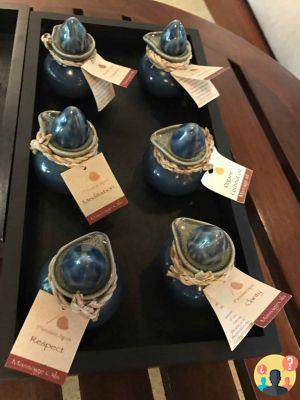 There are other options such as meditation, patience, respect and so on. After the massage I went to a relaxation deck and enjoyed the moment, the view, the noise of the birds and the fountains. Connection with my self and with nature. inspire. Expires. Give thanks. <3
BREAKFAST AND RESTAURANTS
I was impressed with the amount of culinary options at the hotel. From room service, to breakfast, through the most casual and sophisticated bars and restaurants. The quantity and quality of options is surprising.
Breakfast takes place in two different restaurants, depending on which part of the hotel you are in. The first two days I had breakfast at Spice n' Rice and the other two at The Seven Seas Restaurant & Bar.
The service is buffet style with several stations for different types of food. It's a feast that can be seen as a hearty lunch. Continental breakfast classics, typical of the French menu such as pain au chocolate, croissant, as well as Chinese, Japanese, Thai and so on!
I enjoyed the omelet stations. Each day I ate a different one.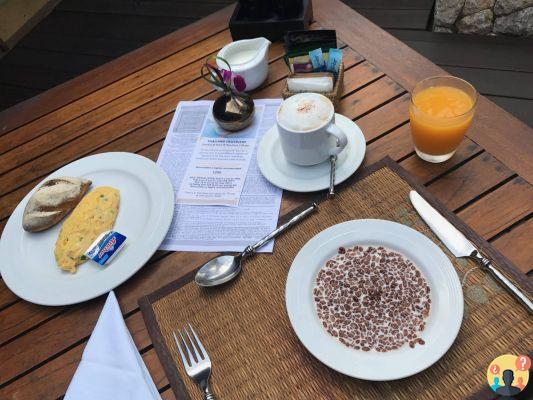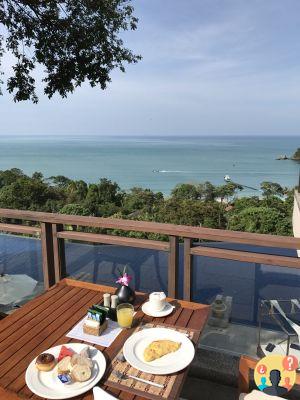 A little bit about each of the restaurants:
The Seven Seas Restaurant & Bar: Western cuisine with European influences, mainly French and Italian. It's the most sophisticated of restaurants, so no flip-flops, sportswear and bikinis for dinner. It's nice to get ready for a good meal. I had a dinner of the Gods. I had a steak with roasted potatoes and garlic and a delicious caramel-crusted chocolate mousse… plus some cosmopolitans, of course.
By the way, the outside area of ​​the restaurant is incredible to admire the sunset over drinks. Sometimes they have happy hour during the late afternoon… Who doesn't love a double dose?!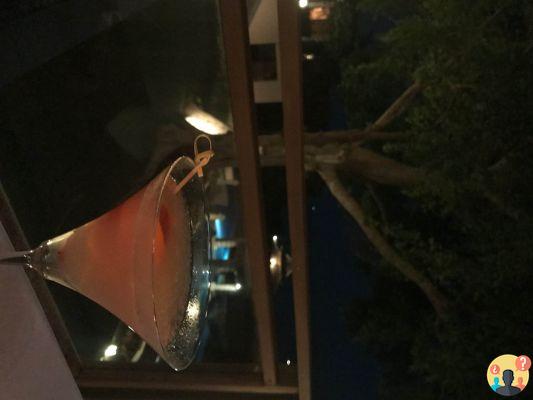 SPICE n' Rice Restaurante: Thai cuisine classics. I had dinner at this restaurant twice. On the first night I ordered spring rolls as a starter and chicken with chestnuts and vegetables with rice and coconut ice cream – very typical. If you are going to Thailand you will find these options almost everywhere. The most amazing thing about this place was the Thai themed dinner with a dance show and buffet with more than 50 types of dishes. I tried more than 20 dishes between starters, mains and desserts. While having dinner, I watched a show of music and typical dances from different regions of the country. This option of immersion in culture is very interesting.
It was a delicious feast that I will always remember. I thought it was really cool that the dancers and participants in the show were all hotel employees. Some from reception, others were maids and so on. The atmosphere is one of family and cultural pride.
The Rak Talay Beach Bar & Restaurante: foot in the sand and that view and the delicious breeze of the Andaman Sea. Great option for lunch and dinner. The menu is varied with several salad options (I had a delicious ceasar for lunch) and I dined on a potpourri of dishes that included everything from bruschetta to lamb. During the day the bar serves guests on the beach. I loved ordering the spring rolls and fresh fruit smoothies. At the end of the day….beer! LOL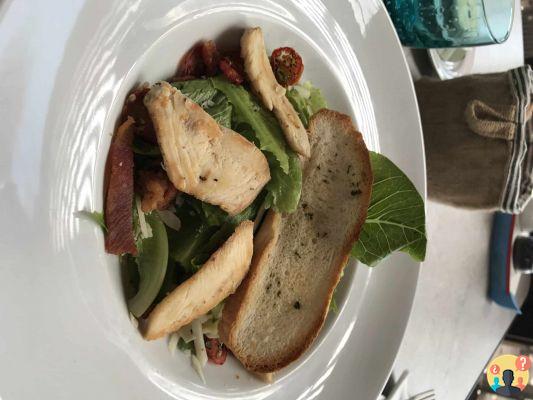 Pimalai Resort & Spa – Photo: publicity

Pimalai Resort & Spa – Photo: publicity
These are the main food and beverage facilities, but the hotel also has The Banyan Tree Poolside Café, the Pool Bar, the Lobby Bar and of course, it offers room service until 02 am.
WHAT TO DO IN KOH LANTA?
If you seek tranquility and "do nothing" in the pool, in the shade or in the sea, you already know where to stay in Koh Lanta. However, if activities are your thing, Pimalai Resort & Spa is also perfect for you, as it offers a range of tours, classes and entertainment options.
There are so many options that it's hard to choose. As soon as you arrive, they recommend some activities and suggest a conversation with Miss Beatle or dear Mr. Yuth who are responsible for activities and recreation.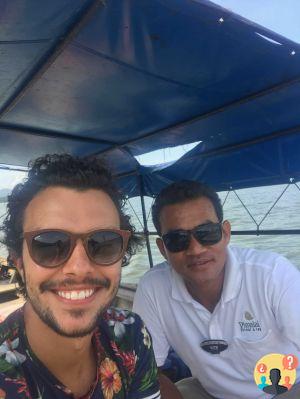 Lanta Shopping Tour e Eco-tour: This was a really cool tour I took to get to know the old part of the island of Koh Lanta (old town) and also the Tung Yee Peng community forest, a large nature reserve. Boat trip through the mangroves and walk through the forest. It was Yuth himself who accompanied me and made strategic stops on the way to tell me stories and curiosities about the island and the culture there.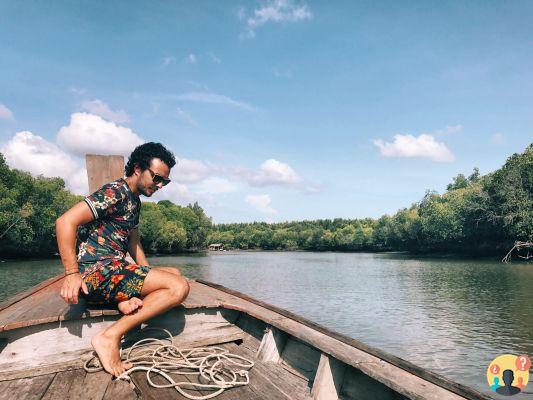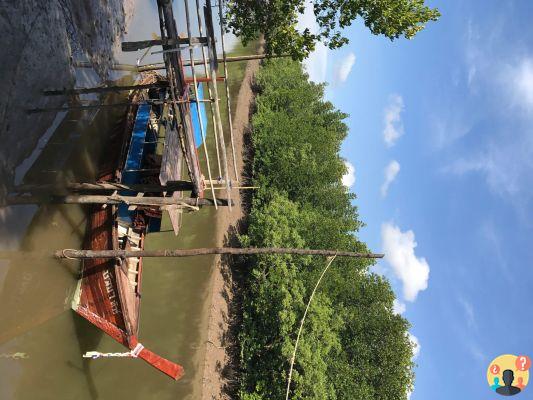 I learned that a few centuries ago there was a Chinese invasion of the old town and that's why there are Chinese temples and Chinese celebrations. There are also many Muslim sites, as the majority of the island's population is Muslim and not Buddhist like in the rest of the country. Beautiful to see this mix of religions and cultures living in harmony. That's how it should be.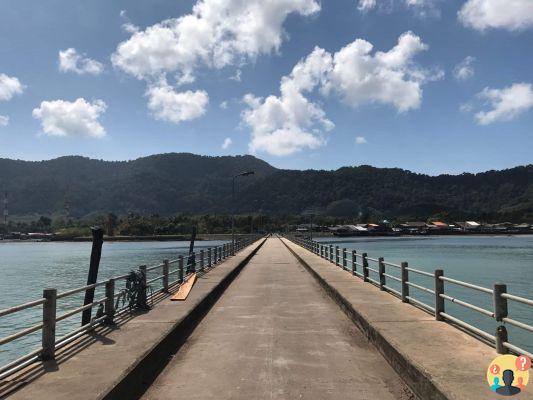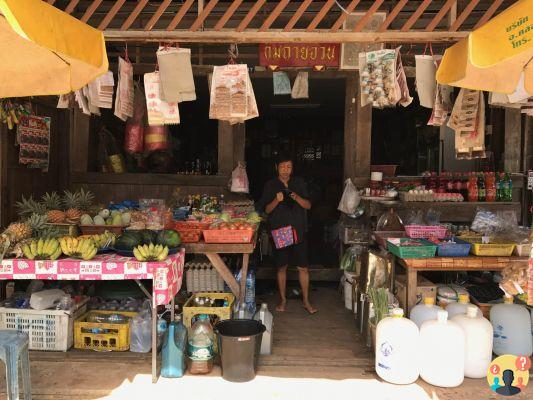 Another wonderful tour I took was the Koh Haa Island Discovery & Sunset Cruise:
This tour is unforgettable. Beautiful. Amazing. Me and other hotel guests boarded a super boat at 14:30 pm and went to a small islet called Koh Ha, an excellent place for diving and snorkeling. We stopped on the high seas, put on masks and snorkel and were guided by professionals. They showed the way and talked about the fish, corals and marine vegetation. It was more than an hour and a half of snorkeling with emotion and contact with many species of the sea, from clown fish to sharks. Yes, I swam alongside three baby sharks!
We rested a little on a deserted beach before swimming back to the boat and sailing, toasting with beer, wines and canapés. On the way back, we stopped the boat in the ocean to enjoy the magnificent sunset and dock back at the hotel after sunset with the arrival of the moon and a cotton candy-colored sky, a delight for the eyes. TOO MUCH! I made a video with some moments <3
Other tours they offer: marine park, elephant ride, scuba diving, among others.
what to do at night: after dinner at one of the hotel's restaurants, it's a good idea to walk along the beach until you reach the Why not bar – a very roots bar with live music and on the beach. Good vibes only!
PRICES
Daily rates, as in almost all hotels, vary according to the period, category, channel and booking date. As there are many different categories and seasons, the value changes a lot. Best of all, as the hotel is located on a more remote island, with weak currency, the prices are inviting. I even found a room for two people with breakfast for approximately 600 reais.
Whatever the rate – I swear it's worth every penny.
MAKE YOUR RESERVATION OR SEE MORE ABOUT THE HOTEL HERE
LOCATION AND DISTANCES
Pimalai is located on the southwest coast of island of Koh Lanta Yai, but can be accessed in different ways. The hotel itself offers a transfer service in/out, no matter if you arrive by boat, ferry or plane.
Distances vary from your drop off point. The nearest airport is Krabi – approximately 2 hours. From Phuket the journey time doubles. I arrived by boat. I boarded on Phi Phi and arrived on Koh Lanta (after a bumpy ride due to unexpected weather conditions) an hour later.
As many people travel with several islands, it is difficult to say which way they will arrive. Anyway, get in touch with the hotel reservations staff, they will indicate the best way and will be waiting for you with a smile on their face, at the pier, at the airport or on the road.
THE SUSTAINABLE SIDE OF A 5 STAR HOTEL
Without a doubt, nature is the main protagonist of this paradise and the hotel is aware of the importance of sustainability in its actions. A series of sustainable programs are part of the daily life of Pimalai. To preserve nature, they created water reservoirs that take advantage of rainwater that, after being treated, is reused at the resort. Employees undergo various training courses on recycling and socio-environmental responsibility.
Pimalai also runs a series of programs to care for marine life. Some of the outstanding projects are the coral restoration and fish sanctuary of Koh Haa. For these and other actions, Pimalai has awards and certifications such as the Green Gold class Certificate and the Asean Green Hotel Awards. Sustainable luxury tourism – all the more reason for you looking for where to stay on Koh Lanta to stay there.
OTHER SERVICES AND FACILITIES:
Boutique (shop with fashion, decoration and souvenir items)
children's recreation
Business center with conference rooms
Parking
Assistance and realization of specials such as weddings, parties and engagements
Private dinners on the sand
Drivers and car rental
Party room
Safes in all rooms
Wifi Internet (great operation)
Among others
NOTE:
This is a perfect place to Honeymoon, weddings, and family trips. I was the only solo-traveller there. I loved it and I want to go back alone or with someone. This is without a doubt the best hotel I've stayed at in my life so far.
I can't wait to go back there. And you already know where to stay in Koh Lanta? Sawasdeee!
Contatos:
Phone: +66 (0) 2 320 5500
Fax: +66 (0) 2 320 5503
Facebook: /pimalai
Instagram: @pimalaikohlanta
Luis stayed at the invitation of Pimalai Resort & Spa.
Why is it worth taking out travel insurance for Indonesia?
You don't want to risk any mishap that could spoil your entire trip planning! You can check out the stories of our columnists who tell why it is worth taking out travel insurance. In any case, the ideal in a Travel Insurance is REDUCING RISKS that can happen on a trip. The "extras" you can choose according to the insurance company's offer: which can cover even lost luggage, theft and theft and even the trip of a family in case of an emergency.
To find good travel insurance deals, we recommend the website Promo insurance. It compares the prices and coverage of the main insurance companies in the world, such as SulAmerica, Assist Card, GTA, Affinity, among others. There, you can check the policies that most have to do with your trip and hire the one you think is best.
As we really like this tool, we got a 5% discount on Seguros Promo for our readers! Just use the coupon FORTRAVELOVERS on the website by clicking here.
Read more:
Thailand Tips – 15 Indispensable Experiences
Elephant Ride in Thailand – How to Choose?
What to Do in Thailand – Cooking Class in Bangkok
Where to Stay in Bangkok – W Hotel
Where to Stay in Bangkok – Hotel COMO Metropolitan
Cultural Festival in Phuket – Festival of the 9 Emperor Gods
What to Do in the Philippines – 20 Tips for Setting Up Your Itinerary
16 Philippine Beaches – Which are the Best Islands to Visit
What to do in Myanmar – Tourism in the Curiosa Capital "Ghost"
Interchange Travel Insurance – How It Works and Which is Best
Plan your trip:
Get started now by booking your hotel in Thailand on Booking.com
Save time and money searching for the best Travel Insurance with the Seguros Promo comparator! Extra 5% off with coupon: FORTRAVELOVERS
Compare the best prices to rent a car from over 100 rental companies with Rentcars! (Pay in up to 12X! Pay in reais, without IOF)
Leave España with Unlimited 4G Internet!