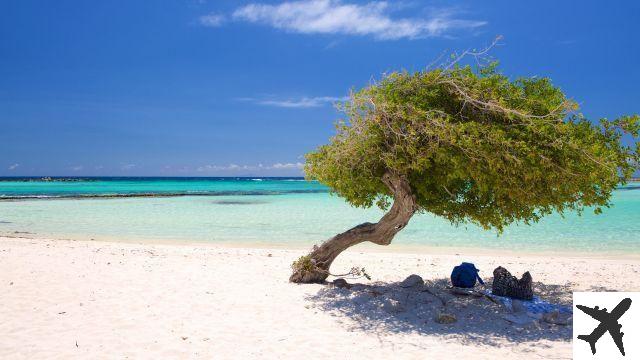 Aruba is an island located in the southern Caribbean Sea, belonging to the Lesser Antilles. This small island, which is part of the Kingdom of the Netherlands, is known for its beautiful beaches, warm turquoise waters, and year-round sunny weather. In this article, we will discover what makes Aruba a special place to live and work.
Where is Aruba?
Aruba is located north of Venezuela, about 20 miles east of the coast of Venezuela. The island has an area of approximately 70 square miles and a population of about 110,000 people.
What is it like to live in Aruba?
Living in Aruba has many advantages. The warm and sunny year-round climate is one of the main reasons why many foreigners move to the island. In addition, Aruba's population is very diverse and multicultural, which makes it easy to feel at home. The official language is Dutch, but most Arubans speak English, Spanish and Papiamento (a Creole language based on Spanish and Portuguese).
The quality of life in Aruba is high, with modern infrastructure and quality services. The healthcare system is excellent, with many doctors and clinics available, and the education system is very good, with several public and private options.
Living costs in Aruba
Living costs in Aruba are relatively high compared to other Caribbean countries, mainly due to the lack of natural resources and the need to import most goods and services. However, salaries in Aruba are also relatively high compared to other Caribbean countries, making it easier for expatriates to adjust to life on the island.
Accommodation in Aruba can be expensive, especially in tourist areas such as Palm Beach and Eagle Beach, but there are cheaper options in other areas of the island. Public transportation in Aruba is limited, so many residents choose to have their own vehicle. The cost of gasoline is higher than in the United States, but still cheaper than in Europe.
What is the main economy in Aruba?
Aruba's economy is mainly based on tourism, which provides more than 80% of the country's income. The island receives approximately one million tourists a year, making it one of the most popular tourist destinations in the Caribbean. Tourism is mainly concentrated on the west coast of the island, where the most beautiful beaches and most of the hotels and resorts are located.
In addition to tourism, Aruba also has an oil refining industry, which has been an important part of the island's economy for many years.
What businesses could I set up in Aruba?
Tourism Business: Since Aruba is a very popular tourist destination, it is an excellent option to start a tourism-related business. This could include a travel agency, a car or water sports equipment rental company, or a lodging business, such as a guesthouse or bed & breakfast.

Restaurant or Bar: Aruba is known for its excellent cuisine and has a wide variety of dining options. In addition, the island has a vibrant nightlife, which means that there is a demand for bars and nightclubs.

Construction and maintenance services: With the large number of tourists visiting the island, the demand for construction and property maintenance is high. If you have skills in this field, it could be a good option to start your own business.

Technology Business: As anywhere, technology is important in Aruba and it is an excellent opportunity to start a business in this sector. This could include web design services, technology consulting services, electronic equipment repair and maintenance services, or even a technology startup offering innovative products or services.





Retail store: With a large number of tourists visiting the island, retail stores have a great opportunity to thrive in Aruba. This could include a clothing store, souvenir store, electronics store, or any other type of retail business that has a good business idea and a good location.
In general, there are many business opportunities in Aruba and with good planning and a solid business idea, you could be successful on the island. As always, it is important to research well and get all the necessary information before starting any business.