Nobody likes to leave their pet behind when a trip comes along. That's why we give you all the tips for you to travel with your animals in a very peaceful way!
Traveling by plane with your pet is a little scary, due to the amount of legislation that must be complied with. But it can also be easier than you think.
To make sure your vacation is the best it can be, we've put together a guide with some tips on what to do to make sure you don't get any nasty surprises when travel with your pet.
The most important thing is to have the documents required by the ANAC (National Civil Aviation Agency) for the transport of animals. All Brazilian companies require these documents.
Want to know in more detail how to travel by plane with your pet? In this guide we will explain everything to you!
Be prepared with travel insurance!
Having insurance at the time of the squeeze makes all the difference.
Click here and get yours (use the coupon FORTRAVELOVERS for 5% off)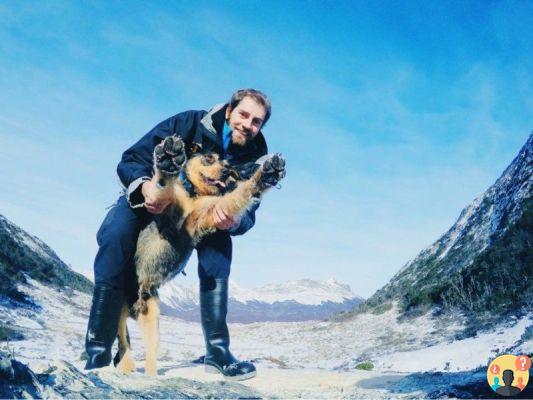 What documents are needed?

on domestic flights
international flights

The airline rules
How to prepare your pet
What documents are needed?
Your furry friend will also need documents to travel, just as we humans do too. Below we list them all, so you don't forget any.
Some requirements require prior planning, as is the case with vaccines. So, carefully analyze all the logistics of traveling by plane with your pet, and consider the time needed to arrange all the documentation.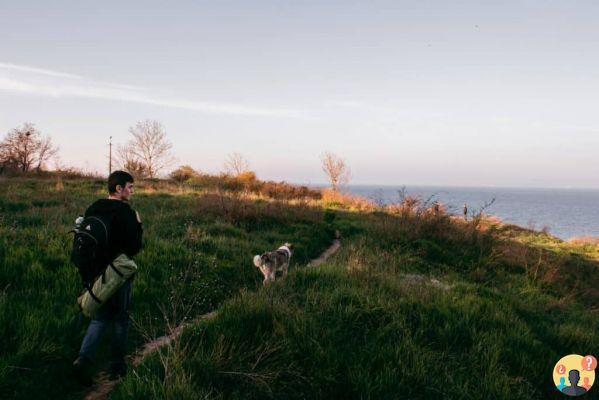 on domestic flights
Your pet will need three documents to travel around España:
1) health certificate: guarantees that the animal is in good health, valid for 10 days after the date of issue by the veterinarian.
2) Vaccination card: mandatory document for all animals over 3 months of age. The vaccine must have been applied more than 30 days ago and less than a year ago.
3) And the Passport for Transporting Dogs and Cats, an official document, issued free of charge by the Brazilian Ministry of Agriculture, Livestock and Supply (Mapa). Learn more here.
Some regions of España require extra documentation, as is the case of Carajás (PA) and Fernando de Noronha (PE). In the case of the island, it is necessary to request a prior authorization from the Administration of the Archipelago of Fernando de Noronha. In Carajás, authorization must be made to the Chico Mendes Institute for Biodiversity Conservation.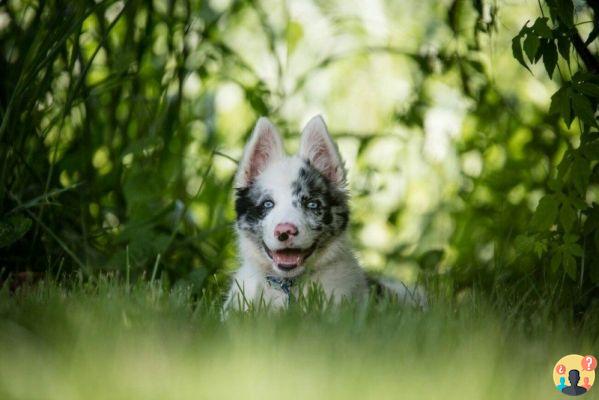 on international flights
In addition to the documents mentioned above, the owner must also provide the International Veterinary Certificate (CVI) eo International Zoosanitary Certificate (CZI).
Documents must be valid for 60 days from the date of issue. All can be issued by Vigiagro (International Agricultural Surveillance), a body that is part of the Ministry of Agriculture and Livestock.
Vigiagro suggests that the owner of the animal first certifies which documents are required by the country of destination, and lists the requirements of the most common destinations for Brazilians on the website.
However, these rules are subject to change and it is important to check with the embassy of the country of destination for any possible updates to the information regarding the transport of animals. (ICMBio).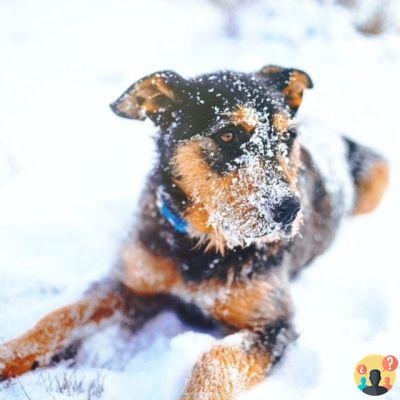 Airline rules for traveling with animals
GOL
the rules of Gol allow you to take cats and small dogs inside the passenger cabin, along with the owners. In these cases, the sum of the weight of the animal and the transport box it will be in during the flight cannot exceed 10 kg.
The animal must be at least 4 months old, clean, healthy and free of unpleasant odors. GOL asks to be notified at least 3 hours in advance. Only one pet per passenger is allowed, one per row of seats, and a maximum of four per flight. The amount charged is R$250 for domestic flights and R$600 for international flights.
For animals between 10kg and 30kg, transport is carried out in the front compartment of the aircraft, which has the same pressurization and temperature as the passenger cabin. When animal and transport box weigh more than 30 kg, transport must be carried out as cargo. In this case, the trip is carried out by Gollog, GOL's cargo service.
More information about Gol flights with animals can be found at this link.
LATAM
At Latam, the maximum total weight, including the animal and the transport box, cannot exceed 7 kg when traveling inside the passenger cabin. The fee for domestic flights is R$200.
For animals weighing more than that and weighing up to 45kg, travel will be in the luggage compartment. The fee in these cases is R$ 900.
Latam requires 48-hour notice when traveling with animals. This is if the animal is large and travels in luggage. For smaller dogs and cats, it is only necessary to give notice 24 hours in advance, to travel in the passenger cabin. You can check other information on the Latam website.
BLUE
Azul only allows the flight of animals in the passenger cabin. The sum of the cage and the animal must be a maximum of 5 kg. The company does not transport animals that exceed this weight.
The fee charged is R$250. More information about Azul's policy here.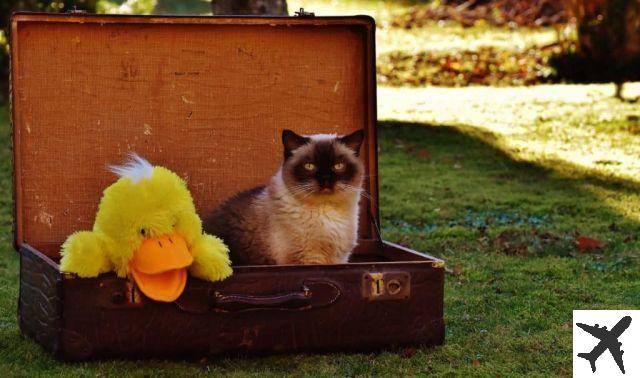 Want to find cheap tickets to travel with your pet?
Find pet-friendly flights with discounts of up to 35% every day on Promo Tickets.
How to prepare your pet for the plane
If your dog or cat has never traveled by plane before, it's good to train him to get used to the kennel (animal transport box/bag). A good form of training is to leave your pet inside the crate for a few hours, sometimes, especially the week before the trip. On the day of the flight, the tip is to let the animal fast for at least six hours before the start of the trip.
Another tip is to prevent yourself by taking out travel insurance for your pet. Some companies offer this service, such as GTA Seguro Viagem, and is it worth having the peace of mind knowing that your four-legged friend is also covered?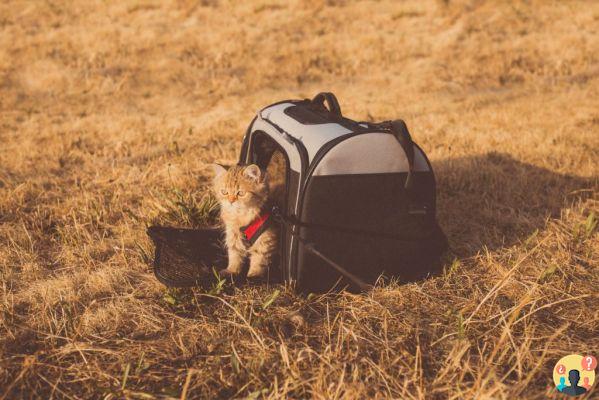 Haven't taken out your travel insurance yet?
Use the FORTRAVELOVERS Coupon and pay by bank slip to take off 10% discount. We recommend comparing the coverage and prices of the best insurance companies on the market in InsurancePromo.
O kennel
The animal's cage also needs to meet some requirements. It can be rigid or flexible. In the first case, the box must be up to 22 cm high by 43 cm deep and 32 cm wide. In addition, it must contain identification data of the pet's owner and be resistant, made of fiber or rigid plastic.
The flexible Kennel must be up to 24cm high by 43cm deep and 32cm wide, also contain identification data of the owner, with a rigid internal structure so that it is firm, in addition to being made of waterproof material.
Important Tip: Dogs of brachycephalic breeds (that is, those with a short head) such as pugs, bulldogs, Pekingese and also Persian cats, are prohibited from traveling on some airlines, in addition to not being recommended by veterinarians. Because of the breed, many of them have respiratory problems, and when traveling by plane they run some risks.
And then, are you ready for travel by plane with your pet?
Read also
Your next trip? Take a Safari!
Why You Should Choose Well Before Taking an Elephant Ride in Southeast Asia
Plan your trip:
Get started now by booking your hotel on Booking.com

Save time and money searching for the best Travel Insurance with the Seguros Promo comparator! Extra 5% off with coupon: FORTRAVELOVERS

Want to find cheap tickets? Find flights with discounts of up to 35% every day at Passages Promo!

Rent your car at Rentcars! Installment up to 12X, paying in reais and without IOF!

Leave España with unlimited 4G Internet!

Skip the lines for attractions, buy your tickets in advance here!