Albania: cheap destination and unexplored beaches
Albania is not a well-known destination, but it certainly promises to surprise everyone who visits it, mainly because it is a low-cost European destination with extraordinary natural beauties.
This small mountainous country on the Balkan Peninsula, located in southeastern Europe, is considered to be still developing. So tourism and the cost of living there is relatively cheaper than anywhere else in Europe.
The beaches make Albania a heavenly place in many spheres, many of which are still unexplored.
Albanian culture and curiosities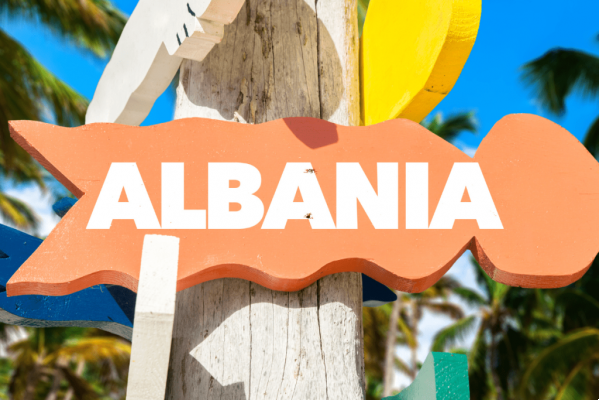 Albania, despite being located on the European continent, has very particular customs and cultures. One of them that we can already highlight is about the Albanian language, which is the derivation of a set of several other languages.
The meaning of the country's name is "Land of the Eagle", which is also well represented by the imposing red flag with the bird and originally its name is Shqipëria, or Republika and Shqipërisë.
The second most spoken language in Albania is Italian, which due to its proximity to Italy has great influence in the country. It is also there that Lake Ohrid is located, the oldest in Europe, being formed more than 4 million years ago.
In Albania more than 50% of the population is Muslim, exerting great influence on the customs of the region. However, on the other hand, the Catholic representative Mother Teresa of Calcutta is an important icon for the country and is considered a national heroine, her place of birth is disputed between Albanians and Macedonians to this day.
Climate and best time to travel to Albania
Albania is bathed by the Adriatic Sea, a portion of the Mediterranean Sea, so the tourist can expect calmer and warmer waters around 24ºC. It is a mountainous and Mediterranean country with rugged terrain.
To visit Southeast Europe, the summer that marks the Continent between May and September is the best time to enjoy the apex of the Mediterranean climate. Despite being a tourist high season, Albania is still one of the least visited destinations in the region.
After all, is it safe to go to Albania?
The European Continent is relatively safe and the visitor does not necessarily have to worry about robberies and thefts, since tourism in most countries is quite preserved. However, it is important to be careful when you are in another country.
If possible, travel with company and have a predetermined itinerary.

In the case of crimes related to ethnic and religious relations, it is advisable to report them to your country's embassy and not react to situations involving xenophobia.

Furthermore, the biggest danger that the tourist runs is not looking at both sides of the street, as the Albanian country has a reputation for somewhat accelerated driving.
Economy in Albania: a developing nation
Albania went through a long dictatorial period that ended only in 1985 and consequently has had tourism throughout its territory for just over 20 years. It is a developing country and is one of the poorest in Europe — 41st in HDI.
Its economy is concentrated in the Tertiary Sector and tourism represents 54% of GDP, but the country also operates in agriculture and industry and is also an exporter of electricity.
What to do in Albania: must-see attractions
You will be impressed by the amount of unmissable attractions that Albania has. Paradise places that will make your trip unforgettable. Below are the best destinations in this country.
01- Saranda
Saranda or (Sarandë) is certainly one of the natural beauties of Albania, being the perfect place for those looking for peace in front of the sea. Unlike other beaches in Europe, this one is extremely paradisiacal and even in high season it is possible to enjoy all the tranquility of these waters.
With a calm and extremely crystalline sea, Saranda has a Greek island as a neighbor. Be sure to take a cruise on the Adriatic Sea that runs along this coastline.
Make your trip to Europe with UNLIMITED 4G connections and internet.
Buy here!
02- Ksamil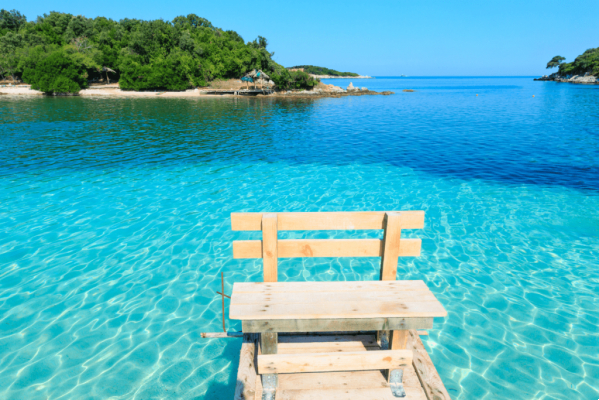 Ksamil is one of the best known beaches in the country, mainly because it is one of the most beautiful. In addition to having the azure blue waters and the calm sea, Ksamil has another even greater attraction, which are the low costs for tourism.
With hotels from 10 euros a day. The region itself is very welcoming to visitors and has several night activities. A destination that you will surely love to visit.
03- Tirana
Tirana is the capital of Albania, and it is one of the biggest cities in that place. Even far from the attractive beaches it manages to contain other tourist attractions that are very interesting. One of them is the famous Pyramid of Tirana, a modern construction that is a National Museum.
The entire city is full of arts spread across museums and monuments, with a very interesting urban landscaping. The parks and living spaces give visitors a special charm and plenty of outdoor leisure.
04- National Historical Museum
The National Historical Museum is located in the capital of Albania, Tirana. It is the largest in the country, and its imposing structure is quite an attraction for tourists. The arsenal of this museum is very complete and goes beyond significant elements of the country, but also has several important world events. There is a huge mosaic that follows the style of socialist realism and is placed above the entrance to the site.
The division of the areas of knowledge are: Antiquity, Medieval, Rilindja Kombetare, iconography, Culture of Albania, Albanian resistance of World War II and communist genocide.
05- Bunk' Art
Bunk' Art is a unique experience, it is a Bunker Museum, which was initially built by a communist dictator to be a bunker. You will explore 5 floors that once served as a shelter for the dictator Enver Hoxha and his government in wars. You will learn more about Albania's communist history and understand its formation process.
06- Mount Dajti
Locals enjoy it a lot, but also Mount Dajti, it is ideal to include in your travel itinerary. This national park is completely designed for outdoor leisure, being the most accessible mountain in the country. Thus, it has a very high cable car that makes a panoramic trip with a beautiful view.
There are also great activities to do with family and friends, target shooting, swordplay and even pony riding. Be sure to try the famous roast lamb that is traditional for this tour.
07- Leather Castle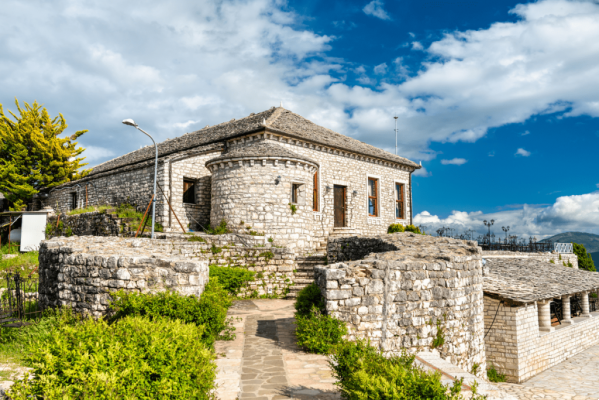 You will want to visit this place. Lekuresi Castle is a ruin of an ancient castle that sits on top of a mountain. Its shape and size were strategically created to be able to contemplate the entire city of Saranda and the islands of Ksamil.
It's a place in southern Albania that will give you the feeling of being in medieval times.
08- Skanderbeg Square
Skanderbeg Square is the main square in the Albanian capital, Tirana. It is named after the aristocrat of the same name, considered the greatest hero in Albanian history, for his fight against the Turkish-Ottoman people in the XNUMXth century. In the center of the square there is a monument in his honor.
09- The Blue Eye
Mandatory stop for nature lovers visiting the country. Considered one of the most beautiful places in Albania, the "Olho Azul" is a spring with very crystalline waters. It is more than 50 meters deep and is surrounded by an enchanting forest.
10- Rozafa Castle
In Shkoder, northern Albania, you can find Rozafa Castle, on top of a rocky hill. It is open to visitors and its construction dates back to the XNUMXrd century BC. For those who like legends, this imposing construction has its own, told by the guides during the visitation.
11- Come on
Also located in the north of Albania, this is another option for visiting beautiful landscapes. The lake is surrounded by hills and forests, has blue and green waters, with the possibility of boat trips to the Shala River, which bathes Komani Lake.
12- Et'hem Bej Mosque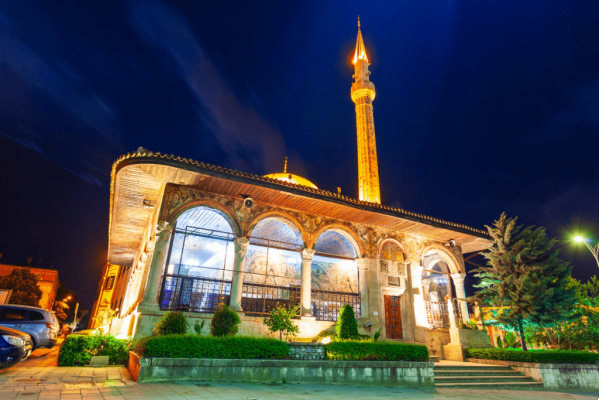 The Et'hem Bej Mosque is considered the most beautiful Albanian mosque and is located in the capital Tirana. Its decoration draws attention to the beautiful paintings and drawings on its exterior and interior, with several originals from its construction, which began in 1789.
To see the inside of the temple, it is necessary to schedule a guided tour.
13- Butrint National Park
Butrint National Park is a very famous attraction which is located in the south of Albania. Considered a World Heritage Site by UNESCO, this place is the most visited archaeological center in the country.
There you will have a guided tour, which will accurately tell you more about the history and geological formation of each corner. A tour that is worth doing regardless of whether you are accompanied or not, as it will add a lot to your cultural knowledge. I can say it's worth it.
14- Castle Weight
Berat Castle is located in one of the most beautiful cities in Albania and this heritage is on the UNESCO preservation list. This is mainly because it was a work that was established in the sixth century BC. Just for that reason, visiting this place is already a huge privilege, however the riches do not stop there, during the visit you will also have the opportunity to visit the splendid Onufri National Museum, which is located inside the castle fortress.
In this Castel, all the architectural beauty of various peoples will be clear, with very different beliefs that were stamped around the construction, so don't forget to request a guided tour, for sure, you will discover incredible things like I did.
15- BunkArt 2
Before it became this great Albanian museum, BunkArt 2, it was simply a top secret nuclear bunker. And that already makes it even more interesting, opened on the 17th of November, Tirana National Liberation Day, the museum's elements tell more about a very punctual era in Albania.
You'll see photographs and equipment that illustrate the political persecution of around 100.000 Albanians from 1945 to 1991. A place that certainly needs to be on your list of tourist attractions.
16- Gjirokaster Castle
Gjirokaster in Albania is one of the biggest castles in the Balkans region. It is located on top of a hill overlooking the city and is the perfect portrait of the history, religion and culture of people over the centuries. This castle does not have a confirmed date of its construction, but it is estimated that it was between the XNUMXth – XNUMXth centuries.
Inside the castle you can admire the Clock Tower, a scene from the Festival, the Castle Museum and a wonderful view over the valley. It really is a surreal experience that will take you to incredible places in history and your imagination.
17- Grand Park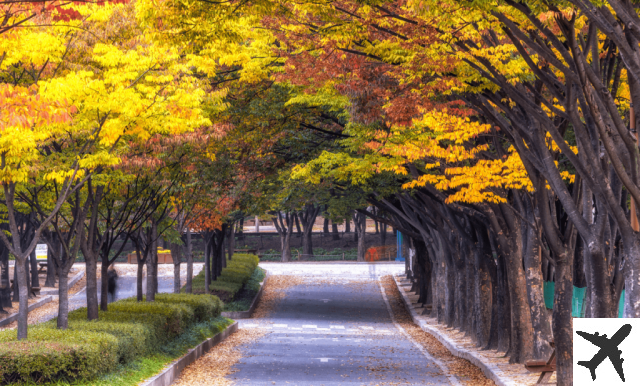 The Grand Park in Albania is an oasis in the midst of the hustle and bustle of the city, and it can be your refuge, calm and peace. With many paths to walk, beautiful botany and a beautiful lake to enjoy the sunlight.
In addition, the Grand Park has a memorial to British and German soldiers. Truly a complete tour halfway through nature and history of Albania. You will be surprised!
18- Kruja Castle
As you can see, Albania has many castles and Kruja Castle is one that needs to be on your list. It is considered a symbol of Albanian resistance, as it was one of the most important defensive strongholds in the country. Fending off foreign invaders over the centuries.
Today it is a physical record of a memory full of pride and perseverance of the Albanians. The guided tours are full of information that will bring you a lot of knowledge for sure.
Typical Albanian cuisine
International travel carries a lot of culture and customs and this is also directly linked to local cuisine. In Albania, something is guaranteed, that the flavors are amazing for any palate.
The influence of Italy, Greece and Turkey, in the flavors, is noticeable, however Albanian food has very interesting peculiarities. Something that can never be missing, for example, are vegetables and strong spices.
On your trip, be sure to try the Mish Shqeto preparations, the Gjellë me Arra, Jani me Fasule and Imam Bajalldi. As for desserts and sweets, you will love tasting Hallvë, Llokeme and Tulluba.
And don't forget to drink Boza, a traditional Albanian drink, which is made from corn and wheat flour, water and sugar. Very different from anything you've taken, that I can guarantee.
Tips with the best hotels in Albania
Albania is a place with many tourist attractions and this is one of the reasons why you need to be well located in your accommodation. Obviously, comfort and accessibility will make all the difference in the day to day of your trip.
Below we separate some options of hotels that may be excellent for your tourist trip:
Hotel Villa Pascucci;
YACHT HOTEL;
Maritim Marina Bay Resort & Casino;
Hotel Mondial;
Hotel Dynasty;
Rogner Hotel Tirana;
Maritim Hotel Plaza Tirana;
Hilton Garden Inn Tirana.
Albania travel and airport tips
Albania is a very developed place, so public transport is a great option to move around the cities, whether by train, bus or subway, you will find it very easy and accessible.
But if your intention is to have 100% comfort and privacy, I advise you to rent a private car to have complete freedom, in several agencies in the country you get good daily rates.
The biggest airport in Albania is Tirana Madre Teresa International Airport, it is the best known and also the most accessible.