The Tomatina is the biggest tomato battle in the world.
In the town of Buñol, near Valencia, takes place every year on the last Wednesday of August a week of festivities that ends with a famous tomato battle.
This unlikely festival is said to have originated from a fight that broke out in 1945 in the main square of the small town of Buñol after young people were denied access to a local festival. They would have started throwing tomatoes at each other from a small fruit and vegetable stall. In the following years, on the same day, they brought back their own tomatoes to fight again.
Another legend says that at a rabbit feast, some of the rabbits ate all the watermelons in a grocery store. To stop them, some participants threw tomatoes at them and touched other people. A battle began...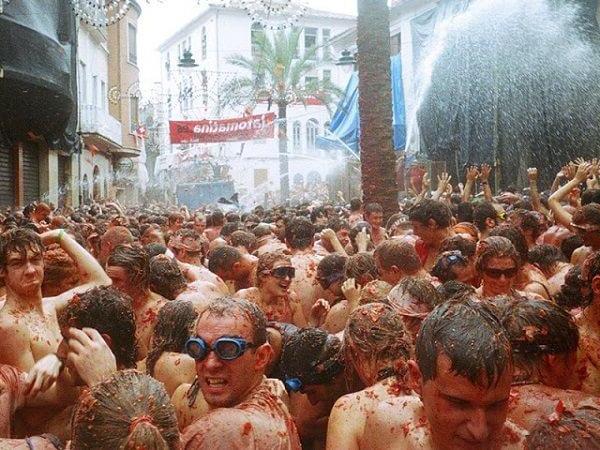 In turn forbidden then authorized, it is in 1975 that the Tomatina became "framed" by an association of local farmers, Los Clavarios de San Luis Bertrán, who then managed the tomato stock. The town of Buñol finally took over the event in 1980 to boost local tourism.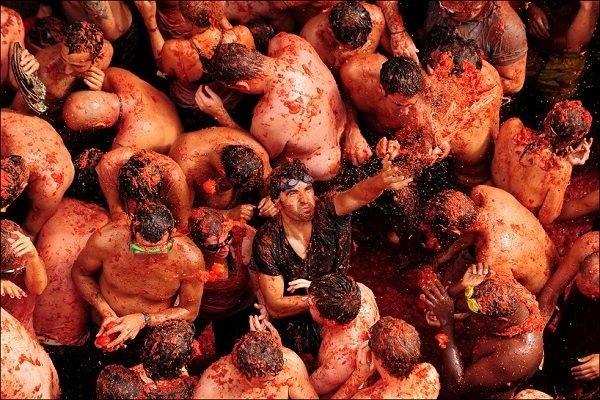 The day begins at 10:00 am with the "palo jamón", which involves climbing a wooden pillar covered with fat, at the top of which a ham is hung. As soon as the ham is unhooked, the battle can begin.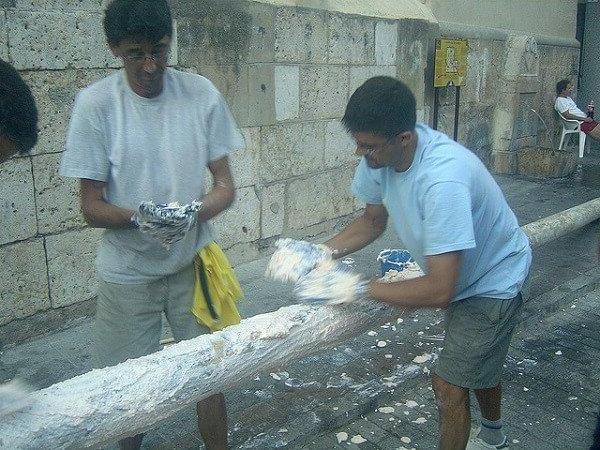 It is said that about 130 tons of tomatoes were used for this mythical battle. These tomatoes are grown especially for the event and are of poor quality and cheap. Since the 2013 edition, it is necessary to pay 10€ the entrance fee to participate, but only 20 000 tickets are allocated, of which 5 000 are free for the locals.
The festival attracts tourists from all over the world, as the company selling the tickets explains. Australians, Japanese, and British people would be the most interested in taking part in the battle. There are rules in place to ensure that there are not too many casualties. For example, tomatoes must be crushed before being thrown away.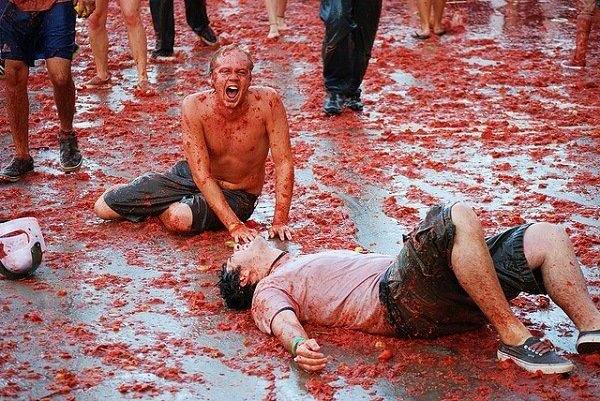 In the end, the streets are obviously filled with the pulp of the tomatoes. They are cleaned immediately after the end of the festivities, which makes it possible to make the streets clean by using the acidity of the tomato juice.
You can see on this video from Spanish TV the crowd present in one of the streets of the town of Buñol!