Before starting this post, I would like to ask two questions:
1 – Have you ever had any kind of problem with luggage during a trip?
2 – Do you know someone who has had it?
Be prepared with travel insurance!
Having insurance at the time of the squeeze makes all the difference.
Click here and get yours (use the coupon FORTRAVELOVERS for 5% off)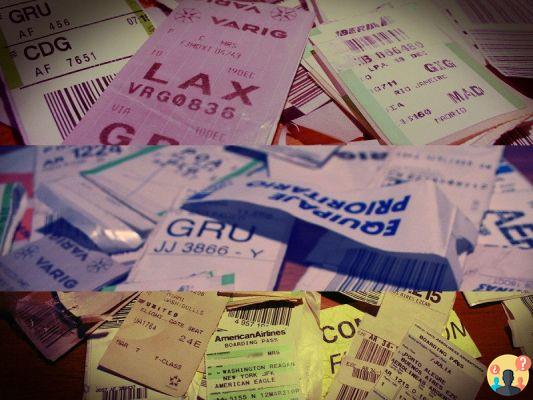 Depending on the frequency and duration of your trips, I can say that you answered "yes" to at least one of the questions.
Now, if you said "no" to both questions, consider yourself lucky! This is because, according to the SITA Baggage Report 2015 (world leader specializing in communications and information technology for the air transport sector), more than 24 million bags were lost in the world in 2014!
Considering that the total number of passengers boarded last year was 3,3 billion, this means that for every thousand passengers, 7.3 bags were lost.
The numbers are falling – in 2007, for example, there were approximately 47 million lost bags, which represented a rate of 18.9 bags per thousand passengers – but the data is still scary. So it's worth reading these tips!
Losing luggage can get in the way of planning your trip. Unfortunately, the tips that we are going to give you here will not completely guarantee that you will escape this common problem unscathed, but they will certainly help you a lot if something similar happens.
In August 2015, a friend sailed from São Paulo to Croatia to join me on part of my trip around the world. He took an Air France flight to Paris and from there he would board again – this time through Iberia, with Vueling operation – to arrive in Dubrovnik (Croatia), stopping in Barcelona (Spain). That is, there were three airlines and three different planes to reach the final destination.
In the first stretch (São Paulo X Paris), everything was quiet. He arrived in the French capital at 8 am and the next flight would not be until 14:35 pm – enough time to explore the gigantic Charles de Gaulle airport. The problem started on the Paris X Barcelona route, when the flight was delayed by more than an hour, which meant the exact time he had for the Barcelona X Dubrovnik connection.
Upon disembarking in the Spanish city, my friend ran to the departure gate and managed to continue his journey, but his suitcase did not. As it is a stopover, the luggage should have been transferred from one plane to the other internally by the airline itself. However, the ground team didn't run as fast as my friend.
In short: it took five days until he managed to retrieve the suitcase. Aside from the obvious problems of lack of clothes, he was unable to make the Baggage Irregularity Record (RIB), as there was no counter or any representative of Iberia or Vueling at the airport. It was also not possible to register with the Lost & Found department (lost and found), because the only employee available for service was not found.
Back in the SITA Baggage Report, the majority of lost baggage cases (49%) are due to stopovers. That is, when the passenger and their bags need to change planes to continue their journey. Other possible causes are: airport or airline restrictions, security, luggage exchange, wrong flight tagging and even bad bag identification.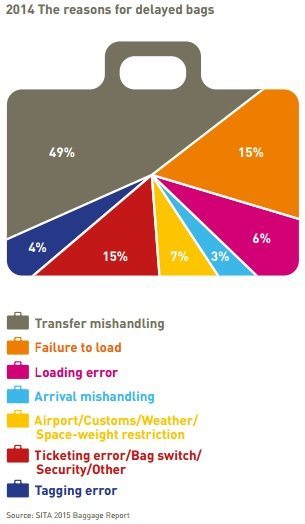 So here are some tips and guidelines for you not to be caught off guard!
Did you know?
– From the moment the check-in is done and the bags are dispatched, the airline is responsible for the passenger's luggage and must indemnify him in case of loss or damage. It is in article 6, VI and 14 of the Consumer Protection Code.
– If the trip was contracted through a travel agency, the company is also liable for the incident.
– It is possible to declare the value of the luggage before boarding (you have to pay a fee) and, in case of loss, the compensation will be in the declared value and accepted by the airline. It is worth asking to find out how much this service costs and assess whether, in your case, it is worth it or not.
Important: Avoid storing items such as money, jewelry or electronics in checked bags. First because of the risk of loss and damage and second because these items cannot be included in this declaration.
Before boarding:
– Identify all bags with tags that contain your name, full address and telephone number.
– Take a photo of your objects while packing. If you have clothes or items you recently purchased, keep the receipts to collect the amounts.
– In addition to valuables, take an "emergency kit" with clothes in your handbag: at least a t-shirt and underwear, a toothbrush, among other essential items.
– Write down the useful telephone numbers of the company in Spain and abroad, of the airports you will pass through, of travel insurance, of National Civil Aviation Agency (Anac) – in the case of trips through Spain – etc.
– When purchasing your ticket, consult the agency or airline about what to do if your luggage is misplaced, lost or damaged.
It may seem like an exaggeration, but these five tips will give you more peace of mind to travel and less headache to solve any problems.

Do not disembark:
- The suitcase didn't show up? Go to the airline's counter with proof of checked baggage, boarding pass and identification document and ask to fill in the Baggage Irregularity Record (RIB) – this document is essential to proceed with the compensation process.
Important: if there is no counter or representative of the airline, look for the "Lost and Found" department or any other department responsible for making the RIB.
– Confirm your details (phone and address) so that the company can keep you informed and even send you your suitcase, if it appears.
– Use the useful contacts – those you wrote down before boarding – and inform your travel insurance about what happened.
– Ask for guidance from both the company and the travel insurance company, on how to proceed with the expenses with clothing, food and transport that you will have to pay as a result of what happened. Keep all receipts!
The suitcase has arrived! but it's damaged
– Upon receipt of the suitcase, check whether it has been tampered with or damaged. If so, follow guidelines 1, 3 and 4 of the previous topic (lost suitcase).
What are your rights?
– You are entitled to reimbursement of the amount corresponding to the lost luggage, if it is not found and returned within 30 days (domestic flights) or 21 days (international flights).
– The company has a duty to keep you informed about all the measures that will be taken.
– It is also the responsibility of the company to bear all the expenses that the passenger may have due to the loss of luggage. Therefore, it is very important to seek guidance from the company, as some offer transportation (taxi), food, etc. And don't forget to keep all receipts for purchases made due to the situation.
There are limits to damage repair:
– Domestic flights comply with the limits stipulated by the Spanish Aeronautical Code. Look for the airline you are going to use to find out this value.
– Most international flights comply with the Warsaw Convention, which requires the airline to pay US$ 20,00 per kilo of lost luggage.
– In case you feel injured or harmed, seek the guidance of a lawyer and go to the local Procon.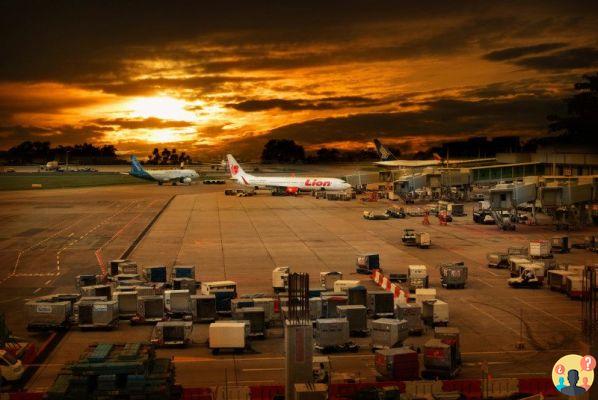 The good news is that, according to a survey carried out by SITA, 66% of airlines intend to provide a real-time baggage tracking service by 2017. That is, we will be able to track our bags through our smartphone screens!
Plan your trip:
Get started now by booking your hotel on Booking.com

Save time and money searching for the best Travel Insurance with the Seguros Promo comparator! Extra 5% off with coupon: FORTRAVELOVERS

Want to find cheap tickets? Find flights with discounts of up to 35% every day at Passages Promo!

Rent your car at Rentcars! Installment up to 12X, paying in reais and without IOF!

Leave España with unlimited 4G Internet!

Skip the lines for attractions, buy your tickets in advance here!