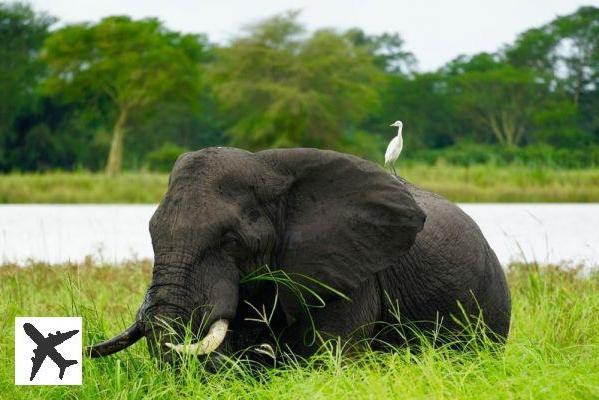 Summary
1. Lake Malawi National Park
2. Liwonde National Park
3. Lilongwe
4. Blantyre
5. Majete wildlife reserve
6. Nkhata Bay
7. Mumbo Island
8. Likoma Island
9. Chongoni Rock Art
10. Livingstonia
11. Manchewe Falls
12. Nyika National Park
13. Mulanje mountain forest reserve
Do you dream of Africa? Then why not visit Malawi? Here are the 13 most beautiful places to discover in Malawi: between a change of scenery and sharing.
Located in the south-east of Africa but less known than its neighbours Mozambique and Tanzania, Malawi is nevertheless an enchanting destination. From Lilongwe, its capital, to the summit of Sapitwa Peak, passing by Lake Malawi and the wide expanses of savannah, the warm heart of Africa will feed your imagination, far from mass tourism.
Indeed, you will visit Malawi for the beauty of its nature, its fauna and flora. You will then discover an infinite diversity of landscapes: savannah, mountains, plains, tea or rubber plantations... They are all home to numerous nature reserves. There, you will be able to observe the big five: leopards, elephants, rhinoceros, buffaloes and lions but also hippos, buffaloes, antelopes, zebras?
Not convinced yet? Then read on. We've put together a list of our 13 favourites in Malawi. Now, let Africa dazzle and delight your eyes.
Also to be read: 15 African reserves where to make an unforgettable safari
1. Lake Malawi National Park
Malawi's greatest asset is undoubtedly its lake. The third largest lake in Africa, it is thus a real inland sea. It bathes all the same three-quarters of the length of the country!
On its many beaches, you can dive into the deliciously warm and transparent water. Indeed, you can see up to 20 meters below the surface! This purity will therefore allow you to admire the exceptional biodiversity of its underwater world, rich in more than 800 species, most of which are endemic. In fact, this has earned the Lake Malawi National Park a place on the list of the country's natural heritage by UNESCO.
In addition, the surrounding landscapes are of exceptional natural beauty: hills, marshes, lagoons, mountains... This park alone is worth visiting Malawi because you will take your eyes in a dream setting.
2. Liwonde National Park
Even if you've been to other parks in the country, don't hesitate to visit Liwonde National Park. There you will be able to admire a great number of wild animals in the heart of a preserved nature. Elephants and hippopotamuses are undoubtedly the kings, but impalas, kudus, monkeys, antelopes and warthogs are not to be outdone! This is also one of only two parks in Malawi where you have a small chance to see rhinos. Finally, birdwatchers will also be delighted as birds are the main interest of the park. You can, for example, contemplate the majestic flight of the African Fishing Eagle, the bird symbol of the country.
To discover all these wonders while visiting Malawi, two solutions are available to you:
The classic safari aboard a car.
The canoe adventure version among the crocodiles. And in the evening you will sleep in a lodge in the middle of nature. Wild thrill guaranteed!
3. Lilongwe
Capital of Malawi since 1975, Lilongwe is an unmissable stopover when you visit Malawi. Very rich in heritage, you will be able to admire the World War I Memorial. In addition, it is absolutely necessary to visit the Lilongwe Wildlife Sanctuary.
But visiting Malawi also means discovering Malawi's traditional way of life at the Kumbali Cultural Village. The town market is also worth a visit. Here you can experience the local atmosphere by exploring its colourful stalls if you can't buy everything!
4. Blantyre
Located on the Shire Highlands, Blantyre is the second largest city in the country. So if you're going to visit Malawi, make a detour to its impressive Saint-Michel-et-tous-les-Anges church, very beautiful and full of history. Completed in 1891, Saint Michael and All Angels was built entirely in red brick.
Also, don't hesitate to visit the Mandala House, the oldest Western-style building in Malawi. Today classified as a historical monument, the house houses a café, an art gallery as well as the library of the Malawi Historical and Scientific Society. If you still have some time left, consider visiting the Carlsberg Brewery, Malawi's favourite beer. To close the visit, beer lovers will have a small tasting session. In moderation of course!
5. Majete wildlife reserve
During your stay, don't miss the magnificent Majete Wildlife Reserve. You will then evolve in sublime landscapes of savannah surrounded by forests of miombos, trees that lose their leaves during the dry season. Then, just before the rainy season, they grow back and decorate the panoramas with a magnificent orange-red colour. A real enchantment!
Moreover, you may be lucky enough to come across the king of animals in the reserve as lions have been gradually reintroduced there since 2003.
6. Nkhata Bay
Nestled in the heart of the tea and rubber plantations, Nkhata Bay is also one of the most popular tourist destinations when visiting Malawi. This fishing village located on the shores of the lake exudes an almost Caribbean vibe. You can enjoy the beaches of Chikale and Kande to swim in their warm turquoise water or to admire the underwater world during a snorkeling session.
To end your day, you can admire the sunset over Lake Malawi. A grandiose spectacle!
7. Mumbo Island
If you have always dreamed of deserted islands, then make a stopover at Mumbo Island. This small island paradise is home to white sand creeks lined with turquoise water. A real Robinson's dream! As this seaside resort is managed as an ecotourism resort, you will be able to observe a preserved nature. For example, you may come across lizards swimming quietly or fishing eagles gliding. You will also be able to practice snorkeling and hiking in the silence of nature.
All in all, Mumbo Island is a must for nature lovers visiting Malawi!
8. Likoma Island
Although it is geographically located in the territorial waters of Mozambique, Likoma Island belongs to Malawi. Even if reaching the island may seem complicated, you would be wrong not to go there!
Indeed, it is a beautiful place with giant baobab trees where peace reigns as there are almost no cars on the island. You can go there by bike or on foot for beautiful hikes. Let your footsteps lead you in front of Saint Peter's Cathedral, an amazing Anglican church in this setting.
9. Chongoni Rock Art
Are you interested in history? Then go and see the Chongoni reserve because you can't visit Malawi without going there! There is indeed an astonishing concentration of 127 sites which all present exceptional rock paintings: some of them date back to 50,000 years ago! For this reason, the site is inscribed on the UNESCO World Heritage List. You will certainly be amazed by these traces of our distant ancestors.
10. Livingstonia
Perched on the heights, Livingstonia is a city from which you will have a breathtaking view, and for good reason! From its 1300 meters of altitude, it will offer you many views of Lake Malawi and the surrounding valleys.
Moreover, from the town, you can go hiking in the surrounding area before discovering the Manchewe Falls and the Nyika National Park nearby.
11. Manchewe Falls
4km from Livingstonia you can admire the beautiful Machewe waterfalls. This majestic waterfall of 125 meters high is worth the detour if you are going to visit Malawi. You will reach it in 1 hour from the city through beautiful scenery and can even explore a small cave behind the waterfall. A refreshing walk to forget for a moment the heat.
12. Nyika National Park
Perched on the Nyika plateau, the Nyika National Park will not leave you indifferent. It culminates at more than 2500 meters of altitude and can sometimes resemble Scotland in an astonishing way. Nevertheless, this impression will not last when you see its grasslands crossed by herds of zebras, antelopes or elephants.
Nature lovers and hikers will be under the spell. Indeed, there are many endemic species of flowers and charming hilly landscapes. If you are going to visit Malawi, Nyika National Park will be a turning point in your stay.
13. Mulanje mountain forest reserve
The Mulanje Massif (also called Mount Mulanje) will delight climbing and trekking enthusiasts. Classified as a biosphere reserve by UNESCO, this mountain massif will offer you impressive landscapes.
During your hikes, you will go from cirques to waterfalls on grandiose paths. You will cross tropical forests, walk along torrents... And you will even be able to swim in mountain basins. In the Mulanje Massif, you will also find the highest point in Malawi: the 3002 metre high Sapitwa Peak.
So what are you waiting for to visit Malawi?