Find out why the city is a must-stop if you're traveling to Switzerland. Our columnist Diego Imai has put together the best tips on what to do in Basel.
Basel It is a multicultural, joyful, innovative city open to the world. In addition, it is known for being the cultural capital of Switzerland with about 200 thousand inhabitants. One of the hallmarks of the city is the fact that the chemical and pharmaceutical industry is huge there. giants like the The rock has its main headquarters in Basel.
The city is located on the triple border between Germany, Switzerland and France, with easy access to the Black Forest and Alsace. To get there, I leave Zurich by train and in less than an hour of travel I was at basel central station.
The Hotel Schweizerhof I stayed at was less than a two-minute walk from the main station, so I quickly left my bags and went exploring what the city has to offer. Basel It started to surprise me from the moment I left the hotel.
Be prepared with travel insurance!
Having insurance at the time of the squeeze makes all the difference.
Click here and get yours (use the coupon FORTRAVELOVERS for 5% off)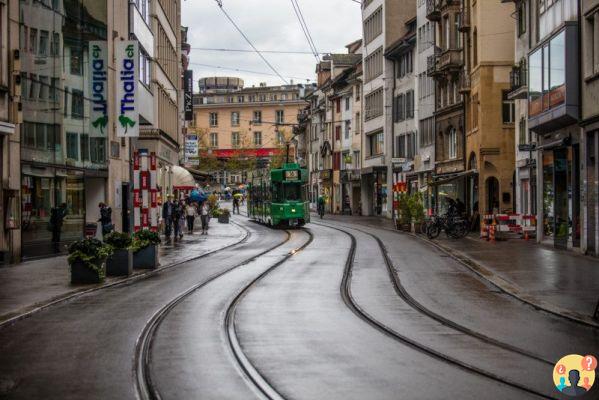 A good note is that when you stay in hotels in Basel and Switzerland in general, you get a Mobility Ticket. It is nothing more than a transport voucher where you can use public transport in the city for free during the period you are staying at the hotel. Incredible!
if you go to Switzerland and are thinking what to do in Basel, I help you here by listing some of the places I visited and that I think you should also visit.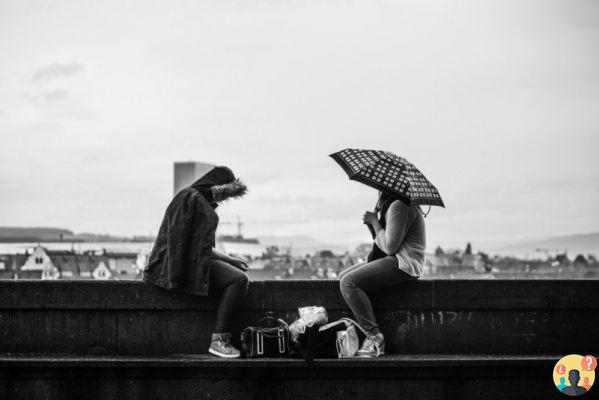 1. Art Museum
O museum it is amazing and is listed among the best museums in the world. I had the opportunity to be there on the opening day of the establishment, it was amazing. I was thrilled to be able to see works by painters such as Picasso, Van Gogh, Dalí, Cezanne, Monet, etc. You easily lose half a day inside this museum. The best of everything? Entry is free.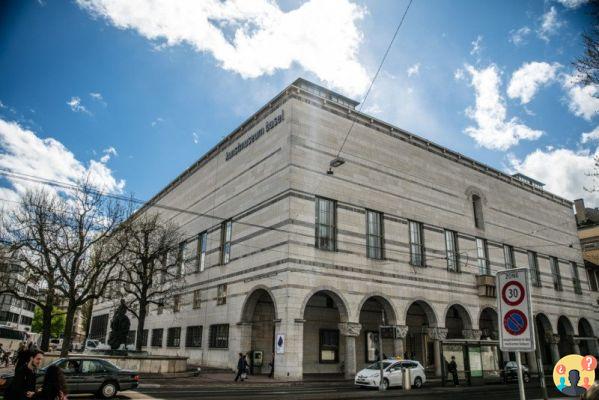 2. Tinguely Fountain (Fasnachtsbrunnen)
This is one of the most famous spots in the city. It is also known for being a meeting point for the city's citizens. It is nothing more than a simple water fountain that was built by the Swiss artist Jean tinguely with plays from the old theater that was in the same place (The theater is still there but is completely new).
In summer, the pieces are just throwing water in different directions, but in winter, they say that the fountain ends up becoming real ice sculptures.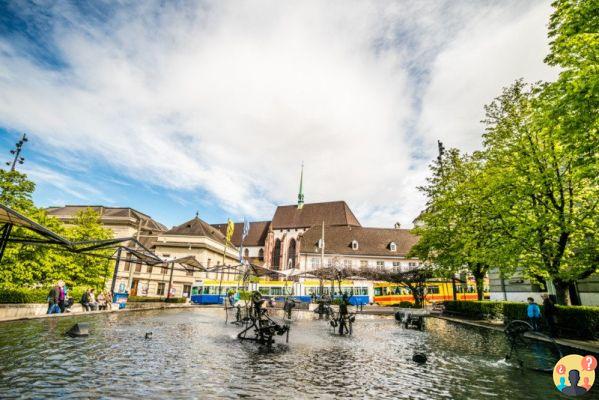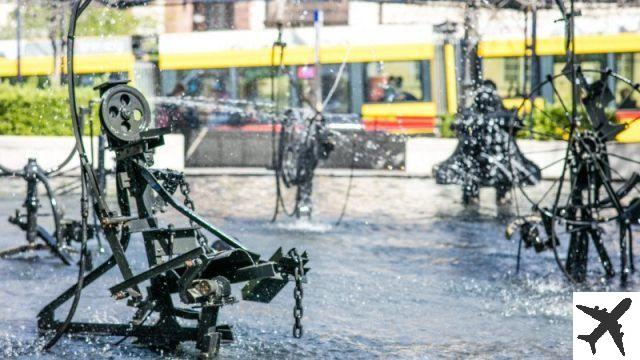 3. Cathedral and Palatinate
A Basel Cathedral It is also one of, if not the main, postcard of the city. If you're looking for things to do in Basel, don't miss this Romanesque and Gothic building dating back to the XNUMXth and XNUMXth centuries. It is located in a huge and beautiful square that hosts events. It is a place always surrounded by many tourists.
Behind the cathedral it is possible to find a platform that is known as Pfalz, enjoy the incredible view of the city and the River Rhine, the neighborhood of Kleinbasel, the Black Forest and also the Vosgues.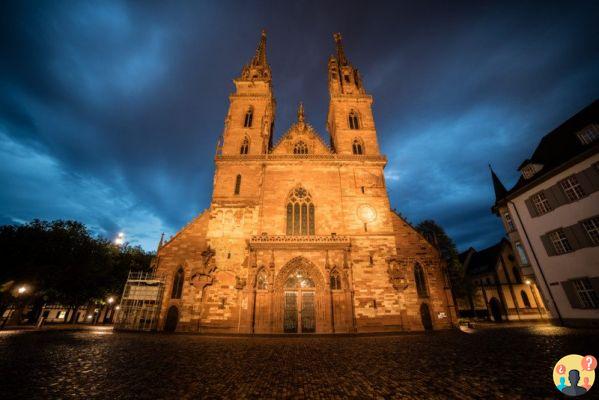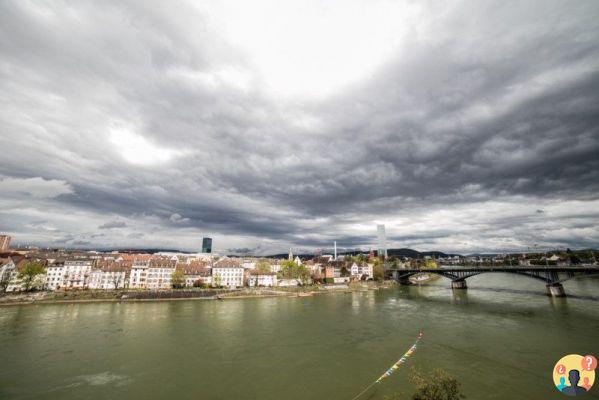 4. Marketplace
The market carries a lot of history. It takes place in the square in front of the City Hall . Visit both the market, when the square is something essential among what to do in Basel. It's a good place for a short break. Eat something quick and typical there, in the most diverse stands with food.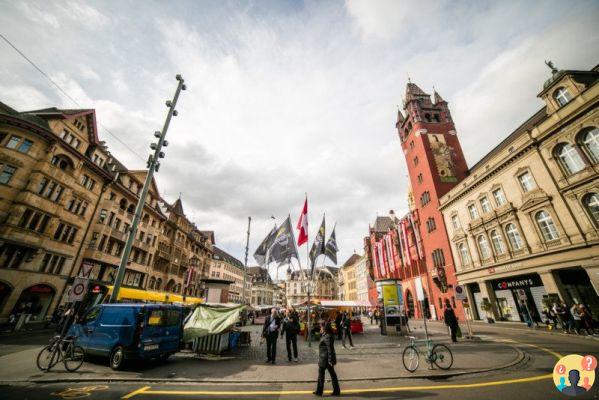 5. City Hall (Rathaus Of Basel)
This is a place that left me speechless. Still home to the current government, it is located in Marketplace in the heart of the old center and draws a lot of attention for its red color. It is possible to organize a guided tour with the Basel Tourism to visit the interiors of the building, otherwise it is worth just enjoying the façade and the interior courtyard with a statue of Munatius Plancus, the first Roman founder to be based on Basel.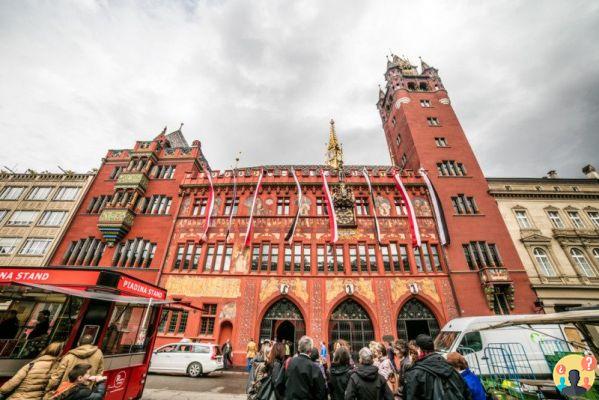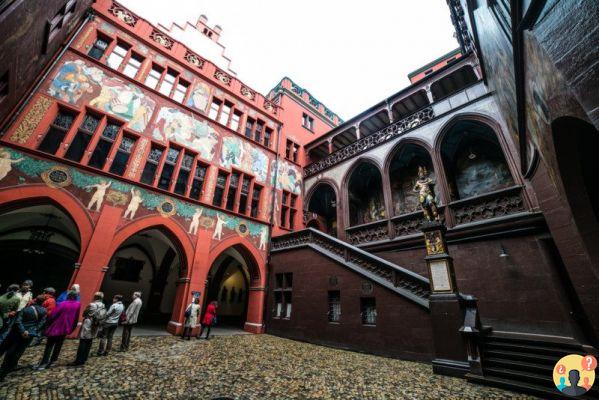 6. Barefoot Square
This square is a charm and it was my second destination after visiting Tinguely fountain, as it is less than five minutes away. She was the first impression of how charming and active the historic center of Basel.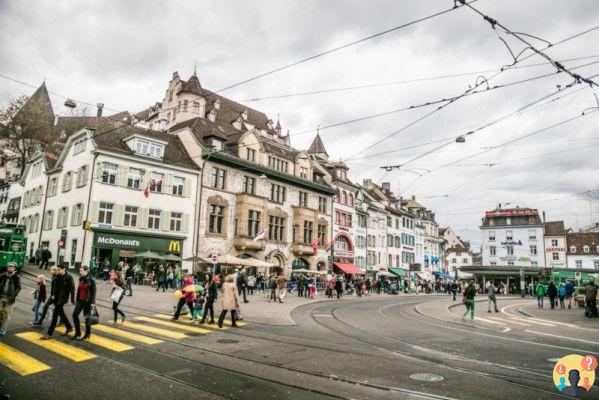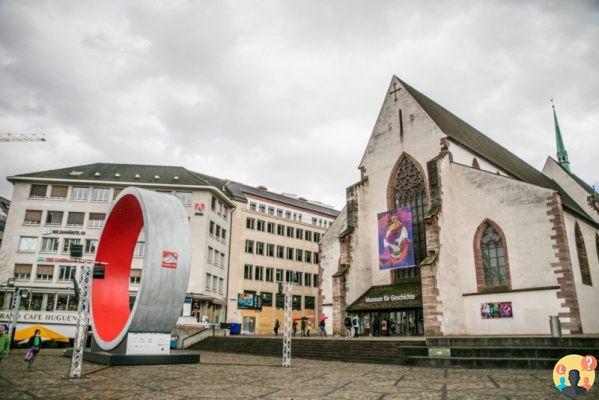 7. Beyeller Foundation
I was invited to visit Beyeller Foundation, one of the most visited museums in Switzerland that mixes art, architecture and nature. It is a little far from the city center, but a quick Tram ride will get you there. The Museum is open 365 days a year and admission is a little expensive, costing 25CHF per adult. Keep an eye on the exhibits to make sure it's something that interests you. The museum puts on three to four major exhibitions a year.
8.River Rhine
O Rio Reno is one of the city's charms, as it is one of the largest rivers in Europe and Switzerland. To give you an idea, the river reaches Amsterdam in the Netherlands.
when you visit Basel it is possible to take short trips on one of the four ferries that cross the river on five bridges in the city. Boats cross the river simply with the force of the current and many people use ferries as a means of transport to get around the city.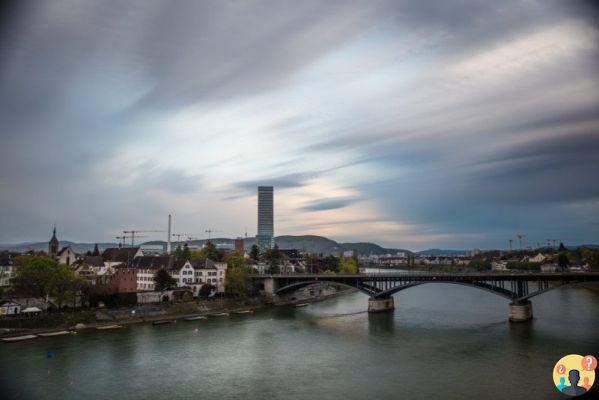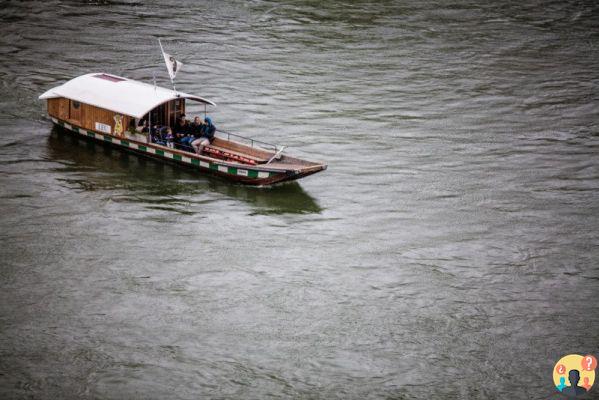 9. Mittlere Brücke (Middle Bridge)
One of the oldest monuments in the city is the Ponte do Meio. This is the main bridge in the city, opened in 1226, it is one of the oldest that cross the Rio Reno. It started only as a bridge for local traffic, but ended up becoming one of the most important crossing points in the city (Gotthard Pass).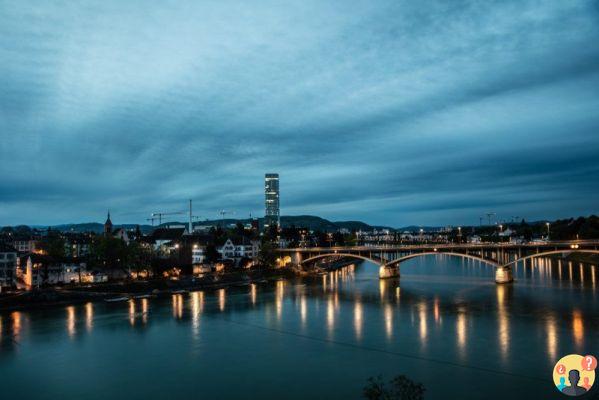 Why did I love Basel?
I will mention three points that caught my attention and that Basel be this spectacular place that is:
perfect location! Of Basel you can visit three countries in a single day, it's an interesting spot for backpackers who are traveling through Europe! Many airlines have Basel as a destination and the airport is just 15 minutes from the city center, even for those coming from zurich airport, the journey takes about an hour. The city has three train stations. It is possible to go to Paris or Frankfurt in just 3 hours.
O Historical Center, which is wonderful, one of the best preserved in Europe. In it you travel through time in more than two thousand years of history. It is a city aware of its tradition and also very open to modernity, so it ends up becoming a very special place. You really feel it in your skin when you're in Basel. Of all the cities I visited in Switzerland, Basel was my favorite.
Art and culture, unfortunately I didn't have enough time to see as much as I wanted and not as much as Basel offers. It is not for nothing that they bear the name of the country's capital of culture. You can find art in every corner, whether strolling around the city or visiting the 37 museums.
You can also download Basel City Guide to your phone (both iPhone and Android). It works offline, but unfortunately it's not in Portuguese. You can find it in English, German, French and Spanish.
I also recommend a guided tour of the historic center of Basel, well worth the experience! The tour itself costs 18 CHF (+- R$65 – quotation: 01/06/2016) and lasts for two hours.
Also, a good tip is to Basel Card! With it you win the City Tour and much more, such as:
Free City Treasure Hunt Light (a tour in the form of a scavenger hunt, in which you go out alone to discover places and complete tasks)
Free entry to Basel Zoo
Free Rhine River Ferry Trip
50% discount at many of the Museums
20% discount for Basel Theater
Discount on boat trips on the River Rhine
Discount at various restaurants, cinema, shops and spas.
O Basel Card costs CHF 20 (+- R$ 72,66 – quotation: 01/06/2016) per day, 27 CHF (+- R$ 98,09 – quotation: 01/06/2016) for two days and 35 CHF (+ - R$127,16 – quotation: 01/06/2016) for three days! (For children, 50% of the value is charged).
So if you visit Switzerland, Do not let Basel off your list. It takes at least three days for you to explore how much Basel has to offer. I really fell in love with the city!
Diego visited Basel at the invitation of Tourism Switzerland.
Switzerland travel insurance
Having travel insurance for Switzerland is a requirement to enter the country, which is part of the Schengen Treaty and requires medical and hospital coverage of at least €30 for travelers. In addition to being mandatory, insurance is a great way to ensure a smoother trip. Also enjoy our Insurance Promo discount coupon. - SEE PRICES
Read More
Where to Stay in Basel – Hotel Schweizerhof
What to Do in Switzerland – 4 Must-See Sights
Switzerland Itinerary – 10 Best Tours
What to do in Switzerland – 7-Day Itinerary
Flight to Switzerland – What it's like to fly with Swiss Air
Travel Insurance in Switzerland – How to Find the Right One
Traveling by Train in Switzerland – Everything you need to know
Itinerary in Bern – 10 Tips on What to Do
Where to Stay in Bern – Hotel Alpenblick
Travel Insurance Europe – Complete Guide on How to Hire
What to Do in Montreux – 10 Must-See Sightseeing on the Swiss Riviera
Where to Stay in Montreux – Tralala Hotel
How to Get to Jungfrau – Discover the Swiss Alps in Interlaken
Where to Stay in Interlaken – Hotel Krebs
Skydiving at Interlaken – Everything you need to know
What to Do in Lausanne – 10 Must-See Things
Where to Stay in Lausanne – Hotel Alpha Palmiers
What to do in Zurich – Complete Itinerary
Where to Stay in Zurich – B2 Boutique Hotel + Spa
Plan your trip:
Get started now by booking your hotel in Switzerland on Booking.com
Save time and money searching for the best Travel Insurance with the Seguros Promo comparator! Extra 5% off with coupon: FORTRAVELOVERS
Compare the best prices to rent a car from over 100 rental companies with Rentcars! (Pay in up to 12X! Pay in reais, without IOF)
Leave España with Unlimited 4G Internet!