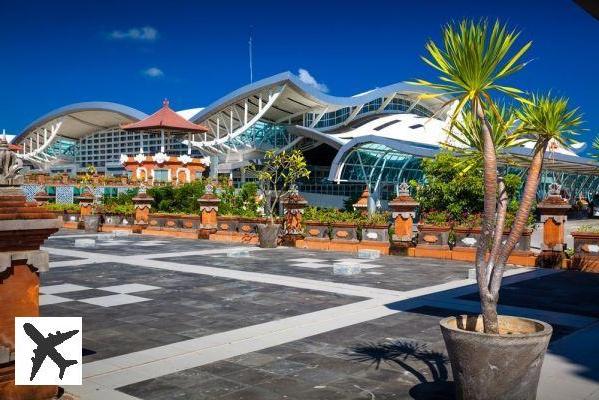 Summary
The different means of transport
- The shuttles
- Taxis
- Private drivers
- Buses
- The car
Tariffs
The different travel times from Denpasar Airport
Where to sleep near Denpasar Airport?
ADDITIONAL INFORMATION
Did you get your tickets to Bali? Find all our tips for leaving Denpasar airport to the main destinations of the island!
Ngurah Rai International Airport, more commonly known as Denpasar Airport, is the only one in Bali. Contrary to what its name might suggest, the airport is not actually located in Denpasar. It is actually located 2.5 kilometres from Kuta and 13 kilometres from the capital Denpasar, on the south coast of the island. When you arrive in Bali, you will need to find transportation to get to your place of stay. We have therefore put together for you all the information you need to know for your transfers between the airport and the rest of Bali!
Also read: The 12 must-do things to do in Bali
The different means of transport
The shuttles
It is often cheaper to arrange a pick-up at the airport with your hotel in advance. Low-cost shuttle buses are available to take you from the airport to your destination at an affordable price. Usually, either your hotel has its own vehicle with driver to pick you up at the terminal, or the reception will call and negotiate a private taxi directly for you. This solution is reassuring for you when you arrive in a new country that you do not know.
The driver is waiting for you with a sign with your name on it. Keep your eyes open! There is a crowd at the arrival, each driver is waiting for his client with his sign. Be patient and don't despair if you don't find yours at first glance.
Taxis
Independent taxis
A taxi is the easiest way to reach your destination. Even if you have not booked in advance, you will easily find a driver on the spot directly. Many independent taxis are waiting at the exit of the international terminal to offer their services.
Be careful, in this case, the fare is free. You should therefore be prepared to negotiate and, if possible, know the approximate price of your journey. Beware of scams! Before getting on board, make sure the price is fixed (write it down on a piece of paper and have the driver validate it, for example).
Book your taxi at Bali-Denpasar airport with TaxiTender. This is an online booking platform that allows you to make an airport transfer reliably and at an affordable price. Your driver will be waiting for you in the arrivals area with a sign with your name on it. He will then drive you to the exact location you wish to go. Cancellation is free of charge. If you have booked an early morning flight at Bali-Denpasar airport or if you simply prefer to take a taxi to the airport, this platform is ideal for this purpose.
Official airport taxis
For more peace and quiet, go directly to the Official Airport Taxi Counter. The counter is located at the exit of the arrivals hall to the right.
Are you resourceful? Then you have a third option. Take the elevator and go up to the departures terminal. Go to the area where taxis drop off passengers. These drivers have a meter and are usually cheaper than the official airport taxis. The only downside is that they do not travel long distances. If you have to go to Ubud or Amed, forget it.
Private drivers
If you are lucky enough to know a trusted private driver, this is the easiest and quickest way to reach your hotel. Travellers often find these drivers/guides through their acquaintances or through social networks. You can then see the ratings of other travellers and get in touch with the lucky one directly. Shortly before your stay we advise you to reconfirm your date and time of arrival with him/her. Travel agencies also offer this service. Car rental with driver is certainly the easiest and safest way to get around Bali during your trip. You have a car from your arrival to your departure, without the stress of driving, insurance and accident risks.
Buses
Your budget is limited? The bus network, provided by the company Bus Trans Sarbagita, is the cheapest transport for your transfer. It is also the most uncertain, as prices and routes are subject to fluctuation. A journey costs around 3,500 rupees only. From Denpasar International Airport, you should take line 2 or line 3. Choosing this option involves studying the list of stops in advance to locate your hotel. It is quite laborious, but really very economical. And then, you will immediately be immersed in the local Balinese atmosphere! Wondering how to find the bus stop? Look for the row of metal seats at the exit of the international terminal on your left. Allow some cash to pay.
The car
Are you looking for an independent stay? Renting a car upon arrival at Denpasar Airport is an alternative to your transfer. To do so, you just need to reserve your vehicle in advance on one of the market's reference organizations. Once in Denpasar, all you have to do is go to the car rental office and pick up your car.
Tariffs
Independent taxis: here, the rates are free. It is difficult to give you a price because it changes very often in Indonesia. To give you an idea, a ride will cost you at least 120 000 rupees to Kuta and 200 000 rupees to Ubud.
Airport taxis: in principle, prices are posted and you pay the fare in advance. Recently, prices have been set per kilometre, with a supplement for the most remote areas.
Shuttle: Ubud, Kuta Utara, Candidasa... Here again, the price varies according to your destination. Count an average of 700 rupees
Private driver: for a transfer from the airport to your hotel with a private driver, rates start at just over 1800 rupees (about 23€). Again, prices vary according to your destination.
The different travel times from Denpasar Airport
To give you an idea of how long it will take you to reach your destination, here are the main driving times between Denpasar airport and the various locations on the island of Bali:
Seminyak: 7 km north of the airport or about 25 minutes by taxi.
Ubud: about 37 km north of the airport or about 2 hours by taxi.
Balangan, Bingin, Jimbaran, Kuta, Legian, Nusa Dua, Padang Padang, Sanur: less than 1 hour drive
Canguu: 1 hour and a half
Candidasa: 2 hours
Amed, Begudul and Sideman: 3 hours
Where to sleep near Denpasar Airport?
As the airport is not in Denpasar itself, be aware that you will have to choose closer feet on the ground if you have to stay nearby. As an example, choose one of the hotels close to the airport located mainly in Kuta or Tuban.