The still unexplored archipelago of San Blas, in Panama, offers an island for every day of the year, but the lack of structure requires attention from tourists. See here what it's like to visit this Panamanian paradise.
Despite having more than 365 islands, the archipelago of San Blas, do not Panama, is still an exotic destination for tourists. This is also due to the difficulties of access, different from the tourist Bocas del Toro, because it's all very rustic and limited.
@clarissamrj and I had a fantastic trip to Jamaica (you can read about it here) and how we had a connection in Panama City we decided to take advantage of the occasion and stay in the country for a few days.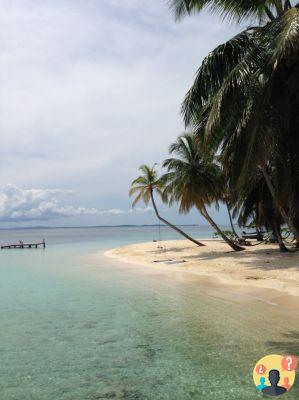 After researching a bit on the internet, we ended up opting for the package offered by the Panama Travel Unlimited agency to visit San Blas, what included:
Transport by 4×4 from our hotel to the port of Carti (round trip). We left around 5 am and arrived back in the afternoon.
Boat between Carti and the island we chose, Kuanidup (in some places they write "Guanidup").
Three (3) meals per day: breakfast, lunch and dinner.
At least 1 tour per day among the options had Isla Perro, Pelicano and Estrella.
Accommodation in a double cabin with shared bathroom (#foichatoisso).
No were included in the package:
$12 tax ($10 on the road and $2 at the port where you take the boat to the island)
$3 entrance fee to Isla Perro (per person) and the same for other tour islands
Water, drinks and snacks (we highly recommend bringing cookies and drinking water)
Beach towels
The price in 2014 was $160 per person per night. Today, with the exchange rate, this value seems quite salty, but at the time it was reasonable considering all the transport logistics involved.
Ah, it is important to remember that it is necessary to take the Passport (original, copies are not accepted) as there is a police control on the road to the port that leads to San Blas. We paid via the internet, through Paguelo Facil, a Panamanian version of our PagSeguro .
Everything went as planned on the way to books: our 4×4 arrived punctually at the appointed time and we took a short break at the supermarket before hitting the road so that we tourists could buy bottled water and snacks.
The road is kind of bad, one of the people in our car got sick and we had to stop so she could "breathe more air" (and throw up, sorry #toomuchinformation). arriving at port of Carti tourists are grouped according to the destination island and wait until they are called to their respective boats.
Em books there is absolutely nothing, just a very precarious bathroom and some benches where we patiently sit. There you start to get a sense of the disorganization intrinsic to the trip, or rather, you start to realize that nothing depends on you.
Basically your boat will only leave when the Indians that will take you to their island they want. That's right, you wait there (we wait hours) without having any precise information until your turn finally comes.
Right at the beginning of the route ship we were faced with a sad, ugly image of the Panamanian reality: we saw overpopulated islands with the appearance of slums, dirty and with garbage in the water. We stopped at one to supply the boat and continued towards the islands further away, where paradise is still preserved.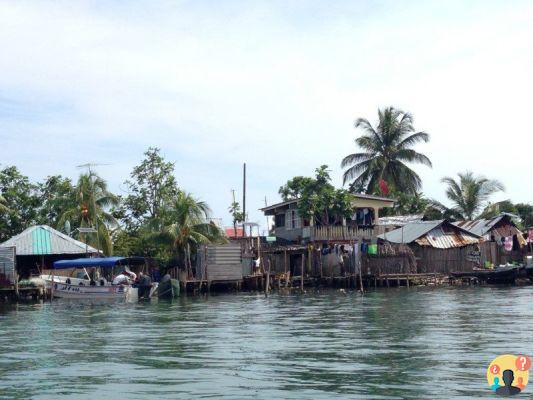 After the long journey, we finally arrived at Quanlive: the image was breathtaking, crystal clear waters and a deserted island, all for us. On the day we arrived, a group of noisy Brazilians was leaving (benzadeus heim) and it was just me, Clarissa, and a couple of very nice Argentines!
Beyond the Indians (the "kuna"), of course. The water was delicious, with perfect temperature (neither hot nor cold) and they even had hammocks for us to rest after the dive. Do you want more from life?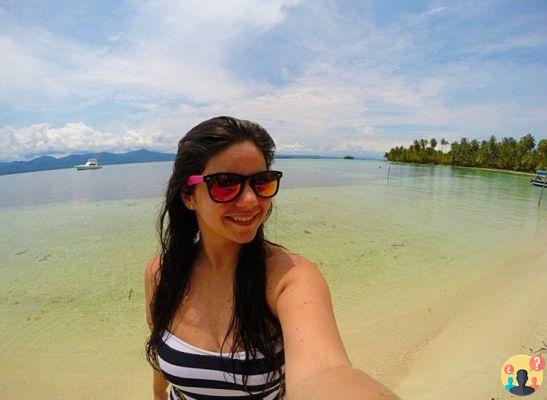 The cabins are exactly what I imagined when I read "cabana", something very rustic in a hollow style. With the "floor" of sand and a door that barely closed, in addition to a very brown mattress on the beds. Despite looking like a horror movie set, it was all very trustworthy and at no time did I have the impression of insecurity.
Bathrooms were outside, reasonably clean and the only annoying thing was that the light was barely working, so it's important to bring a flashlight. By the way, there, obviously, there are no sockets so extra batteries for cell phones and cameras are more than welcome.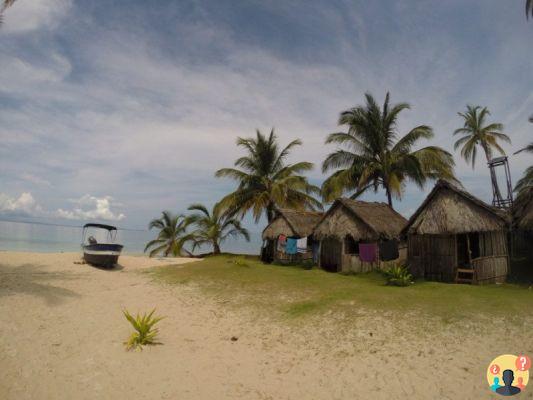 At dinner we were pleasantly surprised to learn that the Indians had fished Lobster, it was all delicious and in sufficient quantity. There's absolutely nothing to do at night, so we'd play with the Indians and the Argentinian couple, and by 22pm at the latest, we'd go to sleep.
After that excellent first impression we were reminded that everything depends on the good will of the Indians: our breakfast consisted of a slice of bread and ONE scrambled egg. Ah, I think there was a potato or something #cricri #salveolanchinho. Argentina watched ships waiting for a dulce de leche hahahah
After breakfast I went to talk to the Indians indicating the tours that we would like to do: Dog Island in one day, and Star Island in another. The Indian said I needed to talk to their "boss", an older Indian who is responsible for everything that involves some money on the island. He told me that it was possible to make these two visits and told me to wait. I had to go ask 3x what time we were going to leave for one of the tours until he said "we can go now".
People, there's no way, you have to go without haste and with a lot of patience when visiting San Blas to accept that they do what they want when they want.
On the first day we visited Dog Island (or Perro chico), well known for having a sunken boat that turned into coral. It is a better known island, where most people visit for a walk as it has a bar with loud music and is full of tourists. Even so, it was really worth it, snorkeling there is very beautiful, we love it!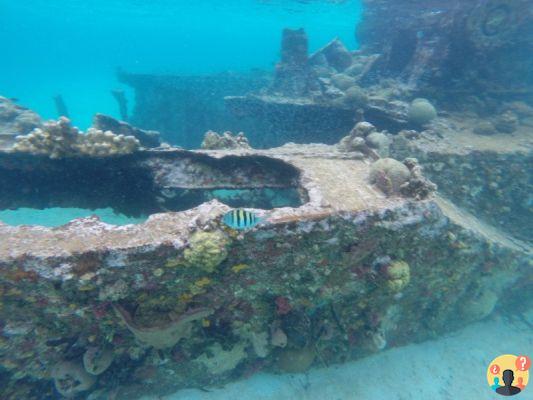 Dog Island
The other island we visited was called Estrella, which takes its name because there are many starfish there, many indeed. It is a more precarious island, empty, and with only one Kuna responsible, an old fisherman who spends the day there collecting tickets and selling drinks and then returns "home" to another island.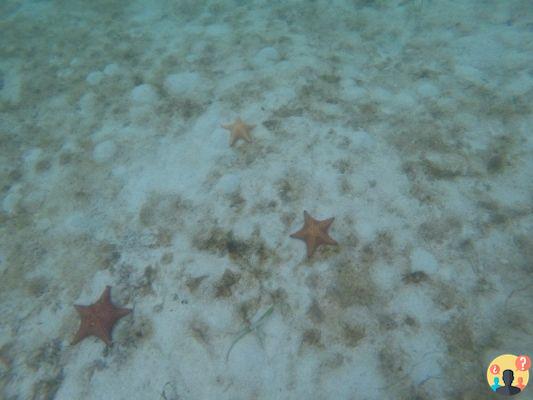 We spent these two days in San Blas and I think that with the effort of access it would have been more worthwhile to stay an extra day and visit another island. As everything is very precarious and there is nothing to do, I don't think I could stay more than three days there. Ultimately, the experience of visit San Blas it was worth a lot!
And, are you prepared to live this experience in San Blas, do not Panama?
Travel insurance for San Blas
hire a travel insurance for San Blas it's a great way to ensure a smooth trip and avoid worries. Having the assistance of insurance gives you the peace you need to enjoy your destination and know that you have support if you need it. Also enjoy our Insurance Promo discount coupon. - SEE PRICES
Read More
Where to Stay in San Blas – Our Recommendations and How to Choose
San Blas travel insurance – Discover how to travel more peacefully
What to do in Panama City – 1 Day Itinerary
Things to do in Costa Rica – 3 Amazing Beaches
What to do in Pavones – Complete City Guide
What to do in Cerro Negro, Nicaragua – Skibunda on the Volcano
Guatemala Tour – What You Need to Know
Complete Guide to Guatemala – Everything to Plan your Trip
Where to Ficar in Guatemala – Las Lagunas Boutique Hotel
Where to Stay at Lake Atitlán – Hotel Casa Palopó
Things to do in Belize – Caye Caulker Guide
International Travel Insurance – Is it worth it?
How and Where to Buy Travel Insurance – Step by Step
Plan your trip:
Get started now by booking your hotel in Panama on Booking.com
Save time and money searching for the best Travel Insurance with the Seguros Promo comparator! Extra 5% off with coupon: FORTRAVELOVERS
Compare the best prices to rent a car from over 100 rental companies with Rentcars! (Pay in up to 12X! Pay in reais, without IOF)
Leave España with Unlimited 4G Internet!