Are you thinking of travelling to Equatorial Guinea? In ForTravelLovers we have created a list of destinations and tourist activities that you have to see and doin Equatorial Guinea. Discover everything you need to know and enjoy an unforgettable trip!

Route and map for Equatorial Guinea
Before starting with this guide it is important that you know how to move around Equatorial Guinea taking advantage of the time. That's why we have marked the places you have to see if or not on the map and then we will explain you how to get from one place to another.
Arrival: We will spend the first day settling in and relaxing. You can visit the area where you are staying.
Mount Alen National Park: We will spend the second day visiting this wonderful park. You can rent a car in Equatorial Guinea and move around the country.
From Mount Alen National Park to Bata: Once again you will be able to reach this city perfectly by car, it won't take you long.
From Bata to Corisco: As it is an island, you will have to arrive by flying or by boat. It is not very far from the coast, so the distance in time is short.
From Bata to Bioko: If you choose to fly to Bioko Island, you will probably arrive at Malabo Intl. You can go by boat as well.
Best time to travel to Equatorial Guinea
The climate is warm equatorial with a high degree of humidity. The average annual temperature is about 25 °C. On the island of Bioko, the rainy season runs from July to January. The south of the mainland has two rainy seasons: September to November and mid-February to June. The best time to visit the country is from December to May, the dry season.
The average maximum temperature in Malabo is 28°C in January and 25°C in August. The water temperature is between 27°C and 31°C.
What to see in Equatorial Guinea
Are you thinking of including Equatorial Guinea as one of your next destinations? We will help you to decide and explain what to see in Equatorial Guinea and the tourist places in it that you should visit if you are.

Mount Alen National Park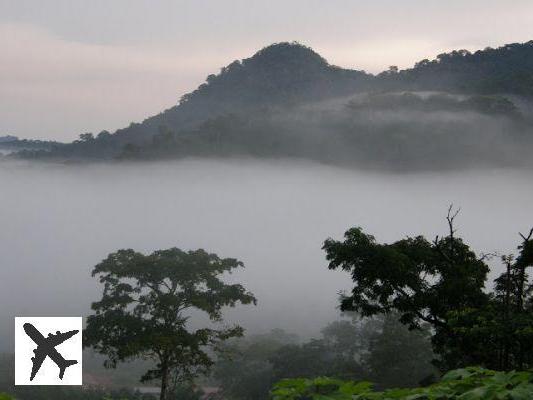 image source: SEO Birdlife
Mount Alen National Park is a national park located in the Niefang mountain range in continental Equatorial Guinea. It is one ofAfrica's best kept secrets. With 2000 km2 of jungle covered mountains, this national park is home to elephants, lowland gorillas, chimpanzees, buffalo, crocodiles, leopards and quirky creatures like goliath frogs.
Mount Alen National Park in Equatorial Guinea is the largest and one of the few remaining examples of primary equatorial forest in the country.

Bata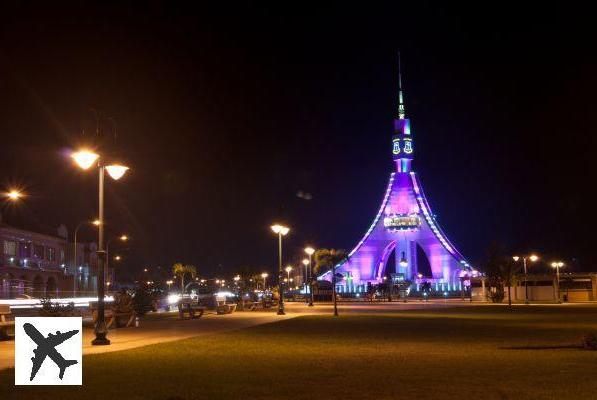 source image: Wikipedia
Bata is a port city in the continental area of Equatorial Guinea, in Central Africa. A long palm-lined esplanade stretches along its waterfront. The colossal and futuristic Freedom Tower dominates the Gulf of Guinea.

This city, on the shores of the Atlantic coast, is growing vertically with oil revenues and is undergoing a transformation worthy of a television reality show. Until recently, the largest continental city was a pleasant stopover; today it simply shines with its wide Californian-style boulevards.
The city 's busy markets sell clothing, handicrafts, fish and fresh produce. Bomé, on the outskirts, is a very famous beach with restaurants and bars.
Corisco Island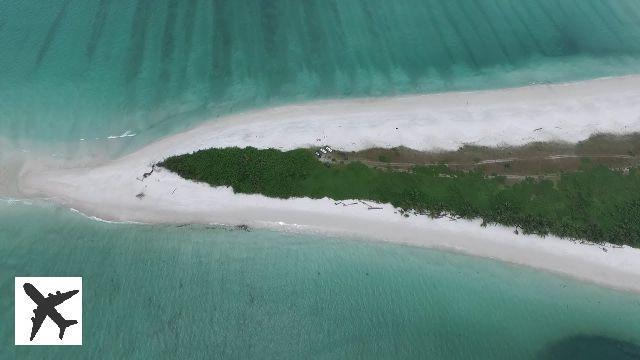 image source: Youtube
Another place to see in Equatorial Guinea is Corsica Island. The island of Corisco or Mandji is part of Equatorial Guinea and is located 29 km southwest of the Muni River estuary that defines its border with Gabon. This insular area is a municipality belonging to the province of Litoral.
The best escape to white sand beaches, warm waters and palm trees is in Corisco, until now little visited, so it is better to take advantage of swimming and relaxing on the beach, before someday flooded by hordes of tourists.
Bioko Island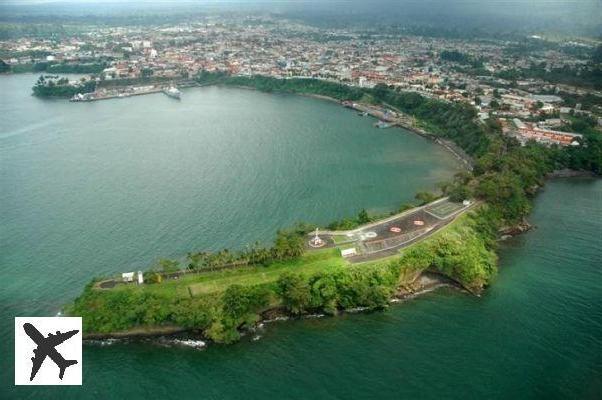 image source: Mundiario
Bioko is an island in Equatorial Guinea located northwest of the mainland. Malabo, located in the north, is the capital of the country and houses a neo-Gothic cathedral.

Surrounded by beautiful beaches with black and white volcanic sand, Bioko has jungle, forest, savannah and thevolcanic peakBasilé (3012 m). You can spend a few days in the capital, Malabo. Sea turtles come to its shores to lay their eggs in Ureca, and the dense jungle around the crater of Luba is the habitat of the primates that make the country famous.
On Bioko Island it is necessary to obtain permission from these authorities to visit some areas of tourist interest, such as the Moka Valley, Ureka and Pico Basilé.

What to do in Equatorial Guinea
For the moment we have explained what you can see in Equatorial Guinea on a tourist and cultural level. If you are more adventurous and want to live unique experiences, do not worry, Equatorial Guinea is the perfect place. That is why we explain below the different activities and experiences to do:

National Parks: Equatorial Guinea is well known for its many national parks and protected areas. Get lost in them, go hiking and enjoy the nature of Africa to the fullest.
Gastronomy: What better way to get to know a country than by immersing yourself in its food? Try typical dishes of the country and learn from its culture.
Market: One of the things to do in Equatorial Guinea if you go to Bata, is to visit its market. You will see how they live in the area and learn more about their culture.
Beaches: Another thing to do in Equatorial Guinea is to relax on its beaches, take a day off to take a dip and sunbathe on its wonderful beaches.
Hiking: In Equatorial Guinea there are different parks and peaks where you can enjoy a good walk.
Travel Tips Equatorial Guinea
Equatorial Guinea, like most African countries, has a very different culture and a different standard of living. That is why you should take into account the following tips before you travel:
Currency: The legal tender in Equatorial Guinea is the Cefa Franc. At present its fixed exchange rate is 1 Euro = 655,957 CFA francs.
Visa: The authorities of Equatorial Guinea require the traveler to be in possession of a visa to enter the country. In addition, it is essential to always go with your passport everywhere.
Vaccinations: Obligatory against yellow fever if coming from a contaminated country.
Same sex relationships: There is no specific legislation on this matter. However, there is a strong social rejection of homosexuality.
The bathing areas on Bioko Island, and more specifically on the beaches of Ureka, constantly present strong tides and currents
Budget: Equatorial Guinea is not an expensive country, but it is not cheap either. To give you an idea, a lunch or dinner can cost you about 22 euros.
Religion: The majority of the Equatoguinean population, 96.56%, are believers. The most widespread religion is Christianity.
Language: The official languages are: Spanish, French and Portuguese.
Is it safe to travel to Equatorial Guinea?
Equatorial Guinea is a safe country. However, the situation has deteriorated in recent months, with a significant increase in cases of common crime, including violent assaults in public places. Extreme precautions should be taken, particularly at night, with special attention to places of entertainment. It is recommended to avoid taking taxis at night.
There is an extreme threat of misdemeanors. Pickpocketsare the bread and butter of your day, so be very careful with your valuables.