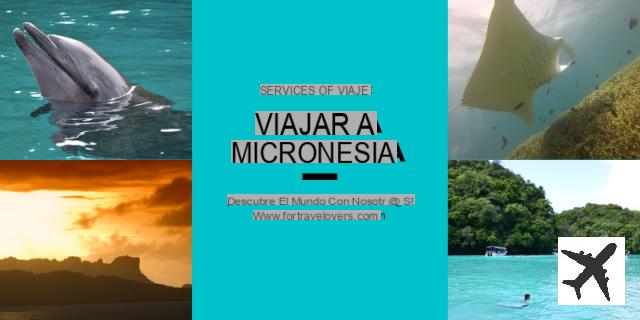 Micronesia consists of four countries: Palau, Federated States of Micronesia, Marshall Islands and Nauru. At ForTravelLovers we have created a list of tourist destinations and activities that you can see and doin Micronesia
Route and Map in Micronesia
Before you start with the most relevant information, it is important that you know how to getaround Micronesia without wasting too much time. That's why we've marked the places you need to see on the map and then explained how to get from one place to another:
Arrival: we'll land at Kosrae. It is advisable to spend the first day there to get situated and see what you are going to do.
From Kosrae to Lelu: We will go to Lelu by boat. It is a small island next to Kosrae where we can visit the runes.
From Lelu to Nan Madol: We will go by plane to the main island of Micronesia. There we will take a boat to Nan Madol.
From Nan Madolto Yap Island: We will travel by plane to the island. There we can visit Yap and Pelau.
Best time to travel to Micronesia
In Micronesia, the weather is pleasant in more than 54% of the territory during: January and February. The most favorable months to visit the Mariana Islands are January, February, March, April, May, November and December. ... The rainiest months in this city are August and September.
As for the hours of sunlight, April is the sunniest monthwith an average of 5.9 hours of sunshine per day. Throughout the year, there is an average of 4.8 hours of sunshine per day.
What to see in Micronesia
If you've made it this far it's because you're thinking of traveling to micronesia. You want to know what places there are to visit in those islands,right? That's why we're going to tell you the best places to seein micronesia.

Kosrae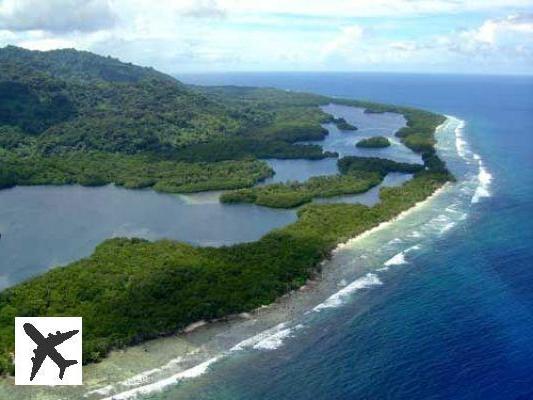 image source: Pinterest
Kosrae is an island in Micronesia and a state of the Federated States of Micronesia in the Pacific Ocean. It is part of the Caroline Islands archipelago and the state is divided into four municipalities: Tufunsak, Utwa, Malem and Lelu. Here is what to see in Kosrae:
Lelu Island: It was a huge walled city built between the 13th and 14th centuries for Kosrae's royalty, now hidden behind thick vegetation. You can still see the trail and the beautiful runes. You will see the first structure very soon on the walk, but keep in mind that the site has not really been maintained and is quite devoured by the jungle.
The blue Hole: The blue hole is a crystal clear water beach located in Kosrae. It is one of the places you have to visit if you spend a day in town.
Yela Valley Ka Forest: It is an Amazon forest crossed by a river that you can cross by boat. It is a very common adventure and excursion among tourists who travel to Kosrae.
Nan Madol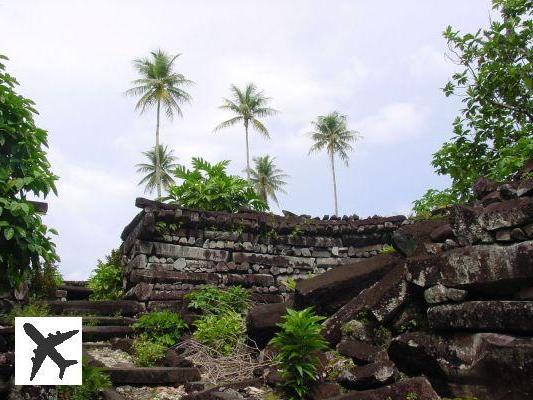 source image: Wikipedia
Another place to see in Micronesia is Nan Madol. It is made up of 92 artificial islands erected on the tidal plains and reefs off the southeast coast of Pohnpei Island.
Around them are arranged horizontally thick basalt pillars from Pohnpei as retaining walls. In addition, the resulting twisted canals are known as the "Micronesian Venice". It is well worth a stop there.
It has temples, tombs, gathering places, bathing areas and ponds for turtles, fish and eels that will amaze you.
Yap Island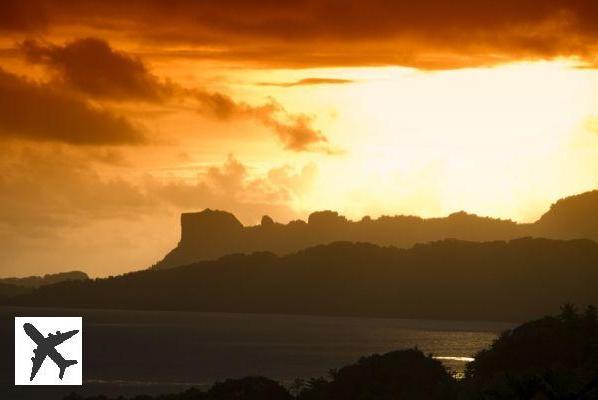 Yap Island is another destination to see in Micronesia. Colonia, the small capital, stretches around Chamorro Bay, with views of the sea from almost everywhere. You can walk to the stone money bank in the village of Balabat, or visit Ethnic Art Village, a bastion of indigenous art.

Bechiyal, to the north, is a beautiful beach village where Yap's oldest faluw (men's house) stands. It's worth taking a walk through the village and meeting the people. They will gladly explain their history to you.
What to do in Micronesia
So far we have explained what you can see in Micronesia on a tourist and cultural level. But don't worry, this country also offers activities and adventures that will make your experience unique. Here are somesuggestions for activities to do in Micronesia:

Diving: You can go to any beach on the island to practice diving. If you are an expert and want to have a great experience, ask for the best places. There are areas like Koror adapted to it where you will be able to see a marine fauna and flora worthy of a film.
Excursions: The islands are separated from each other so you will have to arrange some excursions in advance. You can go by boat and enjoy the experience.
Boatin the wood s: As we have already mentioned, we recommend that you visit the woods. They are very tropical forests, with rivers and lakes that cross them. Rent a boat and enjoy nature.
Get to knowthe culture and gastronomy: One of the best things to do in Micronesia if you have time, is to stop and meet the people and especially the food. It is a different culture, with a gastronomy that will fascinate you.
Dolphins: Micronesia is known for its dolphin shows. If you go by boat or to a beach, keep an eye out and you will be able to see one.
Travel tips to Micronesia
As you may have deduced, Micronesia has avery different culture fromour own and a different standard of living. That's why before you travel you should consider thefollowing:
Visa: An ordinary, service or diplomatic passport valid for more than 120 days after the planned date of departure from the country is required. Spaniards do NOT need a visa for a stay, without work purposes, of up to 30 days.
Vaccinations: No vaccinations are required to enter the country. However, a valid international vaccination certificate is required for travellers coming from a region affected by yellow fever, cholera or smallpox.
Security: There is no known terrorist activity in Micronesia. Micronesia is hit by heavy rains between April and December. In general, there are no security problems. The usual precautions should be taken.
Currency: The unit of currency is the US dollar.
Budget: Micronesia is not expensive. As everywhere else you will find cheaper and more expensive food and items. To give you an idea: a menu in the expensive area is going to cost you around 7 euros.