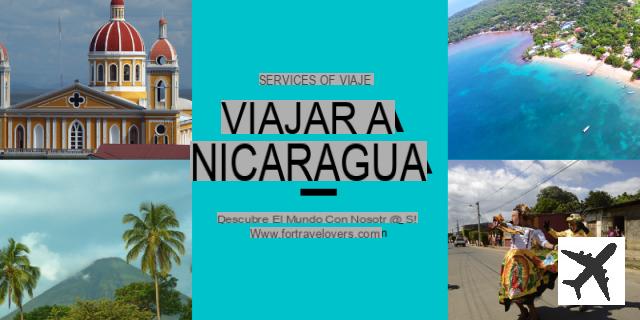 Summary:
1. Route and map through Nicaragua
2. Best time to travel to Nicaragua
3. What to see in Nicaragua
3.2. Grenada
3.3. Masaya
3.4. Omepete
3.5. Bluefields
3.6. Corn Islands
4. What to do in Nicaragua
5. Travel Tips to Nicaragua
In ForTravelLovers we have created a list of destinations and tourist activities that you can see and do in Nicaragua. Did you know that its name literally means "here by the water"? Tour the country and discover its wonderful lakes, volcanoes and beaches.
Route and Map of Nicaragua


First of all it is important that you know how to move around Nicaragua without wasting too much time. That is why we have marked the places you need to see if or if on the map and then we will explain to you how to get from one place to another:
Usually you have to spend the first night in Managua, because the airport is in that city. We recommend that you rent a car to move around Nicaragua when you arrive, as this is the most comfortable option.
From Managua to Masaya: As we mentioned in the previous point, it is best to move by car. The distance between Managua and Masaya by road is 35 minutes.
From Masaya to Granada: again we recommend you go by car. There is only a distance of 20 minutes between these two cities.
From Granada to Ometepe: the best option is to go to Rivas by car and from there take a ferry.
From Granada to San Juan del Sur: The best option is to go by car. It will take you 1h 38m to get there.
From San Juan del Sur to Bluefields: To get to Bluefields the best option is to go back to your starting point (Managua), and take a plane. The distances are immense by car.
From Bluefilds to Corn Islands: From Bluefields to Corn Islands you can go by plane (it takes 39 minutes) or by ferry (it takes 9 hours). Obviously the difference in price between the two options is very big, so your decision will depend on your budget.
Best time to travel to Nicaragua
The best time to travel to Nicaragua is, without a doubt, the season from November to April. It is a dry season in that country, although it can be very hot. From January to March you will find almost no rainfall and the daytime temperature will be around 34°C or more. So, if you want to visit the rainforests in the Caribbean lowlands, we recommend February to April as the best time to travel.

In the rainy season from June to November we do not recommend a trip to Nicaragua. Although the off-season offers are attractive, the travel experience is cloudy in many places because of the unstable climate.
Also, in this dry season, sunlight lasts longer. We are talking about an average of 9.4 hours of sunshine per day .


What to see in Nicaragua
If you're thinking about where to travel this summer and have come up with the idea of Nicaragua, you'll want to know what places there are to visit in that country. That's why, below, we explain the best places to visit.
Granada


image extracted from TripAdvisor.es
One of the cities to see in Nicaragua is Granada. It is one of the great cities of the country that you cannot miss if you travel there. This wonderful city has several Spanish colonial monuments that have endured many of the invasions that the country has suffered.
One of the most emblematic monuments to see in this city is located in the main square of the city. We are talking about the cathedral of Granada, which has a colorful and beautiful facade.
Nearby you will find the Convento de San Francisco Cultural Center, where you can enjoy the exhibition of pre-Columbian statues.
Plaza de la Independencia: This square is right next to the Parque Colón, and here you will find the small obelisk dedicated to its heroes, also the Palacio Nacional.
Masaya


image extracted from unique-universe.blog
Another city to see in Nicaragua is Masaya. This is a city located in western Nicaragua. It is the gateway to the Masaya volcano national park, with several craters and the active Masaya volcano. Below we explain what to see in Masaya:
If you travel to Masaya you can not miss a visit to the Masaya volc ano. It is an active volcano located right next to the city of Masaya.
Laguna de Apoyo: The Laguna de Apoyo Nature Reserve is located between the departments of Masaya and Granada in Nicaragua. It was declared a natural reserve in 1991 by the Ministry of Environment and Natural Resources. It is one of the best tourist landscapes.
MasayaDance: If you are in the city of Masaya you can't miss an exhibition of its typical dance. The dance of Negras (Only men), the dance of Blancas (Only women), begins in September and ends in late November.
Ometepe


image extracted from dreambigtravelfarblog.com
Ometepe is an island located in the great Lake Nicaragua, in the southwest of the country. It's known for its twin volcanoes.
El Concepción: this is an active volcano that is located in the north of the island.
In the south, there are trails that go through the Maderas volcano to the San Ramon waterfall.
The Ometepe Museum, in the city of Altagracia, has ancient petroglyphs.
Santo Domingo beach is famous for its choppy sea, ideal for surfing.
In the nearby Ojo de Agua, there are natural pools fed by a spring. It is one of the most attractive destinations in Nicaragua.
Bluefields


image extracted from pinterest.es
Another siteto see in Nicaragua is Bluefields. This is a municipality and a city in the Republic of Nicaragua, capital of the Autonomous Region of the Southern Caribbean Coast. Here we explain what to see there:
The Bluff Beach: is one of those wonderful sites that we see in images on the Internet. It is a beach close to the city of Bluefields and easily accessible.
Reyes Park: The Central Park or Parque de Reyes is a green, cozy, safe and quiet area in the middle of the routine and congestion of the city of Bluefields. It is one of the most touristic places in the city.
MoravianChurch: The Moravian Church was founded in 1849 by Moravian missionaries from Germany and is one of the oldest churches in the area.
Corn Island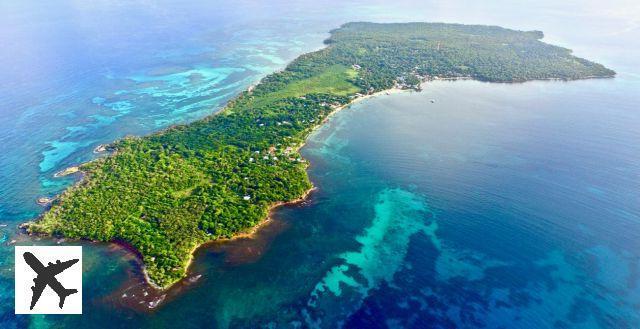 The Corn Islands are a small tropical paradise that offers beautiful white sand beaches and a sea of turquoise waters, a dream place for divers. If you travel to Nicaragua you must see these islands. The islands themselves are one of the best places and have some wonderful tourist landscapes, so we advise you to relax on its beaches and enjoy the views.
What to do in Nicaragua
So far we have explained what you can see in Nicaragua on a tourist and cultural level. But don't worry, this country also offers activities and adventures that will make your experience unique. Below we suggest some activities to do in Nicaragua:
Surfing: One of the most recommended activities to do in Nicaragua is surfing on the beaches of San Juan del Sur. If you have never surfed before... don't worry! it's never too late to learn.
See sharks: If you travel to the island of Ometepe you will be able to see sharks in fresh water that are almost extinct.
Diving: The Corn Islands are a natural paradise. One of the most common activities on this island is diving. Can you imagine diving in a natural paradise?
Dancing: Dance with the Masaya villagers their typical dance and feel like one more.
Surfing Cerro Negro: One of the most popular activities in Nicaragua is descending the Cerro Negro Volcano with a surfboard.
Volcano Climbing: Nicaragua has 25 volcanoes so you can choose the one that appeals to you the most and climb it.
Bike tour of Ometepe Island: An island in the middle of a lake with two volcanoes on its surface. If you like cycling it can be one of the best places to practice this sport.
Enjoy the gastronomy: Nicaragua is a country well known within Central America for the culinary skills of its inhabitants. Take advantage and try their delicious recipes.
Discover: Get out of the tourist areas and get lost in its cities, discover wonderful attractive places outside the tourist areas.
Travel Tips to Nicaragua
Nicaragua, like many countries in Central America, has a very different culture and a different standard of living. That is why before you travel you should take into account the following:
Vaccinations: It is recommended to get vaccinated against hepatitis A and typhoid fever, in addition to any precautions against mosquitoes.
Bottled water: It is always advisable to drink bottled water and avoid ice cubes. It is also important to eat food that is always cooked.
Currency: The Nicaraguan currency is the Cordoba, although you can also pay in dollars. It is advisable to carry cash.
Price: Generally it is a fairly cheap country to travel to.
Mobility: Renting a car is one of the best ways to move around the country. You don't need any special license, just the one from your own country.
Communication: To keep you connected in Nicaragua we recommend the prepaid HolaSim Connect chip.
Electricity: As far as plugs in Nicaragua are concerned, type A plugs are used.
Language: The officiallanguage of Nicaragua is Spanish. It is spoken by 90% of the population.