From ForTravelLovers we have created a list of destinations and tourist activities that you have to see and do in Samoa. Did you know that due to its position in the Pacific Ocean it is the first country in the world, along with Kiribati, to start the new days? Visit this wonderful country and learn about its culture.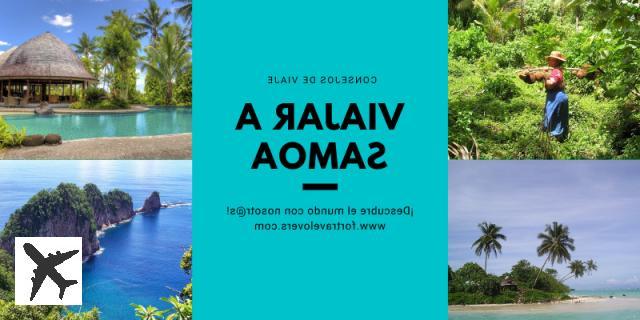 Summary:
1. Route and map of Samoa
2. Best time to travel to Samoa
3. What to see in Samoa
3.1 Upolu
3.2 Savai'i
3.3 Manono and Apolima
4. What to do in Samoa
5. Travel tips for Samoa
From ForTravelLovers we have created a list of destinations and tourist activities that you have to see and do in Samoa. Did you know that due to its position in the Pacific Ocean it is the first country in the world, along with Kiribati, to start the new days? Visit this wonderful country and learn about its culture.

Route and map of Samoa
Before you start with this guide it is important that you know how to move around Samoa using your time. That's why we've marked the places you need to see on the map and then explainedhow to get from one place to another.
Arrival: We will take the opportunity to visit Upolu and its surroundings on the first day. We will see Lalomanu Beach, a wonderful beach.
From Upolu to Namua Island: Namua is a small island next to Upolu, you can reach it perfectly by ferry.

From Upolu to Savai'i: There are internal flights to move from Upolu to Savaii.
From Upolu i to Apolima: To return to Upolu we will pass by two islands on the way. The first one is Apolima. You can reach it perfectly by boat from Upolu in 20 minutes.
From Apolima to Manono: Manono is the other island on the way to Upolu. It's closer to Upolu so you can also go from there.
Best time to travel to Samoa
In Samoa you can expect heat all year round, with seasons that are divided into dry and rainy seasons. November to early April is when it rains the most, with weather that gets very sticky and a few cyclones each year.
If you have a choice, May to early October is the dry season and the best time to travel to Samoa. The highest tourist season is in December and January.
What to see in Samoa
If you're thinking about where to travel this summer and have the idea of Samoayou'll want to know what places there are to visit in that country. That's why, below, we explain the best places to seein Samoa.

Upolu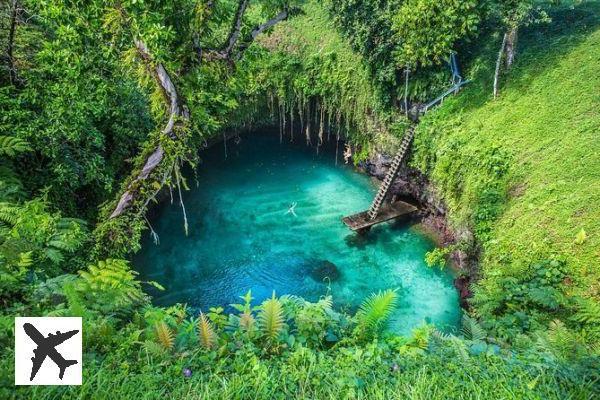 image source: viator
Upolu is an island in Samoa. It is formed by a volcano that emerges from the sea with no historical record of eruptions. At the beginning of the 19th century it was also known as Ojaláva. It has 1,125 km² and is the most populated of all the Samoan islands. Here we explain what you can see in Upolu:

Apia: What would be a village in another country, Apia is the big city in Samoa, with its buildings, restaurants, bowling alleys, cinemas and even a McDonald's. You can get tourist information, visit the markets and see the clock tower. You can also see the Palolo Marine Reserve.
Papase'ea Sliding Rocks: Only 6 kilometers from the center of Apia, to the interior of the island, are these natural slides that are formed in the volcanic rock, the highest of 5 meters.
Lalomanu Beach: Golden sand, turquoise and warm water, fish that pass between your feet, palm trees that give you shade, and Nu'utele Island in sight. The sad side of this beauty is the death of much of the coral after the 2009 tsunami.
NamuaIsland: Namua is an island with no fixed population, and it makes for an escape to almost absolute solitude. It takes only a ten-minute boat ride from the east coast of Upolu, passing by some turtles on the way, where you'll find the island - probably - all to yourself.
To Sua Ocean Trench: Although the photos always show the turquoise water well, there are actually two of them, joined by a lava tube (channel or cave that forms after the lava flow from an eruption) that brings water from the ocean to fill it. To get there, you can take a bus to Lotofaga village.
Savai'i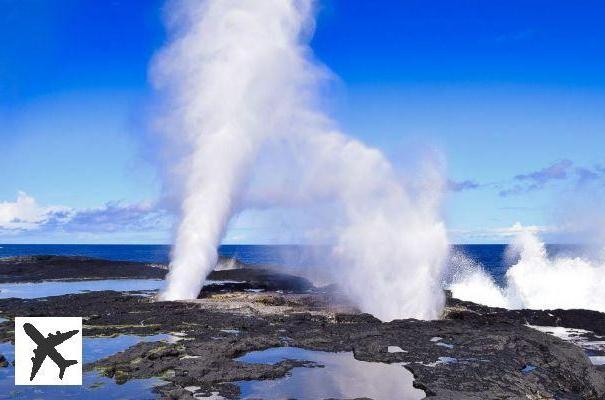 image source: about fiji travel
Savaiʻi is the largest island in Samoa, even larger than all the other islands in the country combined. It is known as The Soul of Samoa. The island is formed by a basaltic volcano rising from the Pacific Ocean. The volcano on Savaiʻi is active, although it last erupted in 1911.
Saleloga: Being the administrative centre of Savai'i and where you will arrive with the ferry from Upolu, the best thing to do here is to use the services you won't find elsewhere on the island. You can visit the central market and the church.
Alofaaga Blowholes: This natural rarity is one of the jewels of the island: the waves go through underground lava channels when they reach the rock floor you are standing on, making the ground vibrate until they find their way out in these holes. Along the way they take on a fury, to end the trip by blasting off into the sky in a fantastic spectacle.
ManaseBeach: What Lalomanu is to Upolu, Manase is to Savai'i. This is by far the most famous beach on the island, and when you arrive you will understand why. Golden sand, crystal clear water, palm trees with just the right inclination...
Manono and Apolima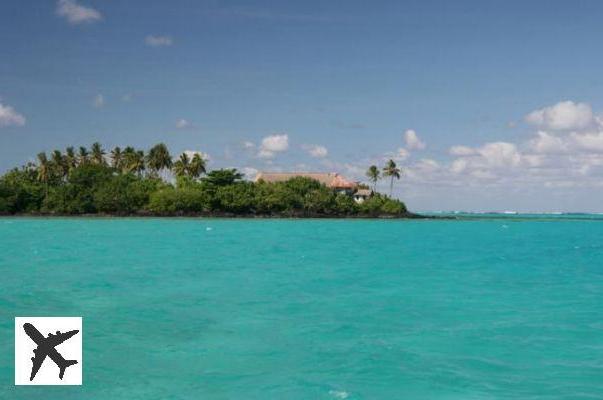 image source: Lonely Planet
Manono is an island in Samoa, located in the Apolima Strait between the main islands of Savai'i and Upolu, the westernmost point of Upolu:

Manono: Nine hundred people live in the four villages of the island, mainly from fishing and agriculture, although there are also some small businesses and fales on the beach for rent. The boat ride from Upolu is 20 minutes. Just arriving at the island you will find the Manono Methodist Church. There is no village on the north side. It is through this area that the road gets better, with excellent views of Apolima and Nu'ulopa Island. You will arrive at Apai, where the best beach of Manono is. In this part are the Sunset View Fales, a very fair name because it is also where you will see the best sunset.
Apolima: Apolima is a small island inhabited by only one hundred inhabitants who live in community in a small space of the island and practically do not receive tourism. Traveling to the smallest of the four islands is the most remote thing you can do in Samoa. Very few foreigners include it in their itineraries, mainly for logistical reasons (no regular boats). However, it is a destination that is well worth it if you want to live the unique experience.
What to do in Samoa
So far we have explained what you can see in Samoa on a tourist and cultural level. But don't worry, this country also offers activities and adventures that will make your experience unique. Here are somesuggested activities to doin Samoa:

Diving: one of the best things to do in Samoa is to dive. It has a wonderful marine fauna and almost intact by the human footprint.
Visit markets: Every town has its market with local products. We recommend that you go to one to see how people live there and learn about their cuisine and culture.
Go to unknown beaches: Samoa is known for its wonderful beaches. There are very touristy and well known beaches, where you will surely have to go. However, it is also a good option to get lost on the roads and discover little known beaches where you can relax and be alone.+
Seeing turtles: Another thing to do in Samoa is to visit the marine reserves and beaches known for their abundance of turtles. It is wonderful to see these animals in their natural habitat.
Waterfalls: Samoa is well known for its riverine forests and waterfalls. We recommend that you spend some time hiking and seeing one of its wonderful waterfalls.
Travel Tips Samoa
Samoa, like many of the islands in Oceania, has a very different culture and a different standard of living. That's why before you travel you should consider the following:

Currency: The official currency of Samoa is the Tala. The exchange rate is around USD 1 = T 2.50. US, Australian, New Zealand dollars and Euros are very easy to change.
Budget: The cost of travelling in Samoa is a little lower than New Zealand and a lot less than travelling in Australia. A cheap hotel in Apia is around USD 15 - 20, and a simple beach fale is T 70-100 per person including breakfast and dinner.
Communication: Samoan is the language spoken throughout the country, and the only one for many of those living in the outlying villages of Apia.
Safety: Thefts are rare, but they can happen if you leave your things unattended. What is more common is for people to ask you for money.
Visa: Passport valid for 6 months after intended departure from Samoa and a ticket to leave the country. No visa is required for Spanish citizens for a stay of up to 60 days