Are you thinking of travelling to Zimbabwe? In ForTravelLovers we have created a list of destinations and tourist activities that you have to see and do in Zimbabwe. Discover everything you need to know and enjoy an unforgettable trip!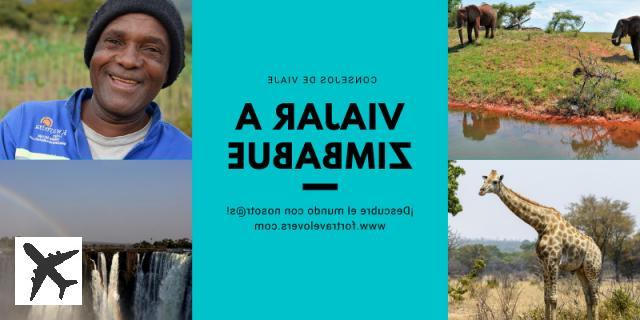 Are you thinking of travelling to Zimbabwe? In ForTravelLovers we have created a list of destinations and tourist activities that you have to see and do in Zimbabwe. Discover everything you can see and do in Zimbabwe and enjoy an unforgettable trip!
Route and map of Zimbabwe
Before you start with this guide it is important that you know how to get around in Zimbabwe by making the most of yourtime. That is why we have marked the sites you need tosee on the map and thenwe will explain how to get from one place to another.
Arrival: Once you arrive at the international airport, we recommend that you take a car and stay near Victoria Falls, so that the next day you can spend it visiting the beautiful waterfalls.
From Victoria Falls to Hwange National Park: To get to Hwange National Park you have two options: either go by train (which would take about 6 hours) or by car which would take about 3 hours.
From Hwange National Park to Matobo National Park: On this trip, it's all about national parks... beautiful! To get from Hwange to Matobo you can go by car.
From Matobo National Park to Harare: The distances in Zimbabwe are quite large. That's why in some situations you have to take domestic flights.
From Harareto Lake Kariba: You can get there by bus (12h), by plane (4h) or by car (4h).
Best time to travel to Zimbabwe
What is the best timeto travel to Zimbabwe? Generally, it is recommended to visit the country between the months of March and November. This is because in that period of time we can enjoya warm and pleasant climate with a moderate level of rainfall.Although in fact the country'sclimate is good and suitable for travelers from other latitudes.
The summer takes place from November to March and is usually presented with high temperatures of over 30 º C and also some rain. The winter season is dry and fresh and is an ideal season for the contemplation of animals.
What to see in Zimbabwe
Are you thinking of including Zimbabwe as one of your next destinations? We will help you decide and explain what to see in Zimbabwe and what tourist sites you should visit ifyou are.

Victoria Falls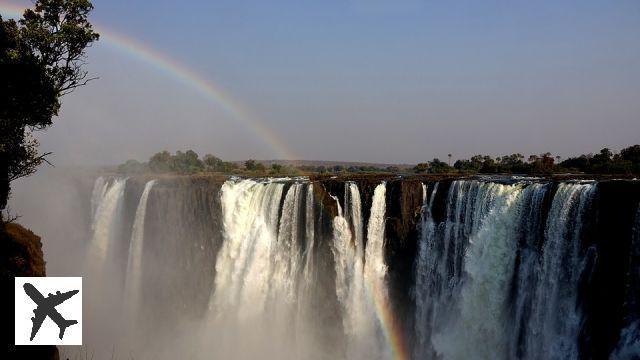 Victoria Falls is a waterfall on the Zambezi River in southern Africa, which is the habitat of several unique species of plants and animals. It is located on the border between Zambia and Zimbabwe and is considered one of the largest waterfalls in the world due to its width of 1,708 m (5,604 feet).
The entire volume of the Zambezi River flows through the exit of the first gorge, which is 110 metres wide, for a distance of about 150 metres, and then enters a series of zigzagging gorges designated by the order in which the river reaches them. This is one of the places to see in Zimbabwe without a doubt, as it is a natural wonder that you will fall in love with.
Hwange National Park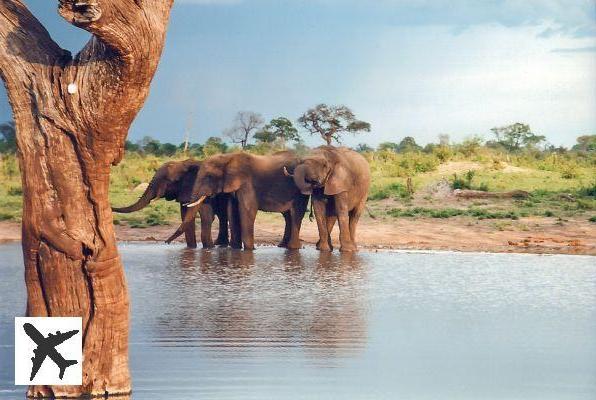 source image: Wikipedia
Hwange National Park is the largest reserve in Zimbabwe. The park is located in the southeast of the country, on the main route between Bulawayo and Victoria Falls. It was founded in 1928 by a 22-year-old ranger.
Hwange National Park covers approximately 14 600 square kilometers. It is located near the edge of the Kalahari Desert, a region with little water and semi-arid vegetation. The park is home to 105 species of mammals, including 19 large herbivores and eight large carnivores. All of Zimbabwe's protected species can be found in Hwange, and it is the only protected area where there are African antelopes and hyenas
Matobo National Park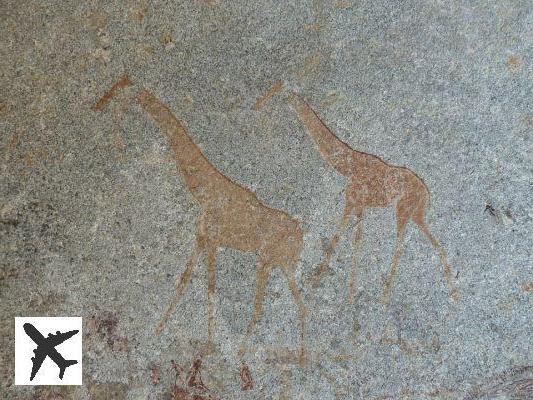 Matobo National Park, or Matopos, forms the core of the
Matobo Hills
, an area formed by granite witness hills, balanced rocks and wooded valleys located about 35 kilometers south of Bulawayo, in Zimbabwe.
Crowned by granite rock hills, this immemorial landscape preserves some of the oldest cave paintings in southern Africa, which is why it was declared a World Heritage Site by UNESCO.
Harare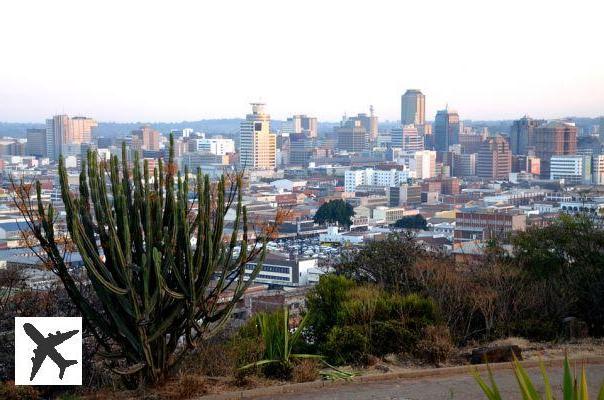 Another site to see in Zimbabwe is Harare, the most populous city and capital of Zimbabwe. It is the administrative, commercial, and communications center of Zimbabwe. It is a centre of commerce for tobacco, corn, cotton and citrus. You can visit it:
The Museum of Human Sciences
The National Gallery of Zimbabwe
The Chapungu sculpture park
Harare Gardens
Kariba Lake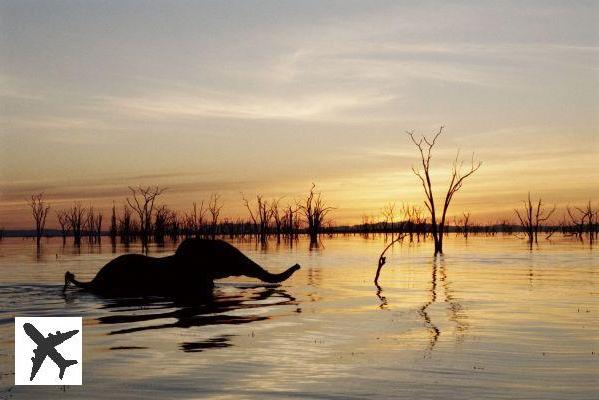 source image: g-switch.org
Lake Kariba is the largest artificial lake and reservoir in the world by volume. It is located in the Kariba Gorge on the Zambezi River, about 1300 km upstream from the mouth of the river into the Indian Ocean, along the border between Zambia and Zimbabwe.
Beyond Victoria Falls, the Zambezi River runs through Batoka Canyon before entering Lake Kar iba. Formed behind the colossal dam of the same name, it is one of the largest man-made lakes in Africa. Immense and spectacular, in front of its sparkling waters you can see the silhouette of the clipped and distant peaks of Zimbabwe.
Visit Victoria Falls in Zimbabwe
As mentioned earlier, Victoria Falls is located on the border between Zambia and Zimbabwe. It is one of the most beautiful places you will ever see. If you are thinking of visiting these Falls on your own, here is all you need to know
To see Victoria Falls we recommend that you do so from the Zimbabwe side, as the views are much better than from Zambia.
How to get there: The fastest way to get to Victoria Falls is by plane. Normally you will arrive in Johannesburg and fly to Victoria Falls from there.
Visa: The Kaza Univisa visa is the cheapest option for visiting both sides of Victoria Falls, as it allows you to visit both countries, and even take day trips around Botswana. It costs USD50 and is valid for 30 days.


Accommodation: As it is a very touristy place, there are many hotels around these falls with different prices, so you don't have to worry.
Price/Tickets: In Zimbabwe, Victoria Falls National Park has a price of USD30 per person. Children from 6 to 12 years old have a 50% discount, and children under 6 years old have free access.
Best timeto see Victoria Falls: The best time to experience Victoria Falls is between September and December. This is the time when the Zambezi River is at its lowest.
Route: The trails are simple and without difficulty. You walk through vegetation and the viewpoints of the falls are protected
What to do in Zimbabwe
For the moment we have explained what you can see in Zimbabwe on a tourist and cultural level. If you are more adventurous and want to live unique experiences, do not worry, Zimbabwe is the perfect place. That is why we explain below the different activities and experiences to doin Zimbabwe:

National Parks: Zimbabwe is well known for its many national parks and protected areas. Get lost in them, go hiking and enjoy the nature of Africa to the fullest.
Rafting: One of the things to do in Zimbabwe is Rafting. As we have already mentioned, Zimbabwe has a beautiful big river. It is ideal for rafting with a group of people to hang out and enjoy.
Visit elephants and giraffes: Find out about the parks where these animals live and don't miss out on seeing them.
Gastronomy: What better way to get to know a country than by immersing yourself in its food? Try typical dishes of the country and learn from its culture.
Market: Another thing to do in Zimbabwe if you go to Harare is to visit the market. You will see how they live in the area and learn more about their culture.
Travel Tips to Zimbabwe
Zimbabwe, like most countries in Africa, has a very different culture and a different standard of living. That is why you should consider the following tips before you travel:

Visa: You need to have a passport that is valid for at least six months from the date you apply for your visa. A visa is required.
Vaccinations: Yellow fever vaccine is required if you come from an infected country. Recommended: Cholera (oral vaccine), typhoid, tetanus and hepatitis.
Currency: all commercial transactions in the country must be carried out in "Zimbabwean dollar", currency that has not been physically introduced so far.
LGTBI: These relationships are illegal and punishable by law.
Budget: The approximate budget for the trip for 2 persons and for 14 days is about 2086
Language: Shona is a Bantu language, native to Zimbabwe. It is official in that country along with English and the Ndebele language.
Religion: Apart from Christianity, the Mwari cult is the most widely practiced non-Christian religion in Zimbabwe.
Is it safe to travel to Zimbabwe?
Zimbabwe is, for the most part, a safe country to visit. However, it has an extremely high rate of crime, both petty and violent, although it is mainly street crime. You must be vigilant and take all possible preventive measures to reduce the risk of theft.
Pickpockets are an everyday occurrence, so be very careful when carrying valuables, and never carry money in a purse or pocket.
Violent crime is also a frequent occurrence in Zimbabwe and great care must be taken. If you visit Nyanga, you should avoid Pungwe Falls, Mterazi Falls and Honde Falls, as there have been many cases of armed robbery