What to do on New Year's Eve in Italy? Well, that's a question many people ask us. For this reason, if you're going to spend New Year's Eve here, we've prepared some tips on where to spend New Year's Eve in Italy!
Index:
New Year's Eve in Italy

New Year's Eve Festivities

Tips on where to spend New Year's Eve in Italy?

New Year's Eve in Venice
New Year's Eve in Milan
Reveillon in Ferrara, Emília-Romanha
New Year's Eve in Bologna
New Year's Eve in Padua
New Year's Eve in Trieste
New Year's Eve in Turin
New Year's Eve in Genoa
New Year's Eve in Florence
New Year in Rome
New Year's Eve in Naples
New Year's Eve in Sicily
New Year's Eve in Italy
Traditionally, the celebration of New Year's Eve for Italians is a large party with friends and family gathered around a table. Just like in Brazil, Italian tables also cannot lack lentils and pork meat, more specifically "cotecchino" (a sausage made with meat from the cheek, neck and shoulders of the pig, seasoned with lots of spices) and zampone (pig's front leg stuffed with meat from various parts of it). Italians believe that lentils resemble small coins and bring wealth, while the fat content of pork means abundance and prosperity in the New Year.
As for clothing, no white! Tradition says to wear red underwear on New Year's Eve will bring luck for the coming year and potentially love into your life! At this time of year the windows are all red!
I recommend reading our other posts about the New Year's Eve Festivities in Italy:
Christmas in Italy: where to go, traditions and tips
New Year Festivities in Rome: what to do, where to go and what to eat at Christmas and New Year's Eve
Christmas markets in Italy and other events: broken down by region
Christmas markets in Trentino Alto Adige: Bolzano, Trento, Merano, Rovereto and Arco
Discover Italy's Living Nativity Scenes
The Feast Of Befana In Italy, How Was The Legend Born?
What to do in Italy in December?
Traveling in Italy in December: a guide with everything you need to know
New Year's Eve Festivities
All over Italy you will find open-air concerts on the 31st, with music, performances and fireworks! Larger cities such as Naples, Rome and Bologna host outdoor concerts and events that are televised across the country. There are also private parties with dinner and dancing in the larger hotels and restaurants, as well as traditional and city events.
However, for this type of party, we have to be prepared for a painful cold, as temperatures are very low here at this time of year.
A tip: in Italian the word "réveillon" is not used, but "capodanno", and the parties are called "veglioni di capodanno".
Tips on where to spend New Year's Eve in Italy?
If you're going to spend New Year's Eve in Italy 2019/2020 and you're still wondering what you're going to do on that date, check out some events that will take place in the country's main cities.
New Year's Eve in Venice

For those who dream of a New Year's Eve in a fairytale atmosphere, Venice itself is one of the most desirable European destinations. Among the events scheduled for this magical night, in addition to the classic group kiss in St. Mark's Square, there will also be a concert at the La Fenice Theater. The first part of the concert, as usual, is exclusively orchestral. The second part, which includes the participation of the soloists and choir, is dedicated to melodrama and ends, as is the tradition of Teatro La Fenice in the new year, with the refrain "Va Pensiero" from the opera Nabuco and the traditional toast with "Libiam ne' lieti calici" from the opera La Traviata by Giuseppe Verdi. This year, Daniel Harding directs the Concerto di Capodanno 2023
Five concert dates: December 29, 30, 31 and January 1, 2023. broadcast live on Rai 1 on Sunday, January 1st.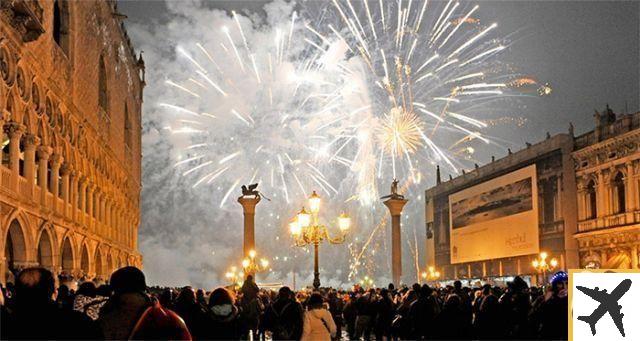 New Year's Eve in Italy – Venice
A few minutes before midnight, starting at 23:30 pm, Venice welcomes 2023 with a spectacular fireworks display that illuminates St. Mark's Square. Click here to view the map with instructions on how to watch the show. The arrival of the new year will be celebrated in a thousand colors that are reflected in the lagoon. To watch the fireworks, the ideal is to position yourself along Riva degli Schiavoni, Riva Ca' Deus, Riva San Biagio or Riva dei Sette Martiri. Fireworks will be visible from many places in Venice, especially along the Canal Big or on the bridges. Please note that boots are recommended in high water. You can watch the Pizza San Marco webcam celebrations. In addition to the fireworks there is lots of live music and a big community kiss in the square at midnight as the bells ring in the belfry, followed by a toast.
GREAT MUSIC AT PIAZZA FERRETTO IN MESTRE
Dj Ringo, Dj Toky and Dj Alteria will play from the stage set up in the heart of the city lit up at a party, among lamps, light sculptures and the large Christmas tree, which will mark the end of the old year and the beginning of the new one, with guests from exception.
From 22:00, with Dj Ringo conducting, the stage in Piazza Ferretto will be animated by Timothy Rock Cavicchini, who already starred in the famous program "The Voice", who will propose an amusing live "light" involving the audience in the style of talent. It will then be the turn of Alteria, one of Virgin Radio's top female diamonds, who successfully fronts Morning Glory and who recently finished a world tour with Deep Purple's Ian Paice. Alteria, who is also an extraordinary singer, ranges from Classic Rock to current music with her DJ set. Ringo will bring his historic program «Revolver» to the stage of Piazza Ferretto: a much-loved television and radio figure, artistic and creative director and founder of Virgin Radio, currently host of the show Italia 1 Drive Up. Over the years, his DJ sets have enlivened the biggest Italian festivals and clubs, preceding live broadcasts of artists during Firenze Rocks, Idays Milano and dozens of other concerts by the most famous international artists. Alessandro Toky – another historic Virgin Radio DJ, but also a producer and sound technician – will liven up the festivities towards the end of 2022. On the air on Virgin with Revolver, Morning Glory and Rock Party Toky is a complete rock DJ, capable of Engage and entertain any type of audience. Invited in the most important clubs across Italy, from Milan to Sardinia, together with Ringo he opened important rock concerts such as AC / DC and Guns & Roses and Vasco Rossi.
New Year's Eve in Milan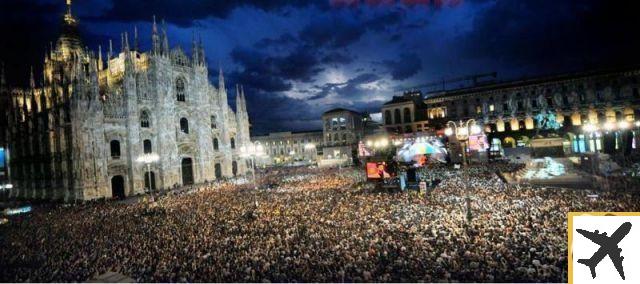 New Year's Eve in Italy – Milano
Unfortunately, this year the mayor of the city canceled the New Year's party in Piazza del Duomo due to the energy crisis, so the best options are events in hotels and nightclubs. As they are updated very frequently, I leave here the direct site where you can find information on New Year's Eve parties to pay in Milan.
At Teatro La Scala, the Nutcracker ballet is scheduled on the night of the 31st.
Reveillon in Ferrara, Emília-Romanha
New Year's Eve in Ferrara is marked by a huge fireworks display around the Estense Castle. At midnight on the 31st, the symbol of the city is the stage for a huge fireworks show with music. Another interesting event is the banquet of the Dukes of Este held inside the castle, a gala dinner with a Renaissance menu and during which you are surrounded by royal knights, guards, squires and nurses.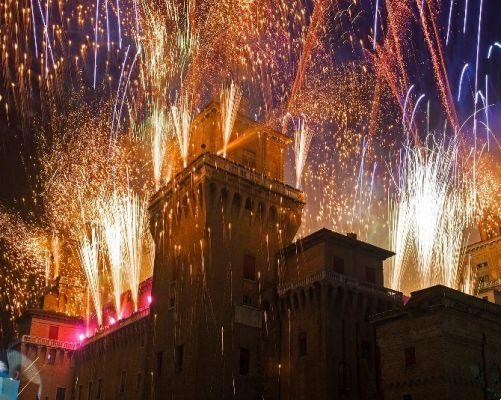 New Year's Eve in Italy – Ravenna
Find out more about New Year's Eve in Ferrara and the banquet of the Dukes of Este here. An idea of ​​the program:
22 pm Waiting for New Year's Eve animation with PAUL ZAMPINO and live music with the group DEJA VU
00 h pyromusical show followed by dancing until 2am with DJ LOPEZ
New Year's Eve in Bologna
The big New Year's show in Bologna will be in Piazza Maggiore, where each year you can watch the burning of the "Vecchione", an image that each year is designed by a different artist. Fire symbolically marks the end of the old year and welcomes the new one. The start of the party is scheduled for 21 pm, when the concerts organized by the city also start, where every year several Italian artists entertain the public. It has not yet been published by the comune who the artists will be, in general this information is given after Christmas.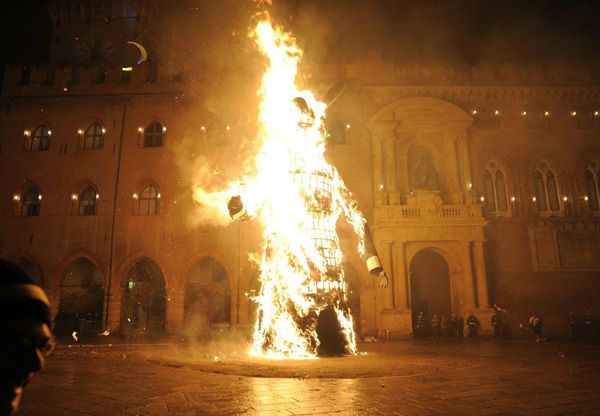 Photo: Commons
New Year's Eve in Padua
This is the right city for young people of all ages: the Prato della Valle will turn into a festival of lights, colors and music waiting for midnight and its fireworks. From 22 pm, as every year, live music and DJs will liven up the square until the arrival of the new year.
Great musical party with Max Gazzè returning to the stage on the most special night of the year. The artist will be the great protagonist of the New Year in Padua, where he will perform in the new location in Piazza Insurrezione, with a set in which he will trace the success of his career, among hits that made the history of the Italian music charts. The new New Year's format at Insurrection Square will focus on live music with a large and spectacular free concert, big screen countdown, special effects, dj set and animation to keep dancing to the rhythm of the music until the end of the event .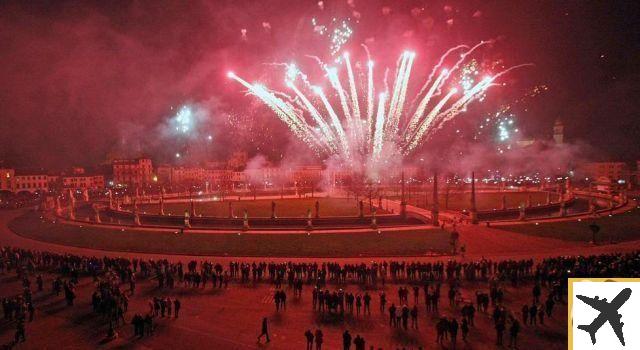 The traditional Caffè Pedrocchi will also organize a paid New Year's party, undoubtedly the most exclusive in Padua! The party on the 31st of December will have the Grand Cenone – Dinner Served and after Party Open Bar (Free Drink Premium) all night long. This year, the theme of the evening will be "The Fairy Tale", the story of a magical night, populated by beautiful princesses and elegant knights, a magical night in which time is told backwards, gathered around a clock with the scent of of coffee. Live music and entertainment during dinner, 2 music situations with DJ set and Performer, magic show for dinner guests and much more. PRICES AND PACKAGES:
Silver: 99 euros (admission after dinner + Party Open Bar)
Gold: 199 euros (entrance with Grand Cenone + Party Open Bar)
New Year's Eve in Trieste
The great show of Ano Novo at Praça da União returns after two years of absence. The Contatto Show Events will be organised, thanks also to the contribution of the CRTrieste Foundation. From the stage that will be placed in the square at 22.30 on the day December 31, the music proposed by Radio Company DJs Gianluca Pacini and Leo Feltrin will begin to spread, which will accompany people in the square until the New Year. At midnight, the usual fireworks show will begin, after which the band Magazzino Commerciale together with Dennis Fantina will propose a succession of songs and medleys of the greatest hits of Italian and international light music from the 60s, 70s, 80s and 90s to to the present day.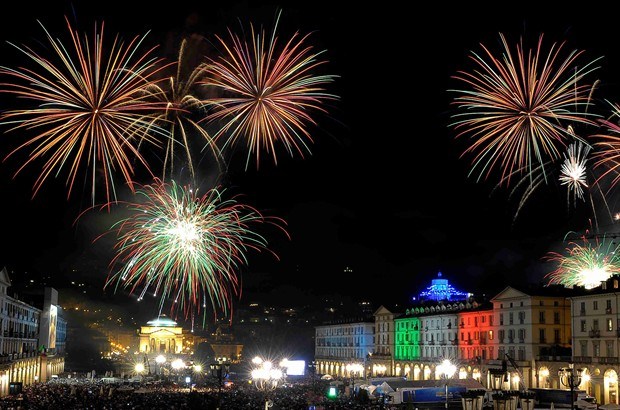 New Year's Eve in Turin
The protagonists of the concert that will celebrate the end of 2022 will be the main singers and musicians of the Turin scene. The music night will be intended to represent the importance of the show and live music for a welcoming, innovative, green city, close to its inhabitants like Turin.
«TOLOVESYOU» is the name that was chosen for the 2022 New Year's concert. The project of the city of Turin «Turim te ama» is an initiative in collaboration with Turismo Torino e Provincia carried out by Cooperativa Cultural Biancaneve. The artists from Turin who will be present on the stage of the New Year's concert will be Subsonica, Willie Peyote, Eugenio na Via Di Gioia, Beba, Ginevra and Cantafinoadieci. Stubsonica is the most alternative group from Turin that formed in 1996 and is one of the most loved Italian bands with their musical style that combines rock with electronic and pop genre.
Entrance to the New Year's concert in Turin is free, to participate you need to make a reservation on the municipality's website while places last.
New Year's Eve in Genoa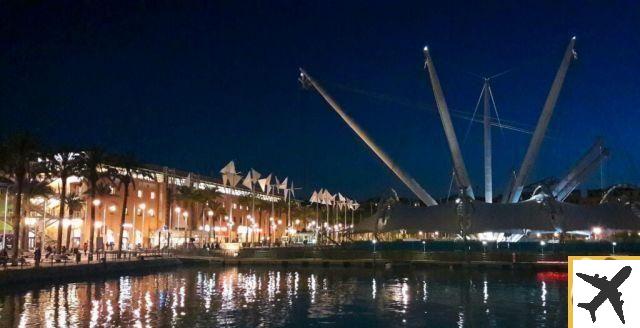 New Year's Eve in Italy – Old Port of Genoa
This year, the New Year in Genoa is made in three! That's right: three appointments are waiting for you to celebrate the new year. On the 29th and 30th of December, enjoy the evenings dedicated to young people and families. What about New Year's Eve? Get ready, as the city will welcome the Mediaset New Year, with music and many guests for a truly bubbly start to 2023!
At Tri-New Year, there are events in the city for all tastes to welcome the New Year. Here they are! (The program is being defined, updates will follow).
Two nights for December 29th and 30th in Porto Antico
Big New Year in Piazza De Ferrari, with music and featured artists (from 17 pm). Genoa will host the New Year's Mediaset.
Ano Novo nos Palazzi dei Rolli on the Strada Nuova
New Year at the Doge's Palace: the Rubens exhibitions in Genoa and Disney. The art of timeless storytelling will be open until 02.00:1 on 2023 January 01.00 (last entry at 1:10). On Sunday, January XNUMXst, both exhibitions will be open at XNUMXam.
new year in the city: concerts in theaters, amusement parks
Ano Novo no Castello D'Albertis
On New Year's Eve, "The bat", the most famous operetta by Johann Strauss, scheduled at Teatro Opera Carlo Felice at 17 pm
New Year's Eve in Florence
New Year's Eve in Italy – Florence
In Florence, to welcome the past year, there will not be the traditional end-of-year concert in Piazzale Michelangelo, but many events spread throughout the city.
They go from the gospel in Piazza Santissima Annunziata, to the classical music concert at the Courtyard of the Church of San Lorenzo, from bands de street in Oltrarno to the exhibition, light and acrobat show in front of the Palazzo Vecchio.
On December 31st, the magic of the Circus Medrano will come back with the big one New Year's Eve at the Mandela Forum, with performances by acrobats, jugglers, dancers, trapeze artists and some artists from Cirque du Soleil. Tickets from 30 to 80 euros.
But in Florence there will also be the marquee for the project Unstable, which for December 31 proposes a big «Total party»: at 20.30 dinner with a comic-acrobatic show (also for children) and, after the toast at midnight, the group's concert Cacao Mental and or dj set of ice cubes and sea bass. Dinner tickets from 50 euros (25 euros for children). You can only enter after dinner.
La Villa Strozzi lemon house promises a trip back in time, thanks to the dj set «Back in time» which charts the greatest hits in music from the 70s onwards (dinner and party €110, pre-sale entry €30).
No Tenax «New Years 12H Party» from 11 am to 11 am with Motor City Drum Ensemble, Alex Neri, Fabrizio Mammarella, Francesco Farfa, Philipp, Cole, David Brilli.
No Hard Rock Café, a dinner with a special menu, the dj set by Carletto and the concert Suzy Q. also in Red Garter and Combo End of year party with dj set 360°.
New Year in Rome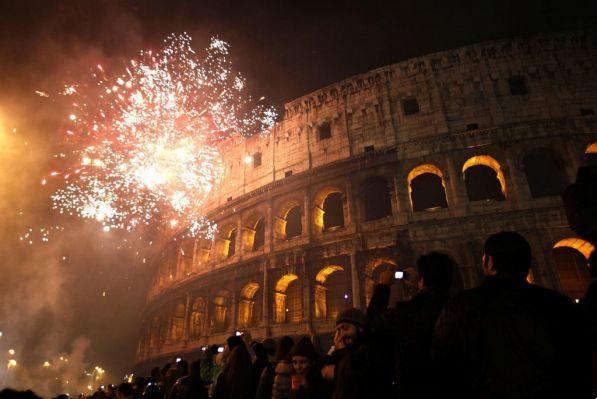 New Year's Eve in Italy – Rome
If you extend your vacation until New Year's Eve, Rome will not disappoint in terms of entertainment! The tradition in Italy is to have a special New Year dinner called cenone. For this reason, many restaurants will offer special menus and rates. It's best to call and reserve your favorite culinary experience in advance.
After dinner and a few drinks, Romans usually go out to watch fireworks at midnight. The main places to see fireworks (from midnight onwards) are at Pincio tops from Piazza del Popolo, in the main squares, on bridges or on top of one of Rome's hills. Live outdoor music and dancing can be found in various places in Rome, starting around 20 or 21 pm and lasting until after midnight. The main spots to go are usually the Ccome Maximus, Piazza del Popolo and via dei Fori Imperiali, the street that runs through the Roman Forum to the Colosseum.
Nightclubs across the city have music, dancing and special events. A classical music concert is usually held in Quirinale square at 23 pm and several theaters have symphonies or opera.
To date, the Comune of Rome has announced the following artists:
a live concert "Rome Restarts 2023", on stage in via dei Fori Imperiali: Elodie, Franco 126, Madame e Sangiovanni. The party starts at 21 pm and continues even after the toast to the new year with a special dj-set by Dimensione Suono Roma, to continue singing and dancing with the Romans and tourists even after midnight.
We wrote a text only about New Year's Eve Festivities in Rome, so to find out more about other options for New Year's Eve in Rome, see the text: New Year Festivities in Rome: what to do, where to go and what to eat at Christmas and New Year's Eve
New Year's Eve in Naples
O New Year 2022/2023 in Naples will be extraordinarily full of events. Naples prepares for the witness passage between the old year and the new year with three-day concerts, live performances from morning to night. Many events scheduled from the 29th to the 31st between Umberto gallerythe Maschio Angioino, Piazza del Plebiscito and seafront. All shows that will liven up the city are free of charge.
The inaugural event of New Year in Naples opens on December 29 at Galleria Umberto I, with the musical show "ALGO WILL COME" Audiovisual Live Performance. The young talents of the Conservatory of San Pedro in Majella offer us a tribute to Pino Daniele, Massimo Troisi, Eduardo De Filippo with projections of audiovisual elaborations, live reinterpretations and virtual performances with Pino's voice and guitar.
New Year's Eve in Naples
On December 30th (21.00) it will be the live broadcast of Rkomi, undisputed star of contemporary Italian pop, that will inflame the Plebiscite square. It will be preceded by the musical performances of Neapolitan singers Nziria, To Joliee La Nina.
No mesmo dia será realizado, no Juvenile Penitentiary Institute of Nisida, or event ao I live That's Naples, a musical show conceived and directed by Maestro Carlo Morelli. From 10:30 onwards we will be able to listen to reworks of timeless tracks such as Tammurriata nera, Luna Rossa, «O surdato»nnammurato, Comme facette mammeta, «O Sarracino». But also Roxanne from the Police, Hit the road jack! by Ray Charles, I Will Survive by Gloria Gaynor and «Dancing Queen» by Abba.
The main end-of-year public event is the New Year's Concert which will be held in Piazza del Plebiscito from 21.30 until midnight on December 31. The big New Year's party is entrusted to the comedy of Peppe Iodice and his fellow actors from the programa Peppy Night: Francesco Mastandrea, Francesco Procopio and Daniele Decibel Bellini.
Evening guests: Belen Rodriguez, Stefano De Martino, Biagio Izzo, Gianni Simioli, Lina Sastri, Peppino Di Capri, Andrea Sannino, Rosario Miraggio, Gianluca Capozzi. After the grand final at meia-noite with DJ Daniele Decibel Bellini and Lucariello and Franco Ricciardi at live concert.
To welcome 2023, fireworks return with two scheduled pyrotechnics. At midnight in Piazza Plebiscito and then from 2 am, for about twenty minutes, the fireworks return to Castel dell'Ovo.
If, on the other hand, you prefer to dance the night away, two stages with artists from the collective Drop Events will be placed in Lungomare of Naples, from 22:00 on December 31, 2022. The party will continue until dawn on January 1, 2023.
On stage at the Rotonda Diaz, the DJ sets will alternate: Aura, Da Believer, Emanuele Romano, Fiona Kraft, Gianni Romano. Thanks to Circo Negro Italia animation, fire shows, flying cube, acrobatic acts and many other interventions are planned.
No stage from Piazza Vittoria, the theme will be the more mainstream Pop, RAP and Dance dance floor. The X-Factor star Dadà will meet DJs Cerchietto, Danilo De Santo, Irene Ferrara and Rossella Essence.
Other events
O concert da Scarlatti Youth Orchestra at PalaVesuvi will open on the 31st of December at 12.00 noon. The program involves music by MA Charpentier, J. Sibelius, J. Strauss, G. Gershwin. A special tribute will be given to the great Antonio De Curtis, with the performance of the «Sinfonia de Totò» with tracks from the soundtracks of his films. Free entry while seats last.
The Mastio Angioino or Castel Nuovo, one of the symbols of the city of Naples, welcomes or The Musician Castle with a program dedicated exclusively to children. From 10:00 to 20:00 on December 30th, girls and boys will be accompanied by a long path of educational entertainment thanks to the magic of music.
On the first of January, at 17:30 pm, in San Domenico Maggiore, the orchestra La Nuova Polifonia will present o Pastoral motet "Who have you seen shepherds" for suns, chorus, strings and organ by Carmine Giordano (1737). The composition was brought to light by Master Roberto De Simone and revised by him.
New Year's Eve in Sicily
New Year's Eve events and concerts are back in the main squares of Sicilian cities to welcome 2022 and celebrate the arrival of the New Year.
The most important names come from Palermo and Messina who will be waiting for the arrival of the New Year with Francesco Gabbani e Renzo Arbore and the Italian Orchestra, respectively. In Agrigento, on the other hand, there will be Achille Lauro in the special version dj set and Lello Analfino, while in Ragusa he will toast and dance in the square with Roberto Ferrari from Radio Deejay.
A list is constantly updated, there are still many important cities like Catania, Trapani, Syracuse, Modica missing that could announce events in the coming days.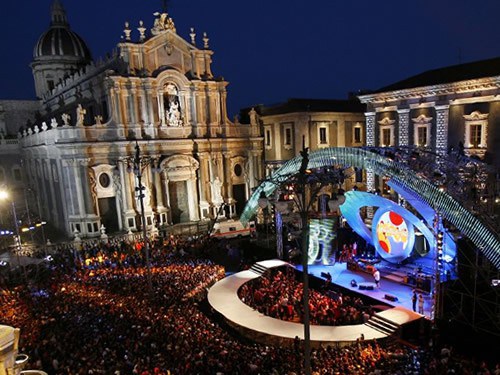 New Year's Eve in Catania