Planning to meet the end of the world? Learn all the travel tips for Ushuaia that will help you prepare for this trip in the best possible way.
I always nourished an absurd desire to get to know this city of Argentine Patagonia affectionately called "Fin del Mundo". Long before the place became such a popular destination among Brazilian tourists and I didn't even know what to do there, let alone give Ushuaia travel tips!
Almost 10 years later, it's my turn!
Ushuaia, suddenly, it seems that it has gone from being a remote destination to becoming one of the most popular destinations among Brazilians. However, that's not why we, who live in a tropical country, are used to or know how to deal with all this cold!
To face the cold without "getting in a cold", I'll leave here some Ushuaia travel tips that are essential to know before starting to plan your trip there.
Haven't taken out your travel insurance yet?
How about buying at a discount? use the coupon FORTRAVELOVERS and get 5% off.
Click here and check it out!
What to take on the trip
Values
What is the best time to go
Things to do in Ushuaia

Emerald Lagoon Trekking
Off Road 4×4
Martial Glacier Trekking
Beagle Channel
Tierra Del Fuego National Park
Vinciguerra Glacier Trekking

What you need to know BEFORE you go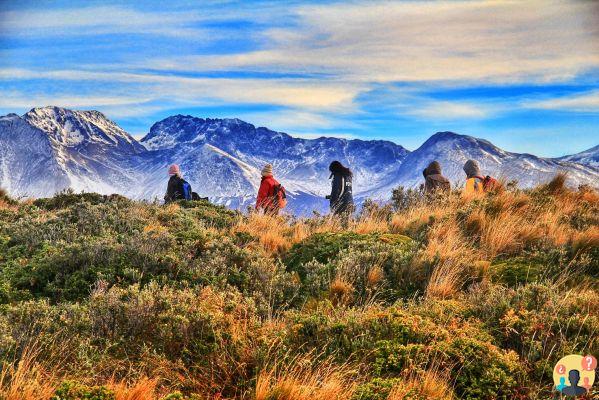 Ushuaia travel tips
What to take
When you arrive in Tierra del Fuego, your first thought is that it should be called Tierra do Vento! There is a place where the wind seems to make the curve – and with unbelievable force.
It varies a little depending on the time of year, but at times it is quite common to find huge trucks that overturned on the road because of the wind – just to give you an idea!
Inside the city you end up protecting yourself a lot because it is surrounded by mountains. But if you like outdoor activities, it is essential to have some equipment to face the cold. These will be more or less hot depending on the time of year you decide. when to visit Ushuaia.
Clothing
Ushuaia it is the southernmost city on the planet, so it is quite obvious that the weather there is always very cold. Varying the temperature between summer and winter, but never leaving a good warm coat and a windbreak aside.
If you've never traveled to such a cold destination, I'll specify better. In the cold, it is customary to use 3 layers of clothes. The first will let your skin breathe, the second will keep you warm and the third will protect you from the wind.
The first layer is a second skin thermal blouse, which is indispensable. You can find it to buy at any sports or camping store for the most diverse prices and qualities.
It is important that this blouse lets your skin breathe because it is through it that you will eliminate sweat and avoid getting wet. For this, the second skin needs to have a fabric suitable for the cold and must be well attached to the body to hold the heat.
After the second skin comes the "fleece", which is nothing more than the good old flannel blouse. You can also easily find them to buy at any good sporting goods store. Fleece is what will keep you warm and you can even use more than one depending on the temperature you face.
Last but not least, comes the famous windbreak, which will be your best friend on this trip. Prepare to go out with the same coat in all the photos and this windbreak can also be more or less thick – depending on the temperature. These coats are usually quite expensive, so if you don't want to invest in one, you can easily find them for rent at Ushuaia.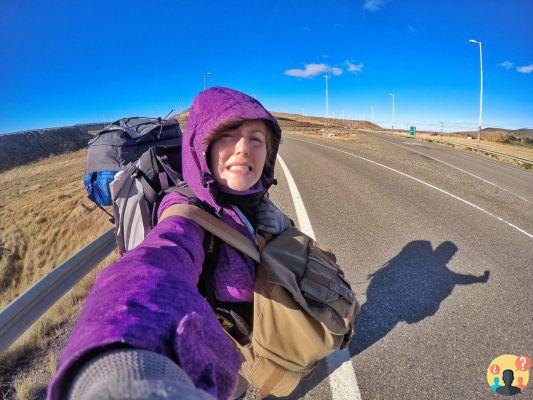 Shoes
You might find this a bit obvious, but I think it's important to emphasize this part because I've seen more than one woman myself who has tried to hike a glacier or snowy mountain in a high-heeled boot – and no, I'm not kidding.
So if you're one of those women who don't jump off their heels for anything in the world, please don't do the same! In addition to being extremely dangerous to walk on a slippery surface without proper shoes, you will be prohibited from doing the tour in this way, disturbing any group that is with you.
The agency Spaniards in Ushuaia, with whom I did all the tours, offers the option of renting appropriate clothes and shoes, but it is essential to make them aware of this need and try on the shoe before going out on the tour.
Ushuaia travel tips
Values
The prices of activities, and of any basic need such as a market or restaurant, are extremely expensive! To give you an idea of ​​prices, you can find a carton of milk for R$10 in some places, a can of tuna for R$20 and so on…
I would venture to say that it is one of the most expensive destinations I have ever been, considering that the Argentine currency is devalued against the real, so prepare your pocket!
It is obvious that tourist exploitation exists and adds a little to the high values, but remember that even being a port city, we are talking about a remote place, difficult to access, where the cost of living is inevitably high.
Depending on the time of year, and if you choose the low season, you will experience a slight variation in prices and have a more economical trip. But it is essential to go with a certain amount of reservation so as not to get into trouble, as Ushuaia is far from being a low-cost destination.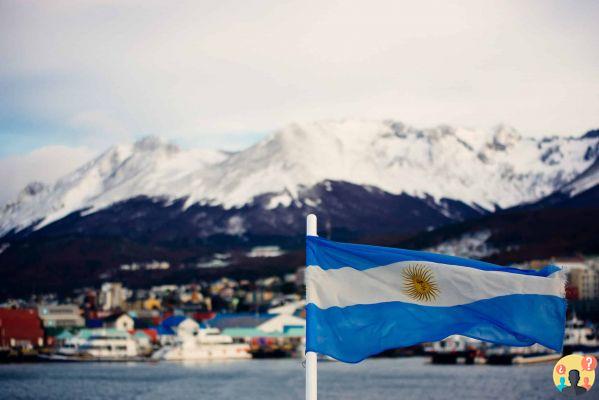 Ushuaia travel tips
best season
Ushuaia travel tips will vary greatly depending on the time of year you are going to visit the city. Despite Ushuaia being a naturally cold place, each season of the year is well marked by its climate and scenery changes. It is no coincidence that the city is busy with tourists throughout the year and there is always something to do in Ushuaia.
My trip there was in May during the autumn, the least tourist season in the city. It is an intermediate phase, when it is already too cold for the fun summer walks and there is still not enough snow for the extreme winter adventures.
On the other hand, autumn is undoubtedly the most beautiful time for photography lovers. If you're lucky with the weather. The vibrant colors in the most varied shades of orange, red and yellow were a spectacle on their own and did not spare my eyes with such beauty.
But that all depends on your luck, because a few days after my arrival, the first snowfall also came and, with it, a ground completely covered with leaves and the dry branches on the trees that characterize the arrival of winter.
It was a real privilege to be able to see the city with the two seasons merging in nature and I confess that I find it very difficult to say when is the best time to visit. I left the city with that taste of "I want more" and the desire to know all the other stations there.
Another factor to take into account is that during the summer the days in Ushuaia are extremely long. And during the winter they are very short. So, analyze before the types of tours you would like to do and how you prefer to enjoy this destination of fascinating landscapes.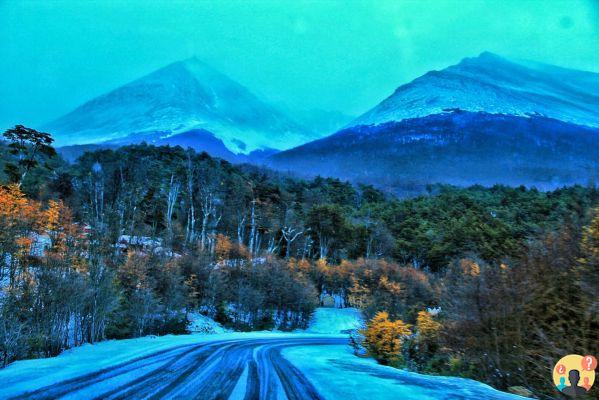 Ushuaia travel tips
What to do
Because there is a very large number of Brazilian tourists there, Ushuaia has an agency especially for us, as its name suggests: Spaniards in Ushuaia. On the agency's website there are already tours according to each season and also tours that take place throughout the year.
I did all the tours with them during my trip. I thought it was excellent! And they offer tours for all types of travelers: from the most sophisticated, which require no effort, to the more adventurous, who require a little more energy.
I did different types of tours, among those that were available at the station, as I had a lot of time in the city, but I will list my favorites here:
Trekking to Laguna Esmeralda
I'm a fan of nature and adventure, so this was definitely my favorite tour! Especially when the trail is snowy, the scenery is simply stunning from start to finish.
Despite the name of the tour itself saying that the main attraction of the trail is the famous Esmeralda Lagoon, I was much more delighted with the way! The trail is full of forests, lakes, rivers and waterfalls that are interspersed with the immensity of the beaver trees and the valleys surrounded by the Andes mountain range.
As I took the tour in Autumn, the pond was not yet covered by snow and it was not possible to walk on it, as is usual in winter. But I was lucky to do the trail the day after the first blizzard of the season. In other words: I took the trail all white as if it were winter, and still with some characteristic autumn colors. It was amazing!
The trail lasts around 5 hours in total, approximately 10km round trip, and requires a certain physical conditioning and disposition. Despite not being considered a super difficult trail, it has some obstacles on the way that can make it difficult for people who have no experience.
| | |
| --- | --- |
| Trekking to Laguna Esmeralda in Summer | BRL 365* |
| Trekking to Laguna Esmeralda in Winter | BRL 381* |
| Helicopter flight over Laguna Esmeralda | BRL 1.581* |
*values ​​quoted in January 2020
Check all the details of the trekking to Laguna Esmeralda by clicking here.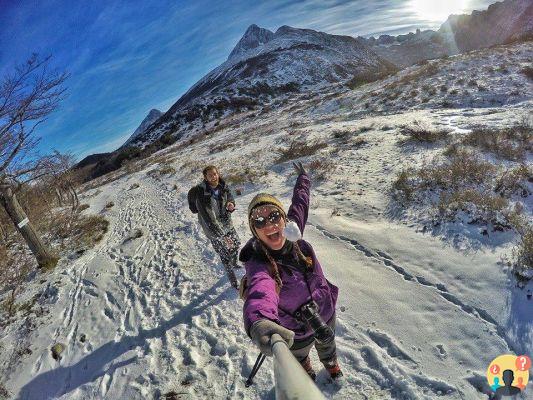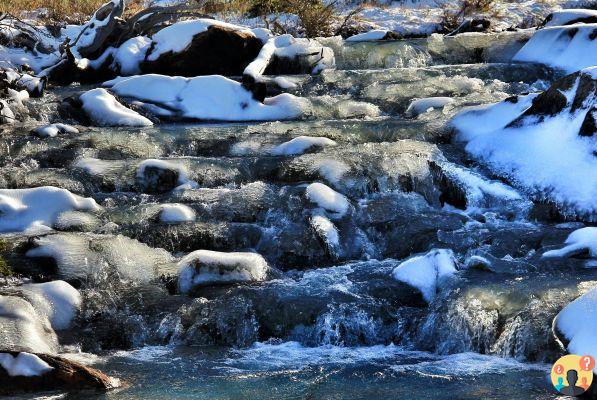 Off-Road Expedition in 4×4
I say again that I always prefer tours that involve some adrenaline and this one is definitely on my favorites list for those who like adventure!
Beautiful landscapes, forests, beaver trees, rivers, incredible lakes surrounded by the Andean mountain range, lots of fun and LOTS of mud is the least you should expect from this tour.
The tour lasts about 6 hours and can be done throughout the year.
| | |
| --- | --- |
| Off Road 4×4 Expedition in Summer | BRL 565* |
| Off Road 4×4 Expedition + Summer Kayak Tour | BRL 682* |
| Off Road 4×4 Expedition in Winter | BRL 678* |
*values ​​quoted in January 2020
Learn more about the Off Road 4×4 Expedition by clicking here.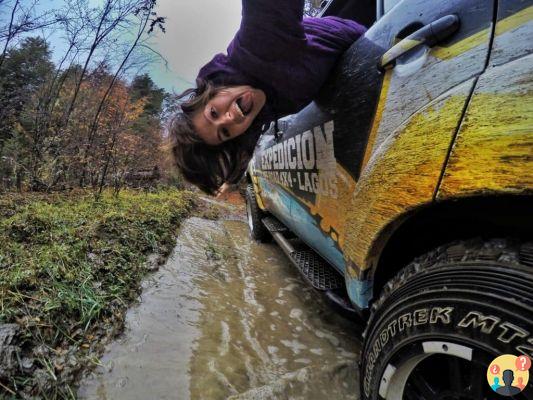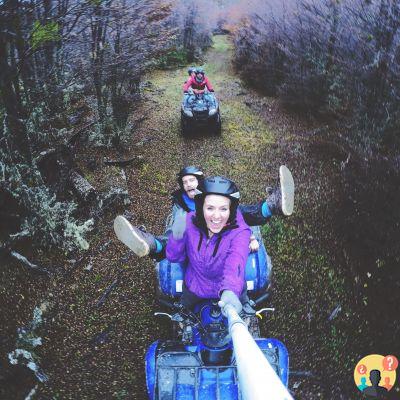 Trekking no Glaciar Martial
wonderful view of Ushuaia and a super fun trail! the visit to Martial Glacier is one of the most common tours in Ushuaia. However, it is important to note that here I am referring to the longest trail to the glacier. Although there is the traditional tour that only takes you to the easily accessible part to take pictures and enjoy the view. They are different tours.
thanks to Spaniards in Ushuaia, I was able to team up with a group of people who also wanted an extra dose of adventure on the trail. So our tour of the glacier was quite different and much more exclusive.
I had the opportunity to climb on a very snowy day and we managed to climb to the maximum point. You can get there without claws on your shoes or climbing equipment. Unfortunately the weather did not cooperate on this day. But the view from up there was amazing, even with the cloudy weather! Not to mention that the trail was wonderful from beginning to end!
The trail takes about 5 hours to cover a distance of only 5 km. As it is full of obstacles on the way, and considerably steeper, it is important to have a certain physical conditioning or to be used to trails.
Navigation on the Beagle Channel
By far one of the most popular tours in Tierra del Fuego. When deciding what to do in Ushuaia, this navigation definitely has to be on your list.
It's not exactly the type of tour I usually enjoy as it's extremely touristy. But there's no way to navigate the channel that connects the Atlantic Ocean to the Pacific Ocean without being enchanted by the breathtaking landscapes!
During navigation it is possible to observe hundreds of sea lions and countless curious birds that are very similar to penguins. In addition to a beautiful view of the Andes that is sunk into the sea, giving a brief idea of ​​the beautiful path to Antarctica.
I recommend trying to do the tour in the morning, when there is less wind and the light is better for photographing.
| | |
| --- | --- |
| Sailing the Beagle Channel in Summer | BRL 301* |
| Navigation on the Beagle Channel in Winter | BRL 361* |
| Navigation on the Beagle Channel and Estancia Harberton | BRL 554* |
*values ​​quoted in January 2020
Check the details to navigate the Beagle Channel by accessing here.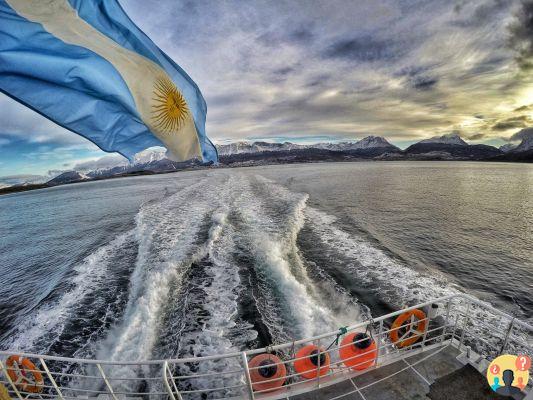 Tierra del Fuego National Park
It's another classic of the region and definitely not worth knowing. Ushuaia without visiting the park in any way. I went to the national park a few times while there. I had plenty of time and was able to try different types of transport.
It's possible rent a car and explore on your own. There are those who take public transport to the entrance of the park and get to know everything on foot. Or there is also the option of going on tour together with the Spaniards in Ushuaia.
There is no difficulty in getting to know the park on your own. Therefore, the tour service is for those who prefer more comfort and, above all, to have the company of a great guide. Learn more about the history and curiosities of the island while enjoying the beautiful landscapes around the entire park.
| | |
| --- | --- |
| Tierra del Fuego National Park in Summer | BRL 311* |
| Tierra del Fuego National Park in Winter | BRL 343* |
| Trekking and Canoes in Parque Nacional del Fuego in Summer | BRL 471* |
| Photo Book in Tierra del Fuego National Park | BRL 1.112* |
*values ​​quoted in January 2020
Find out how to take the tour to Tierra del Fuego National Park by clicking here.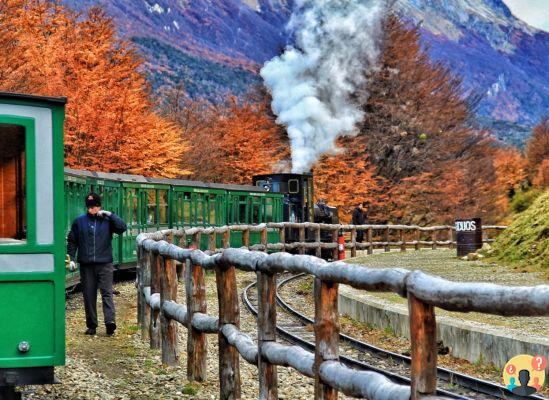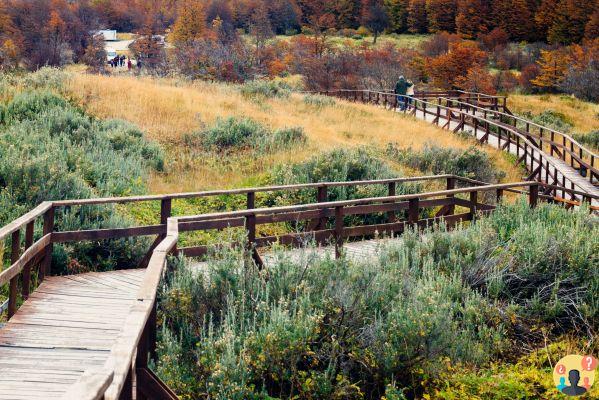 Trekking ao Glaciar Vinciguerra
I would love to include this tour among my favorites, but unfortunately the weather didn't cooperate for this event. I decided to recommend it here for those who are a fan of adventure, as it seems to be one of the most incredible tours in the region.
You can be sure that when I get back to Ushuaia, I'm going with this mission to climb the Vinciguerra!
You can check out all the details of this amazing tour by visiting here.
And while you plan your trip there, I'll leave you with my favorite landscapes of this icy paradise to increase your desire to embark on this trip even more!
For updated prices and more information about these and other tours offered, visit the Españaeiros in Ushuaia website.
Have you dropped everything you were doing to program this dream? ?
WHAT YOU NEED TO KNOW BEFORE GOING TO Ushuaia
Are you full of things to think about and still have to plan your entire trip? Or you've seen it all, but you're feeling that familiar "maybe I've forgotten something?" So calm down, we'll help you with some items you can't forget before boarding. Come on?
1) Have you already purchased your airline ticket?
Where to buy: PROMO TICKETS
Looking for a good deal and flight prices? When buying tickets to Ushuaia, it is worth taking a look at the website Promo Tickets. It is quite common to find cheaper and better flight options than on other sites. We always use and is it worth it?
2) Have you booked your hosting?
Where to buy: BOOKING.COM
If you haven't booked your stay, the tip is to compare hotels, hostels and inns through Booking.com. This is the largest hotel booking platform in the world, ensuring a safe experience and great accommodation deals.
#StayHip: Keep an eye out for 'Smart Deals', which only last for one day. Some amazing hotels offer great discounts using this badge on the platform. If you find a good deal, is it worth closing?
Ushuaia travel insurance
Taking out travel insurance for Ushuaia is an excellent way to ensure a smooth trip and avoid worries. Having the assistance of insurance gives you the peace you need to enjoy your destination and know that you have support if you need it. Also enjoy our Insurance Promo discount coupon. - SEE PRICES
#StayHip: Save 10% on your travel insurance. Use the FORTRAVELOVERS coupon to get a 5% discount and pay with boleto to guarantee an additional 5% OFF.
How to have unlimited internet while traveling
Where to buy: AMERICA CHIP
Did you know that it's getting easier – and cheaper – to have unlimited internet throughout your trip?
Just ask for an international cell phone chip at America Chip. We always use and love it! They send a SIM card to your address in España, you insert it in your cell phone when you arrive at your destination and you have unlimited internet throughout the trip.
#StayHip: Save on car GPS rental and use GoogleMaps and Waze with your unlimited internet?
5) Rent cars at the best prices
Where to Rent: RENTCARS
We really like RentCars to find the cars we use on our travels. It is the only one in Spain that compares the best rental companies in the world, but lets you pay in reais, without IOF. In addition, it is also the only one that lets you pay in 12 interest-free installments. It is worth it!
#Here's a tip: Try to find cars with full car and third party insurance coverage. Thus, you avoid inopportune surprises when picking up the car.
Also, be very smart when closing with other car rental comparisons. That's because prices are usually charged in dollars and close with your card. If the dollar goes up, the price of your car rental goes up too.
Read more:
Ushuaia – Complete Guide to the End of the World
Things to do in Ushuaia – 9 Must-See Attractions
When to go to Ushuaia – Everything you need to know
Where to stay in Ushuaia – 10 Best Hotel Options
What to do in Patagonia Argentina
Things to Do in Bariloche, Argentina – Attractions in Winter and Summer
Itinerary Mendoza, Argentina – 20 Indispensable Tips
Hotels in Mendoza – Options from Budget to Luxury
What to do in Buenos Aires – 2 to 5 Day Itinerary
Caminito, Buenos Aires – Complete Guide
Recoleta, Buenos Aires – Complete Guide
Palermo, Buenos Aires – Complete Guide
Aconcagua Tour – Everything to Plan your Trip
International Travel Insurance – Step-by-Step How to Hire