Surrounded by nature, rivers, lakes and mountains, this is San Carlos de Bariloche, a city to be enchanted in winter or summer, with family or couple.
Here I will tell you a little about what to do in Bariloche, at any time of the year, whether for couples in love, traveling with friends, family groups and children. There will be no shortage of options from trekking to discover the local nature to butt skiing on the Cerros to enjoy with the kids. And even better, the attractions are quite different whether you go in winter or summer. So pack your bags and let's go!
#ParaNãoForget: Have you bought your travel insurance yet?
Get your discounted plan using the coupon FORTRAVELOVERS (5% off).
Click here and enjoy!
Where is Bariloche?
Bariloche is located in Patagonia Argentina, almost 1.600 km from Buenos Aires or 2 hours by plane. Close to the Nahuel Huapi National Park, at the foot of the Andes Mountains. The city is renowned for its adventure sports, for its natural beauty and also for its delicious chocolate shops… Ah, the chocolates!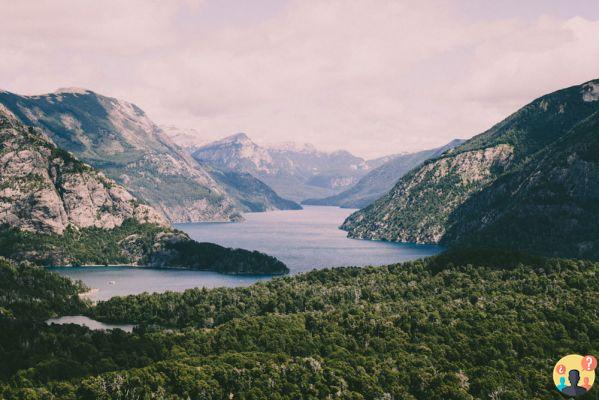 How to get to Bariloche
By airplane:
Flying is one of the fastest ways to get to Bariloche, but it is difficult to find direct flights from España. Bariloche airport is 15 km from the city center, approximately 30 min by car.
LATAM companies and Aerolíneas Argentinas operate daily, direct flights all year round from Capital Argentina, Buenos Aires. The flights last 2h30 and the value varies according to the time of year.
# Stay tuned: If you buy your ticket from España, be aware that there are two airports in Buenos Aires: Aeroparque Jorge Newbery (AEP) and Ministro Pistarini International Airport (Ezeiza). It is quite possible that on your stopover it is necessary to change airports, in which case you need to calculate the travel time between one airport and another.
By bus:
The road trip from the Capital is long, it takes 20 hours, with some stops along the way. However, it can be much cheaper than a flight. The companies Via Bariloche, El Valle, Crucero Del Norte and Andesmar operate the departures towards Bariloche daily, at different times.
By car:
A supportive road trip through South America is a dream of many people, especially when it comes to passing through the beautiful roads of Patagonia.
Compare the best prices to rent a car from over 100 rental companies with Rentcars! And you can still pay in up to 12 installments.
leaving the capital, Buenos Aires, it is possible to follow the Argentine coast, passing through Mar del Plata to Bahía Blanca. Then, take Ruta 22 to Zapala, from where you can continue along Ruta 40, which will take you to San Carlos de Bariloche, passing through San Martín de Los Andes and Villa La Angostura. It's not the shortest way, but it's beautiful.
For who is coming from on do Chile, I suggest taking the Futaleufú border, continue along Ruta 259 and soon you will find Ruta 40, follow it towards the North until reaching Bariloche. who comes from norte do Chile, I suggest entering through Pucón (Chile) and heading towards San Junin de los Andes, where Ruta 40 begins. From there, just head south, after passing through San Martín de los Andes and Villa La Angostura, you will arrive in Bariloche.
As there is a lot to do in Bariloche regardless of the time of year, I will give you some tips on how to make the most of two of the main seasons there, the summer and winter.
What to do in Bariloche in Summer
How about enjoying the hot days, blue skies and lots of sun? This is how Bariloche is in the summer, a season that goes from December to March.
The maximum temperature can reach 30º C, but at night it can get a little cold. Don't forget to bring a sweater. This is also a time of less rain and little wind. It is also the season of the year with fewer Brazilian tourists, but one of the most sought after by Argentines.
Enjoying nature, getting to know the beaches and neighboring cities and traveling through Argentine cuisine is just a little of what you can put on the list of things to do in Bariloche, especially when temperatures are higher.
1) Walk along Lake Nahuel Huapi
O Nahuel Huapi Lake bathes the city of Bariloche and just walking along its banks can be quite a walk. Enjoy the summer to bathe in the waters of the lake, of glacial origin – which also explains its intense blue color. If you think the water is too cold for a bath, take the opportunity to take boat trips and get to know the Victoria Island.
Each tour has a specific period, for more information visit the Turisur SRL website.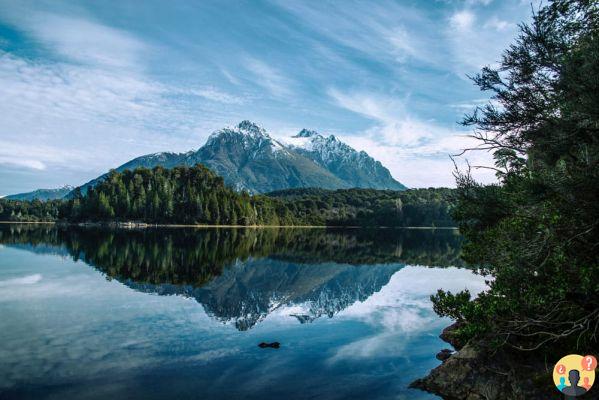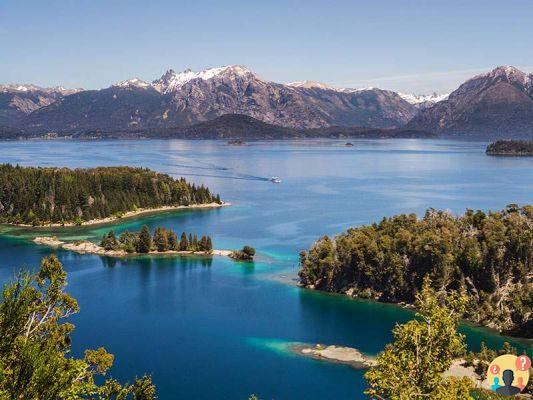 2) Enjoy the Lake Beaches Nahuel Huapi
Along the shore of the lake there are some beautiful beaches that can be visited. If you like water sports here you'll also find options like windsurfing, kitesurfing, kayaking and scuba diving.
The closest beach to the center is Centenary, usually crowded – but one of the most practical to get to know. The beach is pebbled, so it might not be so comfortable to stretch out on the ground. However, the beauty makes up for it.
Already Beautiful beach, is 8 km from the center, and is a beach with calmer waters – great for renting a kayak and venturing out for a swim. THE serene beach It is a great option for those traveling with children and is one of the most beautiful beaches in the city. Visit it at sunset, the chances of a beautiful sunset there are great. Other beaches that might make your summer list Melipal Beach, km 4 from Av. Bustillo, and the Beach Villa Tacul (at km 29 of the Circuito Chico route).
3) Venture through the Bariloche Trails
If you like trails and nature, Bariloche may surprise you in this regard. There are from heavier and longer trails to lighter and shorter ones.
There are trail options in Nahuel Huapi National Park, however, be aware to carry out the trekkings it is necessary to register - see here how. Another cool tip is to check the conditions of the trails by contacting Clube Andino. See here the site with the map of the National Park and all the trail options.
Oh, and don't forget to be prepared for these hikes, if you want to have this experience in Bariloche. Hiking shoes, for example, are indispensable.
Trail between Cerrito Llao Llao and Villa Tacul
The objective here is to achieve the Hill Llao Llao, which is just over 1000 meters above sea level. Even though it is an easy trail, it will be necessary to go up and down the hill. Be very careful with the descents on the way.
Don't let the climb intimidate you, go at your own pace and enjoy the view. From the top of the hill, you can continue the trail towards Villa Tacul, or go back along the same path. I suggest going ahead and enjoying the rest of the day at the beach.
The trail starts between the Hotel Llao Llaou and the Porto Scarf. If you have a car, there is a parking lot nearby. The walking time to reach Cerro Llao Llao is just over 1h; and until Villa Tacul add 1 hour more.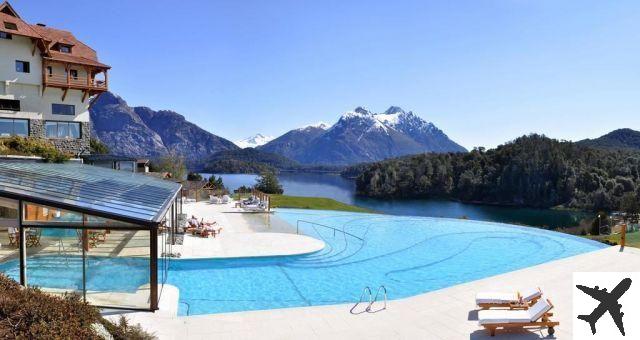 Another quiet trail to enjoy your day and contemplate nature. In addition to walking along the clear water bay, it is also possible to see part of the mount chapel.
The trail lasts approximately 1h30 and the starting point is the Hotel Alun-Nehuen parking lot.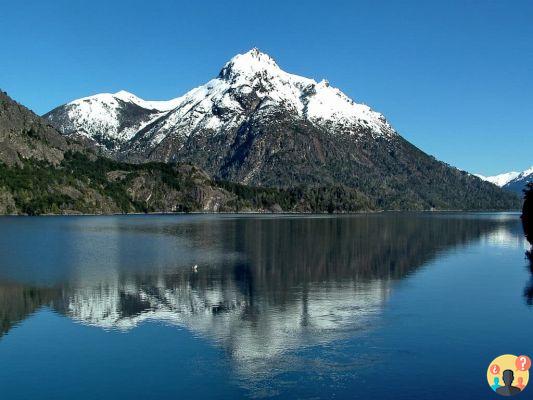 The shortest trail in Bariloche, but by no means the least beautiful. It's worth it and for the distance there's no excuse not to do it. It's less than a 30-minute walk, park your car or your bike at the tourist information center and keep walking.
4) Climb the Cerros de Bariloche in Summer
Due to its proximity to the Andes, the city of Bariloche is surrounded by mountains. And some of them are easily accessible to tourists, with options to go up via cable car or even walking, by trail. The Cerros are the great attraction of winter, but some of them are worth visiting in other seasons of the year.
5 km from the center of Bariloche is one of the most beautiful views of Bariloche, from the top of the Otto Hill. To reach the top of the mountain, you have to climb 2.100 meters. You go up by cable car, the journey is not long, so enjoy the view along the way.
In addition to the incredible view of the city of Bariloche and Lake Nahuel Huapi, enjoy the ascent to have a coffee or lunch at the Revolving Confectionery. The name is not for nothing, it rotates 360º in up to 40 minutes. The alert is already, because it may cause nausea.
You can also reach the tourist complex by car, taxi and even a free bus. The free transport (round trip) leaves from the center of Bariloche (corner of Miter Street and Vilegas Street) arriving at the lower station (Av. Pioneros, Km 5).
Bus schedules can change, so the tip is always to check the bus schedules on Cerro Otto's Facebook page, which is updated daily. Ticket prices and schedules may also change without notice, stay tuned for their website here.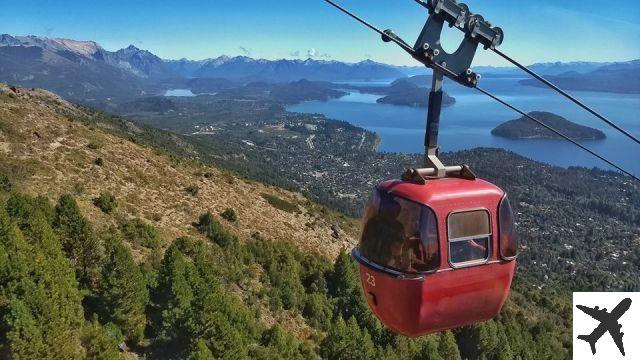 Enjoy a beautiful morning – or even a beautiful sunset from the top of Campanário, which is 35 km from the city centre. Take time to walk around here and enjoy the view of the region's valleys, lakes and mountains.
When you go up, be sure to pass by the Confectionery, and take the opportunity to have a coffee, indulge in sweets and typical Argentine dishes.
As climbing the Cerro is optional, there is an option to go on foot (approximately 30 minutes) or by cable car (in 7 minutes). For access, it is possible to arrive by public transport – from the center of Bariloche, and also by car. The starting point for anyone who wants to go up, whether walking or taking the cable car, is at Av. Bustillo at the height of 17,5 km. A hint, is to take the opportunity to include Cerro Campanário when doing the Circuito Chico.
Opening Hours: In summer it is open every day from 9 am to 17:30 pm. In low season they usually close for a few days for maintenance.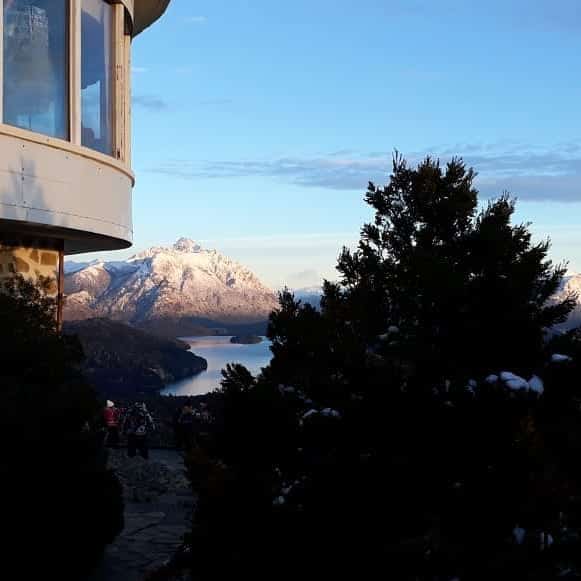 5) Drive along the Route of the 7 Lakes
If you can, add a day to your itinerary of what to do in Bariloche to do the Rotate two 7 Lakes, one of the most beautiful roads in Patagonia. If you arrived in Bariloche by plane or by bus, I suggest renting a car for this route.
Compare the best prices to rent a car from over 100 rental companies with Rentcars! And you can still pay in up to 12 installments.
The 108 km of the Lake Route – which in fact are more than seven, connects Villa La Angostura to San Martin de Los Andes. Both cities are very charming and also smaller than Bariloche.
The 7 Lakes Route can be done in just one day, but the round trip is long, almost 400 km. Considering the stops for photos, to enjoy the scenery, lunch and, who knows, dinner, the day tends to be quite long. spend a night hospedado at Villa La Angostura is an alternative to splitting the path.
If you don't have time to add an extra night and find that the way to San martin de los andes is very long, try to take the route to Villa La Angostura. This path is also called Great Circuit. That way you will have more time to enjoy and enjoy the day.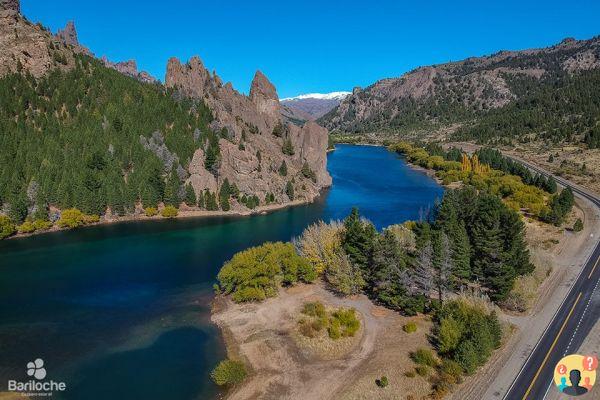 6) Try Argentinian Craft Beers
If you like beer, especially craft beer, you have to try the local ones. In addition to being experts in the production of craft beer, some breweries are recognized and awarded worldwide.
As you walk around the city, you will notice bars and/or breweries, some small and others more well-known. One of the breweries I recommend is Manush, the beer list is very wide and varied, you can enjoy a good tasting. In addition to the beers they also serve food, the hamburgers are delicious.
Changing the focus of craft beer just a little, but still on the subject of bars. Here's a different experience. How about getting to know Ice Bariloche? A bar that is made entirely of ice! Even if you're not a fan of the cold, the visit might be worth it. And to warm up a bit there is a second bar, at room temperature.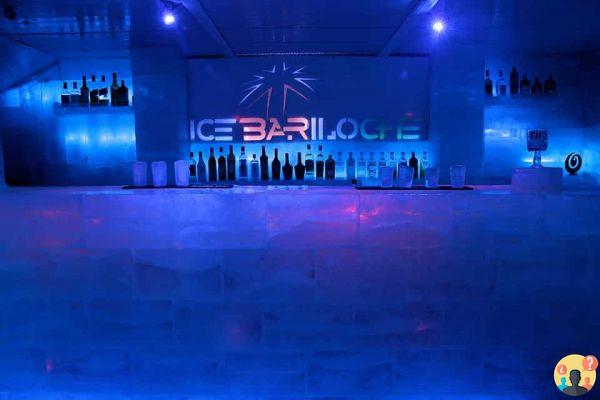 What to do in Bariloche in winter
Bariloche changes according to the seasons, and in winter the city is very cold, with a lot of wind and snow to welcome tourists who enjoy the season and fill the city.
This period of intense cold goes from June 21st to September 20th. When you come, be well dressed, because at this time of year the temperatures are below 0º C frequently. Columbia thermal jackets are great choices for the destination.
Check out what to do in Bariloche in winter here:
The attractions that we described above can and should also be done in winter, the experiences and visuals are quite different. It is worth planning to enjoy Bariloche in these two seasons and feel and enjoy everything the city has to offer.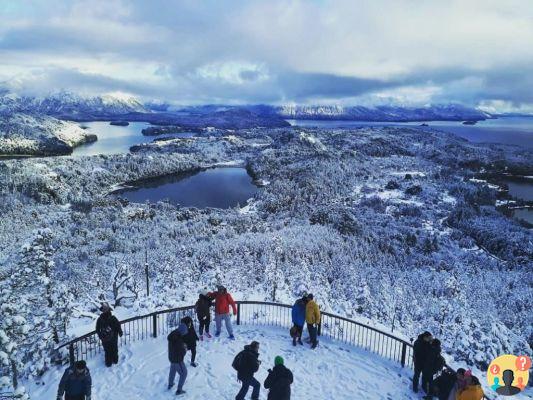 7) Discover the city through Circuito Chico
This tour is the most traditional in Bariloche and will help you to get an overview of the city's sights. Of course, it can also be done in the summer, but the good thing about doing it in the winter is that it will help you stay warm. There are several companies that offer this service lasting from 3 to 4 hours. There is also the option of doing it on your own, so the tour can last all day.
They are approximately 60 km long and leave from the city center at the Civic Center level towards Lake Nahuel Huapi, Cerro Campanario, Panorâmica Point Hotel Llao Llao overlooking Lake Moreno and Cerro Tronador and Lake Escondido, San Eduardo Chapel, Puerto Pañuelo
Along the way there are several shops, restaurants, breweries with typical products and good cuisine. The tour can also be combined with other attractions such as the Cathedral Hill or Victoria Island.
8) Skiing in Bariloche in Winter
20 km from the center of Bariloche, the Cathedral Hill it is the largest ski resort in the southern hemisphere and has slopes for all levels of experience. If you don't have a lot of practice, or would like to learn a little before taking on your first descent, they also offer classes for adults and children, in groups or privately.
Even at Cerro Catedral, it is possible to rent clothes for snow and equipment to have fun. If you don't want to face any slopes, but want to live a little of the mountain climate, take the opportunity to walk, ride a sleigh, have lunch or have a good hot chocolate. There is also an area for children to play.
A different activity to do at Cerro Catedral is the crossing in quadricycles and/or electric motorcycles like La Cueva. There are tour options during the day, late afternoon and also packages that include the night tour and dinner.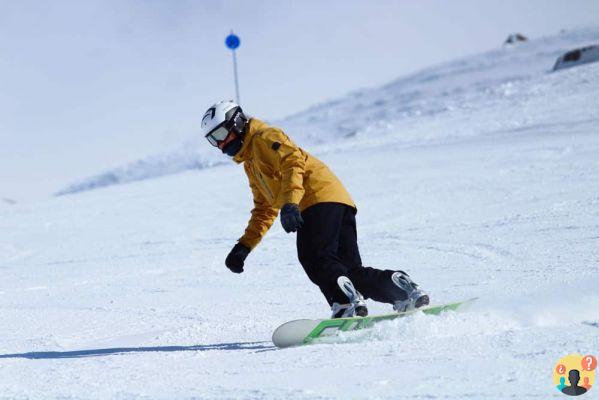 O Cerro Otto, which is 5 km from the center of Bariloche, it is not a ski resort, but offers fun for the whole family. The great feeling is Revolving Confectionery and the beautiful view from its top. Leave to visit here when you have a beautiful winter day, sun and blue skies.
And of course, take the opportunity to go down the slopes of ski butt (with use of protection, the sleds). This will be a very fun souvenir, especially if you have kids. Another common activity is snow racket walke.
O White stones is another center of ski butt, great option for those with children. But adults can also have a lot of fun here with zip lines, skiing, hiking and other winter activities. In addition to snow games, enjoy lunch or a snack there.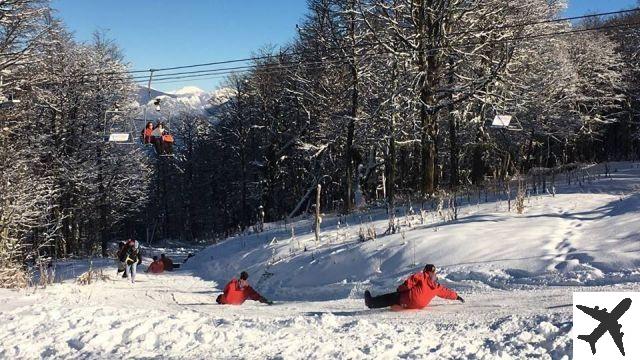 What to do in Bariloche with kids
What to do in Bariloche and where to go with the kids depends a lot on the style of each family. But Bariloche is a city that adapts to many styles, so certainly everyone, from the youngest to the oldest in the family, will be able to have fun.
O winter there it coincides with the mid-year school holidays, and the city fills with families ready to have fun in the snow. One of the main attractions for the little ones is sitting skiing, also known as butt skiing, in White stones, no Cerro Otto.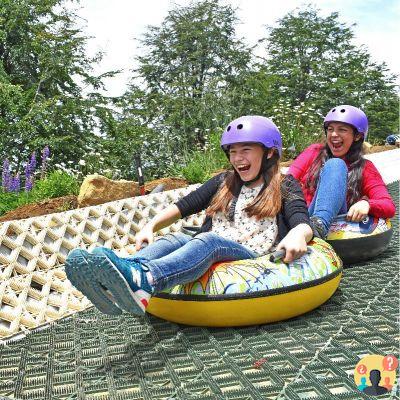 Os Cathedral Hill e Otto Hill offer ski lessons for children, a good opportunity for the little ones to learn a new sport. Have a delicious cup of hot chocolate on the Revolving Confectionery do Cerro Otto, can also be a good option to conquer the little ones and still relax after a morning or afternoon of skiing.
No summer, the beaches and shorter walks, as well as bike rides, keep children excited about family holidays.
Whether winter or summer, don't forget to visit the Bariloche museums – Chocolate Museum, Paleontological Museum . This is a great way to be with family and learn a little more.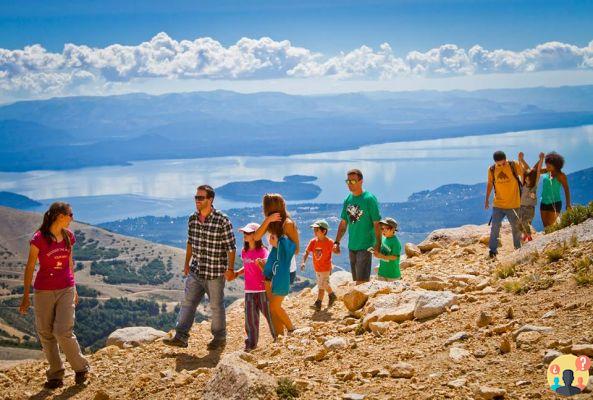 Where to eat in Bariloche
Because eating is also part of traveling. Even in the rush of the day of the trip, reserve moments for good meals.
Regardless of the time of year, be sure to taste a good Argentine barbecue, and the Alberto's Bowling it is a great choice, and also very famous among tourists. There are 3 restaurants in Bariloche (Rua Elflein, 158; Rua Villegas, 347 and Av. Bustillo km 8,8); in addition to a room specializing in pasta (Rua Miter 601).
For a good meal, but a not so touristy place, I suggest the Uncle's inn (Rua Miter 1130), very generous dishes. Perfect for dinner after a long day of skiing.
To ward off the cold with a good fondue, the The pot it's perfect. In addition to other tasty dishes with lamb meat. O Weiss family (corner of Rua Palacios and Rua Vice Almte. O'Connor) is another restaurant specializing in meat, and with a good wine list.
How many days to stay in Bariloche
Regardless of the season, a good number is to stay 4 to 5 days in Bariloche. With that time you will be able to choose cool tours to do in the city and maybe even include a day to do the Rotate two 7 Lakes to San martin de los andes.
During this time, you can visit the hills, ride a bike or boat and even go to the beach in the summer. In winter, you can have a full day or two of skiing, and still manage to tick off the list of things to do in Bariloche.
Is that you? Already know what to do in Bariloche? Comment here!
Why is it worth taking out travel insurance to go to Bariloche?
You don't want to risk any mishap that could spoil your entire trip planning! You can check out the stories of our columnists who tell why it is worth taking out travel insurance. In any case, the ideal in a Travel Insurance is REDUCING RISKS that can happen on a trip. The "extras" you can choose according to the insurance company's offer: which can cover even lost luggage, theft and theft and even the trip of a family in case of an emergency.
To find good travel insurance deals, we recommend the website Promo insurance. It compares the prices and coverage of the main insurance companies in the world, such as SulAmerica, Assist Card, GTA, Affinity, among others. There, you can check the policies that most have to do with your trip and hire the one you think is best.
As we really like this tool, we got a 5% discount on Seguros Promo for our readers! Just use the coupon FORTRAVELOVERS on the website, by clicking here.
Receive a SIM card at your home in España and use unlimited Internet throughout Argentina
Are you also tired of only being able to use your cell phone at points that you find Wi-Fi free during the trip? And having to pay per day to be able to use a GPS in the rental car on the trip?
We couldn't take it anymore, especially because we wanted to post real-time photos of our trip on social media. In addition, Google is a great ally to find what we need while on vacation, such as information and places, and you can't just use it where you have Wi-Fi.
So we discovered one of the best solutions to end this problem, that you will no longer have to spend hours of travel in phone stores in the country, speaking an unknown language to get a SIM card. This is one of the tips we love to give our readers: America Chip.
Write it down: The company sends an international Chip to your home in Spain. When you're on the plane, just change your Brazilian SIM card for this international one. You will arrive in Argentina with unlimited internet, using your cell phone at will, as you use in España.
Arriving in Bariloche, you can use it all day, anywhere in Argentina. You'll save on GPS rentals, Skype credits, and you'll still be able to use social networks, Google, or search for anything on the internet all day. In addition, you can still call your home to send travel news as many times as you want via WhatsApp or Facetime.
Plan your trip:
Get started now by booking your hotel in Bariloche through Booking.com
Save time and money searching for the best Travel Insurance with the Seguros Promo comparator! Extra 5% off with coupon: FORTRAVELOVERS
Compare the best prices to rent a car from over 100 rental companies with Rentcars! (Pay in up to 12X! Pay in reais, without IOF)
Leave España with Unlimited 4G Internet!
Read more:
Where to stay in Bariloche – 23 Hotel Options from Cheap to Luxury
Mendoza Argentina: The 20 essential tips for planning your trip
Hotels in Mendoza that we love and recommend: from budget to luxury
Aconcagua – Everything for you to plan your trip to the highest peak in America
Things to do in Ushuaia: the 9 must-see attractions in the region
When to go to Ushuaia in Patagonia Argentina
Things to do in Ushuaia: the 9 must-see attractions in the region
What to do in Buenos Aires – Tips for those who will stay 2 to 5 days in the city
Caminito Buenos Aires: What to do, how to get there, where to eat and where to stay
Recoleta Buenos Aires: What to Do, How to Get There, Where to Eat and Stay
International Health Insurance Tips for Tourists and Students