"Everything thought out to the smallest detail!" This is a phrase that will surely come out of your mouth at some point during your stay in Puerto Vallarta at Villa Premiere.
Staying in a boutique hotel is to be sure of a personalized and special service in every moment and in every detail – at Villa Premiere Boutique Hotel & Romantic Getaway – this is even more evident and I'm sure I couldn't have had a better choice. of hosting in Puerto Vallarta.
From the moment of arrival until their departure, the hotel makes a point of leaving its guests wanting to come back – and it is no wonder that the hotel public ends up becoming quite loyal in their visits to the hotel. Puerto Vallarta.
Don't forget travel insurance!
Click here and hire the ideal plan for your trip at the best prices!
The hotel
While your room is being prepared with the essence and pillow of your choice, a masseuse welcomes each guest with a welcome massage and a delicious cocktail to get you into the Villa Premiere mood. There you have every right to be spoiled by all these pampering, as this will be the mood of your entire stay in Puerto Vallarta.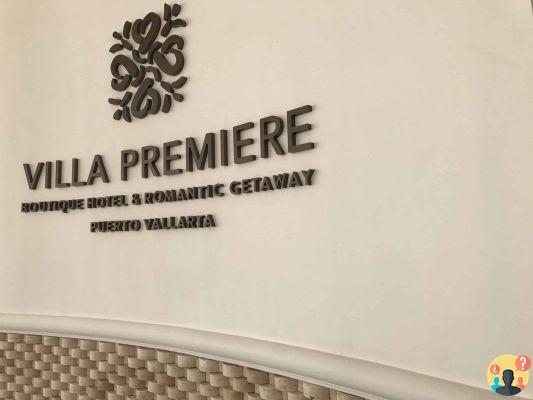 Villa Premiere is one of those hotels that makes you feel at home, but with the comfort of a luxury hotel. The hotel is for adults only and is relatively compact, with few rooms to prioritize an intimate atmosphere and exclusive service, but without leaving anything to be desired in leisure areas such as a spa, gym, two excellent restaurants and swimming pools.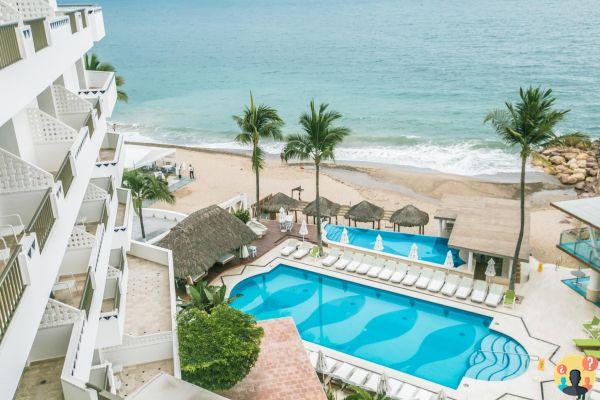 The modern decor, the peaceful and relaxing atmosphere and the privileged access to the beach with an exclusive view of the beautiful sunset of Puerto Vallarta These are just some of the many benefits of choosing Villa Premiere as their accommodation in Puerto Vallarta. All this at a very affordable price.
Service
The service is impeccable: formal, but with just the right amount of relaxation, compatible with the style and quality of the hotel. All staff speak English and Spanish and are willing to help with whatever you need.
The hotel's service already wins the customer at the moment of check-in, when the guest is welcomed with a menu of the most varied types of pillows and scents to leave the room the way they like best. After check-in, a brief welcome massage gives you a good idea of ​​the exceptional spa service that the hotel also offers.
All Villa Premiere services are perfectly synchronized. A few minutes after check-in, the massage and welcome drink, when I arrived at my room, the room was already prepared and scented according to my preference at the time of check-in. The messenger who accompanied me to the room was extremely friendly and cordial, offering personalized service 24 hours a day and was available for any request (even via WhatsApp).
The hotel also offers several very exclusive services, laundry, 24-hour reception, restaurant and bar. The restaurant is exceptional, compatible with most restaurants in the city – Puerto Vallarta It is known worldwide for its strong gastronomic tourism, so every meal there is a pleasant surprise and this could not be different during your stay in the city.
During the night, when the guest leaves for dinner, the room is again prepared according to their preferences for aroma and pillow, with everything arranged for sleeping: with the covers loose, a mild temperature, a soft light and some chocolates on top. the bed.
Upon check-out, Villa Premiere continues to win over its guests so that they return with the best memories of their stay in Puerto Vallarta and offers a treat with a little good-trip message for each guest. (Ooops, I spoiled the surprise! hehe)
Location and how to get there
Although little explored by Brazilians, Puerto Vallarta It is a very touristy place, especially among Americans and Canadians, which is why most international flights arriving in Puerto Vallarta are of North American origin. I traveled on United Airlines with departure from Guarulhos, a stopover in Houston, United States, and arrival at Puerto Vallarta International Airport (Licensed Gustavo Díaz Ordaz International Airport).
The Hotel Boutique Villa Premiere is just a few minutes away from the airport, another excellent point for your stay in Puerto Vallarta, and you can request a transfer at the time of your reservation. If you choose to rent a vehicle, the hotel is very well located and easy to find. The most common and most advisable means of transport for traveling by Puerto Vallarta is by car or hiring the service of a tourist agency with transport included.
Breakfast
The breakfast is quite extensive and with a la carte service. I, who am completely in love with breakfast, regretted not having enough days to taste all the delicious options on the menu.
If you don't have any dietary restrictions, I recommend that you let the chef surprise you to start your day off right. You will definitely not be disappointed!
rooms
All rooms at Villa Premiere have a sea view. I stayed in the standard room and I really liked it. Spacious, with a small private balcony and very comfortable. The bathroom in the Standard Room is not large, but it is of a satisfactory size, and L'occitane products are offered in all rooms.
I paid a visit to see the other rooms in the hotel and I was totally delighted with all of them! Although I didn't stay in the superior rooms, I'll leave some photos here so you understand what I'm talking about.
TV and Internet
All rooms have cable TV and the internet worked very well throughout the hotel, with no fluctuation and no limited amount of devices per guest.
MAKE YOUR RESERVATION OR LEARN MORE ABOUT THE HOTEL HERE
Write down the contacts there:
Address: San Salvador St. 117, Col.5 de Diciembre, Puerto Vallarta, Jalisco
Phone Number: (322)226-7040

Instagram: @villapremiere
With these tips, you can't help but get excited, have you already decided where you're going to stay in Puerto Vallarta? Tell us here!
Discount hotels in Puerto Vallarta, Mexico

Why is it worth taking out travel insurance for Mexico?
A fever or a fracture, you have to pay for a private consultation and you will have to pay around US$200, an infection can cost around US$8.500 and an appendicitis surgery costs an exorbitant amount of US$37.000. It's not worth risking any mishap that could spoil it all. You can check out the stories of our columnists who tell why it is worth taking out travel insurance.
To find good travel insurance deals, we recommend the website Promo insurance. It compares the prices and coverage of the main insurance companies in the world, such as SulAmerica, Assist Card, GTA, Affinity, among others. There, you can check the policies that most have to do with your trip and hire the one you think is best.
As we really like this tool, we got a 5% discount on Seguros Promo for our readers! Just use the coupon FORTRAVELOVERS on the website by clicking here.
Receive a SIM card at your home in España and use unlimited Internet in Puerto Vallarta and throughout Mexico

Are you also tired of only being able to use your cell phone at points that you find Wi-Fi free during the trip? And having to pay per day to be able to use a GPS in the rental car on the trip?
We couldn't take it anymore, especially because we wanted to post real-time photos of our trip on social media. In addition, Google is a great ally to find what we need while on vacation, such as information and places, and you can't just use it where you have Wi-Fi.
So we discovered one of the best solutions to end this problem, that you will no longer have to spend hours of travel in phone stores in the country, speaking an unknown language to get a SIM card. This is one of the tips we love to give our readers: a America Chip.
Write it down: The company sends an international Chip to your home in Spain. When you're on the plane, just change your Brazilian SIM card for this international one. You will arrive in Mexico with unlimited internet, using your cell phone at will, as you use in España.
Arriving in Mexico, you can use it all day, anywhere. You'll save on GPS rentals, Skype credits, and you'll still be able to use social networks, Google, or search for anything on the internet all day. In addition, you can still call your home to send travel news as many times as you want via WhatsApp or Facetime.
Plan your trip:
Get started now by booking your Puerto Vallarta hotel on Booking.com
Save time and money searching for the best Travel Insurance with the Seguros Promo comparator! Extra 5% off with coupon: FORTRAVELOVERS
Compare the best prices to rent a car from over 100 rental companies with Rentcars! (Pay in up to 12X! Pay in reais, without IOF)
Leave España with Unlimited 4G Internet!
Read more:
What to do in Puerto Vallarta and Riviera Nayarit
Reflect Krystal Nuevo Vallarta Resort – Our Review
Accommodation in Riviera Nayarit: MARIVAL RESORT & SUITES
Honeymoon in Cancun – When to Go, What to Do and Where to Stay