A complete guide to plan your trip to Alagoas. Write down the tips and enjoy a lot!
Alagoas is one of the smallest states in Spain (only Sergipe has a smaller territory), but it is bathed by a coastline of unique beauties, with beaches among the best in the whole country. The northeast, which is already incredible for all its states, has the Alagoas coast as responsible for the most paradisiacal scenarios in the region.
Worthy of the nickname "Brazilian Caribbean", Alagoas has attracted visitors from various corners of the country, and from other regions of the world, to enjoy its beaches. Paradisiacal landscapes, natural pools in the middle of the sea, rich fauna and flora, and a good structure for tourism are some of the advantages of this stunning state.
Want to know more about the state of Alagoas and its charms? Check it out below.
In this post you will see:
Things to do in Alagoas
Where to stay in Alagoas
Where to eat in Alagoas
national travel insurance
Car hire in Alagoas
Flights to Alagoas
Read all our tips and posts from Alagoas
Things to do in Alagoas
Spending time in front of the sea, with warm waters and a clear color that varies from blue to green at different points, in addition to the constant heat and the sun that is a captive presence, in Alagoas is the best option. The state is super rich in natural beauties that deserve to be contemplated.
With a large presence of natural pools on its beaches, in addition to calm waters that are an invitation to travel with children, the raft ride on the beaches of Maceió, Maragogi, São Miguel dos Milagres and Barra de São Miguel is one of the most unmissable.
The Coral Coast, which encompasses the cities of Paripueira to Maragogi on the northern coast of the state, is home to the most idyllic beaches in Spain. Some offer excellent infrastructure, while others are more deserted. In fact, Alagoas is home to the second largest barrier reef in the world – which explains the name of the region.
Alagoas is also a state with very romantic places, being very popular for honeymoon trips in the national territory. A honeymoon trip in Maragogi, for example, is sure to experience unforgettable moments at this stage.
Read all our tips:
Maceió – Complete City Guide
Maragogi – Complete City Guide
São Miguel dos Milagres – Complete City Guide
Barra de São Miguel – Learn All About This Alagoan Destination
Honeymoon in Maragogi – 7 Tips to Prepare the Perfect Trip
Book in advance all tickets and tours to Alagoas and skip the lines with GetYourGuide
Where to stay in Alagoas
In Alagoas, in addition to being one of the states with the most beautiful landscapes in the country, it also has the advantage of not being as targeted as other equally wonderful Northeastern destinations, such as Jericoacoara or Fernando de Noronha. Because of this, accommodations in the state can also be cheaper, compared to these other destinations.
There are several options, from super simple inns to large resorts in Alagoas, such as the famous Salinas Maragogi. Whatever your chosen destinations to visit in the state, you will find a perfect accommodation to spend days there. And here's a tip: the inns on the beach are a great option.
Resorts in Alagoas
Hostels in Alagoas
hotels in Maceio
B&Bs in Maceio
Resorts in Maceió
Where to stay in Maceio
B&Bs in Maragogi
hotels in Maragogi
Resorts in Maragogi
Hostels in Sao Miguel dos Milagres
Hostels on Antunes Beach
Pousadas in Praia do Patacho
Hostels in Japaratinga
Check out more options for Where to stay in Alagoas
Find the best accommodation in Alagoas on Booking.com.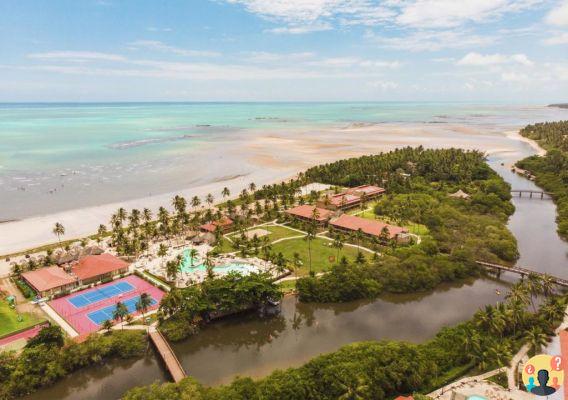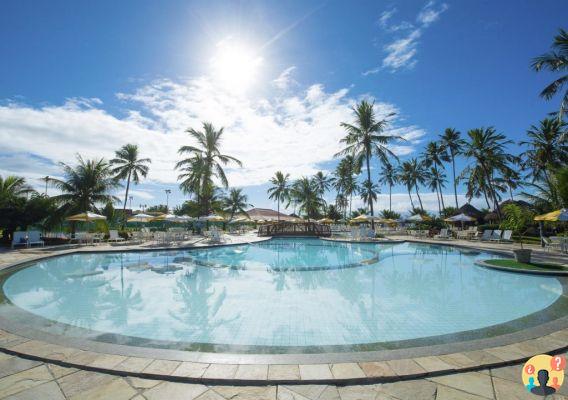 Airbnb in Alagoas
Have you already defined your hosting? Searching for a stay can be challenging, depending on the location and/or time of year. That's why we recommend renting an airbnb on your trip. There are different houses, apartments, lofts or rooms for rent throughout Spain, including airbnb in Alagoas. It's safe, reliable and cost-effective. An experience that is worth it! CHECK HERE.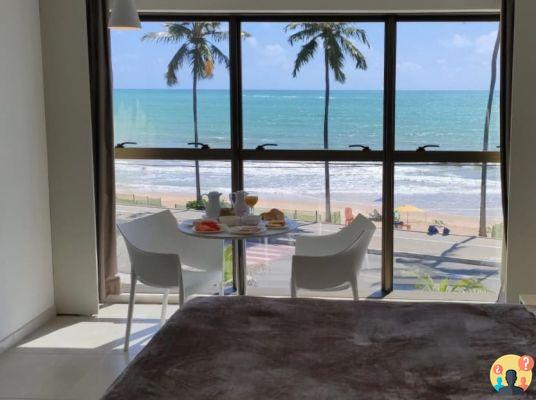 Where to eat in Alagoas
Alagoas cuisine is another great attraction of the destination. Enjoy dishes made with fruits from the region, from caipirinhas to desserts. Speaking of sweets, one that you should not miss is the Alagoan petit gateau, an adapted delicacy that is delicious.
The cuisine there takes many seafood, such as fish and shrimp, and it is common to find sururu dishes. International dishes are also stars in the state, with excellent Peruvian, Italian and Japanese restaurants to choose from.
national travel insurance
Unforeseen events happen! If you do not have health insurance or if your medical and hospital coverage does not cover this region, taking out national travel insurance may be a good idea. It's super cheap – from R$4 per day – and with it you travel peacefully, avoiding unplanned expenses. LEARN MORE HERE.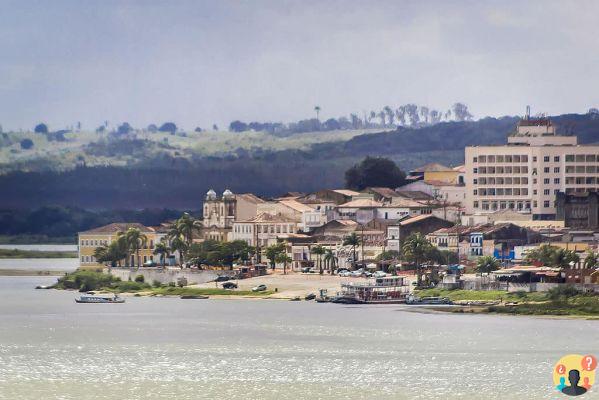 Car hire in Alagoas
Renting a car to discover the beaches of Alagoas is a great idea. In addition to optimizing your time a lot, you will be able to enjoy it more without having to depend on public transport.
We really like Rent Cars to find the cars we use on our travels. The company compares the best rental companies available and lets you pay in 12 interest-free installments. It is worth it!
Haven't rented a car for your trip yet?
Guarantee the best price, without IOF, and pay in up to 12 interest-free installments at RentCars.
Flights to Alagoas
Looking for a good deal and flight prices? When buying tickets to Alagoas, it is worth taking a look at the website Promo Tickets.
It is quite common to find cheaper and better flight options than on other sites. We always use and is it worth it?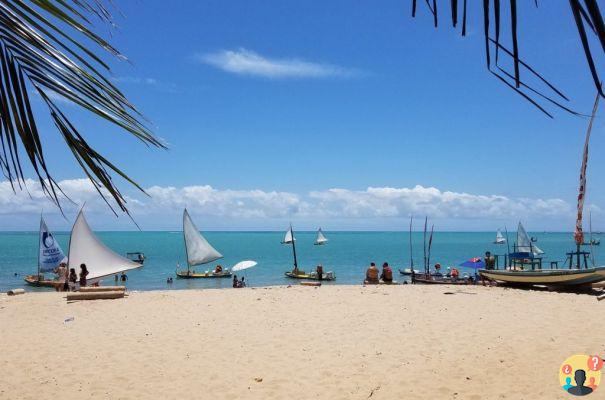 Read all our tips and posts from Alagoas
Hostels for New Year's Eve in Alagoas – The 13 best rated
Resorts in Maceió – 6 best and best rated
Resorts in Alagoas – The 10 best and best rated
Barra de São Miguel – Learn all about paradise in Alagoas
Japaratinga – Learn all about this paradise destination
Maceió – Know everything about the capital of Alagoas
Maragogi – Super tips to have the best days in the destination
Resorts in Maragogi – 3 best and best rated
Ecological Route in Alagoas – Travel Guide
Best beaches in the Northeast