Australia is a country I've always wanted to visit, and before arriving here, I used to imagine myself strolling along paradisiacal beaches, watching surfing championships and bumping into a kangaroo or another, but in reality it has been much more than that.
I love camping, and this three-day trip I took recently to Fraser Island It sure made me like it even more. We left Hervey Bay early in the morning in a group of about 30 people, in 4 4×4 jeeps to catch the ferry to Fraser Island. Once there, each group got into their car and we actually started the trip.
Don't forget travel insurance!
Click here and hire the ideal plan for your trip at the best prices!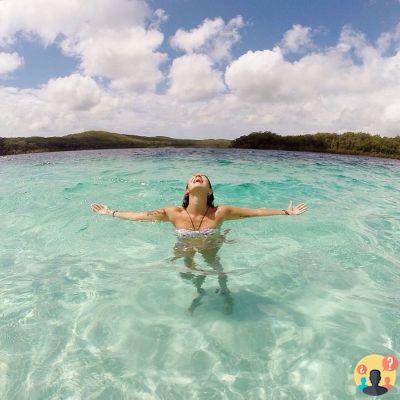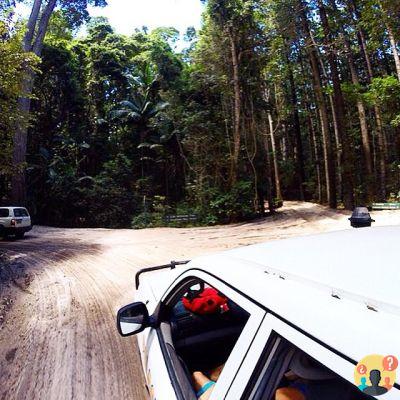 This island is the biggest sand island in the world, and the beaches are like normal roads, with signs and all. You can even see police circulating in 4×4s and planes landing on beaches! Unfortunately, all the beaches on the island are unsuitable for swimming due to the large number of sharks. After a lot of emotion on the sandy roads, we made our first stop. The guide could not have chosen a better place to welcome us. O
Lake Mackenzie
It is one of the 27 freshwater lakes spread across the island and, for me, the most beautiful I have ever seen in my life. Hard to believe that a huge, perfect lake like that is made up of nothing but rainwater.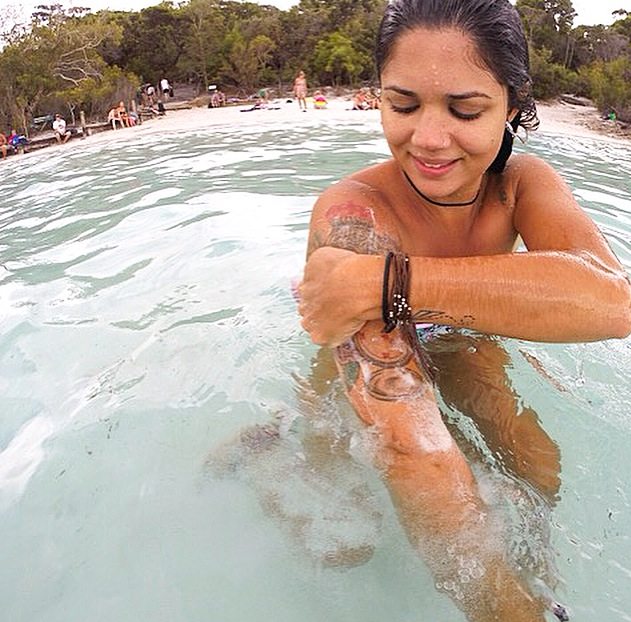 The lake sand is made up of pure silica, so I took the opportunity to catch up on the exfoliation! After a couple of hours in paradise, I mean, in
Lago Mackenzie
, we continued our journey. The day before we had gone shopping and stocked the cars with food for the three days. We chose to make a tuna sandwich for lunch, the most practical option since we always had lunch at a quick stop along the way.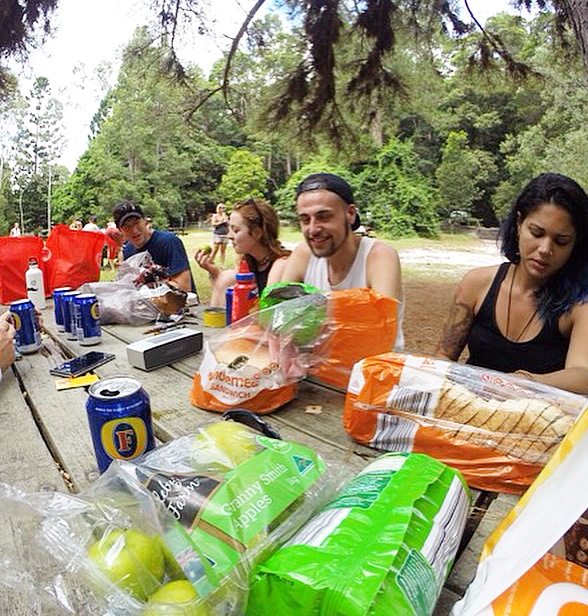 Before heading to the campsite, we made the last stop of the day. We went to see another lake on the island, the
Lake Wabby
. To get to this lake, we had to make a trail of about 30 minutes. The lake is surrounded by dunes, and the view from the top is amazing! This was the most relaxing moment of the trip, I lay down by the lake and let the fish treat my feet! On the way back from the lake, we caught a lot of rain in the middle of the trail, making the tour even more exciting!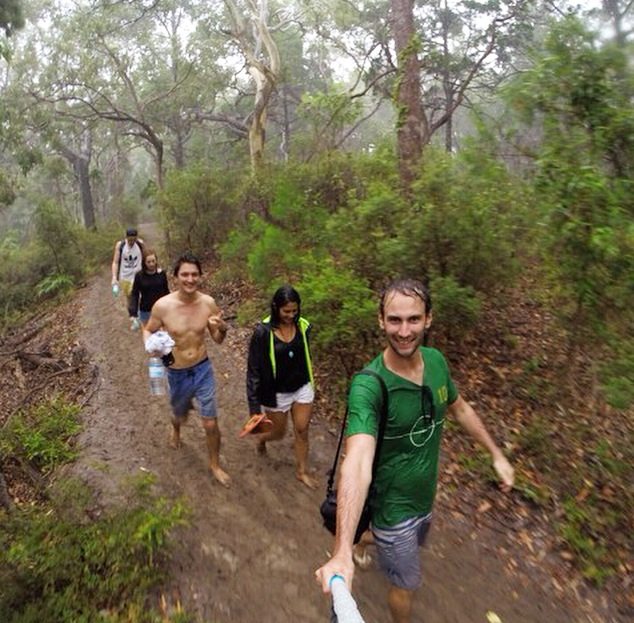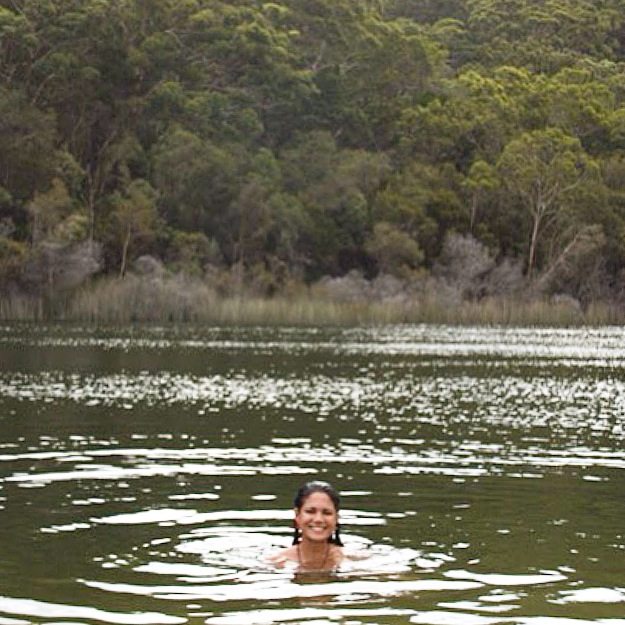 We arrived at the campsite and the tents were all set up, the only thing we had to do was put everything in the car before going to sleep, since at night the
Dingoes
(wild dogs that look like a cross between a dog and a fox) show up to pay a visit and "steal" the things that people leave outside the tent. The two nights we spent at the campsite, we barbecued and chatted. It didn't even look like that entire group had just met! At 7 am the next day, our guide started banging the pot so everyone would wake up. We had breakfast together and went to meet the famous
Eli Creek
, the river that is reputed to cure hangovers! The water is super cold (there's really no undertow that can resist), and to go down the river you don't need to make the least effort, it's super shallow, and the current takes you back to where the cars are parked, a delight! When planning your trip to
Fraser Island
, include it in your list of things to take a float to sit on. Going down the river sitting on a buoy must be even more fun, too bad I didn't have one.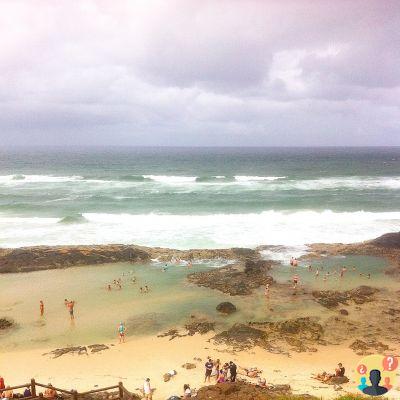 The second and last tour of the day went to the
Champagne Pools
, some pools formed by stones on the edge of the beach. The name was given because these pools are filled with foam when the waves hit the rocks, like a natural jacuzzi. Fine thing! On the third day of the trip, we woke up early again to the sound of pot, had coffee, packed all our things and went to check out the
Lake Birrabeen
before taking the ferry back. Like the other lakes, this one also left nothing to be desired. The bicolor water and the landscape around it are breathtaking. If you like adventure, be sure to visit this wonderful place that is still very little explored by Brazilians.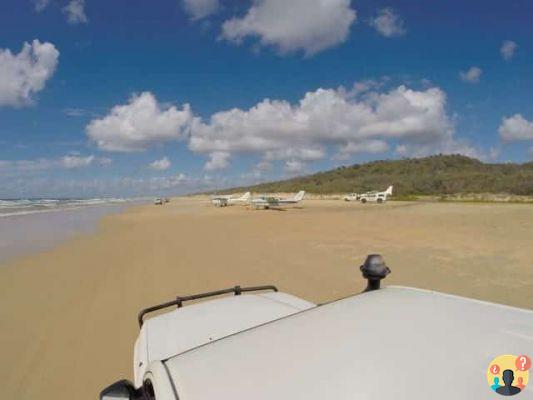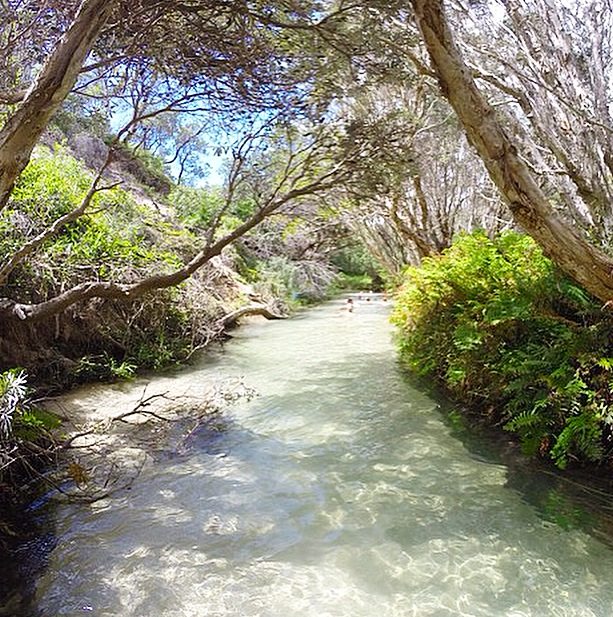 Australia Travel Insurance
Now that you know a little more about Australia, a super important tip for everyone who is planning their next trip is not to forget to take out International Travel Insurance. It is very important and no one should travel without it to avoid problems abroad.
A lot of people don't know is that it's super cheap and can help you avoid a lot of problems during your trip. See our International Travel Insurance article telling you everything you need to know about the subject, which is the best travel insurance company and tips to make a great insurance for your profile, for an incredible price and on top of that saving a lot.
Receive a SIM card at your home in España and use unlimited Internet throughout Australia
Are you also tired of only being able to use your cell phone at points that you find Wi-Fi free during the trip? And having to pay per day to be able to use a GPS in the rental car on the trip?
We couldn't take it anymore, especially because we wanted to post real-time photos of our trip on social media. In addition, Google is a great ally to find what we need while on vacation, such as information and places, and you can't just use it where you have Wi-Fi.
So we discovered one of the best solutions to end this problem, that you will no longer have to spend hours of travel in phone stores in the country, speaking an unknown language to get a SIM card. This is one of the tips we love to give our readers: a America Chip
Write it down: The company sends an international Chip to your home in Spain. When you're on the plane, just change your Brazilian SIM card for this international one. You will arrive in the United States om unlimited internet, using your cell phone at will, as you use in España.
Arriving in Australia, you can use it all day, anywhere. You'll save on GPS rentals, Skype credits, and you'll still be able to use social networks, Google, or search for anything on the internet all day. In addition, you can still call your home to send travel news as many times as you want via WhatsApp or Facetime.
Read More
Things to do in Australia – 10 Sights to See
Itinerary Australia – Where to Stay, How to Get There and When to Go
Living in Australia – How to Get a Visa
Visa to Work in Australia – How to Get Dual Citizenship
Exchange in Australia – How to Choose the City for Your Profile
The Official Language of Australia Is Not English!
What to Do in Sydney – 5 Essential Tips
New Year's Eve in Sydney – Where to Go
Skydive in Australia – Everything you need to know
Great Ocean Road – Australia Tour
Getting to know Australia from MotorHome
Things to Do on Moreton Island – Everything You Need to Know
Where to Stay on Moreton Island – Tangalooma Island Resort
What to Do on Fraser Island – How to Build Your Itinerary
Kayak Tour in Agnes Water – How to Hire
Where to Stay in Agnes Water – Southern Cross Backpackers
What to do in the Whitsunday Islands – Boat Tour
What to Do on Magnetic Island – Complete 2-Day Itinerary
Complete Guide to Cairns – What to Do, Where to Go, Where to Stay and More
Things to do in Cairns – Tablelands Waterfalls
Plan your trip:
Get started now by booking your hotel in Australia on Booking.com
Save time and money searching for the best Travel Insurance with the Seguros Promo comparator! Extra 5% off with coupon: FORTRAVELOVERS
Compare the best prices to rent a car from over 100 rental companies with Rentcars! (Pay in up to 12X! Pay in reais, without IOF)
Leave España with Unlimited 4G Internet!