Summary
What to do and see on the Great Ocean Road?
- Lorne
- Apollo Bay
- Great Otway National Park
- Port Campbell National Park
- Warrnambool
- Tower Hill Game Preserve
- Port Fairy
Rent a car to visit the Great Ocean Road
Where to sleep on the Great Ocean Road?
When to do the Great Ocean Road?
Do not forget before leaving
- Have you been on the Great Ocean Road? Are you planning to do it? Comment on your impressions!
See the 12 Apostles on the Great Ocean Road by car from Melbourne
Many people naturally think that Australia's most authentic travel experiences lie deep inland somewhere in this ill-defined region called the 'Outback', a place of burning deserts, giant salt marshes, big rocks, cloudless skies and a merciless struggle against heat and thirst. But a road trip on the Great Ocean Road (B100), only one hour from downtown Melbourne, doesn't fit with any of our preconceived ideas about the Australian desert.
The south coast of Victoria, often ravaged by storms, can be inextricably linked with the Twelve Apostles, a series of spectacular rock formations surrounded by wild waves. But the experience of making a road trip of almost 250 km is surprisingly gentle.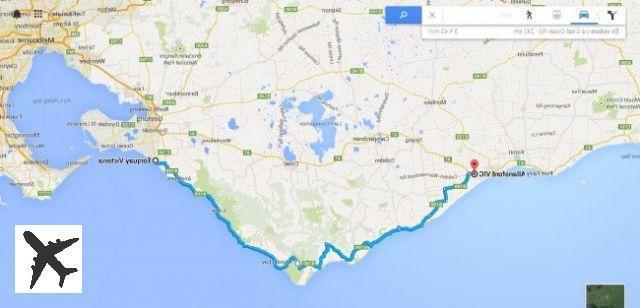 Map and exact route of the Great Ocean Road - Click on the image to enlarge - Google Map screenshot
The Torquay to Allansford Road (Allansford is 10km from Warrnambool), built in the 1920s by Australian servicemen returning from World War I, offers breathtaking scenery, from steep ocean cliffs to pristine surf beaches, but it also passes through a civilised part of rural Australia, a region rich in fresh produce farms, seafood and cool-climate wines.
For some people, of course, the Great Ocean Road is a destination in its own right, a rare opportunity to drive on this road. Others come here to visit the beautiful Great Otway National Park or explore Australia's colourful 19th century maritime history, where more than 600 ships sank here.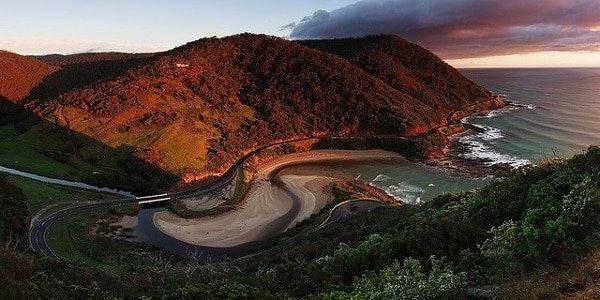 Once considered a 'mere' driving experience, the Great Ocean Road is now a hub for adventure sports of all kinds, from kayaking to scuba diving. Hiking is also a major 'quest', with a number of specialist companies offering low environmental impact hiking holidays.
The area has some of the best surfing spots so it is a good place to hone your surfing skills or attend a competition such as the Rip Curl Pro held at Bells Beach near Torquay in late March/early April.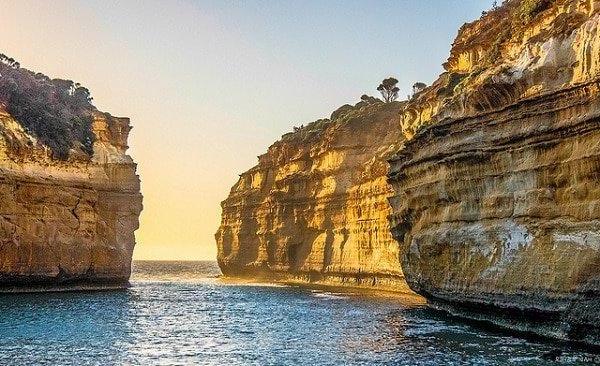 Whether you want to see whales and groups of dolphins or a few marsupials, this part of the coast is a real paradise for nature lovers. Venture into the ancient rainforest and you'll encounter koalas, kangaroos and an amazing array of birds. With a bit of luck, you might see a platypus, which lives in rivers and lakes.
In addition to miles of unspoiled coastline and lush rainforest, you will discover picturesque townships, fantastic regional cuisine and some pretty cool places to rest.
What to see and do on the Great Ocean Road?
Lorne
A relaxing seaside resort near the Great Otway National Park overlooking Loutit Bay, with its café terraces and a plethora of holiday homes.
Apollo Bay
Nestled in the foothills of the Otways, this lively seaside village, with a magnificent crescent-shaped beach, is a major point on the Great Ocean Road in terms of restaurants and hotels.
Great Otway National Park
The Otway Ranges offer waterfalls, forest walks and the Cape Otway Lighthouse, Australia's oldest surviving lighthouse, built in 1848.
Port Campbell National Park
It is home to the Twelve Apostles (there are actually only 8), the spectacular limestone piles that have made this coast famous. The park stretches between Princetown and Peterborough. Stop in the village of Port Campbell for its lively street of restaurants and cafes. Continue a little further and you'll find 3 important sites: The Arch, London Arch and The Grotto.
The 12 Apostles are actually only 8 here on the Great Ocean Road.
Warrnambool
This town is famous for surfing and whale watching: between May and September, Logan beach becomes a nursery for southern right whales. The Flagstaff Hill Maritime Museum recreates a 19th century coastal port.
Tower Hill Game Preserve
An extinct volcano provides a unique haven for all kinds of wildlife, including koalas, kangaroos and emus.
Port Fairy
Perched at the western end of the Great Ocean Road, this small fishing village features small 19th century cabins and stone churches along its streets shaded by pine trees.

Rent a car to visit the Great Ocean Road
Even if there are travel agencies that will take you to see the famous road, the best way to travel it is to rent a car or a 4×4. This road trip is perfect for independent travellers. As a backpacker, you can rent a van. For groups of 3 or more people (families and groups), renting a car from a company is the best thing to do. Take your rental directly from Melbourne-Tullamarine Airport for example. Allow about 40-45€ per day for a family car (rental only).
Where to sleep on the Great Ocean Road?
You can choose to sleep in your car or van but remember to camp in approved areas. Otherwise you will easily find a hotel (either luxury or simple hostel) along the road. Search on our For Travel Lovers hotel comparator by filtering the results on the map or by price.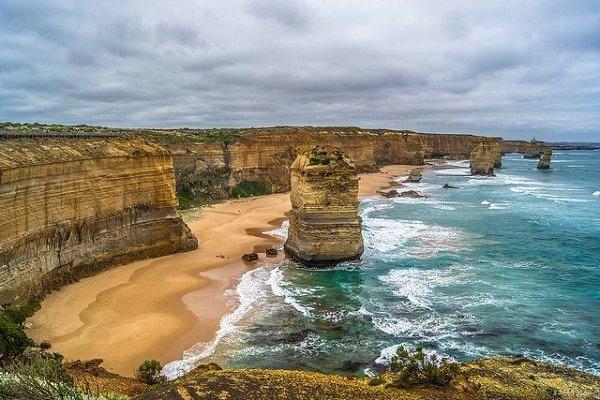 When is the Great Ocean Road?
Although the long south coast of Victoria comes alive during the summer months (November to February), the Great Ocean Road is pleasant at any time of the year. Of course, for hikers and other types of outdoor activities, you'll prefer the colder winter months, when accommodation prices are more reasonable. Despite its beaches, the region is temperate, and even with summer temperatures, it is never too hot. Winters are mild by European standards.
Don't forget before you leave
Although the Great Ocean Road is primarily a driving experience, there are many outdoor activities available. Hikers doing the Great Ocean Walk should remember to bring a good pair of hiking boots, a backpack and some rain gear.
Despite the temperate climate, the sun is still Australia's, and you will need to bring a good sunscreen and something to wear on your head.
Rushing is a common mistake. While the 250 km route could be covered in three days, allow time for excursions and stops. Because of its proximity to Melbourne, many towns along the road, especially Torquay, Anglesea and Lorne, are very busy during school holidays, especially the summer (December to January). The Rip Curl Pro at Bells Beach also draws crowds for Easter. Avoid these dates unless you're a surf fanatic.


Have you done the Great Ocean Road? Are you planning to do it? Comment on your impressions!