In October 2015 I was once again in Australia and I did something I had wanted to do for a long time: getting to know the Wrecks de Moreton Island.
The third largest sand island in the world, Bruise It is located approximately 40 km from the city of Brisbane, capital of the state of Queensland. The island, however, is only accessible by boat or ferry.
Buy your travel insurance at a discount!
Get 10% off with coupon FORTRAVELOVERS + payment by check.
Click here and enjoy!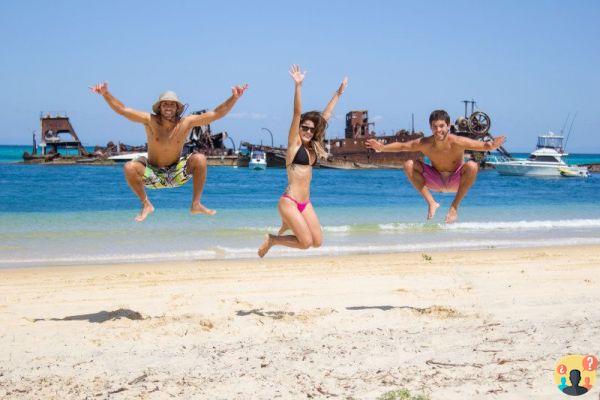 To get there, I took a ferry from Holt Street Wharf, in Brisbane, and after a crossing lasting about 1h15, had landed in the dreamed destination, which is covered by dunes, scrub and forests and is surrounded by the turquoise waters of the Coral Sea.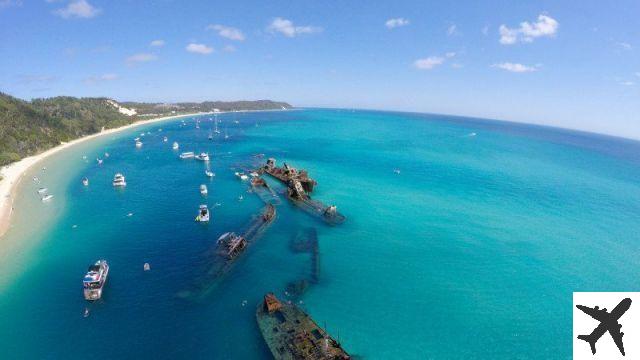 Bruise it is a small island, which allows you to see everything in just one day, as was my case. For those who want to do things more calmly and spend one or more nights in the region, there are some accommodation options, such as Tangalooma Island Resort.
For the more adventurous, camping can be a good option too. However, even if you decide not to stay on the island, the resort offers several types of packages for those who want to explore the beautiful attractions of the island. You can choose the activities that best suit your profile.
I opted for the quad tour to enjoy the dunes and discover the local nature. In addition, I went kayaking and stand up paddle.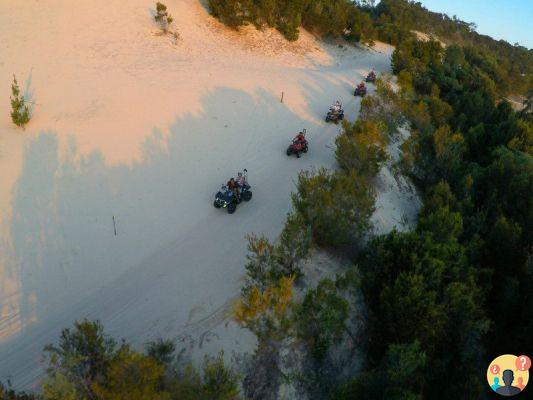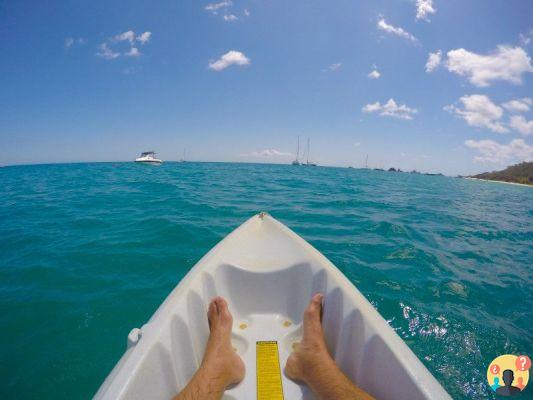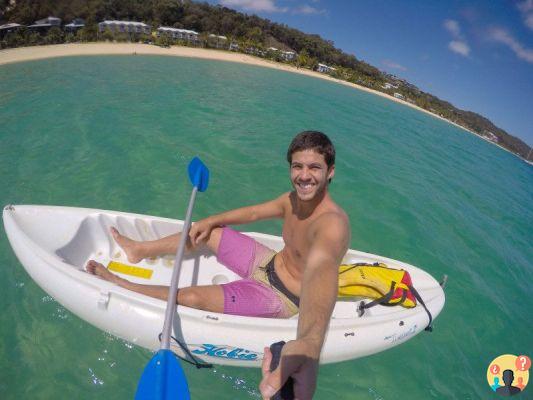 A Tangalooma beach reserves a special surprise for those who enjoy diving. Shipwrecks in this region were kept at the bottom of the sea and today serve as reefs for thousands of colorful fish. During my stay, I dived between the boats to enjoy the rich local marine life and even encountered a small shark.
Those who book the trip for the period between June and November, can still appreciate the migration of whales.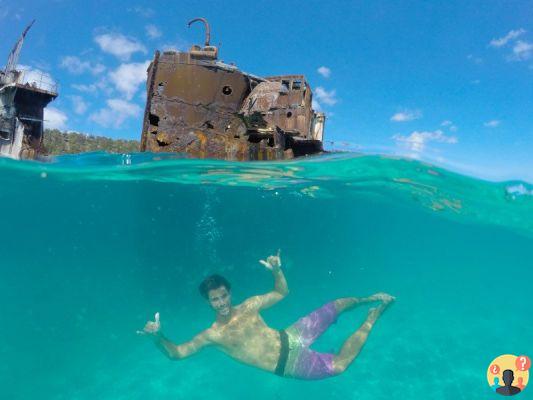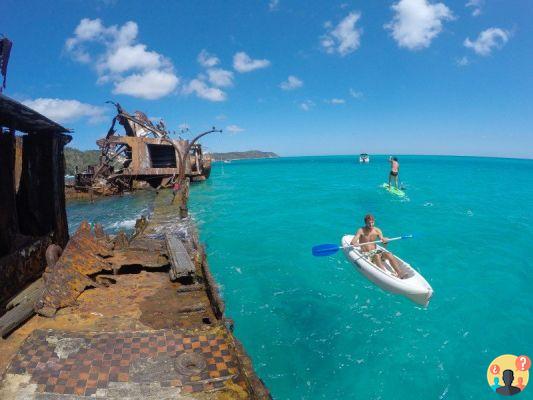 The end of the afternoon is also an invitation for those who admire the spectacles of nature. You can watch the sunset, which happens behind the Glass House Mountains, lying on the lounge chairs that sit on the soft white sands of Moreton. In the end, it is still possible to contemplate the starry and illuminated sky that comes with dusk.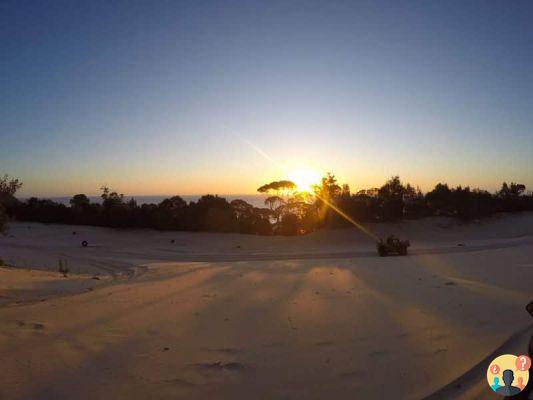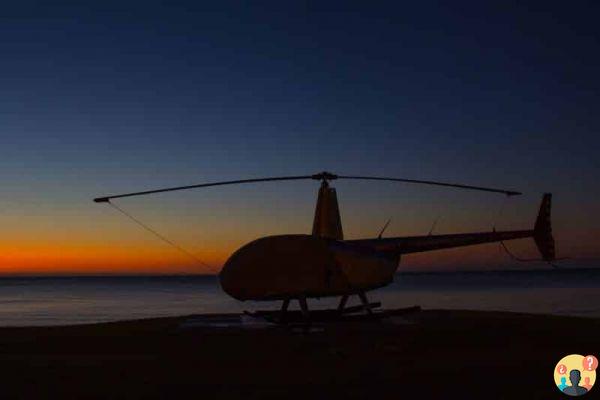 An important tip: the island is practically all sand and has few roads. Therefore, the recommendation for those who want to go beyond the ferry landing area is to rent a 4×4.
However, going to Moreton and not seeing the wrecks is almost like being in Paris and not visiting the Eiffel Tower. Tangalooma Island Resort offers some tours there. one of them is the Snorkel the Wrecks tour, which, in addition to transportation, offers all the material for snorkeling.
As I already have the snorkeling equipment (mask, snorkel and fin), I chose to go paddling. However, for those who don't feel safe arriving alone or don't have the necessary material, the tour, which costs 49 Australian dollars (AUD), can be quite interesting.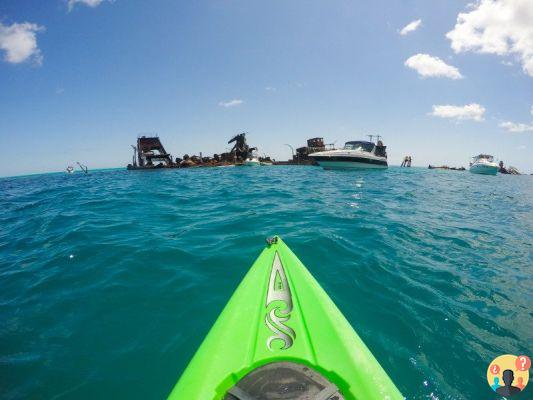 In addition, they also have options for Day Cruise. See some of them:
Standard Day Cruise: departing at 7am or 10am and returning at 16pm, the tour costs 65 AUD and includes a lunch voucher worth 20 AUD and round-trip ferry transfers. In addition, travelers who opt for this package will be able to use some of the resort's facilities, such as bathrooms, bars, restaurants and swimming pool.
Dolphin Adventure Tour: a little more expensive (175 AUD), this package includes the same things as the previous one plus the possibility to feed wild dolphins. As they only appear in the late afternoon, the tour returns at 19:XNUMX. I checked this experience up close and it's worth it, everything is done in a very organized way and accompanied by experienced professionals.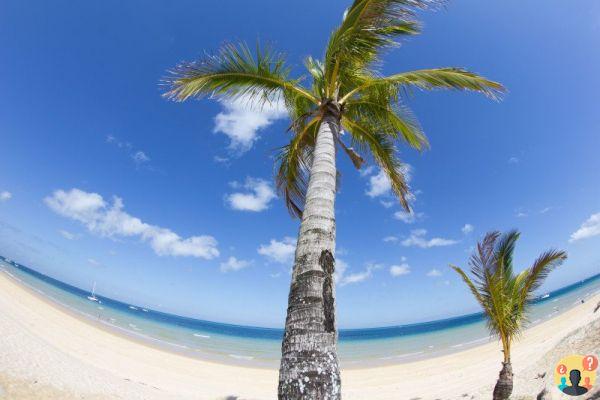 For more information about packages and tours, as well as making reservations in advance, visit the official website for the Tangalooma region. Good trip!
Australia Travel Insurance
Taking out travel insurance for Australia is an excellent way to ensure a smooth trip and avoid worries. Having the assistance of insurance gives you the peace you need to enjoy your destination and know that you have support if you need it. Also enjoy our Insurance Promo discount coupon. - SEE PRICES
Receive a SIM card at your home in España and use unlimited Internet throughout Australia

Are you also tired of only being able to use your cell phone at points that you find Wi-Fi free during the trip? And having to pay per day to be able to use a GPS in the rental car on the trip?
We couldn't take it anymore, especially because we wanted to post real-time photos of our trip on social media. In addition, Google is a great ally to find what we need while on vacation, such as information and places, and you can't just use it where you have Wi-Fi.
So we discovered one of the best solutions to end this problem, that you will no longer have to spend hours of travel in phone stores in the country, speaking an unknown language to get a SIM card. This is one of the tips we love to give our readers: America Chip.
Write it down: The company sends an international Chip to your home in Spain. When you're on the plane, just change your Brazilian SIM card for this international one. You will arrive in the United States om unlimited internet, using your cell phone at will, as you use in España.
Arriving in Australia, you can use it all day, anywhere. You'll save on GPS rentals, Skype credits, and you'll still be able to use social networks, Google, or search for anything on the internet all day. In addition, you can still call your home to send travel news as many times as you want via WhatsApp or Facetime.
Plan your trip:
Get started now by booking your hotel in Australia on Booking.com
Save time and money searching for the best Travel Insurance with the Seguros Promo comparator! Extra 5% off with coupon: FORTRAVELOVERS
Compare the best prices to rent a car from over 100 rental companies with Rentcars! (Pay in up to 12X! Pay in reais, without IOF)
Leave España with Unlimited 4G Internet!