With early countdown due to spindle, Sydney heralds the arrival of the new year with shows in the sky, operas and lots of partying. Did you know that there are two fireworks shows and also a law related to the consumption of alcoholic beverages? So it is. There are many details for those who want to enjoy everything from VIP's areas or even public places. Democratic night. Discover the details here!
Don't forget travel insurance!
Get the best discounted plans using the coupon FORTRAVELOVERS (5% off).
Click here and enjoy!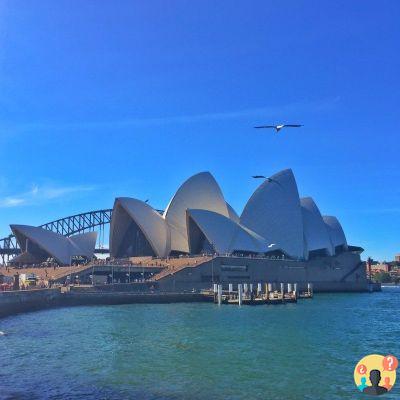 I will start the subject of New Year's Eve talking about the different time zones of the planet. Have you ever heard of Kiribati e Samoa? No? Both are located in regions of the globe where the time zone is the most advanced, that is, the Ano Novo get there first. I'm not in any of these countries, but I'm very close and that's why I was one of the first to celebrate the arrival of 2016. Imagine that I was already having a party 13 hours before the celebration that took place in España!!!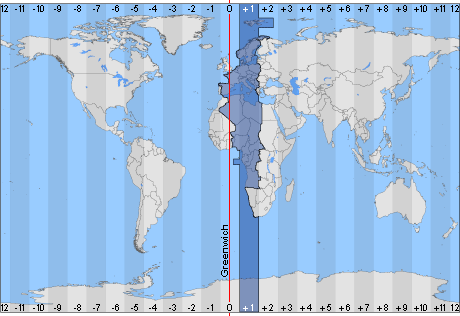 source: world time zone
I was fascinated when I saw on television images of the New Year's Eve party in the most famous city in Australia, first for the beauty of the fireworks in the Sydney harbor, according to the curiosity of being "in the future". I decided to make this dream come true and now I share with you the tips to help those who want to enjoy the turn here.
Where to spend New Year's Eve in Sydney?
About 1,5 million people gather in the region of Sydney Harbor to watch the fireworks display, so choosing where to stay is very important.
I've seen people camping out since the night of 30/12, but most of the tough and determined crowd arrive in the morning on the 31st, around 9am. They choose to settle in parks like the Hyde Park or Royal Botanic Gardens, or even on beaches and bridges. They want to be as close as possible to so-called Circular Quay, Sydney's main ferry terminal.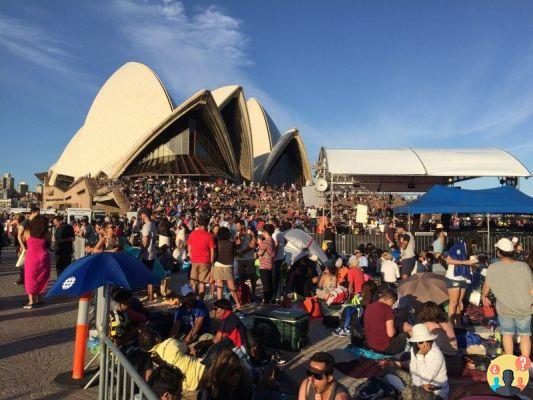 Knowing the possibility of not being able to follow the fireworks show with a good view, I decided to invest a few dollars and enjoy the turn of the Opera House, that's right, one of the most perfect views of Sydney Harbour, not to say the most perfect.
There are a few options to enjoy New Year's Eve at the Opera House:
"NYE Party at the house" – Super party with famous DJ`s, in front of the biggest fireworks of the year. The ticket price, a "trifle" of $600 Australian dollars, guarantees a super watered night. Included in this price: menu with various types of canapés signed by celebrity chef Matt Moran, lots of champagne, cocktails, beer and wine, in addition to an unparalleled view.
Open Hours: from 19:30 pm to 1 am
Value: Australian $ 600
NYE 2015 – Long Hot Summer – Opera Bar – Dance the night away until 3am, taking advantage of the best spot in Sydney to watch the famous fireworks display right in front of the Harbor Bridge, with the Opera House at your side.
Open Hours: 18h of the 3h
Value: 390 Australian dollars (+ booking fee) and includes VIP entry to the Opera Bar area, all-you-can-eat canapés menu, but drinks are not included.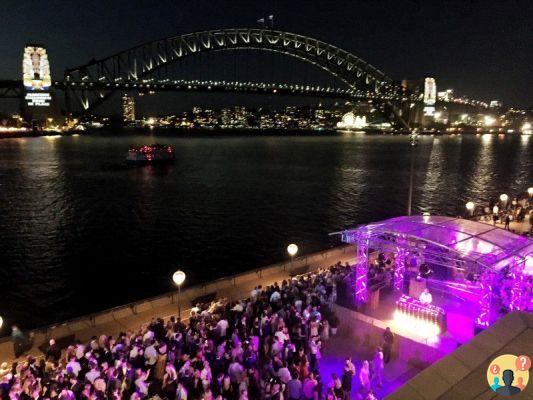 "The Gala Opera" – Classic. A concert with an orchestra and the main names of the local opera like Verdi, Puccini, and Rossini takes place inside the magnificent concert hall of the Sydney Opera House.
The concert is interrupted once, at 21:23 – for the "children's" fireworks display, and ends at 00:XNUMX for the big fireworks display at XNUMX:XNUMX.
Open Hours: from 18:45 pm to 1 am
Value: starting at AU$295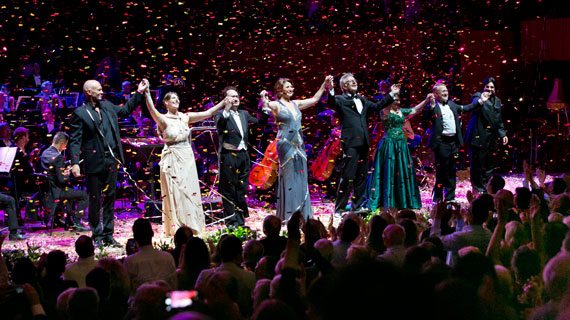 fonte: Sydney Opera House Official
What I found very interesting about this option was that paying to enjoy the night in a super cool place, I was able to live the experience of watching, for the first time, an opera show, both in one of the most important tourist spots in the world. What about?
But if you don't want to invest that much, then here are some suggestions of interesting spots in the city to spend the year watching the fireworks: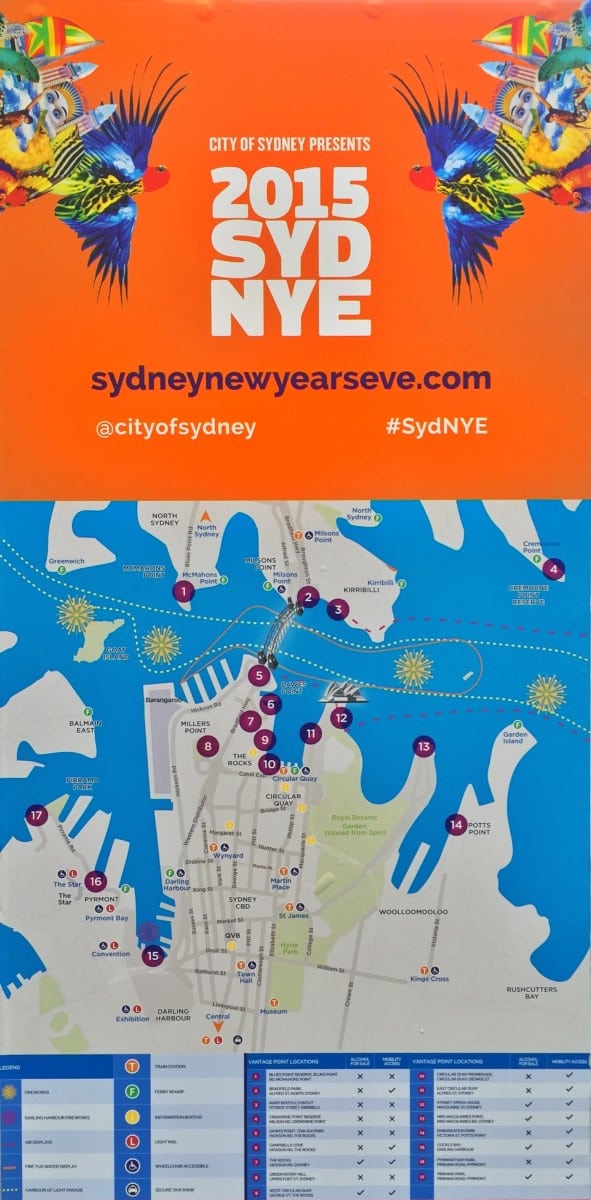 Blues points reserve
Brandfield Park – Alfred St.
Mary Booth Lookout – Fitzroy St, Kirribilli
Cremorne point reserve – Milson Rd.
Dawes point – Hickson Rd.
Campbells cove – Hickson Rd.
The Rocks – Hickson Rd.
Observatory Hill – Upper fort St. Sydney
West Circular Quay – George St.
Circular Quay Promenade – George St.
East Circular Quay – Alfred St.
Sydney Opera House – Macquarie St.
Mrs Macquaries point – Macquarie St.
Embarkation Park – Victoria St.
Cockle Bay – Darling Harbour
Pyrmont Bay Park – Pirrama Road
Pirrama Park – Pirrama Road
The fireworks!!!
One of the most beautiful images I have ever seen in my life!! It's about 12 minutes of colorful explosions seen on the Sydney Harbor Bridge.
Spectators spread out by land or sea, aboard boats, on terraces, on bridges, or in any space not to miss this dazzling spectacle that marked the first minutes of 2016.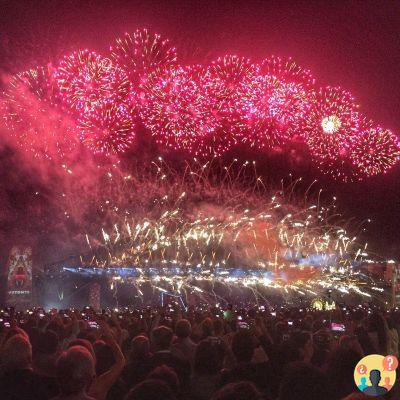 Important facts:
Just like in España, it's summer in Australia. While in much of the world temperatures are negative at this time, in Australia thermometers can often exceed 30ºC during the day. This is very important information, especially if you are planning to arrive early (during the day). #gueeeenta #levemprotetorsolar #daleàgua
In Australia it is not allowed to drink on the street, but during the night of New Year's Eve free zones ("Alcohol-free-zones") are created. Alcoholic beverages are allowed in these areas. It is worth setting a good example and respecting the rules, even because the inspection takes a lot and the fines can weigh a lot on your pocket.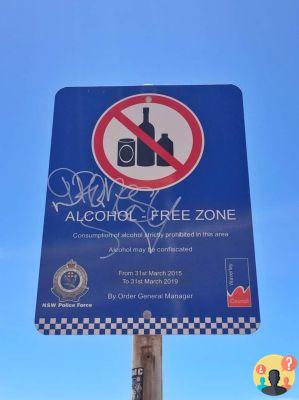 Wearing white clothes during the turn is a Brazilian habit. I haven't seen almost anyone dressed like that, so relax and feel free to wear whatever color you prefer.
There is a fireworks display at 21pm on December 31st, called "Children's New Year's Eve". All this so that children can feel and participate in the party, before falling asleep! Of course, this fireworks display is shorter, as the official and main one only rolls when the clock strikes midnight.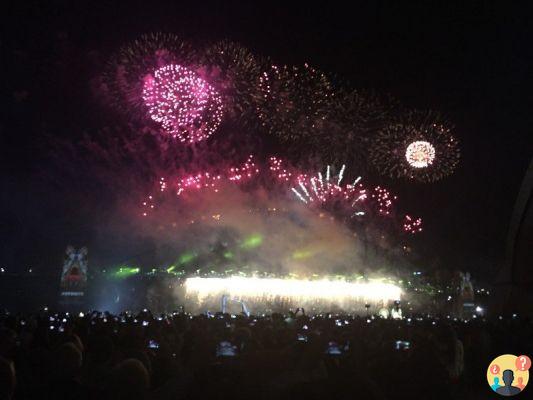 Transportation:
Taxis, Uber and all types of public transport operate normally with extended hours on that day. It is worth checking the options and charging an extra battery for your cell phone before going out to the party.
HAPPY NEW YEAR!
Don't forget about Australia Travel Insurance
Now that you know a little more about Australia, a super important tip for everyone who is planning their next trip is not to forget to take out International Travel Insurance. It is very important and no one should travel without it to avoid problems abroad.
A lot of people don't know is that it's super cheap and can help you avoid a lot of problems during your trip. See our International Travel Insurance article telling you everything you need to know about the subject, which is the best travel insurance company and tips to make a great insurance for your profile, for an incredible price and on top of that saving a lot.
Receive a SIM card at your home in España and use unlimited Internet throughout Australia

Are you also tired of only being able to use your cell phone at points that you find Wi-Fi free during the trip? And having to pay per day to be able to use a GPS in the rental car on the trip?
We couldn't take it anymore, especially because we wanted to post real-time photos of our trip on social media. In addition, Google is a great ally to find what we need while on vacation, such as information and places, and you can't just use it where you have Wi-Fi.
So we discovered one of the best solutions to end this problem, that you will no longer have to spend hours of travel in phone stores in the country, speaking an unknown language to get a SIM card. This is one of the tips we love to give our readers: a America Chip.
Write it down: The company sends an international Chip to your home in Spain. When you're on the plane, just change your Brazilian SIM card for this international one. You will arrive in the United States om unlimited internet, using your cell phone at will, as you use in España.
Arriving in Australia, you can use it all day, anywhere. You'll save on GPS rentals, Skype credits, and you'll still be able to use social networks, Google, or search for anything on the internet all day. In addition, you can still call your home to send travel news as many times as you want via WhatsApp or Facetime.
See also:
Plan your trip:
Get started now by booking your hotel in Australia on Booking.com
Save time and money searching for the best Travel Insurance with the Seguros Promo comparator! Extra 5% off with coupon: FORTRAVELOVERS
Compare the best prices to rent a car from over 100 rental companies with Rentcars! (Pay in up to 12X! Pay in reais, without IOF)
Leave España with Unlimited 4G Internet!