The neighborhood of San Telmo, in Buenos Aires, is a charming corner full of history, culture and curiosity that calls for a visit when in the city.
Visiting the neighborhood of San Telmo, in Buenos Aires, is a guarantee of a rich historical-cultural tour. There is a lot of history, works of art and antiquities to admire in one of the oldest neighborhoods in Buenos Aires.
The region surprises with its friendliness and ease of getting to know its tourist attractions. Walking through the neighborhood is possible to discover great museums, antique shops and good art galleries.
San Telmo de Buenos Aires starts on a street off Plaza de Mayo and is easily accessible by bus and subway. To top it off, hotels here usually have good prices, friendliness and lots of history. In the restaurants, they serve classic, contemporary and modern cuisine, not to mention the lovely cafes.
Have you already purchased your travel insurance?
Get your discounted plan using the coupon FORTRAVELOVERS (5% off).

Location
History
Things to Do

Antiques Fair
San Telmo Market
Museum of San Telmo
Mafalda and Museum of Humor
Church of San Telmo

Where to eat
Hotels
Getting around
Where is San Telmo?
San Telmo Buenos Aires is further south of the capital. It is close to one of the ends of Puerto Madero and Plaza de Mayo and goes to Parque Lezama. The closest subway stations to Plaza Dorrego, the center of the neighborhood, are San Juan and Independência.
See on the map:
Find cheap tickets to Buenos Aires!
Discounts of up to 35% on flights to Buenos Aires every day in Promo Tickets.
History of San Telmo
Currently, the neighborhood reflects some of its heyday with historic houses, which have become the setting for one of the most bohemian areas of the city.
Until 1971, the Buenos Aires aristocracy lived in San Telmo, Buenos Aires, but that year there was a strong epidemic of yellow fever. The rich fled to the north of the city, a safer area, and European immigrants took advantage of the colonial buildings in the region. The new residents invested in the classic conventillos. Have you ever heard a similar story?! Well, the same thing happened to the neighbor. La Boca , neighborhood where it is Caminito.
San Telmo Buenos Aires reached the level of being almost completely demolished. But everything changed when in 1979, Plaza Dorrego won an Antiques Fair.
The importance of local memory and neighborhood preservation was reactivated. Currently, the fair takes place every Sunday in Plaza Dorrego. The Antiques Fair remains one of the most important in the Buenos Aires capital.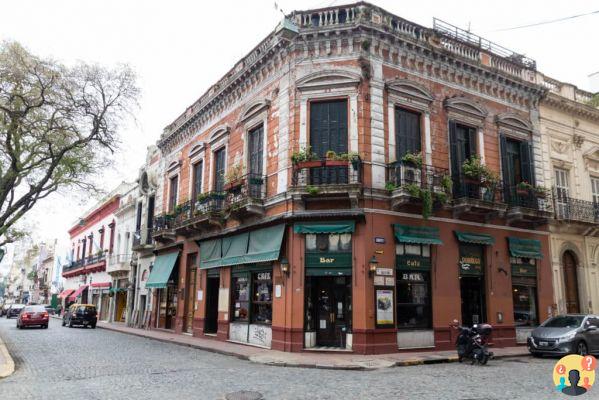 Things to do in San Telmo
The intense history and high cultural-historical content of San Telmo Buenos Aires invites for peaceful walks. Explore the cobbled streets and admire the houses, antique shops, tango dancers in the streets and important attractions in the small neighborhood. The main tourist attractions are close together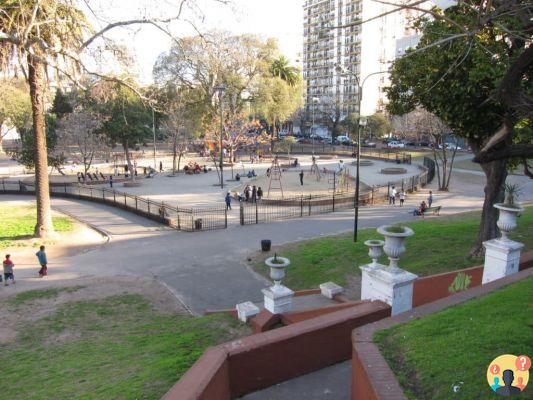 Antiques Fair
A Antiques Fair, the most important point of San Telmo, is quite extensive. It starts at Plaza Dorrego, enters Calle Defensa and gets close to Casa Rosada. c Which is very interesting because it connects the two oldest squares in Buenos Aires.
Because the course is very long, the courts end up dividing into sessions. For example, on one block you see an infinity of artists with paintings, on the other, pieces of clothing. On the other antiques and so on.
In the streets of Feira de San Telmo Buenos Aires you feel a lot of good vibes. Listen to live music and watch a tango show. It is the ideal place for those who want to buy more creative travel souvenirs that look like Buenos Aires.
Remembering that it only takes place on Sundays, from 10 am to 18 pm. For the other days of the week, it is worth visiting the antiques of the San Telmo Market.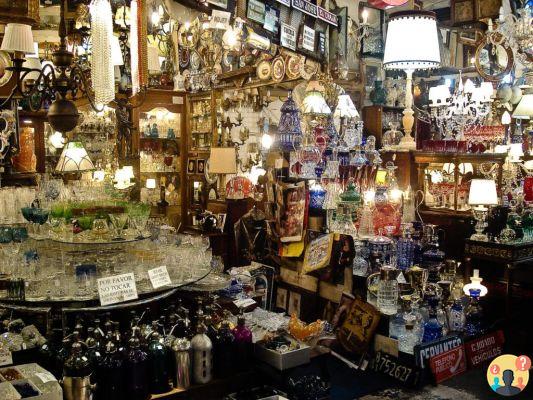 San Telmo Market
The San Telmo Market is open daily and has been in San Telmo, Buenos Aires for over 120 years. In addition to selling old utensils, it is possible to enjoy a good coffee, eat something local and even buy vegetables and fruits. It's the place that has a little bit of everything.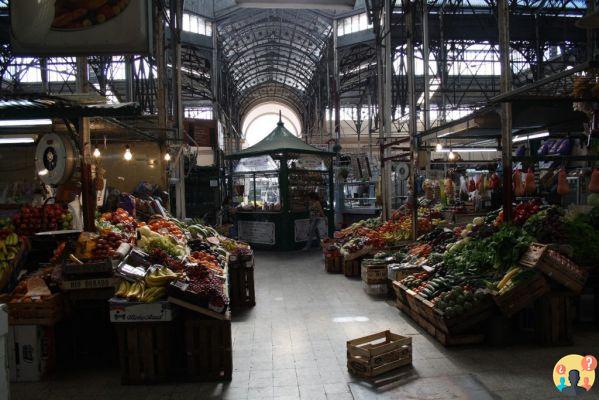 Museum of San Telmo
Taking advantage of the rhythm of stories, the museums of San Telmo, Buenos Aires, are very interesting. In front of Parque Lezama, the greenest area of ​​San Telmo, is the National Historical Museum. O Museum of Modern Art of Buenos Aires (MAMBA) yes Museum of Contemporary Art are on Avenida San Juan. already the curious National Museum of the History of Costume located on Chile street.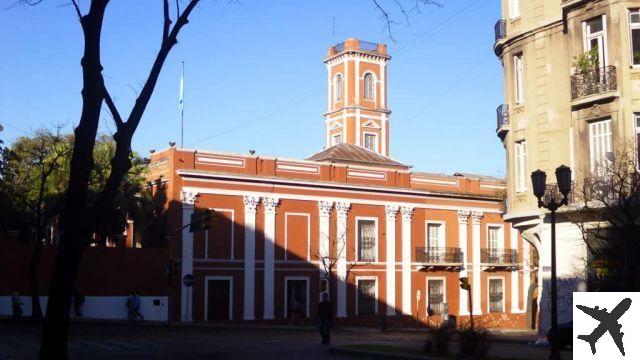 Mafalda and Museum of Humor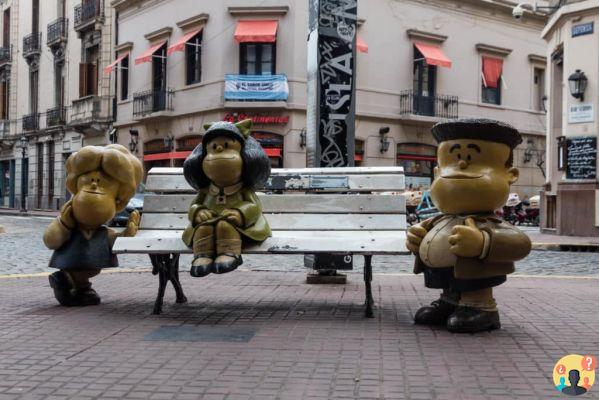 Go to the corners of Calle Chile and Calle Defensa and meet with Mafalda and your friends. The little girl who discusses politics in a tone of her own is the creation of Argentine Quino.
This is an 80 cm statue sitting on a bench with his friends around. On weekends it is almost impossible to take a picture. If you like comics, take the opportunity to follow the cartoon walk until the Humor Museum, in Puerto Madero.
Church of San Telmo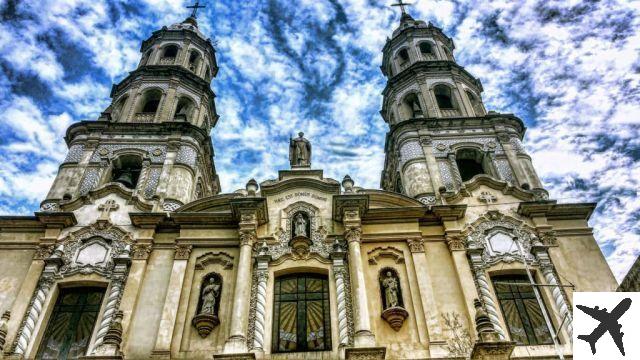 The churches of San Telmo, Buenos Aires, are also tourist attractions in Buenos Aires that deserve your attention. THE Parish of San Pedro Telmo is a National Historic Monument, from 1734, it has an eclectic and neo-colonial style. But, it's the Russian Orthodox Church that usually attracts attention, because of the Russian style and its blue domes from the XNUMXth century.
Where to eat in San Telmo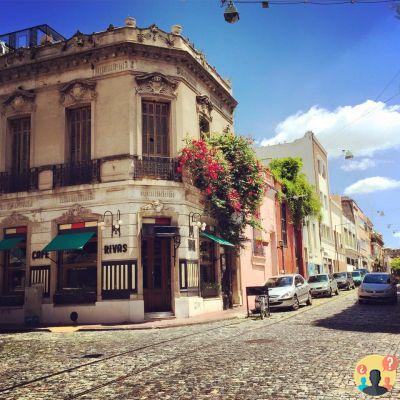 In San Telmo, bars and restaurants offer typical cuisine, with meat and lots of wine. the surprising My Wine Collection serves a unique experience combining the best wines with incredible dishes. already in The Baqueano, taste the best of contemporary Argentine cuisine.
To be with family and friends, the Javi's Grill Restaurant It has well-served dishes, with the famous Argentinian parrilla. It's a simpler, but cozy environment. in the classic Cafe Rivas, in front of Plaza Dorrego, the charming Cafe conquers by its friendliness and exquisite breakfast.
Hotels in San Telmo
Hotels in San Telmo, Buenos Aires, are very cozy, in historic buildings and full of small details. the charming Holidays San Telmo it is an old building in a secluded alley. It follows a rustic style and has a restaurant with divine dishes.
No Courtyards of San Telmo experience the experience of being in a completely restored XNUMXth century building. The hotel also has a swimming pool and some rooms have a whirlpool and a balcony overlooking the central garden.
O The Boutique Hotel Address is close to Parque Lezama, they have comfortable rooms with bathtub. In the decoration, a happy balance between colors and wood. already the San Telmo Luxury Suites it is near the beginning of Paseo de La Historieta and has spacious suites with two floors and a balcony.
Select hotels in San Telmo Buenos have air conditioning, heating and breakfast options.
#FastDelivery: Did you know that the earlier you book, the cheaper the hotel room rate is?
So run and guarantee your hosting at Booking.com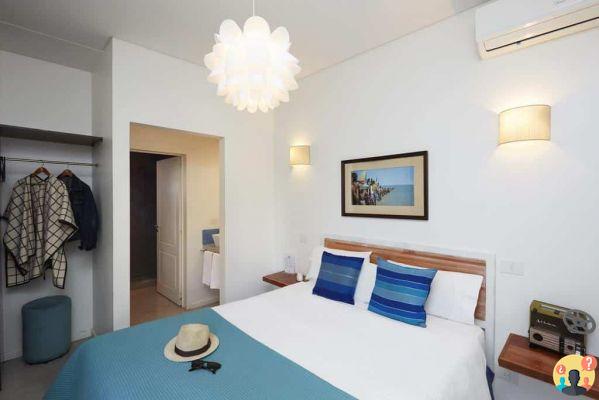 Getting around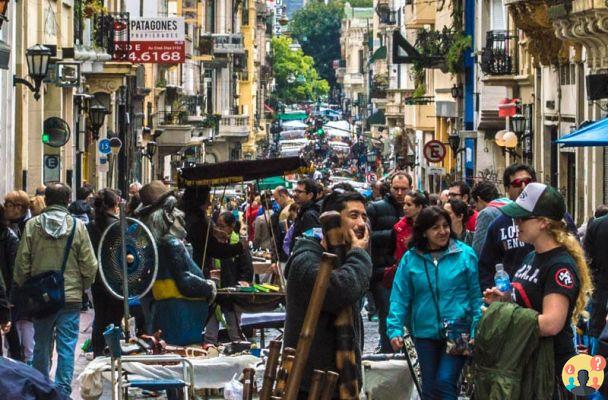 The entire trip to San Telmo is easily done by bus ou subway. There are many options floating around the region. Even the subway stations have others besides the ones close to the Dorrego SquareLike Belgrano e Moreno. In San Telmo, it is worth mentioning that it is better walk on foot same.
>> Also read the Complete Guide to Buenos Aires and find out about everything you need to know for your next trip.
So, are we going to travel to San Telmo?
Leave your doubts here in the comments. ?
Buenos Aires Travel Insurance
Buying travel insurance for Buenos Aires is an excellent tip to ensure a smooth trip and avoid worries. Having the assistance of insurance gives you the peace you need to enjoy your destination and know that you have support if you need it. Also enjoy our Insurance Promo discount coupon. - SEE PRICES
Read More
Palermo Buenos Aires – Complete Neighborhood Guide
Recoleta Buenos Aires – Complete Neighborhood Guide
Hotels in Recoleta – Which ones are worth the stay
Recoleta Cemetery – How is the tour?
Caminito Buenos Aires – Complete Neighborhood Guide
Puerto Madero Buenos Aires – Complete Neighborhood Guide
Buenos Aires Argentina – COMPLETE Guide to Getting to Know the City
Buenos Aires Sights – 25 Must-See Attractions in the Capital
What to do in Buenos Aires – 2 to 5 days itinerary
Tango Shows in Buenos Aires – Which ones are worth entering the itinerary
Obelisco Buenos Aires – How to Get There, Visit and Nearby Hotels
Restaurants in Buenos Aires – Complete Guide to Where to Eat
Where to Stay in Buenos Aires – Indication of the Best Accommodations
Best Hotels in Buenos Aires – 12 Suggestions that are worth booking
Buenos Aires with Children – What to Do There and Where to Go
What to Do in Mendoza – 2 to 5 Days Itinerary
Where to stay in Mendoza – Entre Cielos
Things to do in Ushuaia – 9 Must-See Attractions
When to go to Ushuaia – Month by Month Itinerary
Argentina Tour – 26 Main Tourist Points in the Country
International Travel Insurance – Is it worth it?
How to Buy Travel Insurance – Step by Step
America Chip – Learn How the Travel Internet Chip Works
Buenos Aires Travel Insurance – Is it mandatory? Find out here!