By: Larissa @hellolarissa
If your question is about the Australia You have come to the right place. As I said in another post, my history with Australia is long, to be more exact, Australia has been my 'home' for over a decade.
Over these more than 10 years I had the pleasure of welcoming several friends and family members here and over time I realized that the initial doubts about the Australia always revolve around the same themes.
Before coming and even before deciding if Australia is the right destination, many people usually get in touch with me to ask questions, and the questions are almost always the same: where is Australia again? Which continent are you on? How is the weather? Etc.
>> Read all the tips in the post Australia – Complete Country Guide
Save money on travel insurance!
use the coupon FORTRAVELOVERS and pay in boleto to take off 10% discount.
Click here and enjoy!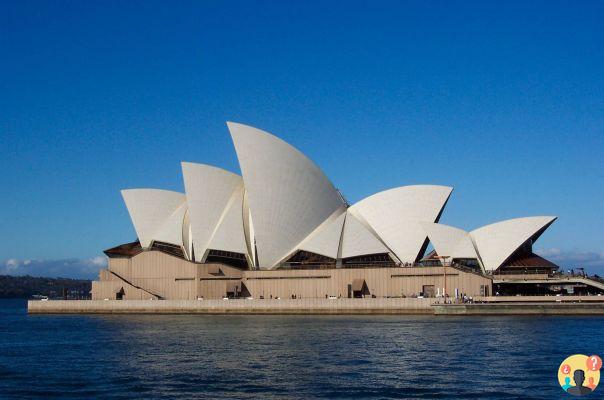 Opera House in Sydney – Photo: Disclosure
Well… some of these questions can certainly be answered by Google, but nothing better than someone with experience to answer your questions and ensure that you have peace of mind and an unforgettable trip.
So, thinking of you, I once again got in touch with my Aussie friends (Australians of the gem) and together we organized the 10 most common questions we receive and put together this list of Australia tips.
Enjoy! (enjoy)
1. Where is Australia?
The word Australia comes from the Latin australis, which means 'austral', ie 'from the south'. Located in the southern hemisphere, more specifically in the oceania, Australia is the sixth largest country in the world with an area of ​​approximately 7,692,024 square kilometers. Bathed by the Indian and Pacific oceans, Australia is also known as an island country, as it is the largest island in the world (some may disagree!) and has no land borders.
2. Do I need a visa to go to Australia?
Yea! Spanish people need a visa and the process to obtain one, depending on the type of visa, can be long and fussy. To learn more visit the website of Australian Embassy not Spain.
3. What is the Capital of Australia?
No, it's not Sydney. And no, it's not Melbourne. Australia's capital is Canberra, but this was not always the case. Canberra's history is long and has had a lot of politics, confusion and democracy involved in its establishment. Briefly, the story went something like this:
1901 - Australia becomes a federation and the new nation needs a capital
1908 - After much discussion and a fierce dispute between Sydney and Melbourne, parliament votes for the Yass-Canberra region to be the seat of the new Australian capital
1911 – Minister King O'Malley approves the international competition for the design of the Federal Capital
1912 – Chicago couple Walter Burley Griffin and Marion Mahony Griffin win the competition
1913 - Gertrude Denman, wife of the Governor General, names Canberra and the capital is officially opened.
The end. Now you know what the capital of Australia is and you even have a story to tell.
4. How is the weather in Australia? It's cold?
Contrary to what many believe, the weather in australia It's not just hot or just cold and it all depends on where you are and when you're passing by.
I think the Australian climate is great and for most of the year it is very similar to that of España, without extreme temperatures. Sidney, for example, is located in New South Wales and during the winter the average temperature in the city is around 8.8 – 17°C and during the summer it can be between 18.6 – 25.8°C.
As a general rule, the northern states (Queensland, Northern Territory and the northern part of Western Australia) generally have the warmest climate for most of the year. The southern states (New South Wales, Victoria, Tasmania, South Australia and the southern part of Western Australia) tend to have the coldest winter. Australia's climatic seasons are the same as those of España:
Summer: December to February
Autumn: March to May
Winter: June to August
Spring: September to November
5. Can I drive in Australia?
An international visitor can drive in Australia with a driver's license from the country of origin for a maximum period of three months, provided that the license is in English. If the license is not in English, as is the case for Españaeiros, you must obtain the International Driving Permit (PID) from the state's transport department. For more information visit this Australian government website.
Sydney Harbor Bridge – Flickr: Danijel-James Wynyard Follow
6. What is the time zone in Australia?
Australia is divided into three different time zones:
A Eastern Australian Standard Time (AEST) which is equal to Coordinated Universal Time plus 10 hours (UTC +10).
A Australian Central Standard Time (ACST) which is equal to Coordinated Universal Time plus 9½ hours (UTC +9½).
A Western Australian Standard Time (AWST) which is equal to Coordinated Universal Time plus 8 hours (UTC +8).
To make it easier to understand Australia is between 8 to 10 hours ahead from Spain. Remembering that some Australian states also have daylight saving time.
7. What is the language in Australia?
The language in Australia is Australian English, also known as Australian. The language is very different from North American and British English and has very peculiar characteristics. Check out our post 'Australia's official language is not English!' to learn more about the Australian way of talking.
8. When is the best time to visit Australia?
The best time to visit Australia is definitely during spring or summer, ie between September and February.
December/January are the ideal months for those who want to enjoy the end-of-year festivities, remembering that the New Year's Eve fireworks Australia it is simply unmissable. I said A MUST SEE ok?! The biggest problems for those who travel at this time are the expensive prices of the high season and the large number of tourists.
For those who want to avoid the end-of-year festivities and/or for those who want to save money on the trip, the recommendation is to schedule their coming to Australia for the months of October/November or February/March.
9. What is the flag of Australia?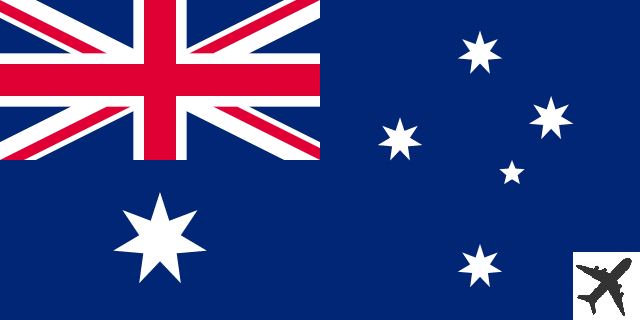 Flag of Australia – Flickr: Mickaël T.
A Australian national flag It was first erected on 3 September 1901 when then Prime Minister Edmund Barton announced the winners of the competition for the design of the Australian flag. The flag has 3 elements:
1. The Union Jack (United Kingdom flag)
At the top left side, representing the history of British conquerors in Australia.
2. Southern Cross (Southern Cross)
On the right half of the flag is the Southern Cross, the constellation that can only be seen from the southern hemisphere. This constellation also appears on the Españaeira flag.
3. Commonwealth Star (Federation Star)
On the left side, under the Union Jack, is the Confederate Star. The star has seven points representing the union of the 6 Australian states and territories.
10. Is the cost of living in Australia expensive?
Yes, it's expensive! Well, this is the subject of a very long post because the high cost of living here comes with benefits that offset the high value that Australians, or anyone else living in Australia, have to pay for basic things like housing, food and transportation.
When people ask me how much they should bring to Australia I always ask what the situation is. In the case of tourists, it depends a lot on the type of tourism that the traveler wants to do, in the case of those who want to come to study and live for a while, I always say to be prepared to spend at least between AUD$300 – AUD$400 Australian dollars per WEEK! Weekly because here we usually receive the salary and pay the bills weekly.
For more information about living in Australia, click here.
Well, these are the questions I get most often.
And you, do you have any questions for us? Leave your comment here on the post or visit @hellolarissa on insta.
Australia Travel Insurance
Taking out travel insurance for Australia is an excellent way to ensure a smooth trip and avoid worries. Having the assistance of insurance gives you the peace you need to enjoy your destination and know that you have support if you need it. Also enjoy our Insurance Promo discount coupon. – SEE PRICES
Receive a SIM card at your home in España and use unlimited Internet throughout Australia

Are you also tired of only being able to use your cell phone at points that you find Wi-Fi free during the trip? And having to pay per day to be able to use a GPS in the rental car on the trip?
We couldn't take it anymore, especially because we wanted to post real-time photos of our trip on social media. In addition, Google is a great ally to find what we need while on vacation, such as information and places, and you can't just use it where you have Wi-Fi. So we discovered one of the best solutions to end this problem, that you will no longer have to spend hours of travel in phone stores in the country, speaking an unknown language to get a SIM card. This is one of the tips we love to give our readers: America Chip.
Write it down: The company sends an international Chip to your home in Spain. When you're on the plane, just change your Brazilian SIM card for this international one. You will arrive in the United States om unlimited internet, using your cell phone at will, as you use in España.
Arriving in Australia, you can use it all day, anywhere. You'll save on GPS rentals, Skype credits, and you'll still be able to use social networks, Google, or search for anything on the internet all day. In addition, you can still call your home to send travel news as many times as you want via WhatsApp or Facetime.
Plan your trip:
Get started now by booking your hotel in Australia on Booking.com
Save time and money searching for the best Travel Insurance with the Seguros Promo comparator! Extra 5% off with coupon: FORTRAVELOVERS
Compare the best prices to rent a car from over 100 rental companies with Rentcars! (Pay in up to 12X! Pay in reais, without IOF)
Leave España with Unlimited 4G Internet!