Known as one of the friendliest cities in the world, find out what to do in Puerto Vallarta and Riviera Nayarit, with their beautiful beaches on the Pacific coast still very little explored by Brazilians.
I discovered many other reasons to visit the region and what to do in Puerto Vallarta and Riviera Nayarit besides the famous postcard of Islas Marietas, and now I can tell you all about it!
Puerto Vallarta and Riviera Nayarit caught the eye of tourists after a National Geographic photographer posted a stunning photo of a paradise beach inside a hole in a gigantic rock.
The photo was taken at the famous "Praia do Amor", in the Marietas Islands, which was once a place that could be freely explored by those who ventured there. Nowadays, access and length of stay in Praia do Amor is extremely limited and controlled by the local environmental agency, in addition to the prices being quite abusive and the tour can only be done during low tide and by those who know how to swim.
#ParaNãoForget: Have you bought your travel insurance yet?
Get your discounted plan using the coupon FORTRAVELOVERS (5% off).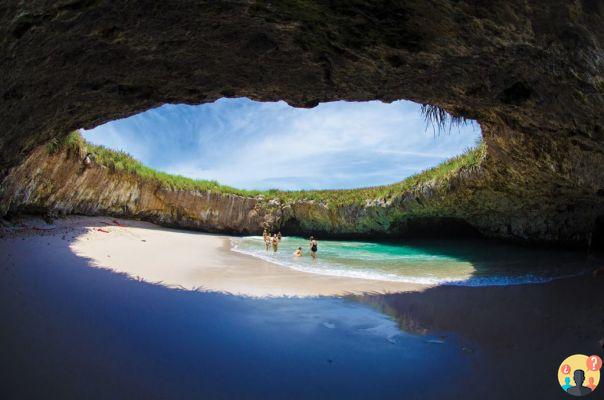 I started this article talking about it because, when I was invited to make this trip, I had huge expectations about the blessed beach and I must admit that was the only reason that took me there. My mother used to say: expectation generates frustration and I learned that well during this trip because, like the vast majority of tourists, I also couldn't visit that beach.
I discovered many other reasons to visit the region and what to do in Puerto Vallarta and Riviera Nayarit besides the famous postcard of Islas Marietas, and now I can tell you all about it!
Where is Puerto Vallarta
The history of the region
Things to Do
Where to eat
what to do at night
where to shop
Where to stay – Hotel recommendation
WHAT YOU NEED TO KNOW BEFORE GOING TO MEXICO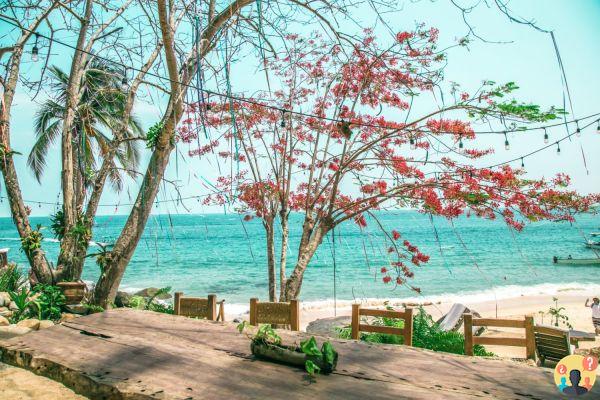 Where is Puerto Vallarta
Puerto Vallarta is a city in the State of Jalisco and the main gateway to the region. The city is located on the Mexican Pacific coast and borders the State of Nayarit, hence the name of the Reviera that shares space and tourism with its neighbor Vallarta – the two destinations are glued to each other.
Puerto Vallarta and Riviera Nayarit form an amazing eco-tourism destination for nature lovers looking for an alternative place to visit when traveling to Mexico.
Unlike other Mexican beaches, where you hear more Portuguese than any other language, in Vallarta and Nayarit it is very rare to see Brazilian tourists.
However, that doesn't mean it's not touristy, as these beaches have become the favorite destination of many of their North American neighbors, who buzz the Vallartense malecón all year round.
All about Puerto Vallarta – one of the friendliest cities in the world
The city of Puerto Vallarta is also very well known for being one of the friendliest cities in the world, and they proved that to be true!
All this sympathy and affection from the people of Vallarta has consecrated the city as one of the most popular destinations in the world for the LGBT public. As they say, everything is very "gay friendly" – and who is not comfortable with all this hospitality, right?!
In addition, the region is a full plate (literally!) for lovers of good cuisine. Puerto Vallarta is the 2nd most important destination for gastronomic tourism in Mexico and the people from Vallarta fill their hearts to tell you about it – it was no wonder that the city became known worldwide for its food, second only to Mexico City.
For this recognition, the city hosts some important gastronomic events in the month of March. It also produces the famous "Restaurant Week" in the month of May and the "Festival Gourmet" which takes place in November and brings together renowned chefs from around the world.
But don't worry if you visit the region at another time, because good food there is definitely not to be missed!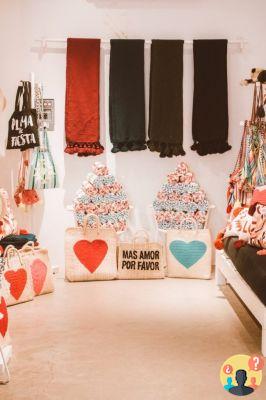 Puerto Vallarta Attractions
Historical Center
Puerto Vallarta is a historic and colonial city full of Mexican authenticity. The Spanish architecture, which has Moorish remnants, makes the city a sister city to Santa Barbara, California.
In front of the esplanade, visit the Parish of Our Lady of Guadalupe, the only church in Mexico with a crown. On October 9, 1995, there was an earthquake that toppled the parish crown. Today, it is a replica of the original and more resistant to tremors.
Walk through the downtown streets to the Loyal Sweet Shop to try the typical regional sweets. Cross the street and get lost among the Mexican stands and shops at the city's flea market.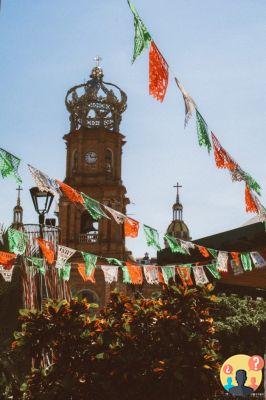 Tequila Tower
Taking a tequila tour is quite a program to get to know all the Mexican facets. THE The Baston of the King Tequila it is located in a town close to Puerto Vallarta and is a very nice tour to do.
You can taste up to six tequilas (yes, it sounds awful just thinking about it) but you'll be amazed at how real the tequila tastes. It's smooth, it's easy to drink and even yummy and you still discover that you don't even need salt and lemon #FicaADica.
In addition to the surprise of a milder taste, you get to know the distillation process of the drink and end the tasting with a nice lunch, on the banks of a beautiful river, in a restaurant next to Tequilera.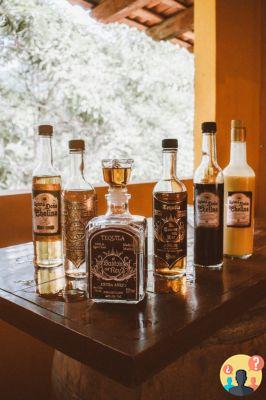 Beaches in Puerto Vallarta and Region
Sayulita
Majahuitas
ice cream beach
green toothpick
Punta Mita
Colomitos
The boat
White fig tree
Marietas Islands
Yes, that's where the Praia do Amor, but the Islas Marietas go far beyond it and it is no wonder that it hides such impressive landscapes!
The place is one of the marine ecosystems that has been most protected from human interaction and is home to exotic Pacific birds such as the Puerto Rican Captain and Fool birds.
The Marietas Islands, a Biosphere Reserve recognized by UNESCO, include volcanic rock formations with underwater tunnels, which justifies the somewhat exotic scenarios in our eyes. Due to the detachment of a part of the dome from the caves on these islands, small paradisiacal beaches were formed in the middle of the ocean – not only Praia do Amor, but many others.
The crystalline waters of the Pacific, sometimes very similar to the waters of the Caribbean islands, make Islas Marietas an extraordinary place for diving or snorkeling.
Harnessing the colors of marine life is another program that needs to be done. It is so abundant, multicolored fish, dolphins, turtles and even whales depending on the time of year.
To visit, you must take a boat from Punta Mita to the islands – it is certainly an essential item for anyone looking for things to do in Puerto Vallarta and Riviera Nayarit.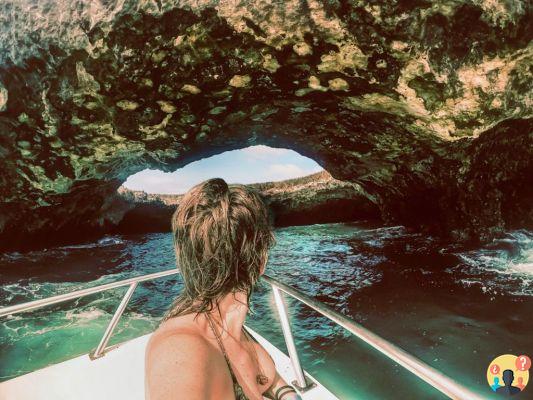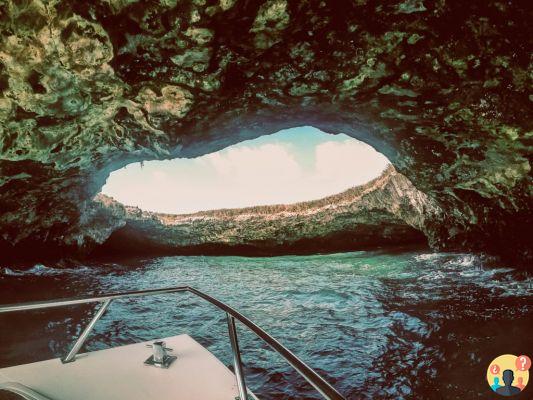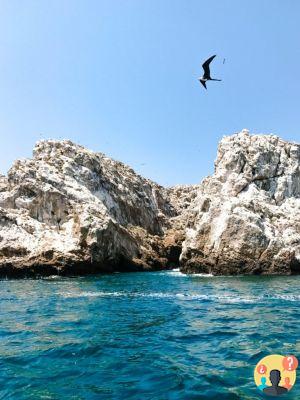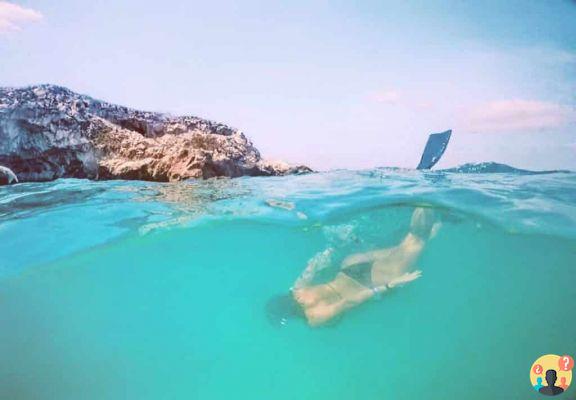 Maraika Houses
Casitas Maraika is a private beach that gets its name because it belongs to a kind of inn and restaurant (beach club) located right in the middle of the tropical jungle.
The place is super small and access can be made by boat (as we did) or by trail. Access is free for anyone who wants to visit, even if they are not staying at the hotel or eating at the restaurant.
We went and came back with a motorized wooden boat that we took in "Boca de Tomatlán and, in less than 10 minutes, we were on the beach.
The calm beach with crystal clear and emerald water, just a few meters long, is the exclusive view of just 3 houses, which hold up to 9 people each (Casitas Maraika).
The houses were built respecting the entire ecosystem and the natural environment in a very rustic way, without concrete, only with wooden walls and floors and thatched roof, leaving several gaps throughout the house so that nature can flow and integrate with whoever is there.
The beds and hammocks are protected by mosquito nets, which guarantee the sleep of those staying at the house, and the rest is up to nature, which brings the perfect soundtrack for incredible nights of rest (and gratitude!).
The price of the houses varies according to the season and the number of people who will be staying, but it is super affordable. You can check it here.
The only problem is availability as there are only 3 houses, so it's important to book in advance so you don't just feel comfortable, like I was.
I'm sure not just anyone would sleep there, but I fell in love and these little houses became a good reason for me to come back one day – next time I'll know what to do in Puerto Vallarta!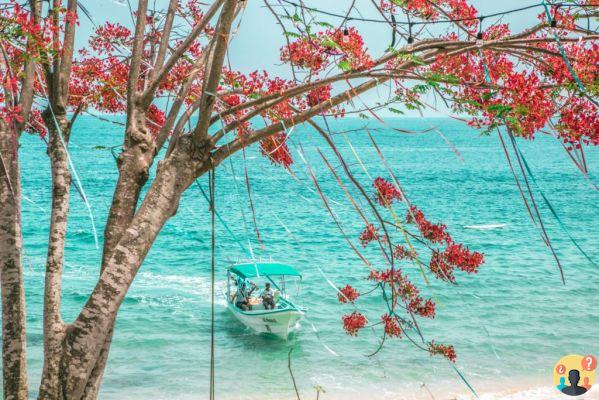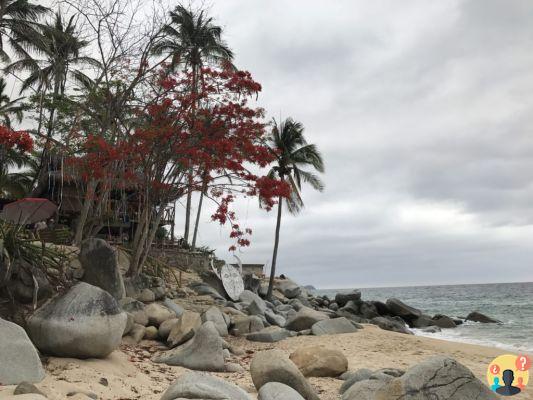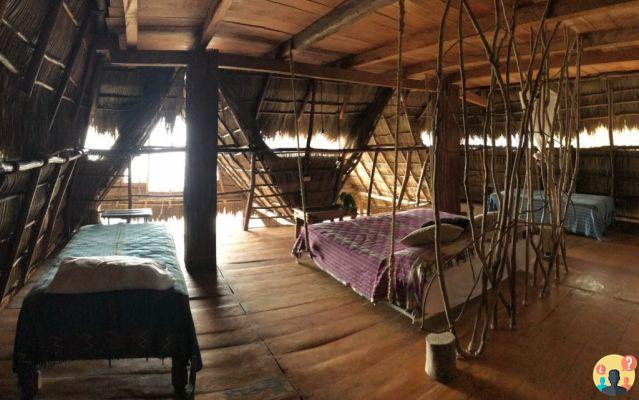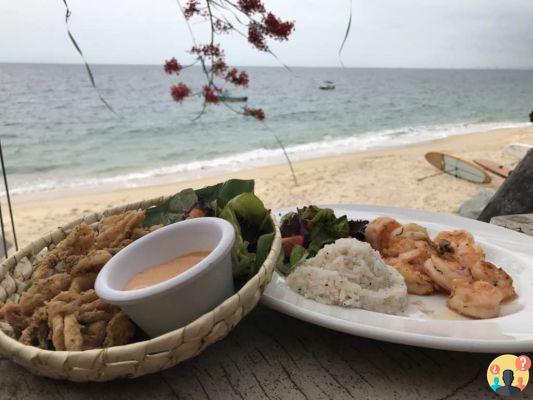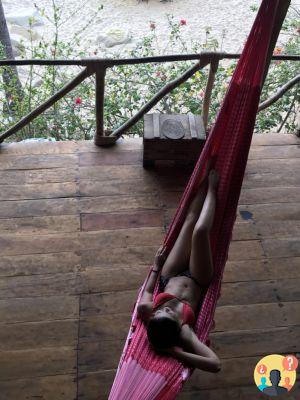 Swim with Dolphins in their natural habitat
To my great surprise, I discovered that in this region of Puerto Vallarta e Riviera Nayarit there is a huge pod of dolphins that are residents of the coastal area close to the beaches. This species of dolphin called "bottle nose", reproduces in its own place of origin and never migrates. Which makes contact with these incredible beings in their natural habitat much easier without any human intervention.
Before boarding, you will have a brief lesson on cetaceans (dolphins and whales). Then we took a boat and sailed for a considerable time along the Bahía de Banderas, accompanied by a very friendly and attentive biologist, looking for dolphins.
When we saw the first group of dolphins, the biologist asked for 2 volunteers who would like to try to approach and I immediately fell into the water without even thinking twice. However, we are talking about wild nature here and obviously this approach depends much more on the dolphins' will than ours.
The biologist explained to us that it is very rare to get close when we find groups with puppies, but it was magical even so just to be able to observe them!
The tour was done with Wildlife Connection, which also offers whale watching for those visiting and looking for things to do in Puerto Vallarta from December to March.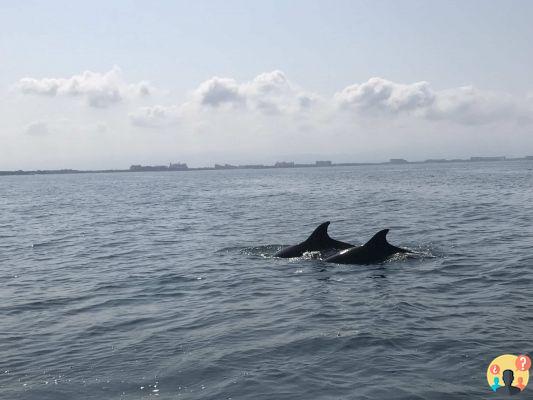 Sayulita – Discovering the Pueblo Magico
Sayulita, a charming and picturesque village on the Riviera de Nayarit, is worth including in your itinerary of what to do in Puerto Vallarta.
With beautiful beaches, lots of cool shops, typical crafts from the region, super cozy restaurants and great food (for a change!). Unlike other regions we visited, in Sayulita tourists mingle with locals in a super relaxed atmosphere, without the hustle of the main tourist resorts, but with a great infrastructure.
In addition to all its charm, Sayulita is also home to great waves for surfers and the perfect setting for other adventure sports. It is very common for people to rent houses to spend the holiday season there and really experience that pleasant atmosphere that only beach villages have.
I highly recommend you visit Don Pedro's restaurant, the best restaurant in Sayulita with a wonderful view of the beach and an exceptional seafood menu – I just don't recommend that you eat as much when we do, if you intend to go out for a walk afterwards! ?
Unfortunately, we spent very little time walking around Sayulitas and we also couldn't enjoy the beach due to force majeure: we ate too much and couldn't get out of the chair in that heat! Haha. All these gastronomic delights together in one place have this problem – craft bones!
Where to eat in Puerto Vallarta
More food! when you look things to do in Puerto Vallarta, one thing is for sure: you will eat very well! Among so many incredible places world-famous for gastronomy, a highlight for Restaurante La Leche, the highlight is the perfect mix of sophistication and creativity that sharpens your senses through sight, smell and taste.
The menu at La Leche is a surprise every day and varies between 7 different dishes to suit all tastes and restrictions. According to the chef of the house Nacho Cadena, this way it is possible to keep everything fresh, nothing is frozen.
We were privileged to have the company of Chef Nacho Cadena, who is the owner and creator of the house, throughout the dinner. I say this because this gentleman, who refuses to tell his age, is a real character and guaranteed the fun of the night!
As he himself said while presenting us with the menu of the day: "I opened my restaurant to serve the best food in the world… if it is the best of all, I don't know, but every day I cook as if it were!".
In addition to being an exceptional chef, he is also a poet with some published books that are for sale at the restaurant – don't forget to ask for the author's autograph, if you decide to buy the book, and take the opportunity to chat and have a little fun with very good mood!
Another very important detail is that the restaurant is all themed and full of design in the smallest details, idealized and designed by his son – a beautiful family of artists!
The house also serves a wine produced by themselves which, like every detail of the restaurant, also has its history. The wine is called "COQUETO", which in Spanish means something like "galanteador", knowing the chef/poet/artist Nacho Cadena does not fail to win over all customers, it was easy to understand where that name came from. LOL!
I highly recommend! You can include it without fear in your list between things to do in Puerto Vallarta!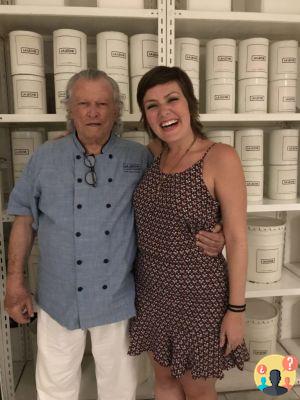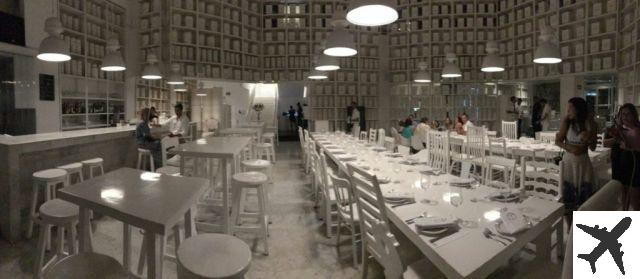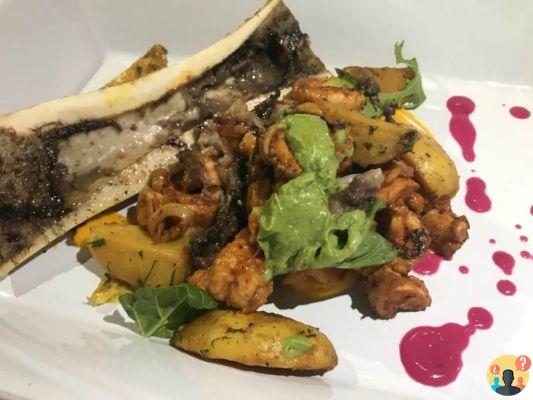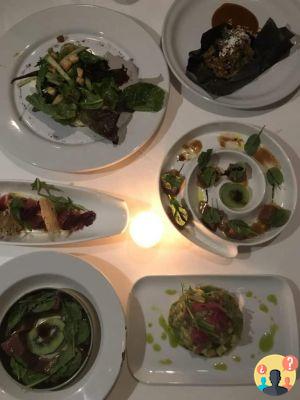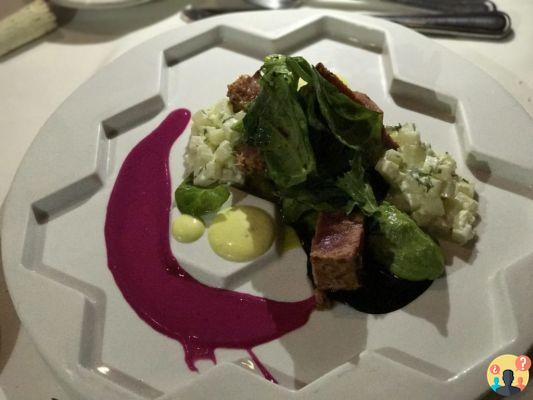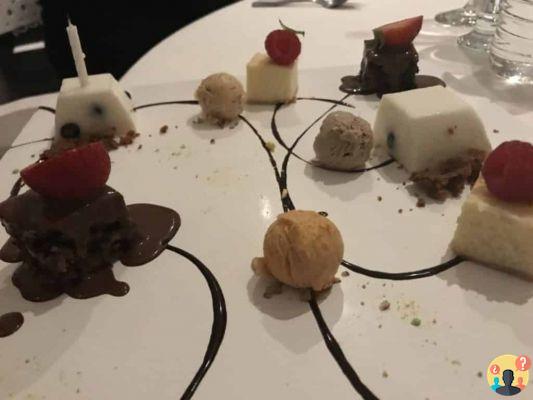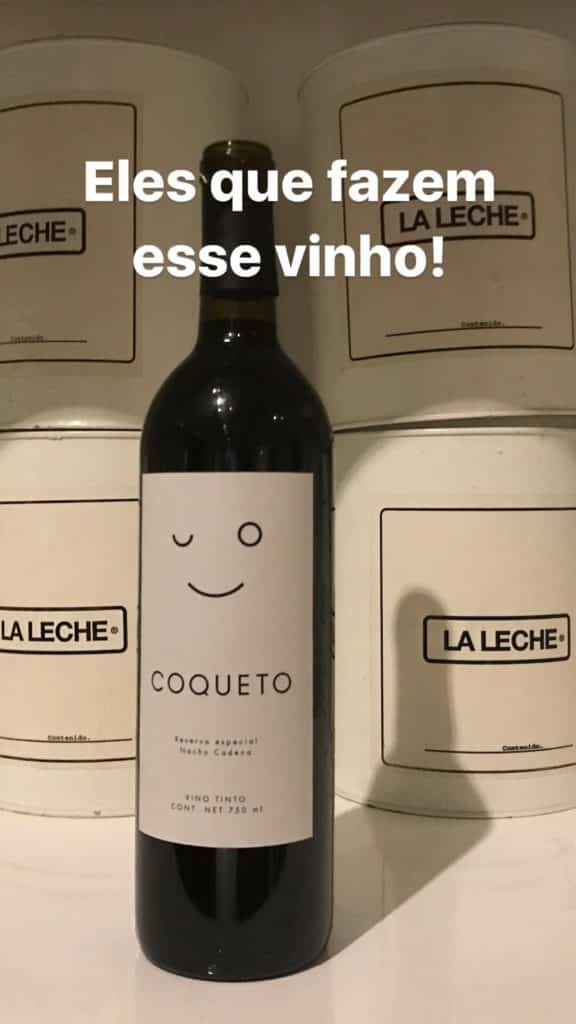 More restaurants in Puerto Vallarta
Bucerias (Bob Chillero) – seafood
The costenho – seafood
The walker- authentic Mexican
Las adelitas- Mexican food
Tacos – hot dogs tacos
What to do in Puerto Vallarta at night
Rhythms Of The Night
I confess that I am completely in love with circus activities, dances and any show that relates this, so I'm a little suspicious to talk about this o Rhythms of the Night. Even better if this show is inserted in the middle of nature, as is the case of the show that takes place every night in Caletas, a small cove with a private beach with exclusive access.
Our tour was organized by the company Vallarta Adventures, which started with a sunset cruise on a catamaran. Sailing for about 1 hour along the Bahía de Banderas until reaching the beautiful beach of Caletas. A pity that the weather was rainy when I went, because they say that the sunset is a spectacle on its own.
Everyone who disembarks on the beach is greeted by artists dressed as wild animals and folk characters inserted in the environment. We watch the show at night, but it can also be done in the late afternoon.
The night show makes all the difference, as it gives all the charm to the production and lighting of the cove, which is made by no less than 3.000 candles and 400 torches directing visitors to an open-air amphitheater, where the show takes place.
All performers in the show were trained by Cirque du Soleil. The show mixes all circus charm with its incredible acrobatics and modern dances. The live music that spreads through the forest and a narrative that makes us travel in time and know the history of an ancient civilization. It is forbidden to photograph or film the presentation.
The tour package also includes an after-show dinner. The restaurant with an international menu facing the sea by candlelight. Dinner includes a varied buffet, with wines and desserts – all impeccable. Living up to the fame that Puerto Vallarta has as one of the best gastronomic destinations in Mexico.
The tour is very worthwhile and is an excellent tip for those looking for things to do in Puerto Vallarta besides the beaches!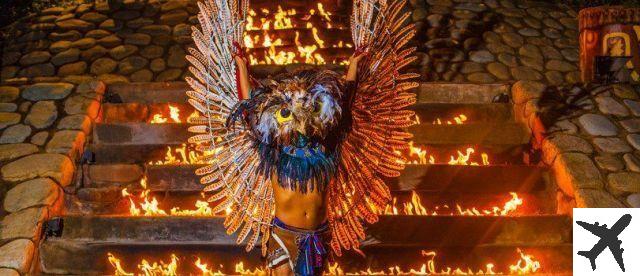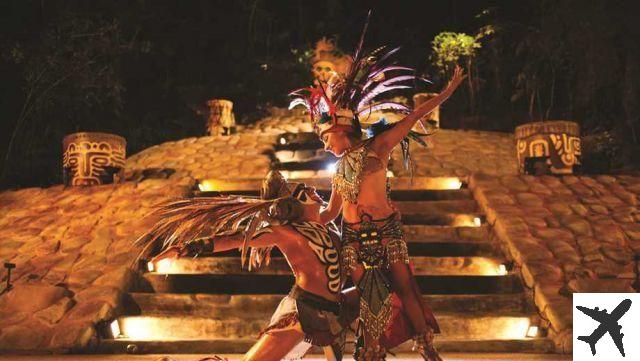 Parties in Puerto Vallarta
Check out some of the top nightclubs in Puerto Vallarta:
Mandala
The little cow
Distrito 5
Lá Bodequita Del Medium – Cuban Salsa
Where to shop in Puerto Vallarta
Here are the main malls in Puerto Vallarta:
Vayarta Galleries
plaza there islam
necturne square
plaza of glories
El Malecon – typical shopping and night clubs
Where to stay in Puerto Vallarta
who still doesn't know where to park in Puerto Vallarta You can rest easy because there are more and more accommodation options in the region: from hostels with a vibe that attract surfers in Sayulita, to lively all-inclusives with activities for the whole family in Nuevo Vallarta to boutique hotels full of charm for couples downtown. city ​​history.
Hotel Deals in Puerto Vallarta
Not Downtown Puerto Vallarta – Fiesta Inn Puerto Vallarta Island
Romantic Zone (LGBT) – Almar Resort Luxury LGBT Beach Front Experience
New vallarta - Reflect Krystal Nuevo Vallarta
Punta Mita- Four Seasons Resort
Sayulita – Amor Boutique Hotel
Discount hotels in Puerto Vallarta, Mexico
Hotel on sale in Riviera Nayarit, Mexico
WHAT YOU NEED TO KNOW BEFORE GOING TO MEXICO
Are you full of things to think about during your wedding preparations, and still have to plan the entire trip?
Or you've seen it all, but you're feeling that familiar "Have I forgotten something?" So calm down, we help you with 3 items you can't forget before boarding.
Come on?
1) Have you already purchased your airline ticket?
Where to buy: PROMO TICKETS
Looking for a good deal and flight prices? When buying tickets to Mexico, it is worth taking a look at the website Promo Tickets. It is quite common to find cheaper and better flight options than other sites. We always use and it's worth it
2) Travel Insurance it is indispensable
Where to buy: INSURANCE PROMO
Have you ever thought about having to pay medical expenses or having to shell out fortunes for setbacks on the trip? We already know of several cases of people who have gone through this.

Although travel insurance is not mandatory to enter Mexico, hiring a plan is highly recommended. Travel Insurance is cheap and a necessary investment to get rid of bigger problems that can happen during the holidays.
To find good travel insurance, compare prices and coverage on Promo insurance.
#StayHip: Save 10% on your travel insurance. use the coupon FORTRAVELOVERS to get 5% off and pay with boleto to guarantee an additional 5% OFF.
3) How to have unlimited internet while traveling
Where to Buy: AMERICA CHIP
Did you know that it's getting easier – and cheaper – to have unlimited internet throughout your trip?
Just ask for an international cell phone chip through America Chip. We always use and love it! They send a SIM card to your address in España, you insert it in your cell phone when you arrive at your destination and you have unlimited internet throughout the trip.
4) Rent cars at the best prices
Where to rent: RENT CARS
We really like RentCars to find the cars we use on our travels. It is the only one in Spain that compares the best rental companies in the world, but lets you pay in reais, without IOF. In addition, it is also the only one that lets you pay in 12 interest-free installments. It is worth it!
#Here's a tip: Try to find cars with full car and third party insurance coverage. Thus, you avoid inopportune surprises when picking up the car.
Note: We highly value the credibility of our information. All the sites we recommend above are sites we already use, we have good experiences and feedback from our readers!
Text: Patricia Schussel and Virginia Falanghe
Read More
Where to stay in Puerto Vallarta – Tips from the Regions and Hotels
Villa Premiere Boutique Hotel – Our Puerto Vallarta Accommodation Review
Marival Resort and Suites – Our review of accommodation in Riviera Nyarit
Reflect Krystal Nuevo Vallarta Resort – Our Review
Honeymoon in Cancun – When to Go, What to Do and Where to Stay