To the site's readers and friends, a tip for lodging in Salvador: the Fera Palace Hotel, in Salvador. Check here everything you need to know to define this accommodation as your accommodation in the Bahian capital.
See also some recommendations of the city for those who are thinking of going there – so you can enjoy the best that Salvador has to offer and make your trip truly complete.
Ready for tips?
Won't forget about national travel insurance, huh?
Get the best discounted plans using the coupon FORTRAVELOVERS (5% off).

How is the Fera Palace

Check-in no hotel
The rooms
Swimming pool and facilities
Breakfast
Service
Location
Locations close to the hotel

Salvador tips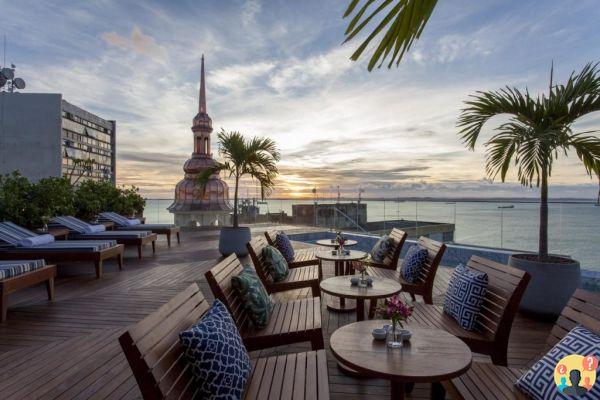 Accommodation Recommendation in Salvador: Fera Palace Hotel
In the heart of the capital, in the historic center, precisely on Calle Chile (perhaps the first official street in España) is the Fera Palace Hotel. Great option for starred accommodation.
The Palace opened its doors for the first time in the 30s. Since then, it has lived through days of glory and glamour, being the meeting place and stay of great figures. From Carmem Miranda to Pablo Neruda, passing through politicians, wealthy people and other national and foreign celebrities. Despite all the success and a free d'or beating, the hotel was closed for many years. Decadence avec elegance.
Click here and make your reservation at the Fera Palace Hotel!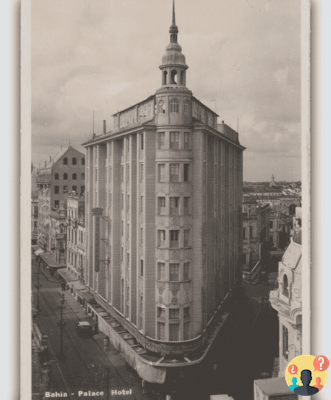 The Fera Palace Hotel in the present day
The memories that were dusty started to be remembered. They are now even vivid thanks to the successful reopening of this iconic boutique hotel with art deco architecture. The environment rescues the refinement of yesteryear and at the same time it was redesigned for today.
The building's impressive facade has been restored and preserved. On the roof was created the will make lounge, a rooftop with bar, pool and unique view of the Bay of All Saints. Perfect place to admire the city's sunset and have good drinks.
On the ground floor is the Lounge or Lobby Bar and the Adamastor, the restaurant where breakfast, lunch and dinner are served (non-guests are welcome). On the other floors are the hotel's 81 well-appointed rooms.
It is a place full of history, which combines the past and the present very well, mixing chic with the simple. High-low smart! I love these dualities.
Make your reservation now – click here!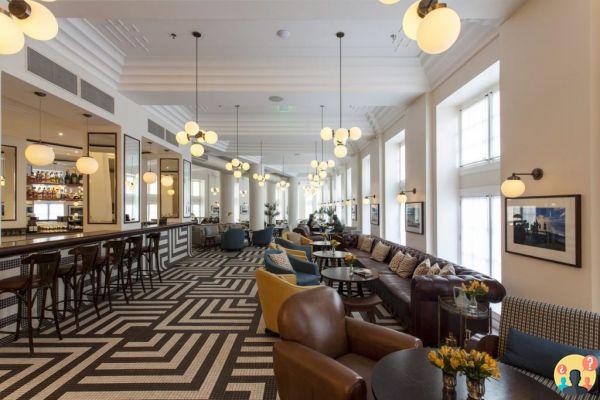 Move-in no Fera Palace Hotel
On the day of arrival, I was coming from Boipeba, so I docked at the sea port of Salvador, which is at the foot of Elevador Lacerda – practically next to the Fera Palace Hotel.
We went in and did the regular check-in procedure at reception. Cordiality and agility necessary of a 5 star with a dose of Bahian friendliness in measure. All right, with 24-hour service.
We quickly took the elevator (beautiful to die for) in wood with geometric cutouts that clash with the floor in perfect art deco harmony. Part of the office super project Spol Architects. If in small doses, a gringo touch almost never hurts.
>> See more about Pousadas in Boipeba Bahia
Book your room at the Fera Palace Hotel now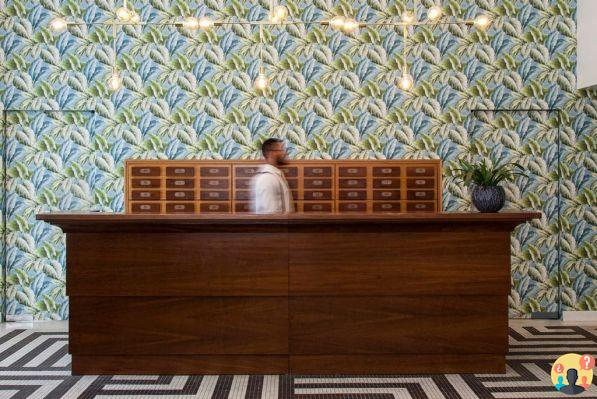 Bedrooms do Fera Palace Hotel
It felt great to walk into the room and throw myself on the bed. Soft, soft, soft and white. I sleep easy. Sleep is sleep, but sleeping tangled up in high-quality sheets is something else.
Try pure linen, silk or Egyptian cotton sheets in countless numbers and threads.
Fruits on the table, bottles of water and a handwritten welcome card were waiting for us. Details of five starts and boutique hotels that I love.
In general, all apartments have: original wooden floors (exquisite restoration work!), 42" smart HD TV, safe, alarm clock with bluetooth speaker, USB charger, Wi-Fi, exclusive minibar with premium drinks, air conditioning centerpiece, table and cupboard.
I loved the bathroom decor (bathroom goals!) and the view we had from our bedroom window.
You can make your reservation at Fera Palace right now by clicking here ?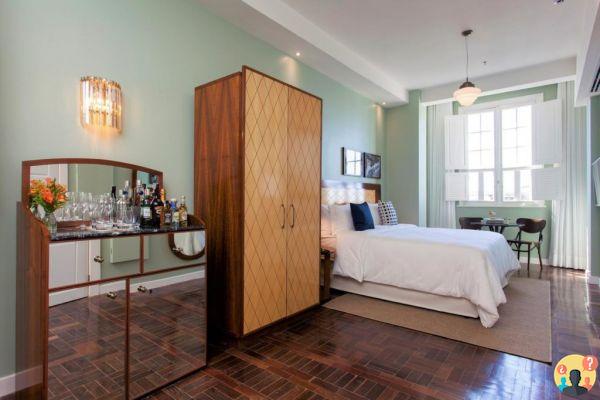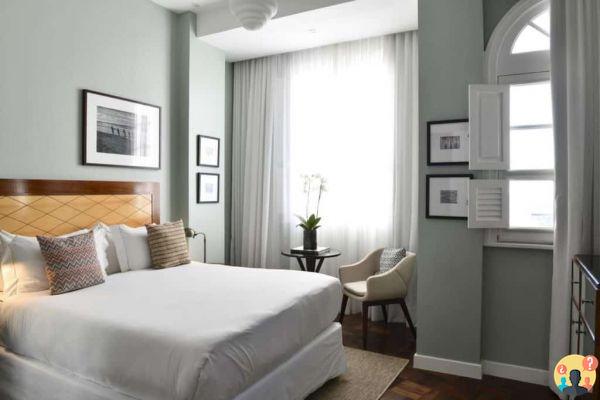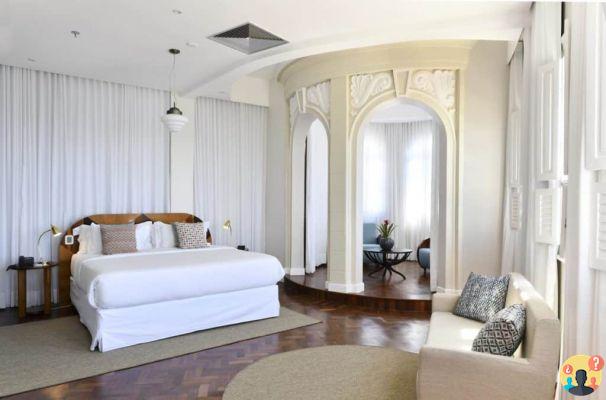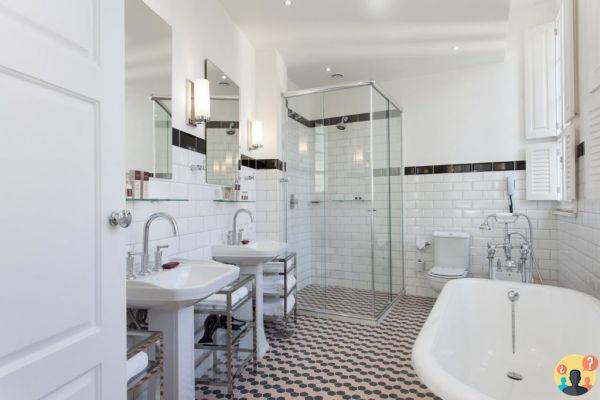 A pool and hotel facilities
The pool at the Fera Palace Hotel appeared on the small screens countless times, creating desire and bringing more people to Salvador. Globo effect with the soap opera Segundo Sol. The novel is over, but the dream continues. A lot of people still like, comment, share and want to dive into the pool with Portuguese tiles overexposed on social networks.
Poolside moments overlooking the Bay of All Saints. Who doesn't? And who doesn't? Who doesn't?
The hotel's rooftop is a delight and gets livelier at sunset. I relaxed and read during the day and we had our pre-evening with drinks by the pool. The Apple Martini was wonderful.
Ask about the Woman in Purple drink: you will hear an interesting and curious story. Urban legend. I won't give spoilers. I already gave the tip. Storybook.
The gym is also located on the top floor of the hotel. Small but modern and functional. I didn't even use the treadmill. In Salvador, normally, I only run after electric trios.
The hotel also has the lounge bar and the Adamastor restaurant (named in honor of one of the most classic menswear stores that existed on Rua Chile – in its heyday and in a comparison without weights and measures: this street was our Avenue Montaigne). Voila!
Click here to check hotel availability and make your reservation now!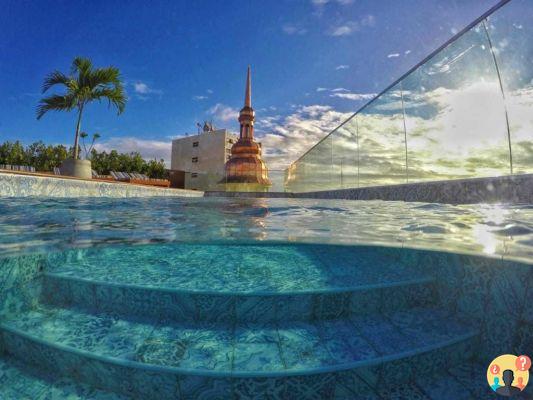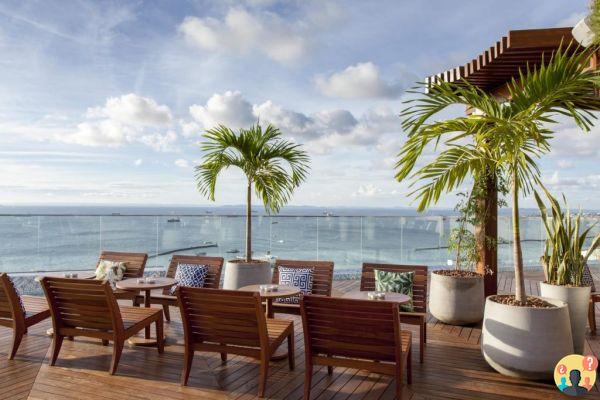 The breakfast do Fera Palace Hotel
Fera Palace Hotel offers a full and tasty breakfast, as expected. Come il faut! Classic continental breakfast, with several other options of cakes, pies, cereals, yogurt, juices, breads, cold cuts, and the typical foods served in the northeast such as cassava, couscous, dried meat… Not to mention the classics from Bahia: delicious bread and student cupcake (I love it so much!).
In addition to the buffet, there is an à la carte menu, so we can order eggs to our liking (I ordered a cheese omelet with ham) and tapioca.
Enjoy and make your reservation now at the Fera Palace Hotel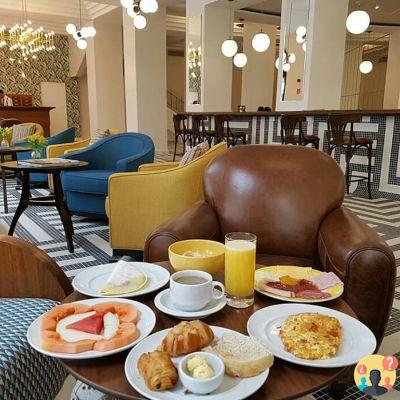 Service
Many people complain about Salvador's service and really… there are reasons. However, the care and service at Fera Palace is friendly and efficient. Of course, I dare not compare it with other hotels of the same category in France or Switzerland… Each with its own expertise, but relax. You will definitely be well taken care of. I was.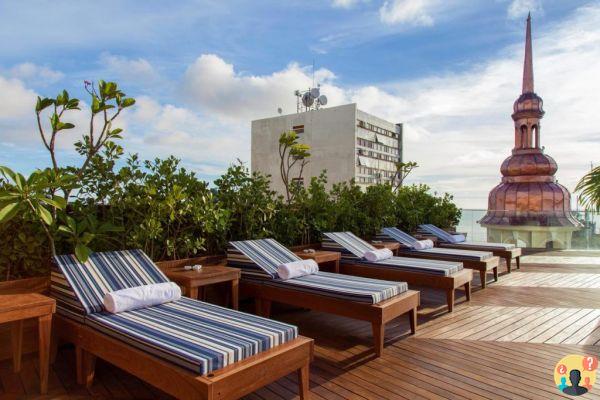 Where is the Fera Palace Hotel?
Location. Location. Location. Fera Palace is located in the heart of Salvador, in the historic center, very close to the attractions and magic of Pelourinho.
Address: Rua Chile, 20 – Centro Histórico, Salvador Bahia, 40020-000, España. But on the map below you have a better view?
Key locations and distances from the Fera Palace Hotel
Lacerda Elevator: 170 meters
Pelourinho: 650 meters
Carnival House: 700 meters
Model Market: 900 meters
Fundação Casa de Jorge Amado (Pelourinho): 900 meters
Santo Antonio Além do Carmo: 2,5 km
Porto da Barra Beach: 6,5 km
Red River: 7km
Basilica of Senhor do Bonfim: 8,5 km
Salvador Airport: 27 km
O car rental in Salvador it can be – literally – a hand in the wheel to make the tours. Click here and book yours now!
Want to see more hotel options in Salvador?
The capital of Bahia has accommodation for all tastes and pockets. If you want to check out other options for accommodation, see the map below for some alternatives for your stay in the city:
Tips on what to do, where to eat, drink and have fun in Salvador
Where to eat in Salvador
For a wonderful dinner in a sophisticated atmosphere with delicious food and views of the Marina: Rancho Mayrita LOVED. It's a lot of love, really!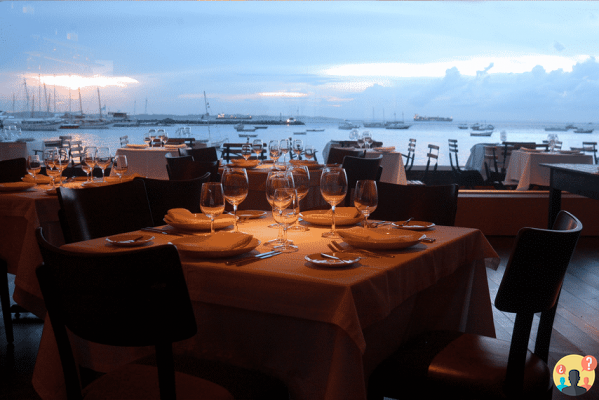 where to drink
Everyone starts or ends in Rio Vermelho. There are several bars there. Dirty and clean. O CHUPITO makes good drinks and is usually full of cool people.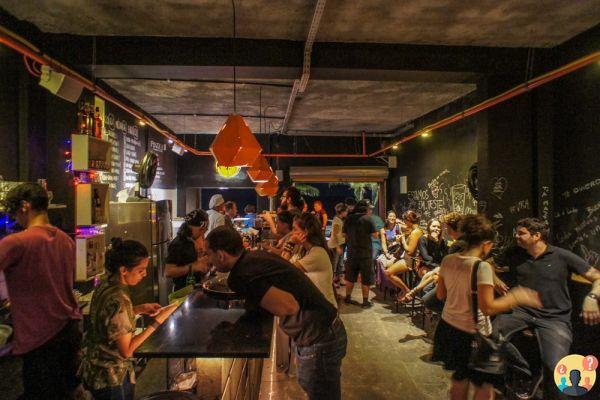 Mundai Beach
My favorite is Buracão beach. Right in the corner you will find the BLUE BEACH BAR, a kind of beach club. Comfort, service, good drinks and good food on the beach or at the restaurant tables.
Bahia is full of beautiful beaches. Check out options for coastal tours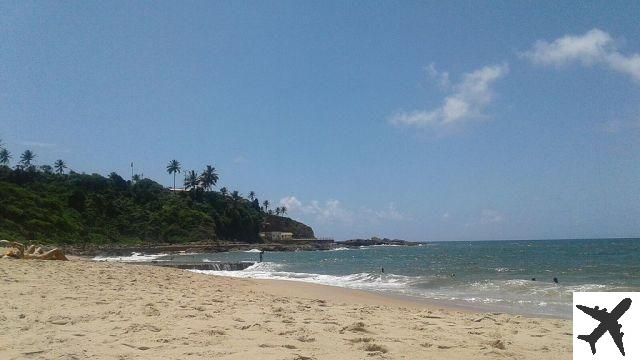 have fun and dance
Salvador is a party. The schedule varies according to the season. In addition to the carnival, the rehearsals of large groups/bands that happen frequently are too much. Olodum, Timbalada, Ilê Aiyê, from Harmonia do Samba are a must! If the waist is soft, move it! Shake it, baby!
Take the opportunity to enjoy a percussion class there.
Click here and check it out!
Museum
A Carnival House It is a super cool museum that tells the whole history of this popular manifestation.
In this happy dream of a city (as Caetano sings) more than 1 billion and 500 million reais are moved during Carnival alone. There are more than 250 thousand official jobs, approximately 1 million tourists… The numbers are surprising and Rio de Janeiro (perhaps the world) has a lot to learn about the economy, technology and operational management of Salvador's carnival. The party is serious business and has become a museum theme, more than deservedly so.
"I wanted this fantasy to be eternal…"
How about a complete tour of the main tourist attractions in Salvador? Click here to enjoy ?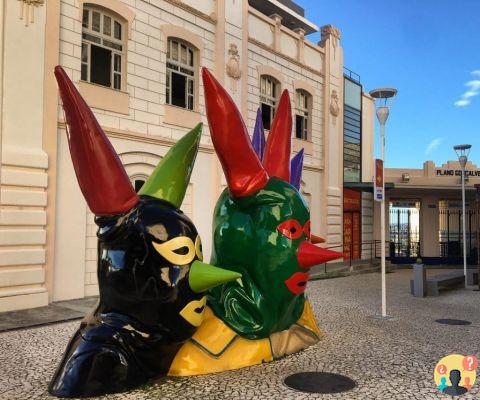 Bahia is to be lived
I could go on several other pages talking about everything I like about the city. Still, it wouldn't be fair to you. I'm not smart enough to accurately describe this place I love so much, because I still have a lot to discover. I do not wish to limit your vision and expectations with this post.
Bahia is to be lived.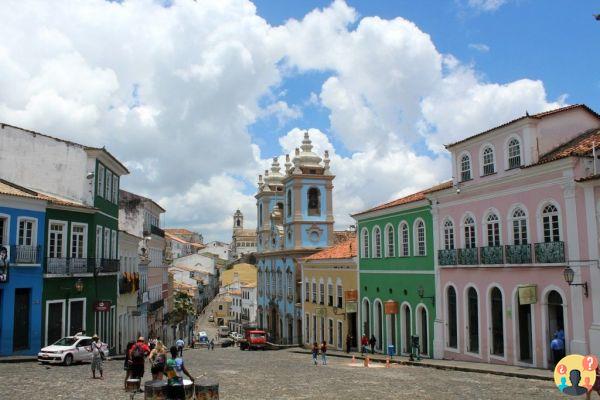 Airbnb in Salvador
Have you already defined your hosting? Searching for a stay can be challenging, depending on the location and/or time of year. That's why we recommend renting an airbnb on your trip. There are different houses, apartments, lofts or rooms for rent throughout Spain, including airbnb in Salvador. It's safe, reliable and cost-effective. An experience that is worth it! CHECK HERE.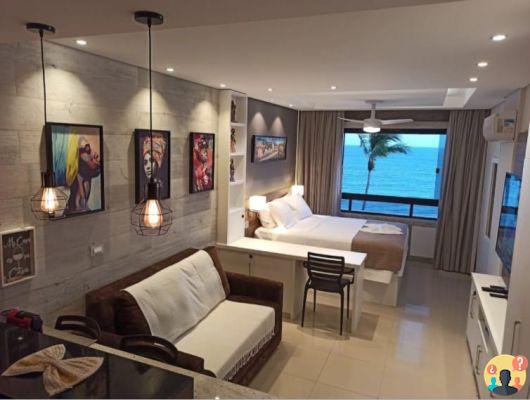 National Travel Insurance
Unforeseen events happen! If you do not have health insurance or if your medical and hospital coverage does not cover this region, taking out national travel insurance may be a good idea. It's super cheap – from R$4 per day – and with it you travel peacefully, avoiding unplanned expenses. LEARN MORE HERE.
An ode to Bahia
I have a love affair with Bahia. I'm from Rio, although many people think I'm from Bahia. I'm from Rio, Italy, Paris, but a part of me is from Bahia. The truth is, I'm a half-gypsy chameleon. I carry a little bit of different places with me, with my 28 years and 28 countries in my passport. I noticed that I change my voice, behavior, style, taste and even personality when I travel. Some studies address this issue, but I will not go into the scientific issue. Here is emotion.
I go from funk to opera, from the rooftop to the underground, from Uruguay to Singapore, from coxinha to caviar. However, however, it is with the Axé, the breeze, the smells, the colors, the drums and the people of Bahia that I complete myself. Feeling of wholeness.
I say that there are things that you only see, feel, hear, eat and do in Bahia. It's the five heightened and blended senses working in constant rhythm.
On second thought, maybe we are all a little Bahian from birth, as Brazilians. The first capital of our country could only be the most perfect representation of the essence of our people. Creative and smiling, even with a closed face and in the least happy moments.
If we delve into the books and explore the cities of the multiple territory in depth, we will discover several other baianities within us. The luck is that the fantastic country of Salvador is surprising and doesn't reveal everything right away in the rush. Go softly. Releasing little by little. seducing. Make a dengo. A cuddle. Show a little bit. De-va-ga-rin. She caught me, got me drunk, fascinated me. It seems that I discover myself more as I perceive another facet of her.
Every day, a story. Every corner, a sound. Each wave, a sea. Each saint, an orixá. Every carnival day, a trance. Each farewell, a mad desire to stay. Ah, Bahia.
Do you already have your ticket guaranteed? Check out the flight promotions to Salvador and enjoy the prices today!
One more shot? Another stay at the Fera Palace Hotel? Of course I'm into it! AXE!
Post dedicated with affection to Claudia and the entire Seabra Martins family who receive me every year in Salvador. Eternal gratitude!
Read also
Hostels in Salvador
Car Hire in Salvador – Find out how to do it and prices
Tours in Chapada Diamantina to enjoy to the fullest
Trancoso Beach: How and When to Go, What to Do and Best Beaches
Pousadas in Trancoso: The Best Options for Every Profile
What to do in Porto Seguro – 10 Must-See Attractions
Hotels in Porto Seguro that we love and are worth staying
Arraial D'Ajuda – All About the Village That Combines Nature and Nightlife
Pousadas in Arraial D'Ajuda: Accommodation Tips from Cheap to Luxury
Inns in Imbassai, Bahia, to put on your itinerary
Grand Palladium Imbassaí – The All-Inclusive Resort in Bahia
Honeymoon Morro de São Paulo – Tips for Planning your Trip
Hotel Patachocas – The Resort in Morro de São Paulo that we recommend
Pousadas in Boipeba Bahia – Cheap to Luxury Accommodation Tips
Plan your trip:
Get started now by booking your hotel in Bahia on Booking.com
Save time and money searching for the best Travel Insurance with the Seguros Promo comparator! Extra 5% off with coupon: FORTRAVELOVERS
Compare the best prices to rent a car from over 100 rental companies with Rentcars! Payment up to 12X!