We've already convinced you through 10 reasons that traveling to ancient Persia is something everyone should do once in a lifetime. Check now my itinerary and tips on what to do in Iran!
Contrary to what many people think, the Iran It is a large country, with almost 78 million inhabitants. See the map below to get a sense of comparison between the Iran and the Spain.
In addition, the distance between the main cities is relatively long, so it is necessary to dedicate time to preparing the itinerary and thinking about the displacement.
Haven't taken out your travel insurance yet?
use the coupon FORTRAVELOVERS for 5% off and pay by bank transfer to accumulate another 5% discount. Click here and hire your plan right now!
What to do in Iran: my itinerary and what's worth putting in yours
My trip lasted 20 days and I passed through 5 cities, Teera, Kashan, Esfahan, Yazd and Shiraz. If you have more time, it's worth including Tabriz, Kerman and Mashad.
tehran
I stayed four days in tehran, but I recommend staying for two to three days. THE capital of iran It's a big city with chaotic traffic.
for those who are looking what to do in iran, it is necessary to know that the following attractions cannot be left out: the Golestan Palace, a former Iranian royal palace in Kajar empire and named by UNESCO as a World Heritage Site. Just wonderful! You can read about Golestan Palace here (in English) or here (in Portuguese).
Other sights worth visiting in Tehran:
National Jewels Museum – National Museum of Jewelry is considered one of the best collections of jewelry, gemstones, necklaces from ancient times, diamonds and royal jewelry collections in Iran.
Tehran Bazar – going to Iran and not going to a Bazaar, typical of the country, is not worth it! In every city you can find one, but this one in tehran It is gigantic: it is more than 10 km long.
Imam Khomeini Mosque – This mosque is located inside the Tehran Bazaar and is very beautiful. Put it on the itinerary of what to do in Iran #FicaaDica ?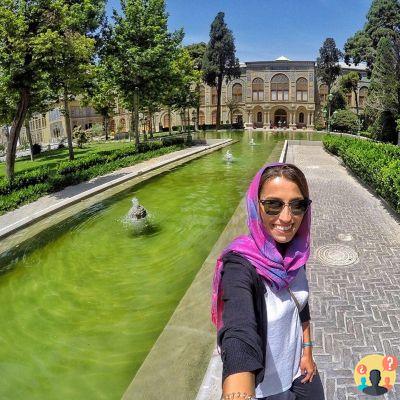 Kashan
I already commented in another post that it is very easy to get around by bus between cities in the country. From Tehran I took the bus to Kashan, this trip lasts three hours.
It is worth staying two to three days in Kashan. During this period, it is possible to explore the city that was considered a vacation and leisure place for the Iranian kings.
Among the essential tours, the traditional houses of the box (Qajar) cannot be left out and for those who love Persian architecture it will be a full plate.
O Fin Garden, also very touristy, is one of the most famous gardens in Iran and was designed as a Persian vision of paradise. Iranians love to travel within the country and it was in this garden that I got to meet a lot of nice people!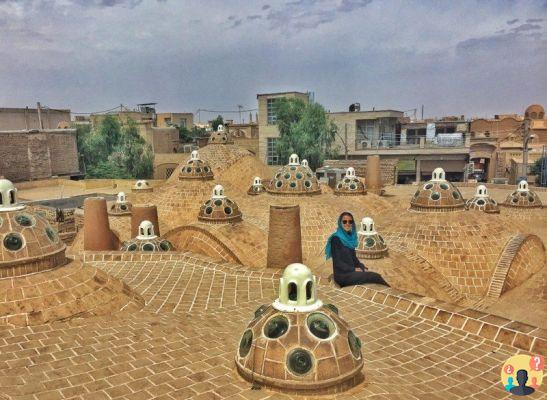 Esfahan
De Kashan I went to Esfahan, one of the most beautiful and tourist cities in the Iran, where I stayed five days, but I recommend staying three to four days.
What can't be left out there: Naqsh-e Jahan Square. This square is considered one of the largest in the world and has also been named as UNESCO World Heritage Site. It is surrounded by important monuments of the city, in addition to having a beautiful garden where Iranians love to picnic. Take the opportunity to have a picnic too and meet new friends.
Other attractions in Esfahan worth visiting:
Mesquita Sheikh Lotfollah – this mosque is small, but its architecture and decoration is wonderful and surprising. It was built to be a private mosque for the royal family.
Shah Mosque (Masjed-e Shah) – The Shah Mosque is also known as Imam Mosque (name of the square), because the term Shah ceased to exist after the Islamic revolution of 1979. It is difficult to choose, but it was one of the mosques that I most admired.
Ali Qapu Palace – It offers a beautiful view of the square, as the building is 7 floors and 48 meters high. Even more beautiful are all the decorations inside. Worth the visit!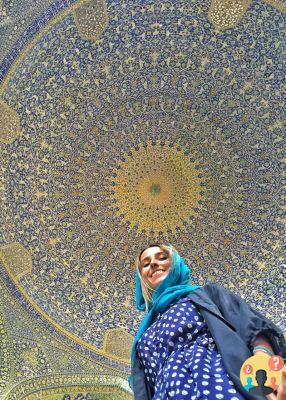 Yazd
Towards the desert, I went to Yazd, a historic city that has the second largest population in the Zoroatrism. Spending two days there is enough to get to know and explore the city well.
Don't forget to visit Ateshkadeh (Zoroastrian fire temple). From Yazd it is also possible to take a tour to the desert. I went to the desert Mobarakeh Bafgh to see the sunset and I booked in the tourist agencies that are in the city itself.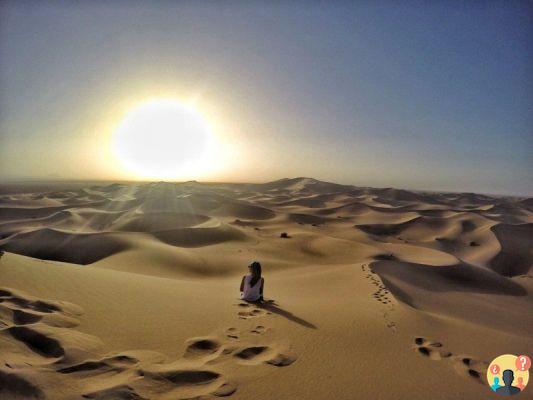 Shiraz
I took a bus from Yazd to Shiraz, a journey lasting approximately six hours. It is worth staying in Shiraz for three to four days, which are enough to explore the main attractions of the city, including:
Aramgah-e Shah e Cheragh – a set of religious buildings with mausoleums and mosque. It is a very sacred place for the Iranians. Beautiful to see, feel and put in your itinerary of what to do in Iran!
Aramgah-e Hafez (Tomb of Hafez) – is a memorial with the mound of Hafez, one of Iran's most beloved poets. A very nice place with garden and music. If you're lucky, you'll be able to admire some Iranians reciting their poems.
Pink Mosque (Pink Mosque / Masjed-e Nasir-al-Molk) – this tour is a must! The windows of this mosque have colored glass and at sunrise it is possible to see their reflection throughout its interior, forming a beautiful landscape.
De Shiraz, do not miss the opportunity to take the tour to Persepolis and / or pasargadae. I went to Persepolis, one of the capitals of persian empire and used to celebrate the Persian New Year which takes place in March. The tour cost 30 dollars.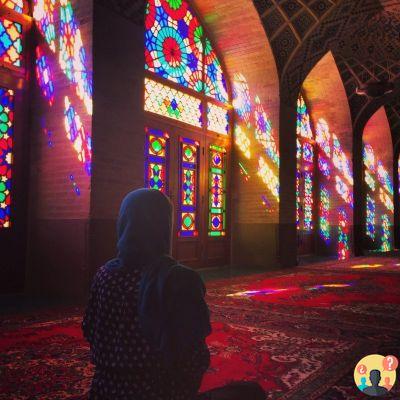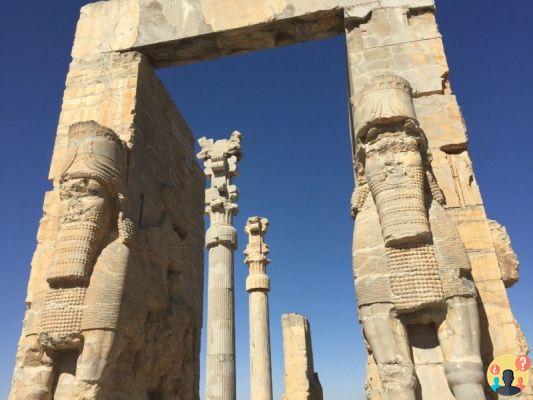 Want to know more about the country? See the tips for a trip to Iran in this post.
Also comment what you think of the tours to put in your itinerary what to do in iran on here!
Read more:
Travel to Iran – Everything You Need to Know
10 Reasons to Travel to Iran
What to do in Israel – 8 Day Itinerary
Complete Guide to Israel – Everything You Need to Know BEFORE You Go
How to Visit Petra, Jordan – Complete Guide
Itinerary Oman – What to do in the Middle East
International Travel Insurance – Step-by-Step How to Hire
Plan your trip:
Get started now by booking your hotel in Iran on Booking.com
Save time and money searching for the best Travel Insurance with the Seguros Promo comparator! Extra 5% off with coupon: FORTRAVELOVERS
Compare the best prices to rent a car from over 100 rental companies with Rentcars! (Pay in up to 12X! Pay in reais, without IOF)
Leave España with Unlimited 4G Internet!