Choosing when to buy tickets is always a gamble… The tendency is for the price to increase as the cheapest seats sell out, but you never know when a super sale will come up! Those who like to travel collect tricks and also learn (in practice) to avoid pranks… lol
To master the art of buying tickets, I've been using 8 different tools (yes, there are a lot!). Some are better known, others not so much… The secret to finding the cheapest ticket is knowing how to combine the best of each one :)
If you are still looking for a destination
1. Best Destinations: 123 Miles
123 Milhas uses a bank of miles to make ticket prices "cheaper", according to the statement on the website; But cheaper doesn't always mean better value. The company also has a partnership with Booking and Localiza Hertz. With this, the customer can search for hotels and rental vehicles just a few clicks away. 123 Milhas does not have applications, it can only be used through the browser
2. Search for passage to "anywhere"
I really like Skyscanner's search filters and I think this search engine is great because it includes several low-cost airlines. It was one of the first sites to offer the search for "Any Place", to compare prices of different destinations at the same time :)
The "Explore" tool on the Kayak website is another cool option to see what destinations are possible within your budget, during your vacation period. You choose the departure city, the maximum ticket price, the desired time of year and you can browse the map that shows all available destinations.
You have a destination, but the date is flexible
3. Best dates between two cities
Melhores Destinos has a tool that is a little hidden, but I really like it: it's a list of flights between two cities. You indicate the city of departure, the city of destination and the month of the trip, then the site shows the best date combinations for you to make a round trip at the best price!
This option does not appear on the website menu and I don't know the right way to get to that page… My trick is to put the city's initials directly in the URL address – for example: London is LON, Paris is PAR, Barcelona is BCN, New York is NYC, Berlin is BER, and so on.
4. When to travel: price calendar
The Viajanet website also has a calendar that indicates the dates with the best ticket prices for the next 5 months. Of course, the calendar does not predict the promotions that may arise between now and then, but it is very useful to have an idea of ​​the price trend for the next season.
5. Search by destination with flexible dates
Knowing the destination, you can fill in the round trip months (without determining a specific day) and the Skyscanner or Kayak sites show the cheapest prices for each day. It's great for anyone with a flexible calendar who wants to see the best combination of days to go and come back. Evaluate whether it is worth shortening the trip or paying for a few more days at a hotel to find out if changing dates is a good deal.
You already have a defined destination and period
6. Compare airfares
There are several comparators! Many indeed! Google Flights, Voopter, Mundi, Momondo, Orbitz, Viajanet… Not all of them work the same way: some simply direct you to the airline's website, others charge service fees – so it's important to keep an eye out!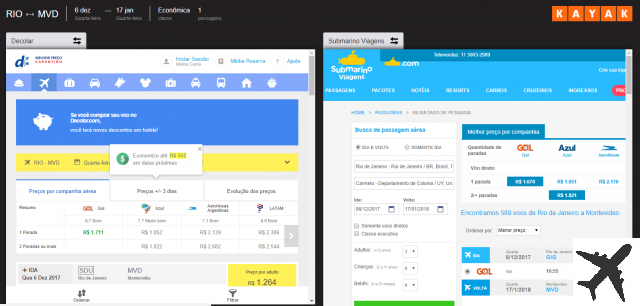 Kayak compares comparators :P
And just when you think you've seen it all, the strange world of searching for the perfect airfare surprises you again: Kayak compares comparators! Hahaha :) You can see Decolar and Submarino Viagens side by side on the same screen!
7. Statistics to evaluate price trend
Kayak also has something that I think is cool, which is a tool that helps you decide if it's worth buying or not. A little box appears next to the list of tickets saying something like "Our advice: Buy it. Prices are not expected to drop in the next 7 days". It's a kind of meteorology and you have to make your own decision, but I find it interesting to use the site's statistics to provide a parameter.
8. Price alert for a certain segment
If you are looking for the cheapest ticket to a specific destination, you can use Skyscanner, Kayak or Decolar price alerts. Just enter your email to receive alerts if a better price appears for the destination in the selected period. You can create filters like specific airlines, etc.
Advance to buy tickets
If you already have a defined destination and travel period, but are still hoping for a miraculous promotion, the best way is to download the Melhores Destinos app and monitor to see if that promotion you've been waiting for comes up! For international tickets in high season, promotions most often occur 2-4 months before the flight date. If the trip is in the low season, promotions may appear up to 1 month before.
But don't expect to find "last minute deals"! A few years ago this existed but nowadays it has been a bad deal to buy a ticket at the last minute, as prices go up a lot!