Contents
1. Giant pandas
2. A Sichuan Opera at Shufeng Yayun
3. Kuan Zhai Alleys and Jinli Road
4. Culinary specialities
5. The temples
- Wenshu Buddhist Monastery
- Qingyang Temple
- The Temple of Wuhou
6. Du Fu's cottage
7. People's Park
8. Chunxi shopping street
9. Traditional tea houses
10. The village of Huanglongxi
11. The New Century Global Center
12. Mount Qingcheng and the Dujiangyan Irrigation System
13. The Great Buddha of Leshan and Mount Emei
How to get to Chengdu?
Where to stay in Chengdu?
What to do in Chengdu? Discover the 13 must-do things not to be missed if you plan to visit Chengdu!
Chengdu, located in central-western China, is the capital of Sichuan province. Although highly modernized, Chengdu is considered a historic city of China with a history dating back almost 2300 years. But if Chengdu attracts so many visitors every year, it is mainly because it is the city of origin of the famous giant pandas. How can you resist?
With more than 18 million inhabitants (urban area), Chengdu is one of the most populated cities in the country and yet it is also known for its quality of life, greenery and pleasant atmosphere. Between its countless lively alleys, monuments steeped in history and fascinating wildlife, one thing is for sure, you won't get bored visiting Chengdu. So, what to do in Chengdu? Follow us to discover the 13 must-do things you should not miss during your stay.
Read also: The 25 most beautiful places to visit in China
1. Giant pandas
Watching a giant panda, the national symbol, is a must if you plan to visit Chengdu and its surroundings. But although Sichuan Province is home to the largest concentration of wild pandas in the world, your chances of seeing one in its natural habitat are slim.
One of the best places to spot these endangered animals for sure is Chengdu's research and breeding base. Located about 15 kilometres north of the city, this centre has been an important place for the protection of the country's giant and red pandas since 1987. Some advice: plan a visit in the morning, when the pandas are fed and therefore active, respect the animals and the rules of the centre, and keep in mind that most travellers who come to visit Chengdu are there for this reason, so you won't be alone! The site is accessible by bus, metro or taxi, and can be visited with or without a guide.
Book your visit to the Giant Panda Research Center in Chengdu
2. A Sichuan Opera at Shufeng Yayun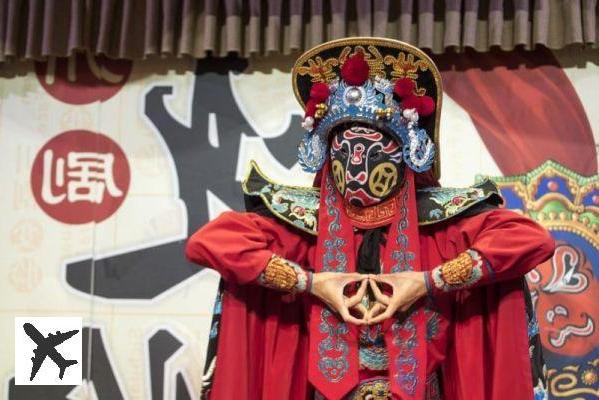 After a busy day, what to do in Chengdu after dark? Attend a Sichuan Opera performance in the old Shufeng Yayun Tea House! It is one of the best known in China and brings the epics of the Three Kingdoms back to life with poetry and humour. What makes the international fame of this Opera is the change of "faces" (masks) in a fraction of a second, without the spectator noticing it. Much more than a technique, a true Art!
Book your ticket for the Sichuan Opera House
3. Kuan Zhai Alleys and Jinli Road
Chengdu has seen its architecture and heritage evolve over the years to become a large modern city with the appearance of a western capital. If you are not afraid of the tourist spots, you can get a glimpse of the old and traditional Chengdu by strolling through the pedestrian streets of Kuan Zhai Alleys or Jinli Road.
4. Culinary specialties
More generally, Sichuan cuisine is one of the great cuisines of China, and Chengdu has recently been named the capital of gastronomy. You will have understood it, it is inconceivable to visit Chengdu without tasting its culinary specialties. On the menu? Chuanchuan Xiang and Huoguo (Chinese fondues), Mapo Doufu (tofu simmered with chilli and minced meat), Dandan noodles, Gongbao Jiding (spicy chicken with peanuts), Tang You Guo Zi (sweet snack made with sticky rice)...
Attention, sensitive palates please refrain: Szechuan cuisine is famous for its tasty dishes... and very spicy!
Book your culinary tour of Chendgu
5. The temples
What to do in Chengdu when you are passionate about Culture? Visit temples!
Wenshu Buddhist Monastery
Among the top things to do in Chengdu is the Wenshu Buddhist monastery founded under the Tang dynasty (first construction). With an area of 60,000 m2, it is the largest and best preserved monastery in the city. This temple, which has been rebuilt many times, is rich in cultural relics, witnesses of ancient times, and sacred relics. And not to spoil anything, wandering between its various pavilions and street stalls is a real pleasure.
Book your visit to Chengdu Buddhist Monastery
Qingyang Temple
Founded in 618 under the Tang Dynasty, Qingyang Temple is one of the largest and oldest Taoist temples in China. Laozi, the founding father of Taoism, is said to have appeared there alongside two black goats, which are found in the form of statues at the entrance of the building, in order to protect it. To take full advantage of the peaceful atmosphere of this place, we suggest you stop at his restaurant or his tea house.
Book your visit to Qingyang Temple
The Temple of Wuhou
The Temple of Wuhou (or Temple of the Marquis of Wu) was erected in the era of the Three Kingdoms (3rd century) and dedicated to the military adviser of the Shu state, Zhuge Liang, nicknamed the Marquis of Wu. The architectural style of the memorial and its artefacts of the time are as much appreciated as the park and its lake.
Book your visit to the Wuhou temple
6. Du Fu's cottage
West of Chengdu, you can visit Du Fu Cottage, a perfect reconstruction of the ancient home of the famous Chinese poet Du Fu. It has been transformed into a museum surrounded by a superb garden, in homage to this great artist of ancient China (8th century) to whom we owe more than 200 poems about his time, some of which are considered today as masterpieces.
7. People's Park
This green setting is the perfect place to stroll at the end of the day, enjoy a cup of tea in one of the traditional tea houses, go boating or watch the park's regulars play games or dance.
8. Chunxi Shopping Street
Fancy a shopping trip? Whether you're looking for souvenirs, fashion boutiques or a good coffee, you should find what you're looking for in Chunxi's lively, pedestrianised street.
9. Traditional Tea Houses
It is impossible to visit Chengdu without being tempted by this local custom: take the time to enjoy a cup of tea in one of the many traditional tea houses in the city. People's Park, Wangjiang Pavilion Park or the Kuan Zhai Xiangzi district are places where you can find a tea house in Chengdu.
10. Huanglongxi Village
If you are looking for charm and authenticity, this village located about 30 km from Chengdu should not disappoint you. Huanglongxi, which means "valley of the yellow dragon", has managed to preserve its character and its architecture of the time.
11. The New Century Global Center
In a completely different style, the New Century Global Center includes several hotels, cinemas, shopping centers, offices, amusement parks, a university complex and even a beach, spread over 18 floors and a surface area of 1.7 million m2. Completed in 2013, it is the largest building on the planet.
12. Mount Qingcheng and the Dujiangyan Irrigation System
Now that you know what to do in Chengdu, set sail for the treasures of its region! These places, about 2 hours drive away, are recommended if you have time to visit Chengdu and its surroundings. Both listed as UNESCO World Heritage Sites, they occupy an important place in the History of China. The Dujiangyan irrigation system, designed in the 3rd century BC, still represents to this day a feat of ecological engineering, while the sacred Qingcheng Mountain is considered the cradle of Taoism.
Book your trip to Mount Qingcheng and Dujiangyan Dam
13. The Great Buddha of Leshan and Mount Emei
You've covered the ground in Chengdu and you still have some time left? Don't miss the world's greatest Buddha carved in stone. From Chengdu, you can get there in an average of 1h30, the time of a day trip. The statue directly carved in Lingyun Mountain between the years 713 and 803 is no less than 71 m high and 28 m wide, making it a UNESCO World Heritage Site.
If you continue on to Emeishan, you can then reach Mount Emei, a famous Buddhist pilgrimage site surrounded by vegetation, offering a breathtaking view of magnificent landscapes. You can hike there, visit several temples and even meet monkeys! Note however that there is an entrance fee, as well as access to the Great Buddha of Leshan.
Book your excursion to discover the Great Buddha of Leshan and Mount Emei
How to get to Chengdu?
The city of Chengdu has an international airport, it is therefore possible to fly directly from France or by stopping over there for less than 500€, on average (to find the best flights from the nearest city, please visit the website of our partner Skyscanner). As Chengdu airport is located 16 kilometres from the city, you will only need to take a shuttle, a taxi or the train to get to the centre.
To get to the city of giant pandas if you are already in China, several options are available to you: by plane from Beijing, Shanghai, Dalian, Kunming or Xi'a, by train from most of the country's major cities (Beijing, Shanghai, Guangzhou, Kunming...) or finally by bus which connects many Chinese cities to the Xinnanmen train station in Chengdu.
The city is very well served and has many public transport services to get around once you get there, so don't hesitate to visit Chengdu!
Where to stay in Chengdu?
Since Chengdu is very large and populated, it is not easy to know where to stay in Chengdu, so you can easily explore the city and its surroundings while enjoying the pleasant surroundings. We can only advise you to get closer to the centre! In terms of type of accommodation, you will find affordable hotels in Chengdu, depending on what you are looking for. So, Airbnb, homestay accommodation, youth hostels and hotels... The choice is wide. After reading our suggestions in our article "Where to stay in Chengdu? ", we invite you to visit the hotel platforms in order to book a minimum number of nights for your stay (for a vast choice and a good quality/price ratio, go to this hotel comparator): even if it is possible to book on the spot, booking in advance will allow you to better understand your stay.
And you, have you ever visited Chengdu?